When the man in the "Uvas Gold Apiary" truck pulled up outside Roger Quinlan's home and asked him where he wanted the bees, Quinlan didn't know what to say. Eventually, he figured out that the truck's driver was Wayne Pitts, a beekeeper and honey vendor whom Quinlin's wife Cathy had met at the downtown Los Altos Farmers Market. Pitts had arrangements keep bees in the backyards of over 200 local homeowners, and the Quinlan family was about to become his newest partner. "We'd kinda talked about it, but it wasn't confirmed that it was coming," Quinlan says, referring to the four-foot-tall wooden box that was his first introduction to the apian world.
The family soon got used to sharing their Los Altos home with thousands of buzzing insects, and Quinlan observed a handful of Pitts' monthly visits to check on the hive. But in 2015 when Pitt wanted to withdraw from the commercial side of beekeeping and asked if Quinlin would be interested in helping with Pitts' Peninsula clients, he was leery.
"I had no idea what I was doing," the software executive admits. But under the supervision of another local beekeeper, Quinlan was able take over the management of his own backyard hives, including removing the frames on which the bees build their combs to make sure the insects were healthy. As soon as he had gotten used to this arrangement, fate threw another wrench in the works—the Quinlan bee colony was doing so well that it needed to be split into another hive. Otherwise, the bees would swarm, with half of them abandoning their neat box to seek a new home somewhere else in residential Los Altos. So far, his neighbors had been fine with the bees, but Quinlan wanted to avoid triggering what he calls "people's natural fear of flying, stinging insects."
But through a combination of relocating wild bees, birthday presents and other unforeseen circumstances, Quinlan soon had six hives in his yard. Since his home sits on a little more than an acre and the Los Altos Municipal Code Section 5.10.010 clearly states that "a maximum of one honey bee hive shall be allowed for each five thousand square feet of lot area," Quinlan needed to find some new homes for the bees.
At the same time, Quinlan was facing another problem—six hives produce a lot of honey. As luck would have it, Draeger's Market was looking for a new local honey supplier, and a friend at the store reached out to Quinlan to see if he'd be interested in bottling and selling his product. Launching a commercial enterprise was a family affair. Roger registered as a licensed cottage food operator, his daughter Courtney designed the label and his wife Cathy, Mama Q herself, provided a namesake. Once he had found aspiring beekeepers and willing friends to house the other hives, Mama Q's Family Honey Farm was in business.
Today Quinlan harvests honey from about 20 hives around the Peninsula, including one in his mother's backyard in Menlo Park. Mama Q's is available at Draeger's Market in Los Altos and Menlo Park, and while Quinlan can't guarantee that the bottles on the shelves contain only honey produced in the town where it's sold, he does his best to keep the batches separate.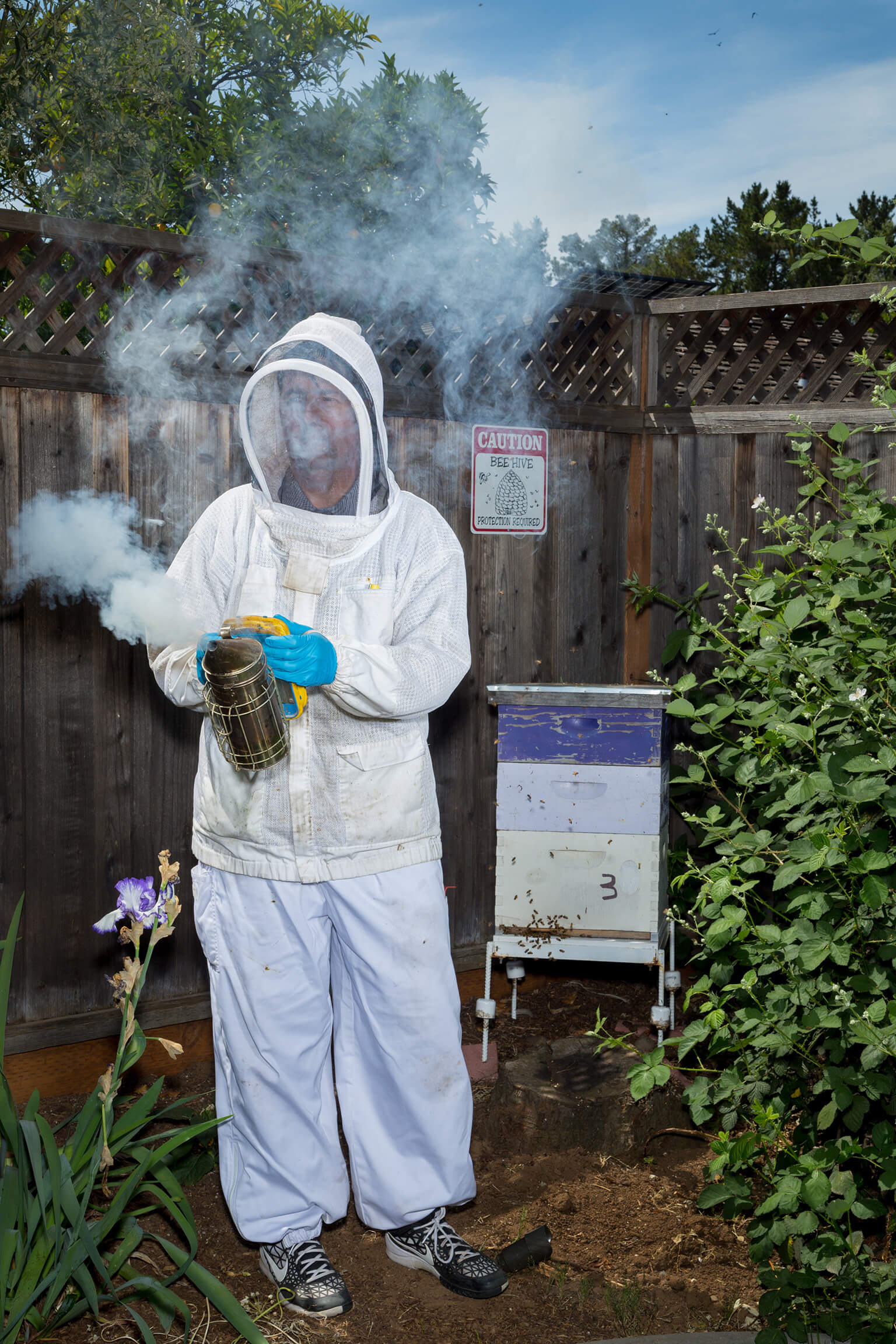 Since Quinlan doesn't harvest the honey until Draeger's lets him know that their inventory is low, the honey is a fresh as possible. Though the jury is still out on whether eating local honey can help with seasonal allergies, Mama Q's is raw and unfiltered, and processed so quickly that the pollen in the bottle could still be floating in the air and causing your sniffles.
At this point, Quinlan's not exactly earning back his investment on the bees, but he's more than happy to keep it strictly in the "hobby" category. He thinks that Mama Q's Family Honey Farm might be in the black by the end of this year, which does have one benefit. "You run a hobby too many years and don't make a profit, the IRS gets anxious."