The holiday season is all about giving. Whether it's giving gifts, money or time, the mindset is thinking about others. From Thanksgiving through December, the opportunities are more obvious—many of us write checks, collect cans for food drives or serve meals to the homeless. Helping out during the holidays is always meaningful, but it's good to remember that support is needed throughout the year. And, here on the Peninsula, there are countless ways to volunteer, ranging from one-time events to ongoing commitments. Even better, depending on your skills and interests, all it takes is a little research to find a worthy cause that lets you truly give of yourself. Here's just a sampling of the many different ways we can give back in our community.
1. JUMP IN A POOL
If a swimming pool is a happy place for you, the Special Needs Aquatic Program (SNAP) could use your help. SNAP gets children with a variety of special abilities and challenges into the water to exercise, play, make friends, socialize and get fit. Many of the children in SNAP use the water as their primary source of physical activity and show signs of growing independence through this fun and beneficial program. SNAP helpers work directly with swimmers—holding and encouraging them, creating activities, singing and, of course, having fun together. You must be a good swimmer, have a playful side and enjoy working with children. On the Peninsula, SNAP classes are held on Fridays from 4:15-6PM at the Palo Alto YMCA at 3412 Ross Road. SNAP volunteers are asked to commit to a seven-week/quarter session, although five-week mini-sessions are available during the summer. Enrollment is continuous with training provided on an ongoing basis—you'll see all ages helping out in the pool, from teens to retired folks. If you have an interest in photography or videography, SNAP could use your skills too. For new helper registration information, visit snapkids.org/volunteers
2. HARVEST LOCAL FRUIT
Village Harvest is always looking for help with both parts of their mission—you can either let them know that you've got an overloaded fruit tree whose bounty you'd be willing to donate, or you can sign up to help the organization pick and transport fruit from someone else in the community. The organization estimates that there are tens of millions of pounds of fresh fruit going to waste (and creating a mess!) in Peninsula backyards, and last year they were able to provide 600,000 servings of fresh food to those in need. Currently, Village Harvest serves both San Mateo and Santa Clara counties, and everyone 14 and older is welcome at their community harvest events. (Depending on the type of fruit and trees, there are also some opportunities for children aged 7-13.) Volunteers are told where to meet in a given neighborhood a few days beforehand and generally visit four to five homes over the course of a morning. In only a few hours, your volunteering can make a difference to hundreds, even thousands of people. View Village Harvest's calendar and sign up for their next event at villageharvest.org
3. GET AN (EMAIL) PENPAL
Dialog to Learn connects low-income elementary school students with local professionals to improve their reading and writing skills. Just sign up with your email address, and the group matches you to a fourth- or fifth-grade student in a local low-income elementary school. For each session, which lasts eight to ten weeks, volunteers take an average of ten to twenty minutes a week to exchange a few emails with their student. The program offers schools a way to tap into dialogue journaling, a tested learner-centered method for improving students' reading, writing and comprehension skills while engaging them in a fun, authentic learning experience. The subject for each email is student-led; volunteers are simply asked to be engaged and ask questions. At the end of each cycle, there are optional events where 'Digital Buddies' can meet in person. To sign up, visit dialogtolearn.org
4. BUILD A NEST
If you think volunteering is "for the birds," then helping out at Pandemonium Aviaries in Los Altos Hills is the perfect opportunity. Founded in 1996 after a chance encounter with an injured bird, Pandemonium Aviaries evolved into a last-chance bird sanctuary for exotic birds that were being discarded by breeders. Residents include Tico, a Blue and Gold macaw considered too aggressive to be placed in a home, and Amigo, a 45-year-old Mexican red-headed Amazon abandoned by his owner. Although committed to providing lifelong support for the rescue birds it initially took in, Pandemonium now focuses on protecting at-risk bird species with some of the world's largest captive flocks, helping them thrive and reproduce until they can be returned to the wild. If you have carpenter/handyman skills, your help is needed with various projects around the sanctuary—ranging from repairing outdoor aviaries to building and hanging nest boxes. Projects can be challenging or as simple as painting. If you're not handy with tools, Pandemonium Aviaries offers plenty of ways for bird lovers to get involved. Current needs include aviary assistants and drivers who can pick up donated fruit every Friday to help feed the Pandemonium flock. Providing specialized diets, roomy aviaries, enrichment programs and vet care is costly, so donations are always welcome too. If you have time to lend a wing… or a hand, visit pandemoniumaviaries.org
5. GET CRAFTY
If you're happiest when your hands are busy, then put them to good work on behalf of patients and their families at Lucile Packard Children's Hospital Stanford. Hearts and Hands volunteers create handmade items like christening gowns, knit hats, baby blankets and quilts, cough pillows, colorful flannel pillowcases and stuffed pocket pals, including elephants, owls and penguins. If you've got the skills, it's easy to get started, whether you want to be a one-time donor or make multiple items on a regular basis. Anyone interested in making something special is welcome to download patterns from the Hearts and Hands collection. You'll also find clear instructions for how to package, label and deliver your creations—either by mail or by drop-off in Palo Alto. Any donation you make will be acknowledged with a thank you, along with a tax receipt for any expenses you incur for the materials you use. You'll find all the details you need along with a donor information sheet at bit.ly/PUNCHhearts or contact heartsandhandsaffiliate@lpfch.org
6. SHARE YOUR DECORATING FLAIR
In San Mateo and Santa Clara counties, many local homeless families and individuals are hidden from the public eye—living in garages, basements, cars or in apartments doubled up with other families. LifeMoves is a local nonprofit with programs to help local homeless families and individuals break the cycle of homelessness. By providing safe housing, food and basic necessities along with comprehensive services like one-on-one counseling, childcare and children's programs, LifeMoves is a critical first step back to stable housing and long-term self-sufficiency. In order to help new residents feel at home, LifeMoves relies on volunteers to decorate and stage transitional apartments. By cleaning and painting or finding just the right place and space for donated household items, volunteers make the difference in providing a warm welcome for residents. If you're the kind of person who loves to pick out paint colors and rearrange furniture, this is a perfect way to give back to the community. View other volunteer opportunities and sign up to stage apartments at lifemoves.org
7. PUT EDIBLE FOOD TO GOOD USE
In Silicon Valley, one in four adults and one in three children are food insecure or at risk of hunger. As part of Santa Clara County's efforts to reduce edible food waste and feed people living with daily food insecurity in the region, the county has partnered with Joint Venture Silicon Valley to create A La Carte, a fleet of trucks rescuing edible surplus food from corporate and university campuses and providing it to those struggling to feed themselves and their families, always free of cost. While the initiative uses salaried drivers, volunteers are needed to package and label food and accompany drivers on food deliveries. Additionally, A La Carte is always looking for new partners, so you can also help if you know of a company or school that sends excess edible food to landfills and would be willing to work with the organization. Sign up to volunteer, donate or make suggestions at jointventure.org
8. HOST A CAREER DAY
Peninsula Bridge directs its efforts at high-achieving students living in low-income communities, providing academic and personal support during middle school years through college graduation. With the goal of breaking the cycle of poverty and greatly increasing each student's chance for success in school, life and career, Peninsula Bridge counts on local volunteers and close partnerships to help achieve its mission. Motivation is a vital component. One easy, but meaningful way to get involved is to host a career day for students at your company or visit a classroom to share your career story. Other Peninsula Bridge opportunities include mentoring a student in a long-term one-on-one relationship, inspiring students to learn through weekly STEM and language arts tutoring, teaching a class like coding or entrepreneurship or providing support with independent school applications. Students join the Peninsula Bridge program as rising 5th graders and participate in ongoing support through college graduation. To get involved, visit peninsulabridge.org
9. PLANT TREES IN LOCAL NEIGHBORHOODS
Canopy needs help in getting us closer to the day when every Peninsula resident can step outside to walk, play and thrive under the shade of healthy trees. The organization works on maintaining young and mature trees, as well as planting thousands of new saplings. Canopy's volunteer opportunities include everything from attending a session of their five-month Community Forestry School to joining the group's monthly tree walks to learn more about the trees that grow here on the Peninsula and how to take care of them. Currently, the group is in the midst of planting trees in Palo Alto, East Palo Alto and Mountain View, but Canopy also wants to teach Peninsula residents about the importance of trees and empower them to advocate for trees on their own block. Canopy already has events scheduled well into 2019, so learn more about their mission and get involved at canopy.org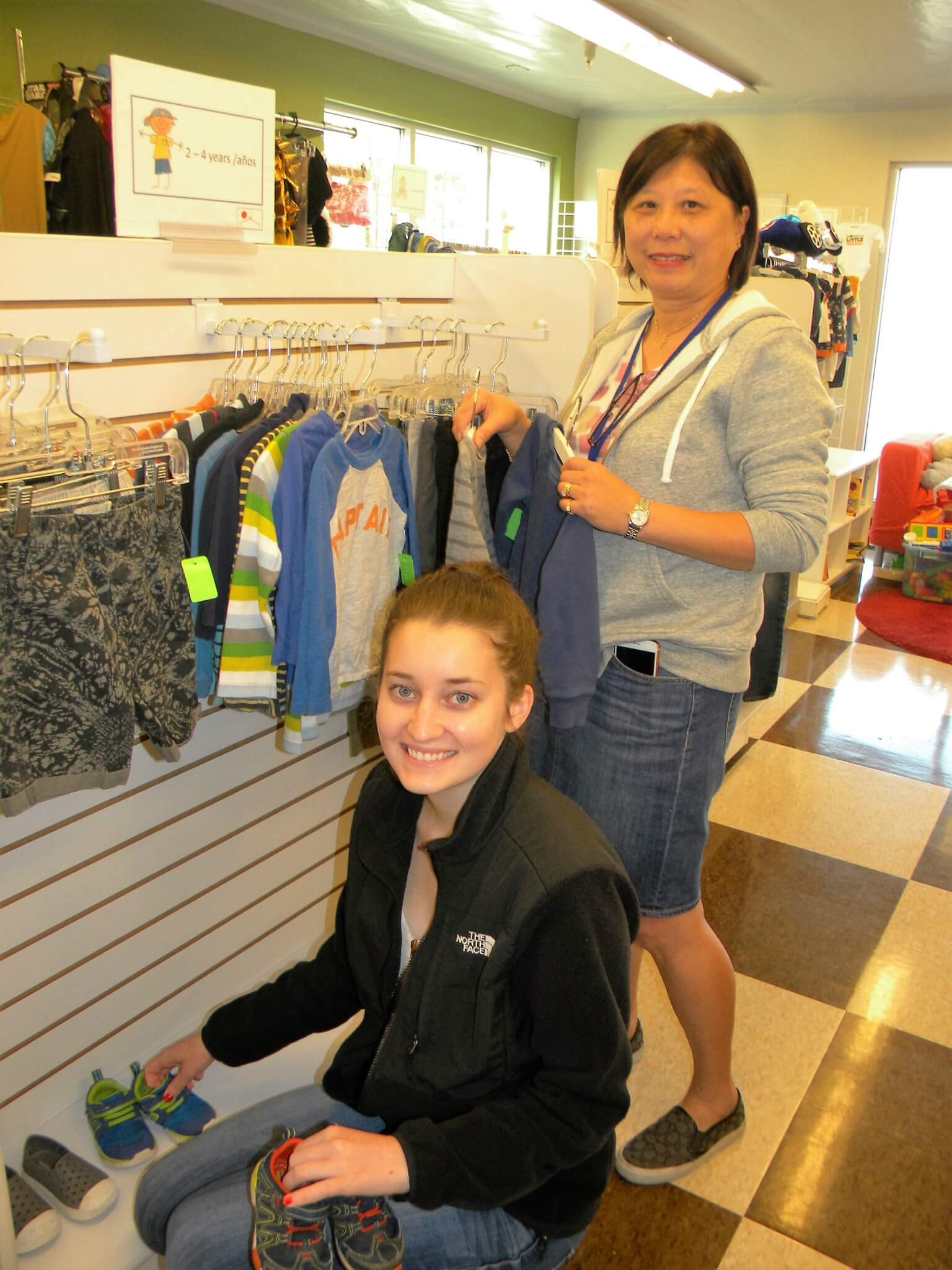 10. GO SHOPPING FOR KIDS
Founded in 1974, Samaritan House brings hope, dignity and empowerment to people living in poverty in San Mateo County, helping them meet their immediate needs as they move toward self-reliance. With the tagline, "Neighbor Helping Neighbor," services include the largest food distribution agency in the county, shelter and housing assistance, medical and dental clinics, personalized case management and clothing for children–all provided free of charge to help defray vital costs of living. Samaritan House has a wide range of volunteer opportunities, but here's where the shopping comes in. The Kid's Closet at Samaritan House provides more than 4,500 items of free children's clothing and shoes to clients each month. Set in a bright, boutique environment, with clothing displayed on racks, parents and children enjoy the experience of shopping together. If you have a knack for finding the right fashion and fit, join a weekly three-hour shift helping clients make their selections, along with accepting and sorting donations from the community and merchandising them effectively. At the Kid's Closet, children not only get the clothing they need, they also receive a brand-new pair of shoes, a new backpack filled with supplies at the start of the school year, Halloween costumes, free books and even bikes, bike helmets and safety training. As you might imagine, a steady supply is critical to the success of this program, so, if you're cleaning out your own closets, your donations of nearly new children's clothing are always welcome, especially clothing for young boys and teens to age 17. To see how you can help out, go to volunteer.samaritanhousesanmateo.org and check out the many volunteering options.