words by  Sophia Markoulakis
When a tweenage Taylor A. Humphrey visited her local Redwood City library with her mother, she wasn't enticed by the latest Baby-Sitters Club novel. Instead, she made a beeline for the non-fiction section (929 to be exact)—to scour the shelves for books on baby names. 
"I have a distinct memory of getting frustrated in the children's book section and asking my mom, 'Where are the baby-naming books,'" she laughs. "I always felt a little dorky, having this weird interest in baby names. I was the oldest grandchild on both sides of my family, so I was obsessed with babies. We did big Sunday suppers growing up, and there was always a gaggle of kids. I was so interested in the names my aunts and uncles were choosing."
Years later, Taylor morphed her quirky hobby of collecting baby names into a baby-naming consultancy. She founded "What's in a Baby's Name" in 2015, but the circumstances behind the launch had less to do with business plans and spreadsheets and more to do with a sudden move back home.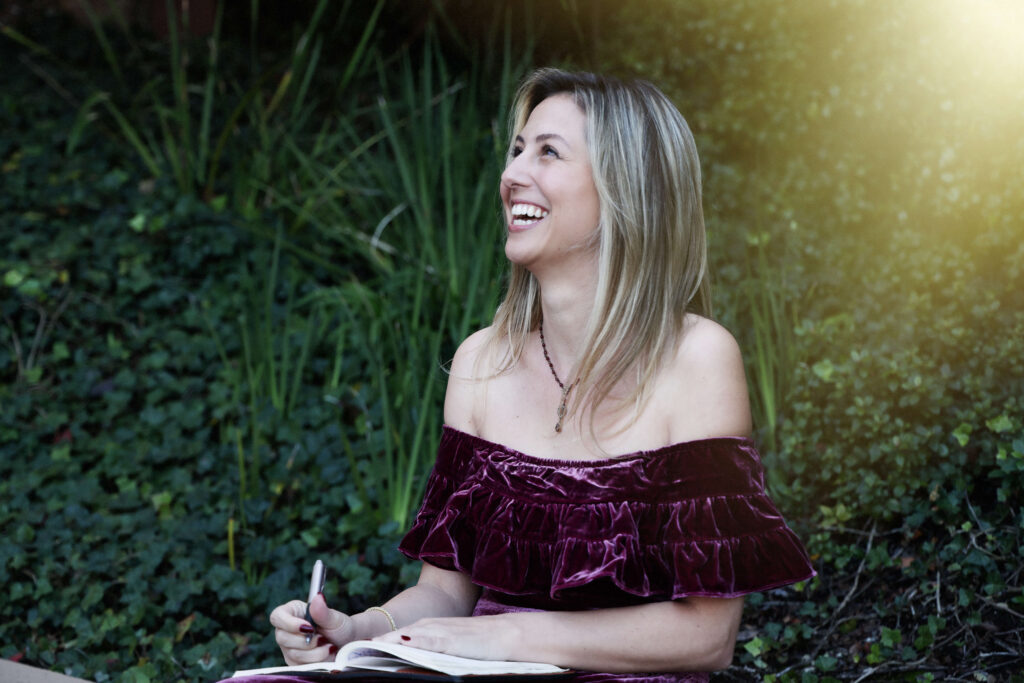 The charismatic Emerald Hills native and NYU grad was living in New York pursuing creative endeavors when she received a call from her mother saying that her grandmother had been diagnosed with Parkinson's disease. "This was a shock to the family since my grandfather had died from the disease 20 years earlier. Ironically, my grandmother founded the Bay Area's largest Parkinson's support group as a result of his diagnosis," Taylor reflects. While home, Taylor was also dealing with her own health struggles, which she discovered later to be an autoimmune disorder. The next few years were spent either caring for her grandmother and her emotional wellbeing or tending to her own wellness. But, like the consummate optimist she is, Taylor saw the silver lining in leaving her New York life behind as it provided space for her to pull out her old journals and books on baby names and conceive her bespoke business.
"I started blogging about my favorite baby names on Instagram as a creative outlet. I wrote about the significance and the numerology associations behind different names and the personality traits those names often carried, and people went crazy for it," recalls Taylor. She immediately witnessed a lot of engagement and realized that she was destined to do this: "Choosing that one name that you and others are going to call your child for the rest of their life is such a sacred act."
Her first client had been following her for a while before he reached out to her for assistance. A towheaded blond boy with the given name, Theodore, was born soon after. "I still keep in touch with my early clients; many of them send me photos and holiday cards," notes Taylor. Today, her clients span the globe, and she consults with them from the moment they reach out until the baby is born.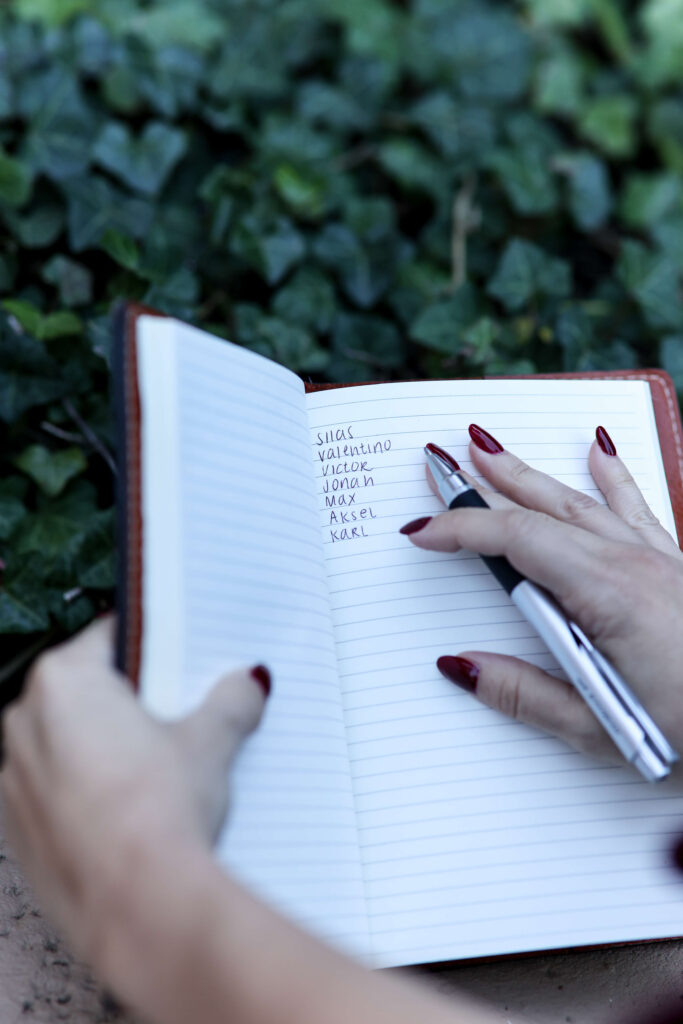 Baby Name Trends

"I'm seeing a resurgence of the use of family names like Elizabeth, Ruby, Grace and Eleanor. If you look at the top 50 names, many of them are from past generations, and they're all coming back," Taylor says. She also points to using surnames as first names as a huge trend. "Names like Sutton, Bennett, Collins, Banks, Jackson, etc. feel very strong and timeless." Citing BabyCenter, Taylor shares that the most popular names for 2021 were Olivia and Liam. For 2022, one hot predicted trend won't come as a surprise to millions of sweaty cyclists: people naming their babies after top Peloton instructors. 
Taylor's rate varies on the intensity of the service. Some clients struggle with the challenge; and often, Taylor is tasked with being a sort of marriage counselor. (Taylor estimates that 80 percent of her client couples can't agree on a name.) Others just need a little insight and nudge and a name can "appear" rather quickly. One client contacted her while being discharged from the hospital. "They wouldn't let her leave until they filled out the birth certificate," recounts Taylor, "and they couldn't decide on a name, so I coached them through the decision-making process on the spot."
When someone inquires about her service, Taylor obtains as much information as possible about the family through a lengthy questionnaire. Once she reviews it, she meets with them virtually to get a better understanding of what they are looking for. "It's a highly intuitive process backed with a lot of research. I use the Social Security Administration's data on baby names. I have my own categorical list of names going back a century," she explains. "The questionnaire really identifies the major pillars of a family like religion, community, work, activism and extracurricular activities like sports." By tapping into a client's lifestyle, Taylor can home in on names that are resonant and appropriate. Insights into a family's background, i.e. geography or benchmark memories, can lead to names that provide provenance and meaning.
A visit to Taylor's website reveals additional services, which she considers holistic additions. Just as her grandmother's diagnosis ushered in a new opportunity, her passing also created space for Taylor's interest in childbirth and spiritual and energy healing.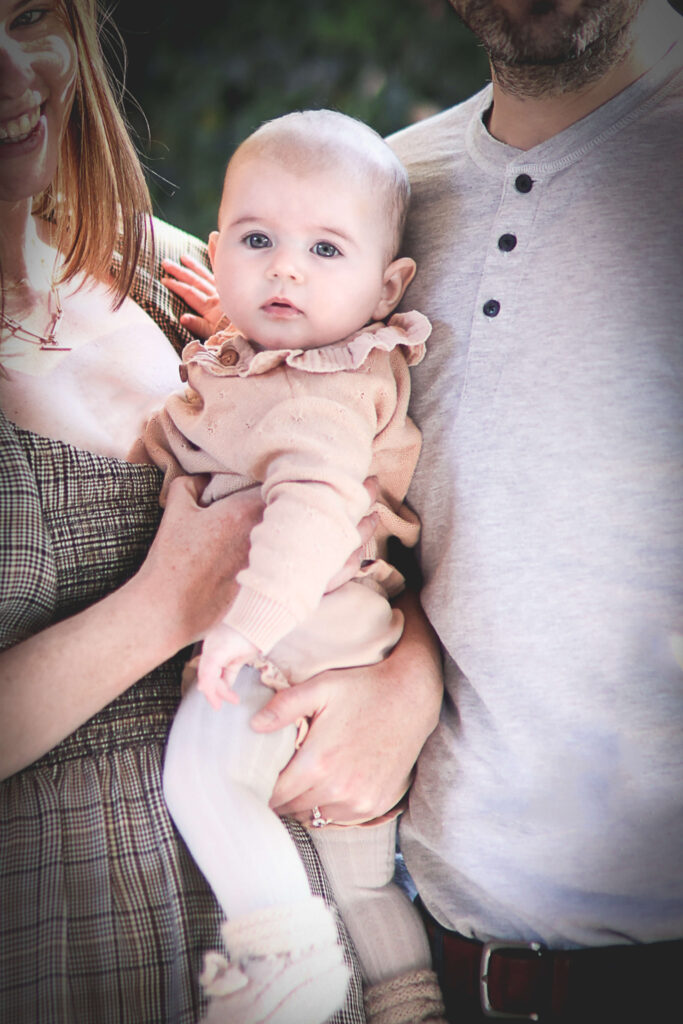 She describes witnessing her grandmother's transition from life to death as a transformative experience. At that moment, Taylor decided that she was ready to help with other transitions—bringing life into the world instead of ushering it out. "As it turns out, there's a profession for that, and it's called being a doula," she laughs. In 2018, Taylor began her doula training, and in 2019, she became a certified Reiki practitioner. 
She views the new offerings as enhancements to her baby-naming business, since she considers the work very energetic and intuitive. "I use Reiki as a method to really tune in to the baby's spirit and then find a name that matches that baby's personality," Taylor says. "I'm not there to give them all of the answers, but I'm there to guide them through the process of establishing a relationship with their unborn child."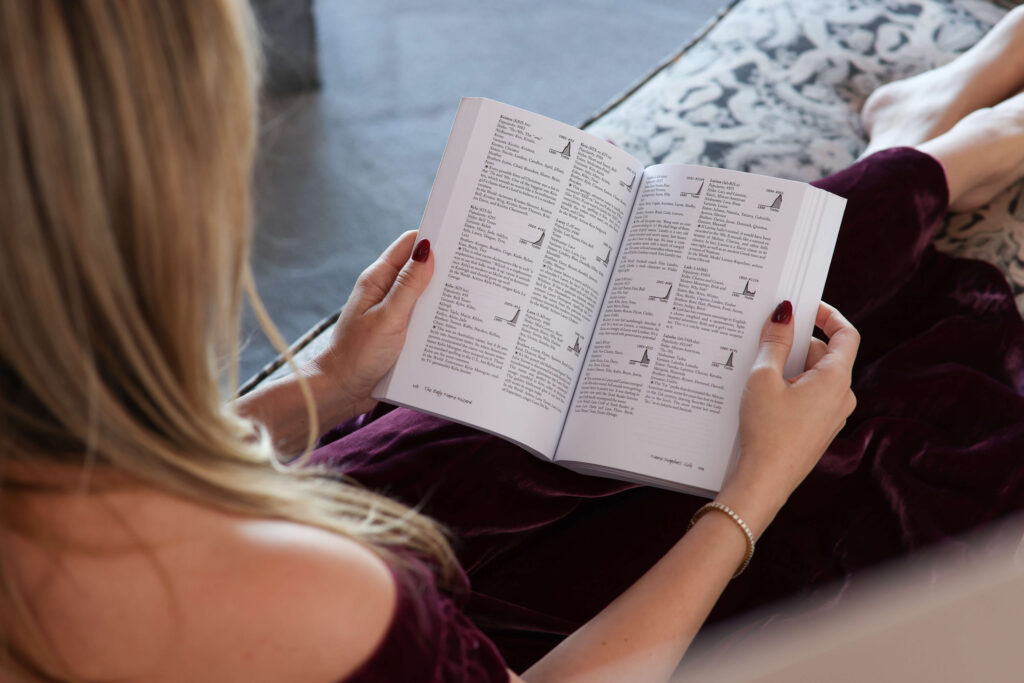 What's in Taylor's Name?

While going through old photos, Taylor recently discovered a list of baby names that her parents had prepared in 1987. "Oh my gosh, this weird obsession came from somewhere after all. My parents were ahead of their time. They had a very clear aesthetic when it came to names," she says. One of the names on the list was 'Wallace,' and Taylor feels fortunate that she ended up with the name she has even if she was named after an '80s soap opera star (Taylor Miller). "I actually think that 'Wallace' is a very chic and cutting-edge name, and no one is using it," she observes. "They gave me a more feminine middle name—Alexandra—and I really do feel like I embody my name."