Our destination is clear. Spend four nights at idyllic Nick's Cove on Tomales Bay. And, for a bit of adventure, explore new places along the way. It adds up to the perfect road trip, full of twists and turns and surprising discoveries.
Being Peninsula people, Stinson Beach is not much on our radar. But the 90-minute drive north marked it as a perfect lunch spot. We pick up Highway One in Marin County, dropping down first to scenic Muir Beach before heading north along the coastal area of Mount Tamalpais State Park. Turnout spots along the way provide easy access to Tamalpais trails, but we traveled onward, enjoying the expansive views.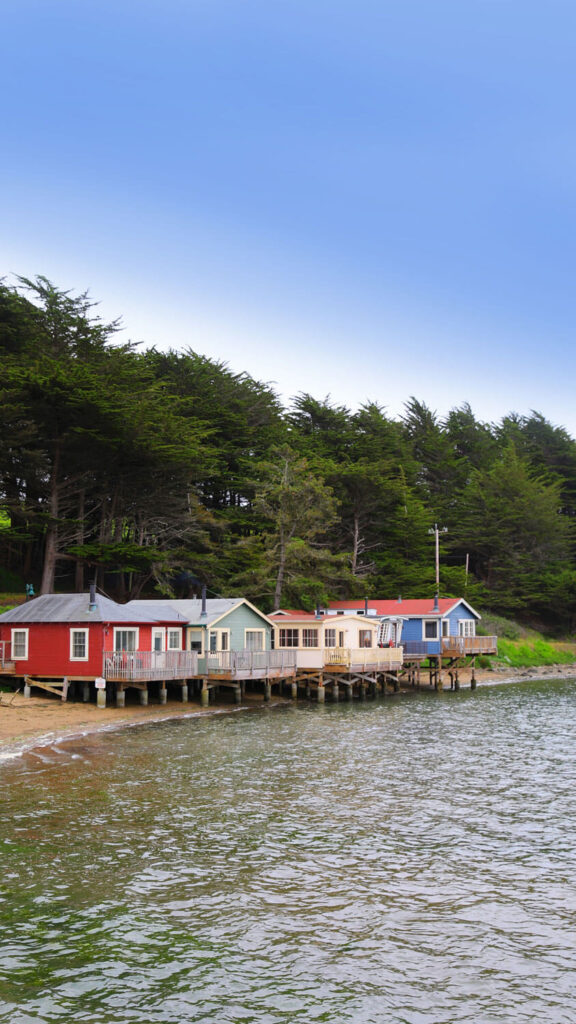 Given our weekday timing, we were a bit surprised to find the streets of Stinson Beach packed with cars and lots and lots of bodies filling up the sand. But we were there for sustenance, not for sun, and quickly happened on Parkside, a three-in-one business that includes a cafe, snack bar and bakery. While the outdoor patio at the cafe beckoned, the swiftness of the snack bar won out. Fish and chips, naturally.
Parkside re-entered our lives later that day when we stopped at a market in Point Reyes Station and bought some Parkside granola. It ranked as some of the best that this granola, fruit and yogurt breakfast eater has spooned into her mouth.
After leaving Stinson Beach, Highway One straightens out a bit, and we roughly follow the San Andreas Fault as it makes its way northward. The epicenter of the 1906 San Francisco Earthquake was in the town of Olema and today you can walk the half-mile "Earthquake Trail" from the Bear Valley Visitor Center to a picket fence now separated by an 18-foot gap in two sections.
Arriving at our Oasis
When we get to Nick's Cove just north of the tiny hamlet of Marshall, it looks much like I remembered from a first visit in 2008. Its history predates its current iteration as an upscale inn. Originally a fish shack and roadhouse, the development of Nick's Cove took place in the 1930s and was composed of buildings built on land as well as on five pilings over Tomales Bay. Today, five cabins stand on those pilings.
Nick's Cove underwent a major renovation in 2007 by noted San Francisco restaurateur Pat Kuleto, and in 2011, new owners did additional remodeling. Maybe that's why I was pleasantly surprised by the elegance of our room, named Fly Fisherman. It is one of the seven cabins on the east side of the highway, and while you can't hear the surf breaking under you as you can at the bayside cabins, you can sit on your front porch and get an expansive view of the bay.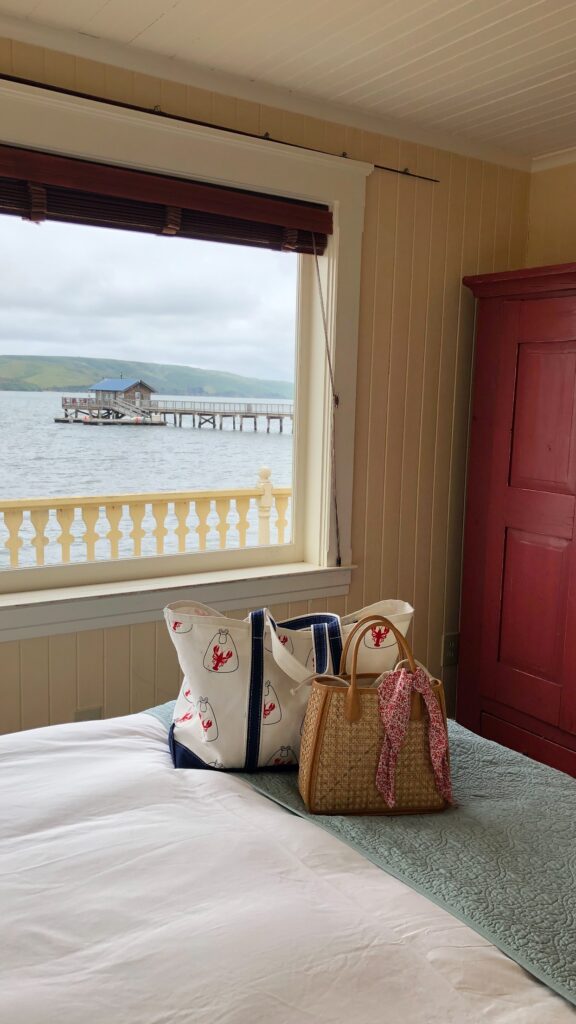 A nice leg-stretcher is a walk to Nick's adjacent farm and garden called The Croft. It's a lovely terraced area planted with vegetables that you can enjoy with your meal and home to some egg-laying chickens. Tables are scattered throughout the area, beckoning guests for morning coffee or an evening glass of wine.
During our stay, lunch and dinner were offered as take-out or room service, and the menu was more limited than usual, but very ample. (A continental breakfast is brought to your room each morning in place of what was once the standard full breakfast.) Outdoor tables dot the pier that extends 400 feet out from the restaurant.
Nick's Cove is well known for its great food and we concur, it's all-in-all fabulous. Favorite menu items included the very tasty roasted half Petaluma chicken and a particularly juicy burger. Note: The restaurant at Nick's Cove is open daily for lunch and dinner from 11:00AM to 9:00PM; no reservations accepted.
Taking to the Water
Kayaking on Tomales Bay is popular, and there are local outfitters that provide guided and non-guided trips taking off from Miller's Landing, adjacent to Nick's Cove. We had brought our Eddyline kayaks, a 12-foot Skylark model named Kermie and the newly-purchased 15-foot Sitka XL dubbed Nu Blue. (Yes Nu, not new, a play on my spouse's last name.)
It's best to hit the water in the morning as winds pick up in the afternoon. The tide was particularly low the morning we launched, which meant navigating through some sandy mud that has a tendency to capture feet ankle-deep and not let go!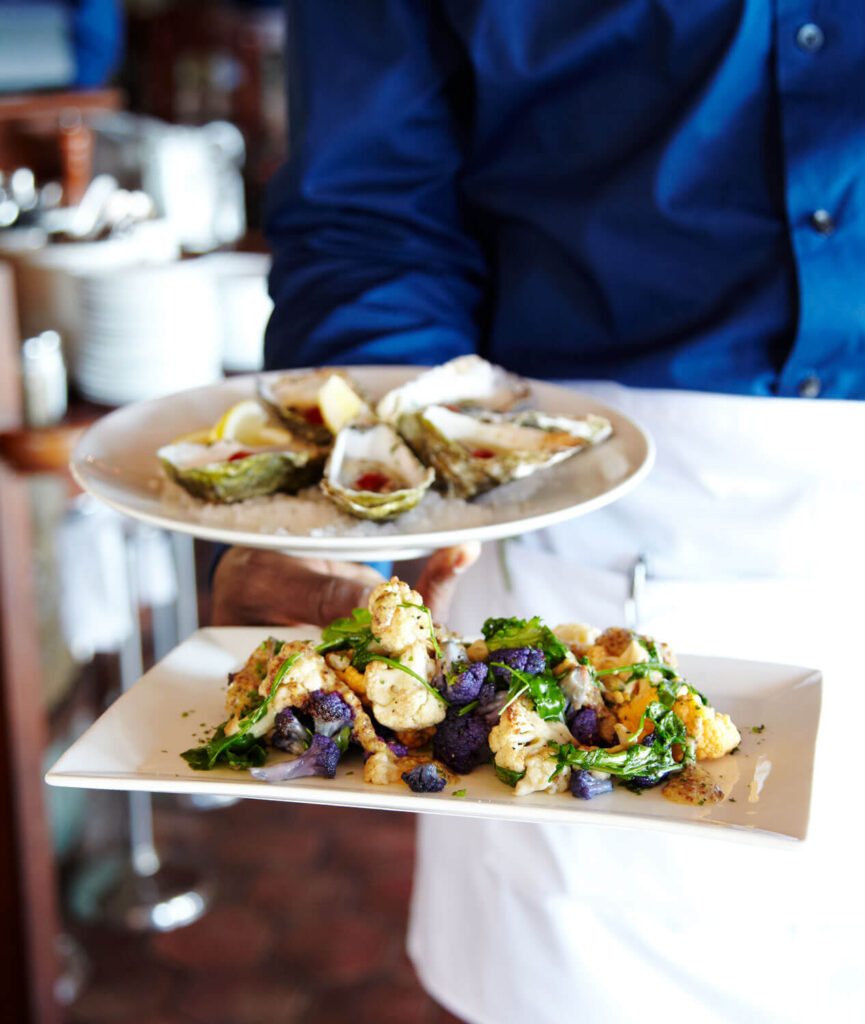 The bay itself is filled with eel weed, which is a bit tricky to paddle through but not impossible, and it is easy to spot weed-free channels. Bird life is plentiful with one island chock-a-block with hundreds of birds. Keeping them company were dozens of sea lions lazing in the sun. As we paddled close to see them, they barely lifted their heads.
Kayaking on Tomales Bay may not be the best choice for first-time paddlers as navigating the channels and eel weed takes some doing. It is probably best to go with a guide who can give pointers along the way and talk about the area's natural history.
Exploring Tomales Bay State Park
Exploring the land is as worthwhile as exploring the sea, and we headed across the bay to Tomales Bay State Park for a good four-mile hike. Parking at Heart's Desire Beach (which gets very, very crowded; go early to find a parking place), we hiked up the Johnstone Trail, walking under a tree canopy that felt like being in a tunnel.
Connecting to the Jepson Trail and starting downhill, we came upon a virgin stand of Bishop pines located in the Jepson Memorial Grove. A cousin of the Monterey pine, they require fire to open their cones, which disperses their seeds. That makes them uncommon along the coast.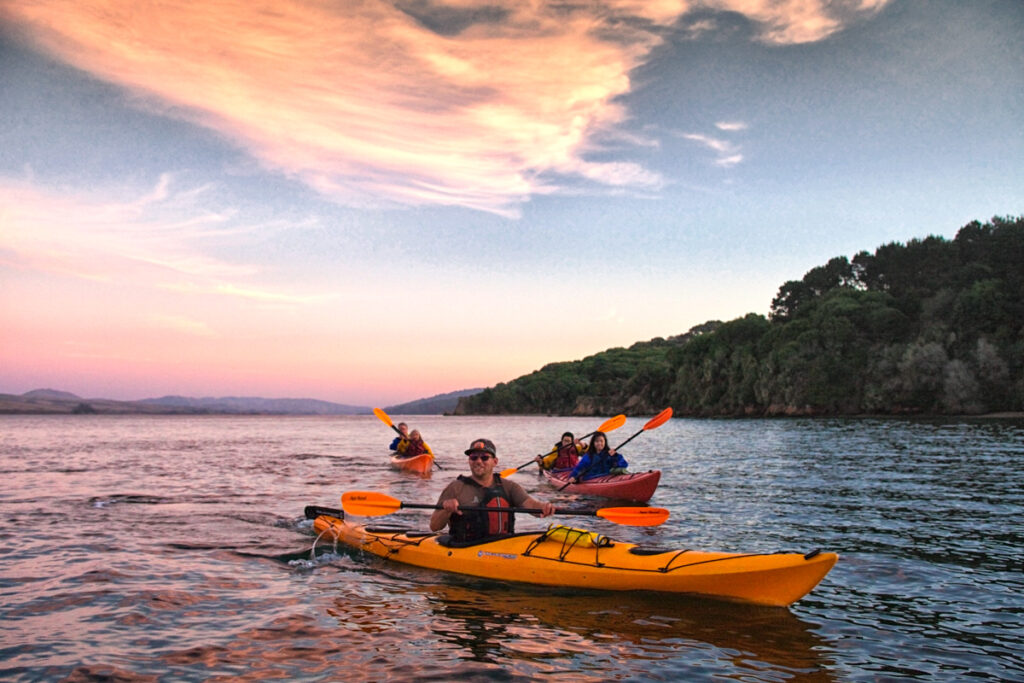 A lovely aspect of this hike was the number of wooden platforms and bridges we encountered, undoubtedly in places where wet weather makes the trail soggy. For bird fans, we spotted many egrets and blue herons, who went about their business unconcerned with the human company. In sum, it's a hike with it all: good workout, good views, good flora and fauna.
A shorter hiking alternative is Millerton Point, also part of Tomales Bay State Park but on the west side of the Bay. The North Pacific Coast Railroad arrived here in 1877, which allowed local dairy farmers and ranchers to speed fresh goods to markets.
This was also where vacationers heading to Inverness disembarked; they were then ferried across the bay. Oyster farmers set up around the point in the early 1900s. You can still see the oyster farms in the distance while walking the trails, some of which follow the old railroad path.
Discovering a Very Special Winery
Wine and Marin County are not usually associated. And that's part of the charm of Stubbs Vineyards, which sits in a pretty-as-a-picture valley amidst a menagerie of animals. Think of it as an imaginary place that just happens to be real!
We discovered Stubbs because Nick's Cove has two of its wines on the menu, and we tried both the Ellen Redding Pinot Noir (2017) and the slightly more expensive Stubbs Pinot Noir "Estate" (2017). An email to owner Mary Stubbs yielded an invitation for a late afternoon visit.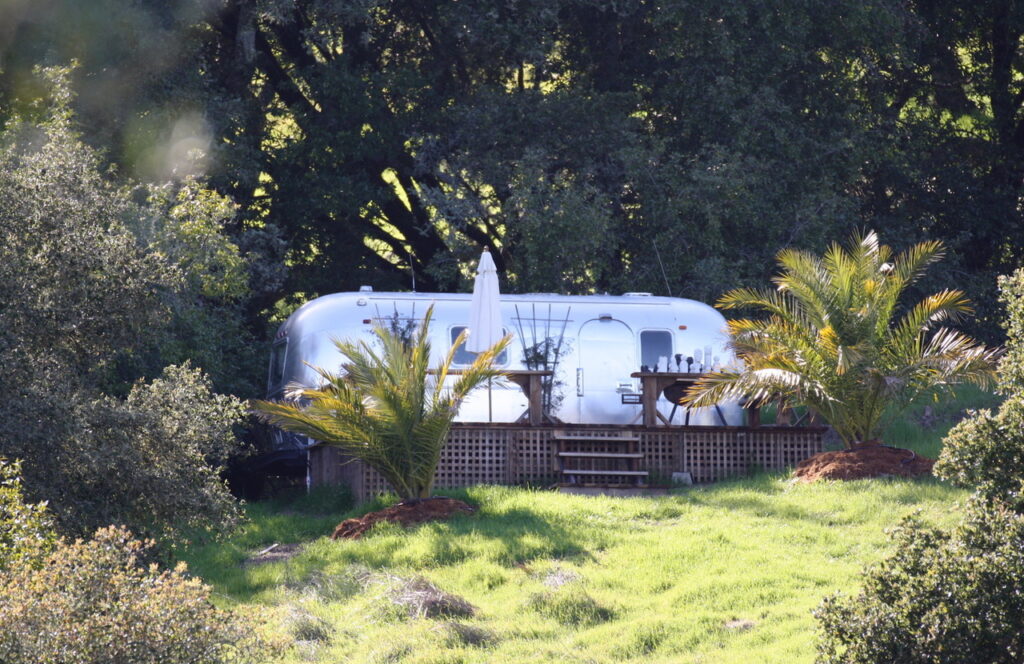 Getting there is truly part of the journey as the Marshall/Petaluma Road twists and turns and rolls up and down. The good news is that there is hardly any traffic, so the scenery can be enjoyed while driving.
Mary's husband Tom, a descendent of English farmers dating back to the late 1800s, purchased 1,200 acres in the early '80s, of which 600 remain in their hands. The vineyard is comprised of four acres of Chardonnay and a little over six acres of Pinot Noir.
Mary explains that both varieties are well suited to the cool climate and the clay-loam soil of the area. A good year, she says, produces 2,500 cases. We enjoyed tasting both varieties on a deck next to an Airstream trailer. Both wines are Burgundian in nature with just a hint of California sneaking through. In non-pandemic times, Mary rents out the lovely Gatehouse via Airbnb.
We didn't see any of the Mangalitsa pigs that roam the Stubbs land, but we did spot Ankole Watusi cattle. There are also llamas on hand to keep the sheep safe from coyotes. One could spend hours here roaming this wild and other-worldly nook that, in reality, is quite close to Petaluma.
Back to the Real World
When we awake the next morning, the wind is howling, a sign that it's time to head back to the Peninsula. We bid a final goodbye to Tomales Bay with a stop at the small town of Dillon Beach near the mouth of the bay. Surfers frequent the beach of the same name but not on this cool, breezy day. Interesting side note: Part of the beach is private, the only private beach in all of California!