words by Silas Valentino
An undeniable impression lingers after taking a simple stroll through the Allied Arts Guild in Menlo Park and for some, Sharona Wolff included, its influence may become everlasting.
Before she evolved into a goldsmith, Sharona was creative without an outlet as she wandered by the Davide Bigazzi Studio one afternoon in 2014.
"I walked past here and Davide had a sign saying 'Jewelry Classes,'" she remembers. "I walked in and said, 'Do you really teach people? When do I start?' I had never done it before but if we're lucky in life, we'll meet someone like Davide."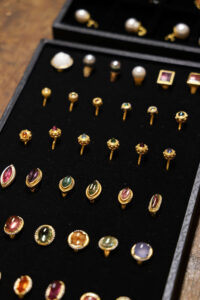 Raised in Australia, Sharona had moved to the U.S. following some 20 years working in the tech world and as an international executive of Bentley Engineering Ltd. She was drawn to the Bigazzi Studio—a workshop with a distinct aroma: a bouquet of metal, steel and copper all melded together—because it resonated deeply. She continues to work out of the Florentine master goldsmith's studio and has even led classes there herself.
"I thought about it for a while," she says of becoming a jeweler, "and in a sense, it was a natural fit. I did grow up surrounded by gold and mining …"
On the website for her business, Atelier Wolff, which she launched in 2018, you'll discover examples of her radiant jewellery (she opts for the British-Australian spelling). Platinum granulation is her signature as are earrings of gold and rings that pop with brilliant gems.
These are pieces meant to be worn, and absolutely meant to be seen.
Spotted on Sharona's finger is a ring that's dark blue with vitreous edges. The stone is tanzanite and the ring happens to be the second piece of jewelry she ever made as a student in Bigazzi's class. He had tried to warn her that the design was too complicated for a novice jeweler; nevertheless, Sharona insisted. She included 46 solders in the custom 17-gram pink gold and continues to don the blue bijou as a totem for her evolution.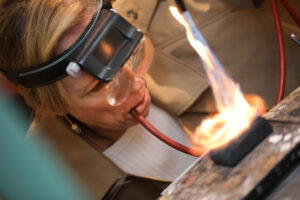 "I've had some men ask if this is women's jewelry—no, I make it with a person in mind," she clarifies. "Some people have said, 'Why don't you use more diamonds?' I like color. And I predominately make gold jewelry. What I don't make are very small pieces. What I'm looking at here is the jewelry that I always wanted to make as a child. It has a presence. It is a statement."
During a recent rainy afternoon, Sharona has the Bigazzi Studio all to herself. Sounds from her favorite composer, Johann Sebastian Bach, waft from the corner. She inherited her love of Bach from her father, who was of German descent and moved to Australia to work in the mining industry. Sharona's mother is an environmentalist and her parents' influence of explorative geology and eco-awareness guides Sharona in her work. She only works with lapidaries she knows and trusts who assure her that the miners who unearthed these gems were paid and treated fairly, and that none were children.
Sharona is the eldest of three siblings and began absorbing languages by the time she was ten when a mining manager's wife taught her Spanish. Today, Sharona has acquired German, Italian, Japanese, and several Pacific Island dialects and cites Russian, Arabic and Hebrew as next on her language list.
As the daughter of mining parents who traversed Australia, Africa and Asia, Sharona grew accustomed to rapid relocation. She lived in over 20 different places before becoming an adult and she once stayed at a school for just two weeks before jetting off again. (Menlo Park is the 34th place she's lived.) She embraced the nomadic upbringing and relished in the breadth of life experiences.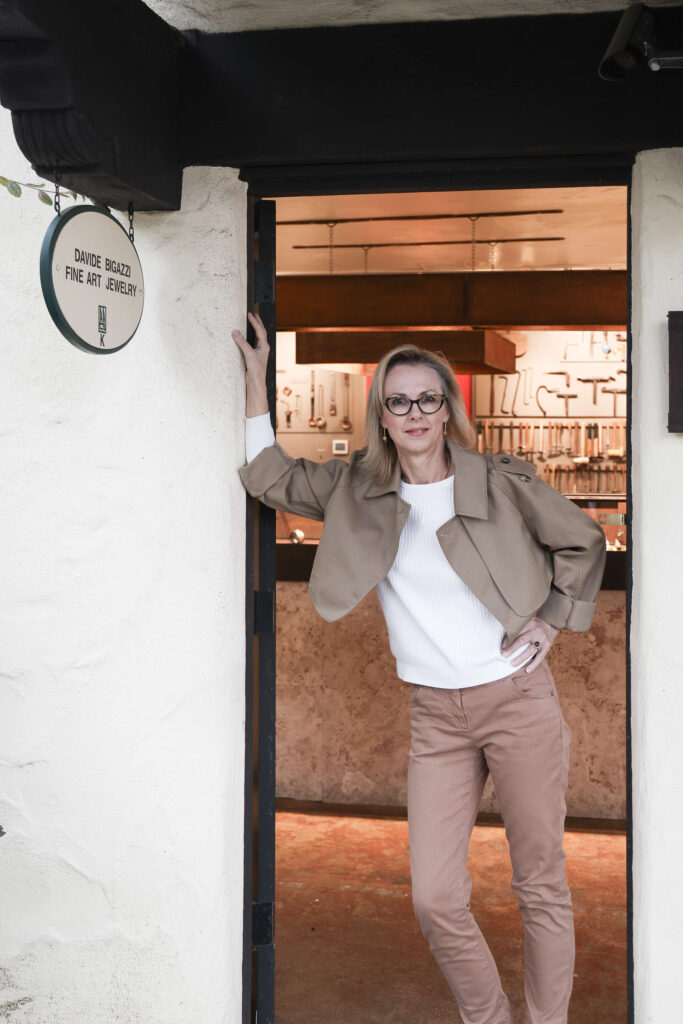 Upon receiving her degree from the Royal Melbourne Institute of Technology with a major in cartography, Sharona directed the flight chart production of the Royal Australian Air Force and later transferred into tech.
When she was 15 years old, the notorious pop hit "My Sharona" had entered the air waves and she's rolled her eyes ever since. "I've been to a few places where they played it on my first day of work," she admits.
Cartography and geomatics, in addition to serving her well with jewelry design, are repeatedly referenced throughout her life. She describes cartography as spatial relationships that underpin our entire social infrastructure.
"It's not a map, per se, it's a relationship to where we are and how we interact," she explains. "Cartography is the basis for UPS and FedEx delivering your parcels. It's a positioning system. One of my favorite places in the world is the Herzog August Library in Wolfenbüttel, Germany. It was established in 1572 and you go in and see the map Vasco da Gama used when going around the Cape of Good Hope. It's absolutely fascinating to walk through there and all of a sudden you see what you learned in school. Then you start to see globes that draw you in … you want to reach out and touch them—but, of course, you can't!"
Each piece of Atelier Wolff jewelry is entwined with such storytelling. For instance, while viewing cylinder seals at The Morgan Library & Museum in New York, Sharona was captivated by the symbolism, myths and legends encrusted on these ancient seals. Some stretched back to the Fertile Crescent Era when the sculpted seals had once served as an identity document (similar to what a driver's license is today) that stored a person's personal information.
Sharona wanted to create a piece of jewelry that celebrated this influence. She found a carver in Los Angeles who delicately engraved floral imagery and decorations and now the Atelier Wolff collection includes seals inspired by the past but worn for today's admiration.
"People interpret what we wear. That's what we do with jewelry or clothing—any adornment really," Sharona reasons. "When the queen wears her ceremonial jewelry—it's power, or the story of power. Why do kings wear crowns? They are regalia and symbols of power and authority. It's telling an interesting story. Kissing the Pope's ring—that's a story. It's telling the story and the believer is buying it while giving it power."