Words by Jennifer Jory
As we hoist the jib on the Merit 25-foot sailboat, it takes off flying, heeling into the wind. A wave splashes over the bow, gently spraying our team. It's race day at Spinnaker Sailing and we scramble to the boat's high side, trying to chase down the more competitive sailors ahead of us. Gliding through the sapphire blue water, I feel like I'm on vacation, but I'm just off the shore in Redwood City.
One of the Peninsula's under-explored treasures lies along the waterfront dubbed the "Redwood City Riviera" by Spinnaker Sailing owner Rich Ferrari. In a Sausalito-like setting, perfectly aligned 25- to 75-foot-long sailboats gently rock in their moorings in the Port of Redwood City Marina. "It's the best-kept secret," Rich confides. He should know. As a lifelong sailor and businessman, he has owned sailing schools and boating marinas from San Francisco to Mountain View, in addition to serving as harbormaster in Redwood City for 25 years.
"If you're living in the Bay Area and not sailing, it's like living in the Alps and not skiing," Rich observes. Committed to sailing education for over 43 years, he's a steadfast booster for our legendary local sailing conditions, known worldwide for consistently strong winds. "It's a social, wonderful recreational resource," he notes. "Sailing also presents a lot of challenges and problem-solving opportunities. Engineers are enamored with sailing because there is always something to figure out, and it engages them physically and mentally."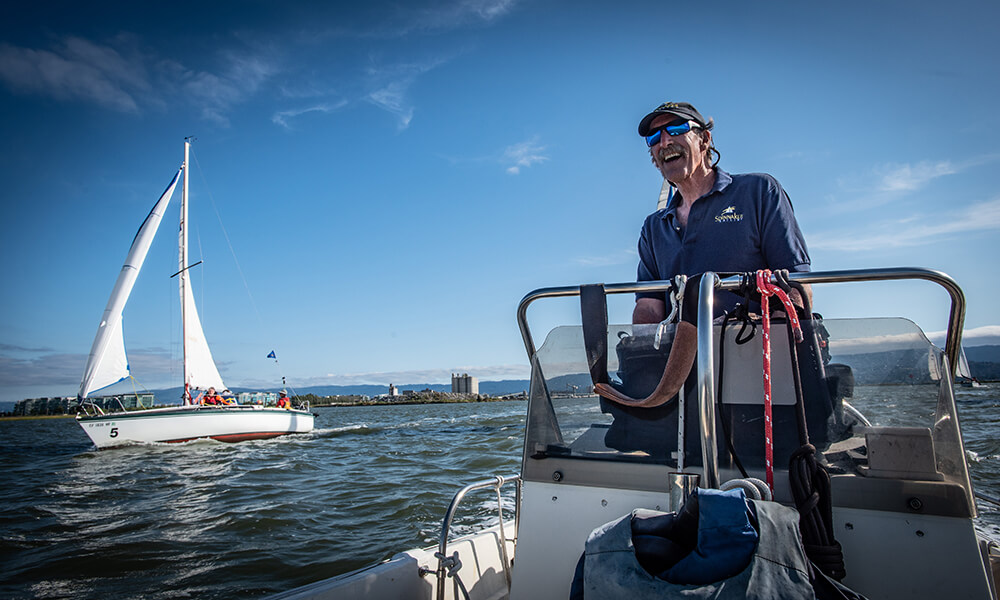 Spinnaker Sailing is the oldest American Sailing Association (ASA)-affiliated school in the country and the only one on the Peninsula that teaches large boat sailing on 25- to 42-foot boats. Through Spinnaker's 15-plus courses, novices can earn certification from basic keelboat sailing to coastal cruising and navigation. The school also equips students to charter boats locally and in reciprocal sailing locations worldwide. "Our courses are designed to give students internationally recognized certification for the various levels of achievement," underscores Rich.
With a fleet of 30 boats, students can progress from small crafts to larger steering cruisers. "There is always an online portion of the class and then a practical on-the-water session," Rich explains. "You could get through a basic keelboat course in four days. There's more wind and currents on the Bay, however, so it takes time under supervision to develop a certain spontaneity and confidence in your decision-making."
Sailing enthusiasts who want to advance to the next level to charter 50-foot boats or larger can join the school's overseas sailing vacations and earn a Bareboat Cruising or Catamaran certification. Spinnaker Sailing offers numerous ways to engage through sailing charter trips, company team-building excursions and a sailing club with access to sailboats any time. "We want to set incoming sailors up for success," stresses Rich. "Time on the water is important to further refine new skills so they become instinctive."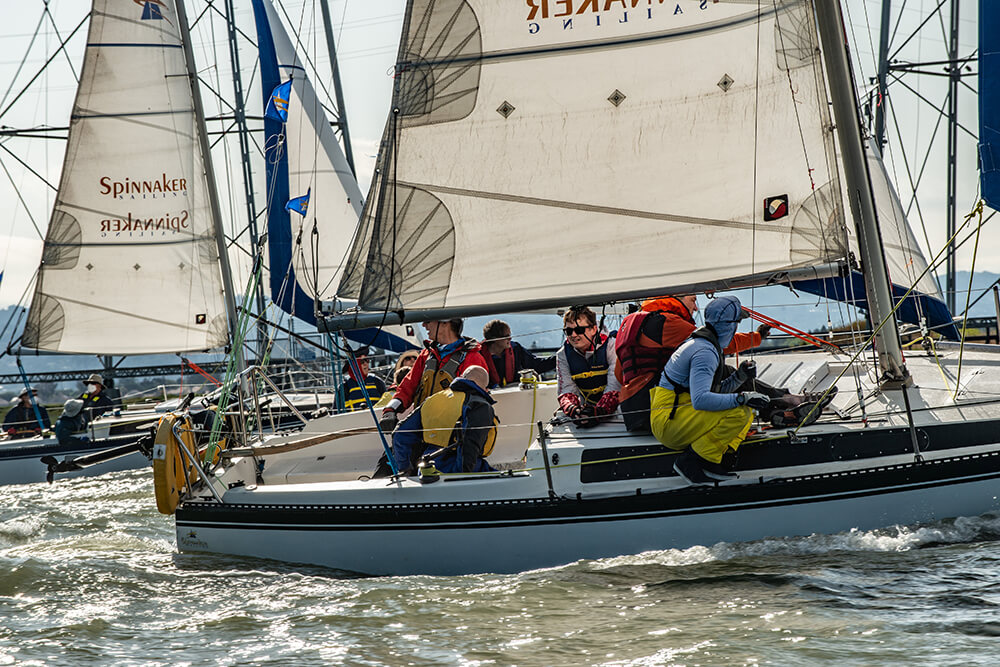 Born and raised in the Redwood City and Menlo Park area, Rich developed a passion for the sport at 16 when his father introduced him to sailing on a friend's boat on the Bay. It wasn't long before he bought his first 41-foot boat in his early 20s. While he was varnishing his yacht one weekend, someone asked him if he would consider becoming a sailing instructor and he soon began teaching. From then on he was hooked. "I've been engrossed in sailing for the last 45 years," he affirms. "I feel like I've been on vacation my whole life."
Rich brings a fearless attitude to sailing that he honed through numerous outdoor extreme sports. "I had an appetite for challenges in my youth that I probably should have thought twice about," he admits. "I sailed from Maui across the channel to Molokai on a windsurfer by myself. The excitement of river rafting also drew me in as well as climbing rock faces without ropes." While teaching sailing, Rich also raced sailboats for many years. He applied this same adventurous spirit as a sailing world entrepreneur, developing projects like Mountain View's Shoreline Park, Redwood City's Seaport Conference Center, sailing schools at local waterfronts and a Peninsula windsurfing retail store: "Opportunities would avail themselves and I would say, 'Let's go do that!'"
After marrying his wife Kris, Rich's life gained balance, and he stayed in port to raise their two now young adult children Nikola and Sean. Clearly influenced by his upbringing, Sean lives on a 41-foot sailboat in Marina Del Rey.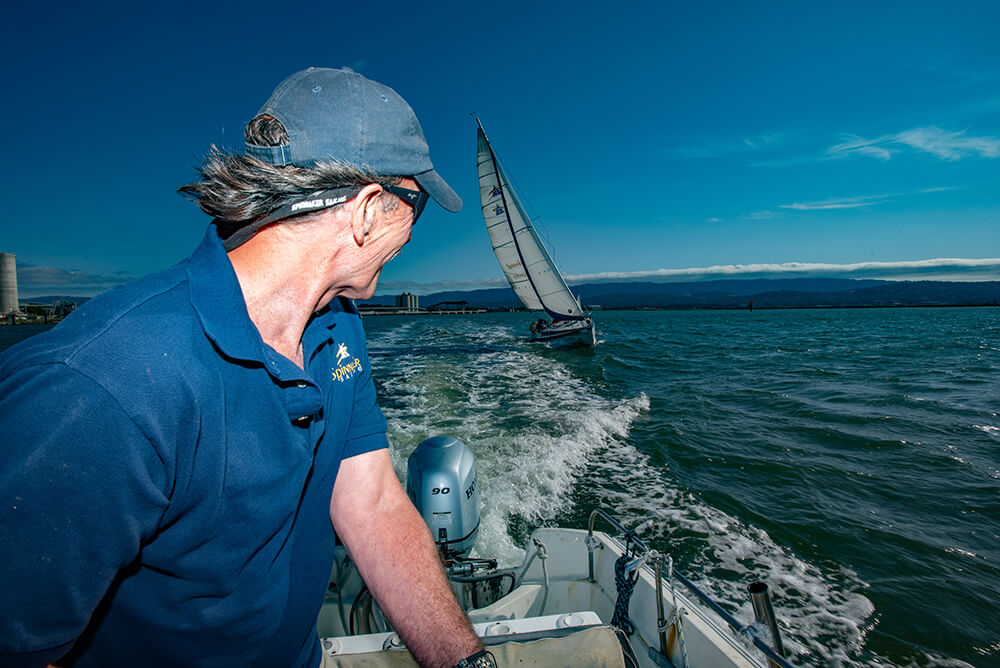 With a substantial portion of the Bay Area located on the water, sailing offers a way to experience the outdoors locally and beyond. In fact, several Spinnaker students have completed classes and taken off sailing around the world. Rich relays how an ambitious newly-certified sailor recently set off for Cabo San Lucas with the help of a Spinnaker skipper. In Mexico, the student found a crew mate to continue sailing through the Galapagos, Australia and all through the Indian Ocean.
Back in Redwood City, as Wednesday night racing draws to a close, sailors maneuver their brightly-colored boats back to the marina to swap stories. "Sailing becomes part of your lifestyle and it's a very soothing environment," reflects Rich. "It's like being rocked in your mother's arms."