words by Anni Golding
Preston's Candy & Ice Cream's unassuming storefront, with its old-school neon sign and red-and-white striped awning, has been a fixture on Burlingame's Broadway Avenue for more than 75 years. A sweet slice of Peninsula history, it has been a go-to spot for generations of customers to indulge in locally made treats.
The shop's quiet exterior belies the activity inside that, even on a relatively quiet midweek afternoon, doesn't stop: A customer drops in to order a Mocha Almond Fudge Pie for a dinner party, kids crowd the ice cream case for an after-school snack and in the kitchen, candymaker Javier Santiago is mixing up an oversized batch of gooey marshmallow fluff.
At the center of the activity is Irene Preston, the shop's petite, energetic owner.
Opened by Art Preston in 1946, the eponymously named shop was part of the post-World War II economic boom. (Fun fact: Despite sharing the same last name, Irene and Art are not related.) According to Irene, Art had wanted to be a candymaker from a young age and apprenticed with Douglas Shaw in San Francisco before being drafted to serve in the Pacific theater. When Art returned to the Bay Area after his tour of duty, his mentor helped him set up shop in Burlingame, providing several kiddie pool-sized copper pots that still hang in Preston's kitchen today.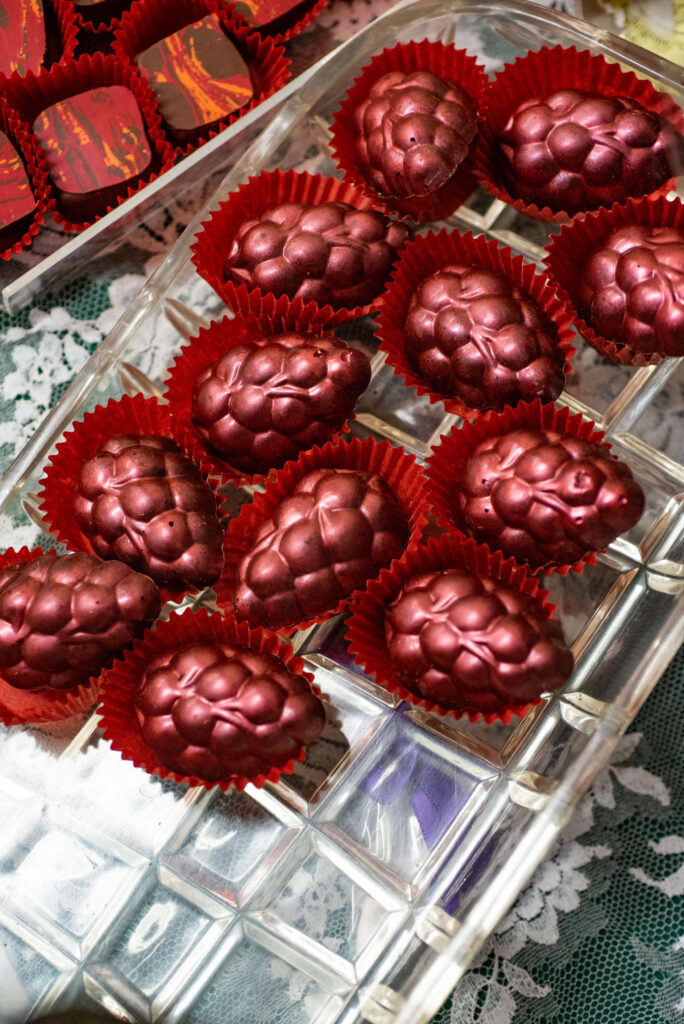 "Art was considered one of the master candymakers in the United States," says Irene. A small display of awards in the front of the shop attest to his skills and success. Thanks to Art's reputation and the shop's proximity to the airport, Preston's was tapped to provide the mints for United Airlines in-flight meals. Decades later, Irene and her staff provided candy for Virgin America.
Irene was herself a longtime customer before she and now ex-husband George purchased the shop from Art in 1997. Irene and George were Palo Alto residents at the time, with two college-age sons. George was ready for a career change and Irene supported the plan—although she had no intention of being in the kitchen. She would handle the business side of things, and George would make the candy. "I'm not a candy-maker," she says matter-of-factly, "I'm a candy eater."
Although Irene, a UC Berkeley graduate, had never worked in the food business before, her career experience as a graphic designer, teacher and art resource person for the Palo Alto Unified School District provided a good foundation for running the business and managing employees.
When she and George split a few years into the venture, Irene became the sole proprietor, and she's been running things ever since. She also learned to make candy and has passed those skills on to her employees, training five candymakers over the years.
Walking into Preston's is like stepping back in time to the middle of the 20th century: the blue-and-white linoleum tiles, delicately-patterned wallpaper and lacy cafe curtains in the shop's window might remind you of your grandmother's (or great-grandmother's) kitchen.
For a first-time visitor, it's hard to know where to look first. An overwhelming assortment of candies lines the left side of the shop along the wall as well as in, on and around the glass-fronted white display cases. There are bags of colorful gummies, tray after tray of chocolate-covered delights and seasonal sweets, heart-shaped candies for Valentine's Day or bunnies and eggs for Easter that populate the shop's shelves and tables. Irene says Easter and Christmas are the busiest holidays of the year, but you can find gifts and treats for most holidays, including Hanukkah and Chinese New Year.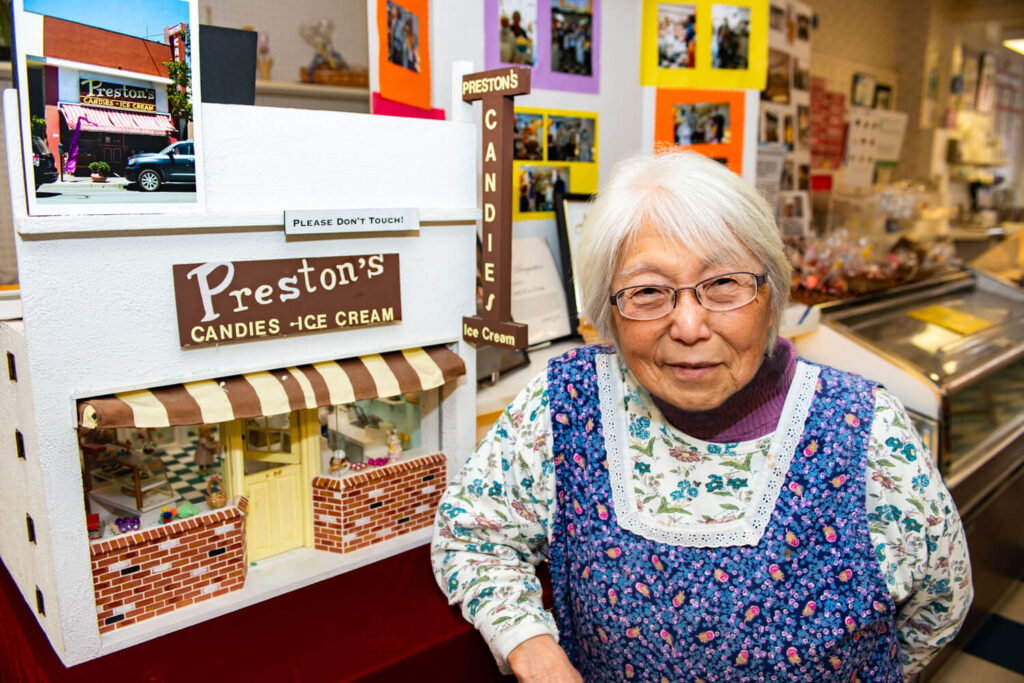 Year-round bestsellers include chocolate-covered honeycomb, crispy peanut brittle and handmade marshmallows. All of Preston's candies are made in-house, many from Art's original recipes. "He gave me this binder, and we are only using about a third of it," Irene says.
Her staff continues to produce old-school treats, like coffee blacks, while also creating new products for changing times and diets, like the vegan chocolate Javier has developed. "He's so creative!" Irene says proudly. The two have a good working relationship, joking around in the kitchen and playing off each other's ideas.
"I'm having so much fun with him," Irene says. "Because most of the times when I come up with an idea—"
"—I've already made it," Javier interjects, finishing her sentence, as they both laugh.
Ice creams, however, are no longer made in-house but are purchased from local producers Loard's, Mitchell's and Golnazar Gourmet Ice Cream. Loard's provides the bulk of the flavor options that fill the cold cases along the right side of the shop.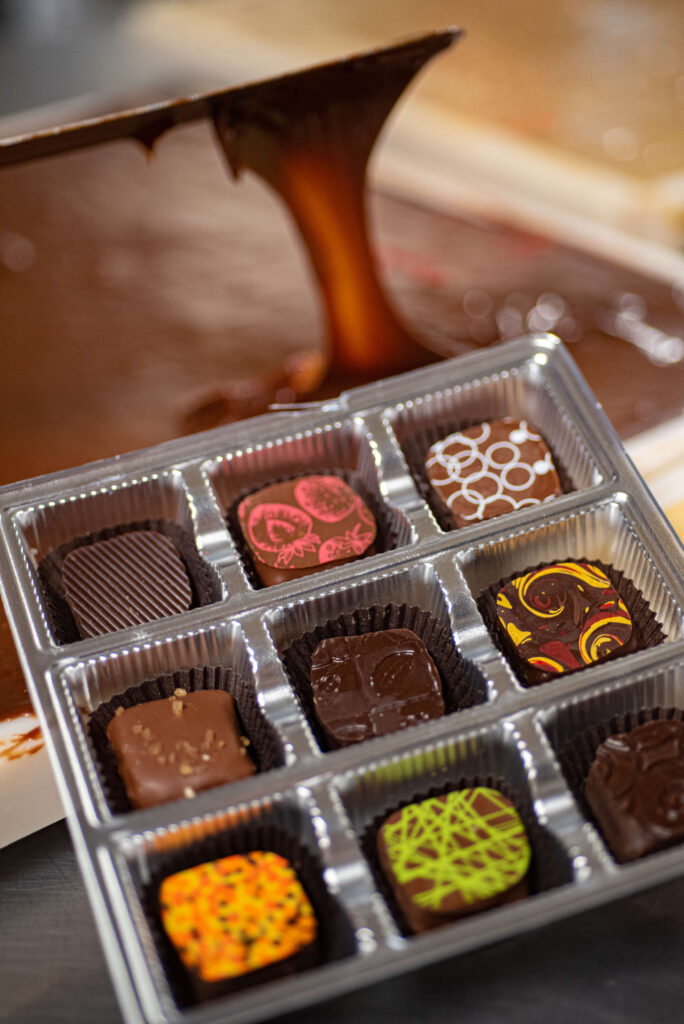 Cross-pollination between Preston's and Loard's goes back to the early days of both businesses, says Irene. "Art and Russ Sayard (Loard's founder) shared recipes," she explains. When Irene took over in 1997, Preston's ice creams were being made at Loard's facility in the East Bay and, she says, "My candymakers actually went over there once a week to make their syrups and things like that, and then we made all the candies for their stores over here." But times change, and purchasing frozen treats from different makers allows Irene to offer a variety of flavors and introduce new options to meet customer demand and changing tastes.
The fact that Irene has kept the shop going for the past 25 years is a credit to her tenacity, creativity and passion for the business. But make no mistake, it's hard work, and at 76 years old, Irene is considering the future of the shop. "My boys are very busy with their own careers, so I don't have anybody to take over," she says.
She'd like to see Preston's legacy continue and would be willing to teach a motivated, new owner, just as Art taught her 25 years ago. "Preston's goal is to present opportunities to have real candy," she says, referring to the shop's handcrafted products. That sounds like a pretty sweet goal.