Let's not talk turkey. With Thanksgiving coming around again, that was the challenge we presented to Benjamin Robert, owner of Gambrel & Co., a craft butchery in Redwood City. It's time to start thinking: Who's hosting? How many will be at the table? What's on the menu? And while the default holiday main course is traditionally turkey, it doesn't have to be.
In fact, historians can't definitively tell us what was served at that first Thanksgiving feast in 1621. While there's mention of a turkey hunting trip before the famous Plymouth meal, it's just as likely that the Pilgrims and Native Americans feasted on venison and waterfowl, along with squash, pumpkin and berries. In our own Peninsula tradition of thinking outside the box, why not ponder other types of poultry?
Calling himself a butcher who works from the ground up, Ben prides himself on his unique ability to answer just these kinds of questions. Coming from a background in ecological agriculture and with culinary expertise gleaned as an executive chef, Ben opened Gambrel & Co. (named for the hooks used to hang animals up after harvesting) in February 2015. Inside his artisanal shop on Main Street, you'll either find him at the front counter, wrapping up orders and sharing cooking tips, or catch sight of him behind a glass window, breaking down sustainably-raised meat he sources from local farmers.
Maybe you're tired of the turkey routine. Perhaps your headcount is smaller this year. If you're up for a twist on Thanksgiving tradition, here's Gambrel and Co.'s official take on birds of a different feather.
duck
Let's start with duck. As Ben points out, it kind of looks like a turkey, so it has bird appeal. Since duck is so rich, you don't need a huge bird, especially if you're serving all the usual side dishes. Duck fat is very decadent, so it enhances the perception of the meal being special. Roast duck is the more traditional offering, but Ben makes a good case for purchasing a Sous Vide ("under vacuum" in French), a device that cooks vacuum-sealed food in a temperature-controlled water bath, delivering moist, mouth-watering results. Previously priced in the domain of professional chefs, this cooking technique has become an affordable addition to home kitchens. Here's the other big selling point: "You set it, and you forget it." When the duck is cooked, all it takes is a quick blast in the oven to get the fat and skin nice and crispy. Gambrel's ducks come from 38 North in Petaluma. How much to order? Ben says a pound of duck per person, so Gambrel's four- to five-pounders will serve four to five people. Price: $8 per pound
game hens
Gambrel's game hens come from Marin Sun Farms in Point Reyes, and Ben says they are super flavorful since they are organically pasture-raised. Game hens are slow-growing birds with a more variable diet, so some people find them tastier than turkey. True game hens weigh one to two pounds, which makes them well suited for smaller groups. For big parties, Ben suggests running a rotisserie with six or seven hens. You can roll them on a spit all day before bringing them out in a festive display to the table. Other options are Sous Vide or just treating them like a turkey—roast them in the oven but in about a quarter of the time. Expect a two-pound game hen to serve two people. Price: $6 per pound
quail
Quail are abundant in California, so they're a natural fit with celebrating a bountiful Thanksgiving. Also from 38 North, Gambrel's quail come semi-boneless, with only wing and leg bones, so they don't look very appealing. That's why Gambrel sells them stuffed, and customers can pre-order variations that include Ben's own sausage, risotto or traditional stuffing. (Customers rave about Ben's stuffed quail, so we convinced him to share his recipe.) Ben's favorite way to prepare quail is to wrap the stuffed quails in prosciutto and then roast them in the oven. The prosciutto becomes infused with the skin of the quail, and you can crack off delicious, crispy pieces tasting like "salty, porky goodness." You can also save the drippings to make a gravy or sauce. Serving size is one quail per person. Plate a group of them together for a dramatic presentation at the table. The best part? The cooking time of a stuffed quail is about 15 to 20 minutes, so no agonizing over whether the turkey is done. Price: $9 per quail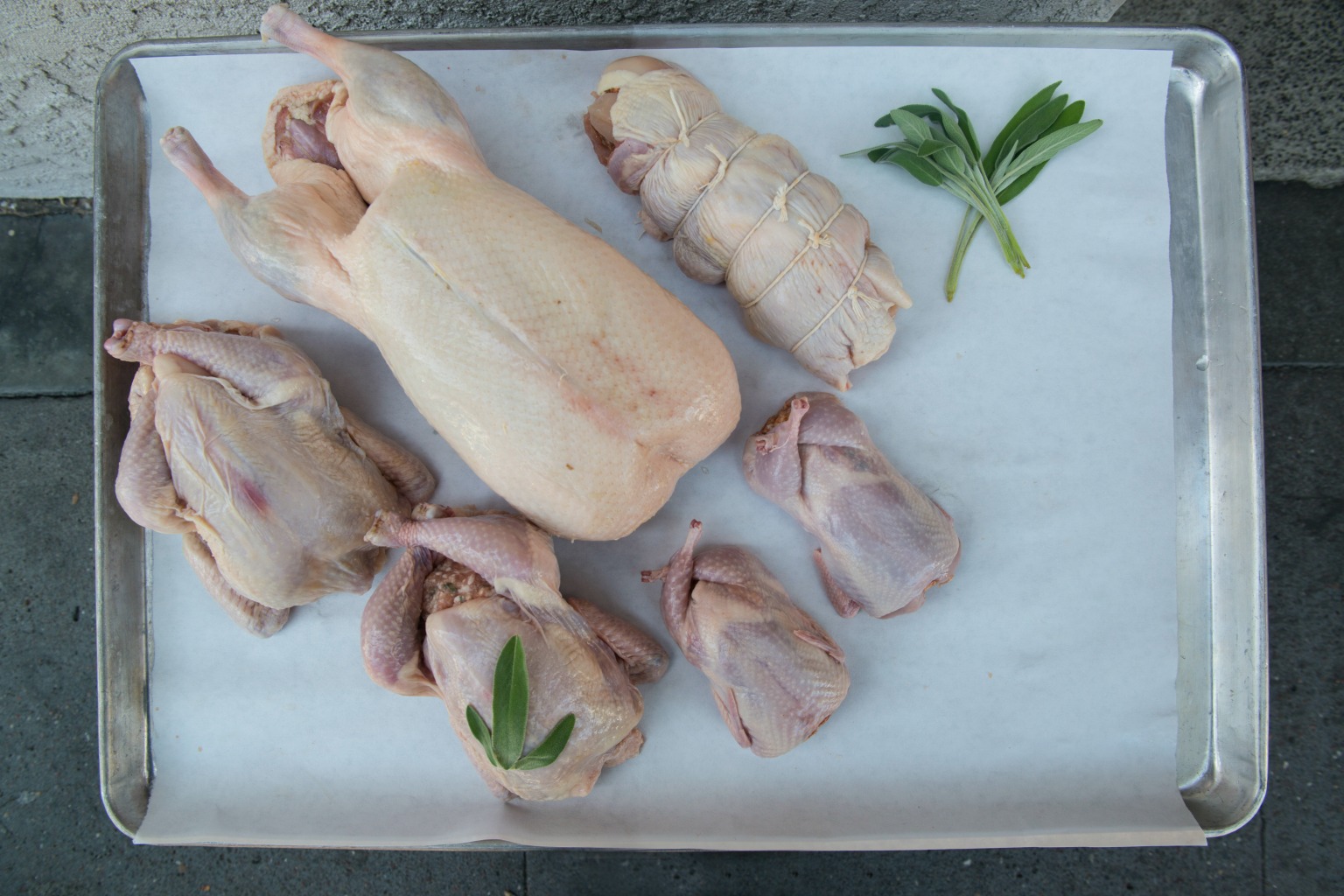 chicken porchetta
The chickens sold at Gambrel aren't your standard birds—Marin Sun Farms crosses them with Cornish game hens, which gives the chicken stronger flavor because of the more variable diet. They're available whole or in quarters or breasts. For a more festive approach to a bird that may seem too ordinary, Ben suggests trying a classic Italian preparation like Chicken Porchetta. For the version he makes in the shop, he removes the bones from a four- to five-pound chicken, seasons and pounds out the meat and then rolls it around in a mix of sage, ginger, garlic and white pepper pork sausage. A half chicken will serve two people; a whole chicken will satisfy four. And if you have leftovers, Ben says Chicken Porchetta makes delicious sandwiches for a next-day meal. Price: $15 per pound
still feeling loyal to turkey?
If a frozen bird from the grocery store is your fall-back approach, consider buying a whole fresh turkey instead. Ben says fresh turkeys retain more moisture, so even a small shift in tradition can add flavor at your table. Gambrel's turkeys come from Diestel Turkey Ranch in Sonora. Price: $4.50 per pound
ben's final advice
If you're planning to shop at a specialty store, make sure to order ahead to guarantee the Thanksgiving bird of your choice.
Location: 810 Main Street, Redwood City
Phone: 650.260.2622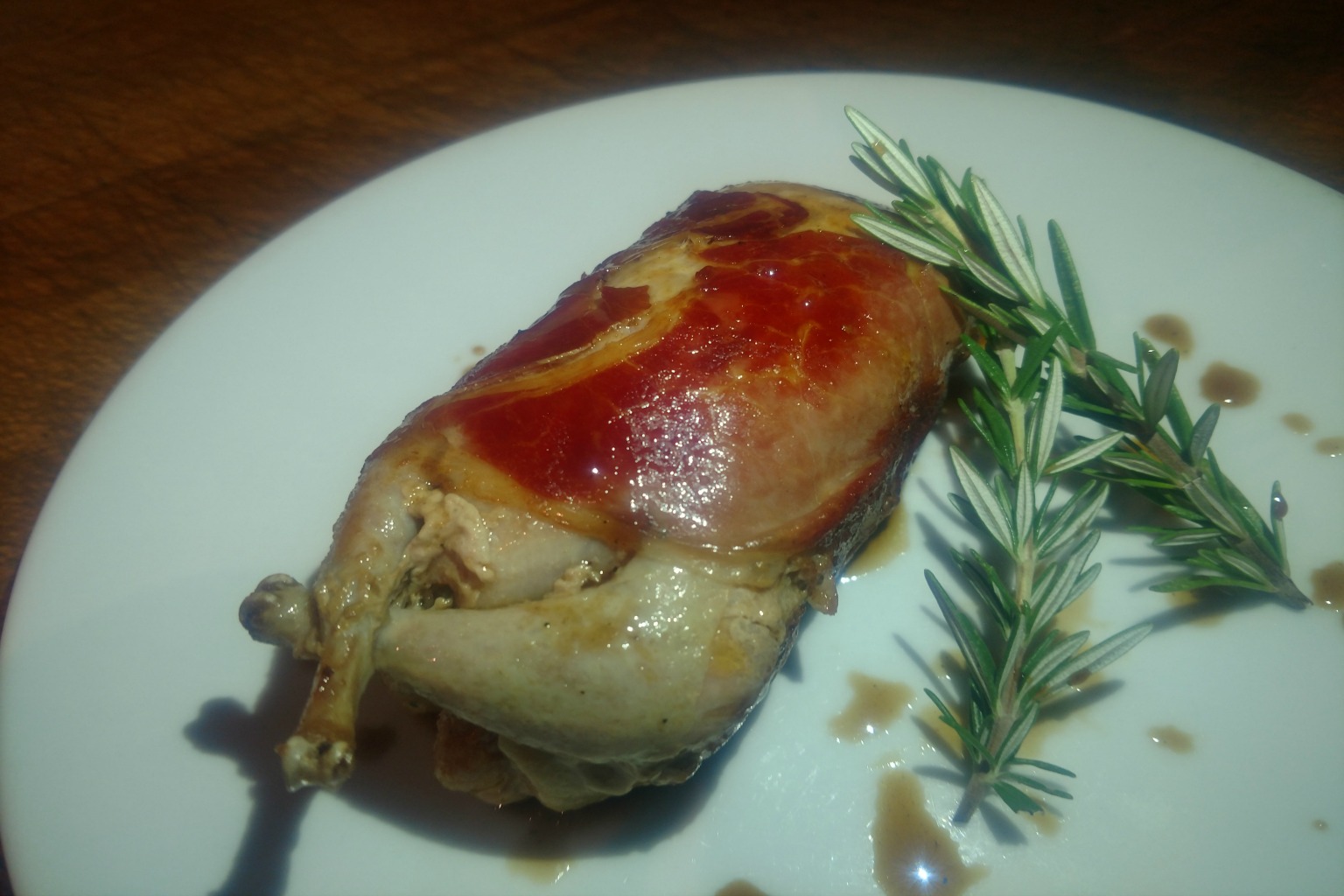 make it
GAMBREL'S MUSHROOM RISOTTO STUFFED QUAIL WRAPPED IN PROSCIUTTO
Serves 2
RISOTTO STUFFING
1 cup risotto rice

¼

cup diced onion

¼

cup sliced oyster mushrooms
2 minced garlic cloves
2 cups chicken stock
2 Tbl extra virgin olive oil
1 Tbl fresh chopped thyme
½ cup grated Parmesan cheese
1 beaten egg
QUAIL
2 semi-boneless quail
2 slices prosciutto
2 Tbl extra virgin olive oil
salt and pepper
MUSHROOM SAUCE
2 Tbl minced shallot
1 tsp minced garlic

½

cup sliced oyster mushrooms
1 tsp minced thyme

¼

cup red wine
PREPARE THE STUFFING
• Warm extra virgin olive oil in
small saucepan.
• Saute onion until translucent, add mushroom and garlic and cook until soft (~2 minutes).
• Stir in risotto rice, making sure all of the rice gets exposed to oils in the pan.
• Add half the chicken stock and reduce heat to a low simmer. Stir occasionally until liquid is just about evaporated, then add remaining stock and reduce until creamy.
• Turn off the heat and spread risotto out on a tray to cool. Once cooled, fold in cheese and egg and set aside.
PREPARE THE QUAIL
• Preheat oven to 400F.
• Open up the cavity between the legs of the quail and insert about ¼  cup of stuffing at a time until the quail is fat and plump but not overflowing.
• Season outside of quail with salt and pepper.
• Lay prosciutto slices out on work surface and place quail breast-side down in the middle of the slice. Fold prosciutto over the back side of the quail, overlapping to create a seam.
• Warm extra virgin olive oil in cast iron pan over medium-high heat until just about to smoke. Add quail breast-side down and sear for 30 seconds.
• Place in oven for 6 minutes, then flip and cook for another 6 minutes.
• Remove quail from pan and let rest on a wire rack for 5 minutes before serving.
• Reserve the cast iron pan, along with any juice from the birds that might be inside.
PREPARE THE MUSHROOM SAUCE AND SERVE
• While the quails rest, return the cast iron pan to the stove, and place over medium heat.
• Add shallot, garlic and mushroom. Saute until tender.
• Add the thyme and then the wine. Reduce to desired thickness. (Ben usually lets the sauce reduce by about half.)
• Serve over quail, preferably on
a deep plate.