Words by Sophia Markoulakis
Growing up in East Los Angeles, as one of four children of Vietnamese refugees, Rosy Cohen knew that though her opportunities seemed limited, she would achieve her aspirations to become a lifelong learner and educator. "My mom worked her butt off with resilience and grit, taking two buses to work and back each day," she recalls. "She taught me to be resourceful and optimistic—and education was always deeply valued in my childhood home."
At 14, Rosy worked as the bookkeeper for her family's nail salon, drawing further inspiration when her older sister attended Harvard University. Coming from a background of under-resourced schools, Rosy credits enrichment programs and inspiring teachers and mentors with helping her cross from East to West L.A., where she became a first-generation graduate of UCLA. Along the way, Rosy recognized that learning was more than just standardized tests. To be a "thinker, doer and maker," as she likes to say, requires immersing yourself in creative endeavors that not only teach skills but also build confidence, team-building and community.
However, after graduation, Rosy put her love of education on the back burner to take a position in business, making it possible to pay off her student loans and secure financial stability. Over the next 20 years, she built a successful career in finance, married her husband Josh and began to raise a family—initially in San Francisco before moving to Burlingame in 2010. "Even though I was comfortable on the corporate track," she recalls, "a nagging voice kept calling me to pause, reevaluate and explore." In 2019, Rosy gave herself permission to do just that.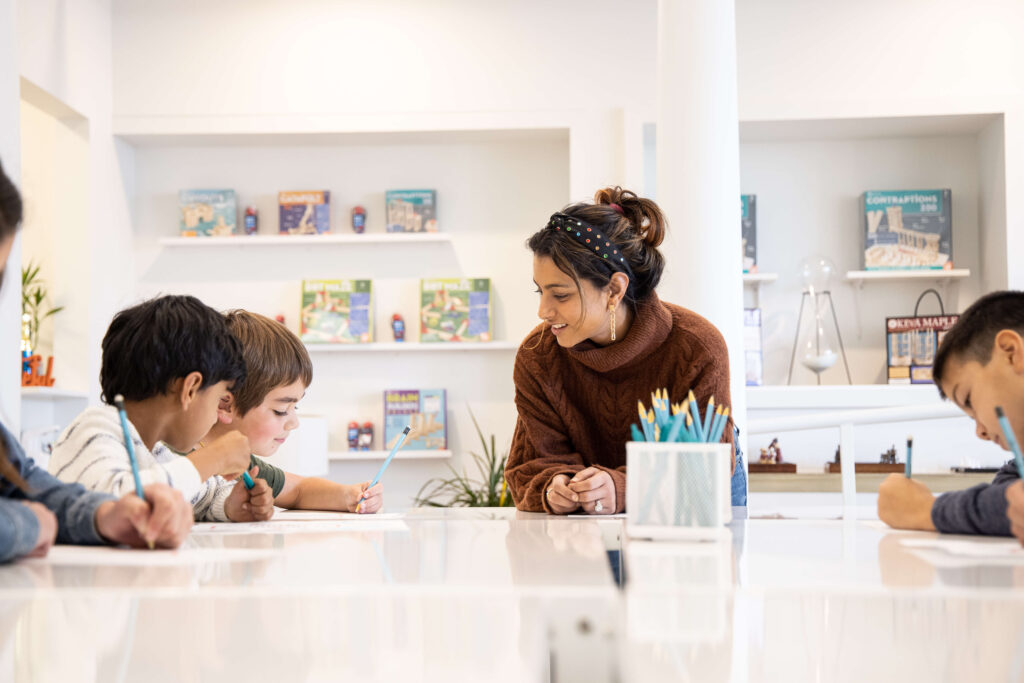 She found herself thinking back on her early love of education—and how profoundly she had benefited from enrichment programs in her community. Beyond school and home, Rosy envisioned creating a "third place" where students could find stimulation, challenge and support. From that vision, Grupology was born. Initially teaching classes out of her garage, Rosy began to partner with local schools to teach enrichment classes like entrepreneurship on campuses. When the pandemic hit and schools shut down, Rosy quickly pivoted her approach. "I wanted to do online learning at some point—I just didn't realize I'd be doing it so quickly," she says of the switch. "I love human connection and doing things hands-on, but we had to shift."
During the height of the pandemic in February 2021, Rosy took another chance by opening a brick and mortar while growing Grupology's online presence. "I'm an optimist," she says, "and I knew, at some point, we were going to get out of this." It became clear that both learning platforms were warranted. "Everyone's child learns differently, so having online and in-person instruction has been ideal," she adds. "Parents appreciate the flexibility to be remote. I get a lot of positive feedback from parents, saying, 'Rosy, we just want our kids to love learning again.'"
Grupology's physical space on Chapin Avenue, tucked away behind Burlingame Avenue businesses like Delfina, presents a distinctly different K-8 learning environment. There's a calmness when you enter, with unadorned white walls that serve as a blank canvas for emerging creators. "I don't like sensory overload for the children," explains Rosy.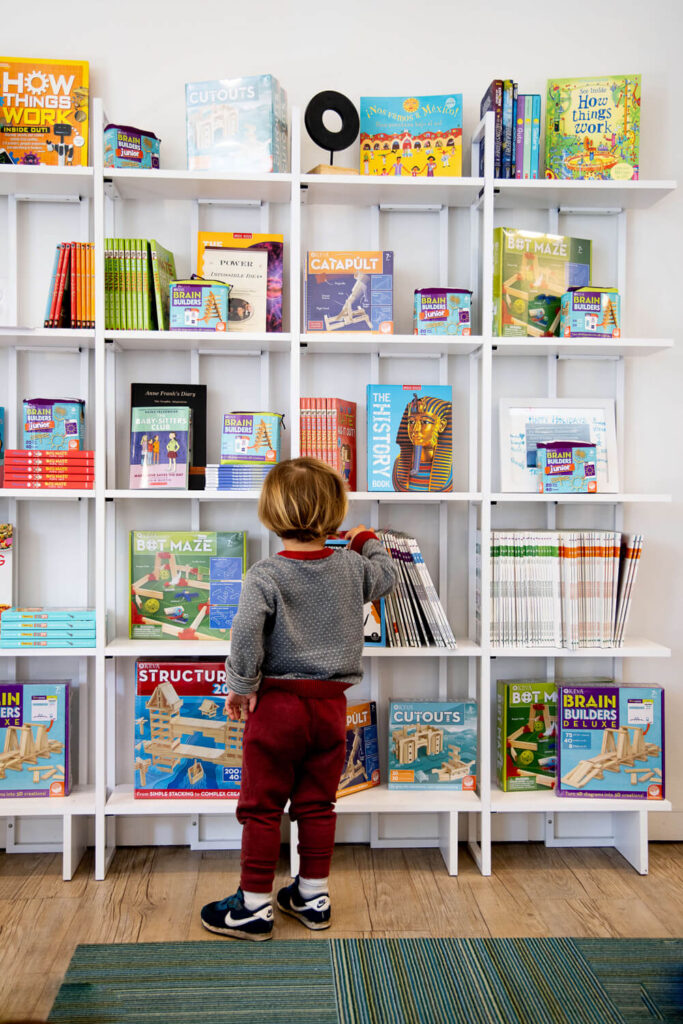 Large picture windows bring in natural light, and two window benches, full of cozy pillows, entice young readers and journalers. In Grupology's curated bookstore, students can explore titles and read them at their leisure before or after class. A maker lab is filled with thousands of KEVA blocks, and there's a variety of spaces designated for teaching core and elective classes. Similar to a tech company's conference room, at the head of a large modular table is a 55" flatscreen. This is where Grupology's hybrid (remote and in-person) classes take place. "Offering hybrid learning has been great. Students can take classes with a cousin or friend in another part of the world," Rosy says of the connections that shared learning can build.
The majority of students who take in-person classes come from local public schools with the company's virtual programming drawing students from San Jose to Marin. Conceptualizing a creative, interactive curriculum around basic skills like math and writing is not easy, but it's what Rosy sees as her company's differentiator from other learning centers or tutoring sites. "We are the anti-Kumon," she emphasizes. "We don't do rote memorization. Learning is not a linear process."
For instance, International Spy School, a class that Rosy teaches, incorporates geography, math, critical thinking and collaboration as the kids act like spies and travel around the world solving top-secret missions. After a 15-year career in derivatives trading, Rosy's husband, Josh, also pivoted to become Grupology's full-time math teacher and curriculum developer, and leads Grupology's math department. A lemonade stand is used to learn about budgets—and math is applied to the real world through subjects like financial literacy, sports analysis and election math.
Rosy is also proud of Grupology's writing curriculum, saying, "You hear a lot about STEM, but there aren't a lot of places where kids can explore writing. The poetry that kids are producing from our Poetry & Perspective class is amazing!" Grupology emphasizes the full writing process, meaning that editing and revising are integral steps to finishing. "As we build out our writing program, we realize that we have to get these kids to write and then sit down and provide feedback on voice or construction," she says. "It's not just about seeing that red ink—we're very thoughtful about how we provide feedback."
Living on the Peninsula, Rosy feels fortunate to have access to a rich pool of teachers, mathematicians, technologists and business leaders. Applying real-world expertise from her business career, she's been successful at assembling a team of subject matter experts from a wide range of backgrounds. "It's the chance to be a professor for a few hours without a full-time commitment," she points out, "so it's an enriching opportunity for them as well."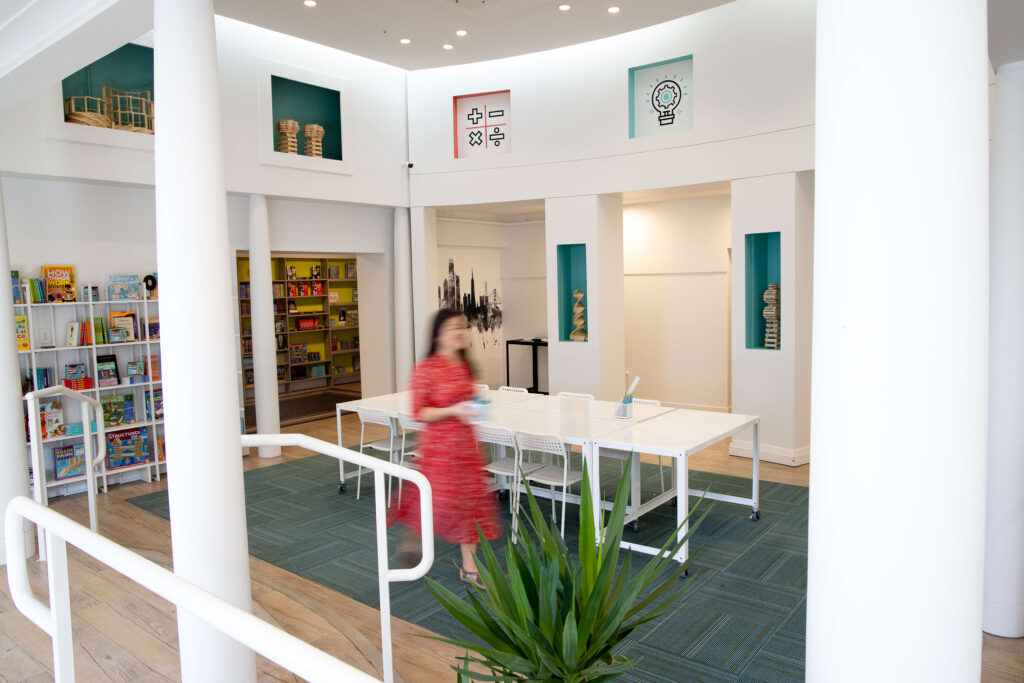 Rosy views her own growth as an educator as an integral part of Grupology's growth, gleaning insights through Nueva's Innovative Learning Conferences, along with other intensive training programs.
Rosy and Josh's children (now in fifth and sixth grades) are also entrenched in Grupology's campus. "We are lucky that our boys are not embarrassed by us," Rosy shares, "so they take classes with mom and dad too." Advanced chess players, their sons also participate as junior coaches in training. Two years after Grupology's launch, Rosy is gratified by the progress she sees kids making every day. "We love helping students understand the 'why' in learning," she says, "and I will always be on a journey to spark joy in learners."