It's not unusual for designer Ashley Canty to shoot a text message over to a former client after spotting a painting or side table for sale that would perfectly complement their home. The founder and principal designer of Interior Solutions Designs in Burlingame is known for preserving her work relationships and generating new ideas, even when a project is over.
"I recently saw a piece of art and sent a message to a Palo Alto client. I told her, 'This is beautiful and it reminded me of you,'" Ashley says. "I know their home, style and price point values. It's knowing all those things and letting the client know that you're always available. I don't mean that in a sales pitch way, but just because you're done, doesn't mean you turn off that project."
Ashley's home projects tend to naturally grow over the years, as in what may have started with a simple paint job and cabinet replacement could easily expand into a full two-story remodel. Ashley says that a majority of her clients prefer a more hands-on approach with a lot of back and forth in choosing each detail. It's during these phone calls, emails and texts that a unique friendship is forged.
"My hope is not to come in, do the job and then move on," she says. "People refer us or move into bigger homes and it's an ongoing relationship. Every five years, if people are in the same home, there's a major adjustment and change. It took a few years to understand that this business is repeat business."
For 20 years, Ashley's firm, Interior Solutions Designs, has guided Peninsula homeowners through the process of creating the home of their dreams. Her clients are spread across the region, living in ranch homes or starter homes, with various goals that might include installing a marvelous three-story cluster pendant light or designing a bonafide man cave—with vinyl records and guitars adorning the wall.
A recent project in Menlo Park doubled in size when two clients, who are related, ended up moving next door to each other. Ashley was working with a client on a three-story modern Spanish custom home when his brother moved in to the house on the left. Ashley worked with the siblings to design the ideal large family compound. It's a picturesque set-up where the two backyards are shared with a gate; over 20 close relatives gather for dinner on summer nights and one house has a pool while the other has a large grass yard.
"I treat my clients optimistically. Anything they want or need, I want to make them feel that it's doable," Ashley says. "And I want their style to be the most important feature in the space. It shouldn't look like my space, but their space with my twist."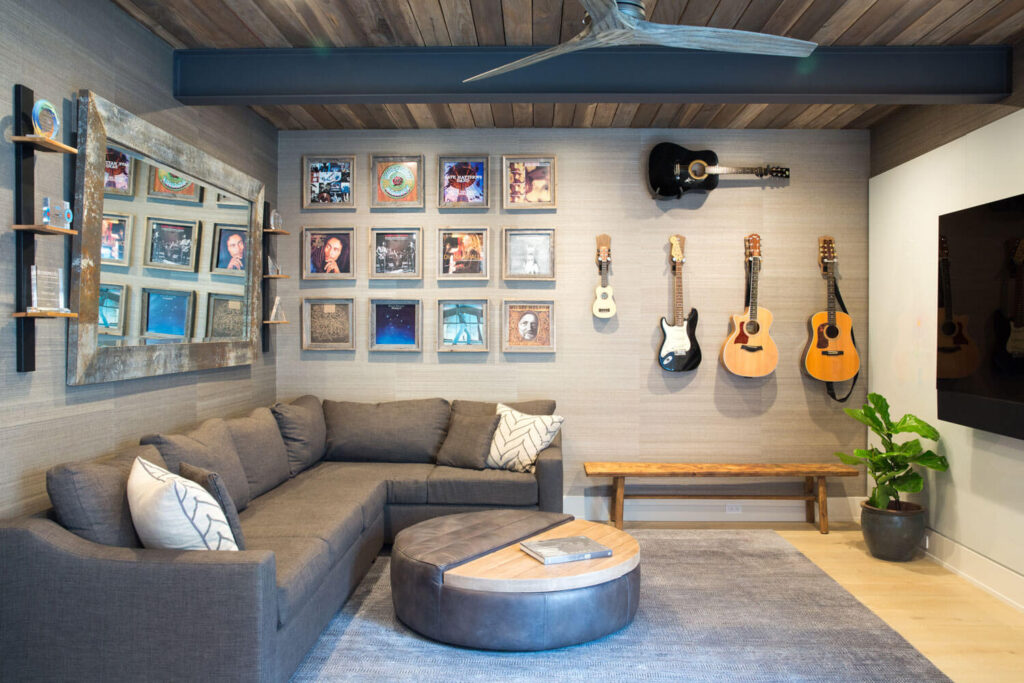 Interior Solutions will take on projects with all flavors of design—modern farmhouses and homes with a Mediterranean or Spanish style—however, Ashley is personally drawn to the timelessness of transitional design.
She notes how the all-white look and the California open plan with airy rooms is currently fashionable and popular on the Peninsula. "On every block in Menlo Park, you'll see four houses with modern lighting out front and steel windows," she says. And when brainstorming ideas, Ashley is always conscious to remain true to the space; after all, you wouldn't stick an ultra-modern shower inside a classic Victorian.
The house Ashley shares with her husband and three-year-old daughter in Hillsborough is a ranch-style home filled with timeless antiques that she's collected over the years. But she's not immune to absorbing inspiration from her clients. "Every job I do, I end up falling in love with that style," she says. "In my house, I have an antique table and Art Deco chairs with dark red velvet that I got from H.D. Buttercup."
Nesting and building homes have been Ashley's passions since she was a toddler in San Francisco, going with her mother to the fabric shop she owned or joining her carpenter father at construction sites. (He would pay her a dollar for every nail she collected off the floor.) She continues to love the smell of construction sites to this day.
Ashley's first job was in clothing and retail, where she excelled at visual arrangements and designed window and wall displays. She took interior design classes through UC Berkeley and, after launching a company that provided professional organizing, Ashley noticed that every client needed help with designs.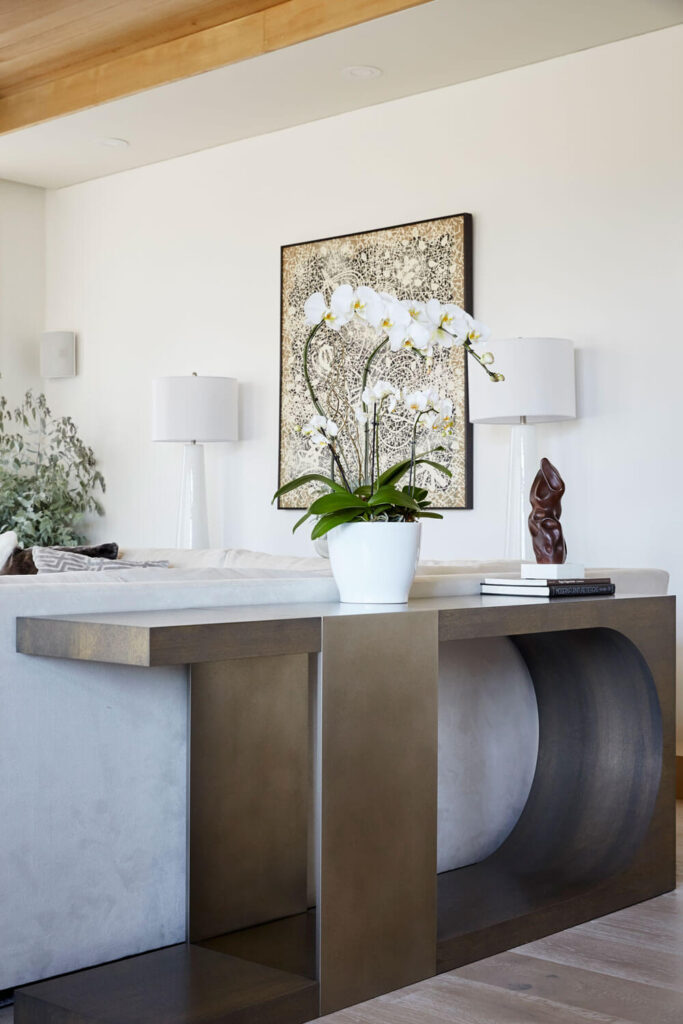 She launched Interior Solutions Designs in 2000 and quickly learned the dynamics of running a design firm. "Twenty-five percent is actually designing. A large amount is managing projects and when the items come in," she says. "Designers are really artists. You have to pull yourself back and treat it like a business. I think because I worked in retail management, it gave me a lot of great guidelines and standard operations procedures. Every line in the contract is from an experience I had before."
With her two decades in design, Ashley's success isn't just in her ability to track down the perfect cluster pendant light. She's careful to create an open working relationship with her clients to design a home that satisfies both of their visions.
"It's important that we're all honest and there are veto rights. My client, their spouse and I will all have veto rights," she says. "I always tell my clients that I don't live here and that it's my job to take in your taste, your style and your house's style and then point out that if you make this change, it would help tie this whole room together."