Polish-born artist Justyna Kisielewicz is a proud Burlingame resident who moved here with old-fashioned training in a new-fashioned way. After her fine art education in Warsaw, Justyna joined Instagram, started posting images of her artwork, et voila! She caught the attention of a San Francisco art gallery, flew out for a show in 2015 and never looked back. Earlier this year, she secured an EB-1 Visa, granted only to "immigrants with extraordinary ability," and has settled in to stay.
"If you're born in California you dream about Europe, but if you're born in Europe, you dream about California," Justyna says, gesturing to a painting that captures that sentiment. "Dreamland is about the celebration of coming to the U.S. When you come here, you have to forget about what you're accustomed to because America is so different to Europe, and that is what it's supposed to be."
Different is what Justyna was desperate for. She grew up in then-Communist Poland, glued to her TV set and reruns of old American shows. There was even a billboard advertising a video rental store right across from her home. It read, "Beverly Hills, 3 Minutes Away." The billboard was a siren's call, a brightly colored beacon in her otherwise gray world. And since truth truly is stranger than fiction, Justyna learned dance moves and Western fashion from the likes of Beverly Hills 90210—"I wanted to go to that high school, I wanted to drive a red mustang"—not caring that the outdated shows were 10 years behind the times.
Inspired by the movies and TV shows she watched, Justyna decided to paint a fantasy world filled with the things she could not have. Chief among them was the idyllic life she imagined for herself in California. "I paint a positive image of America, as an immigrant who always dreamt of this place, celebrating it, worshipping it," she says. "I was always a misfit. I didn't fit into the Polish model, I didn't dream about the same stuff as other kids. And also, the shortage of things led me to draw the things that I did—like Mickey Mouse and toys that I could never get."
In the early '90s, Justyna's mom got a cable TV. "I picked up MTV and I loved it. I just really wanted to understand what they were singing about. So I got a dictionary and started looking up the words," she says, recalling how she turned music videos into English lessons. "There was Mariah Carey singing 'Emotions,' and she was putting so much into it that I really wanted to know what she was saying. My brother thought I was crazy. I was living in a mental California with Mickey Mouse, balloons and TV."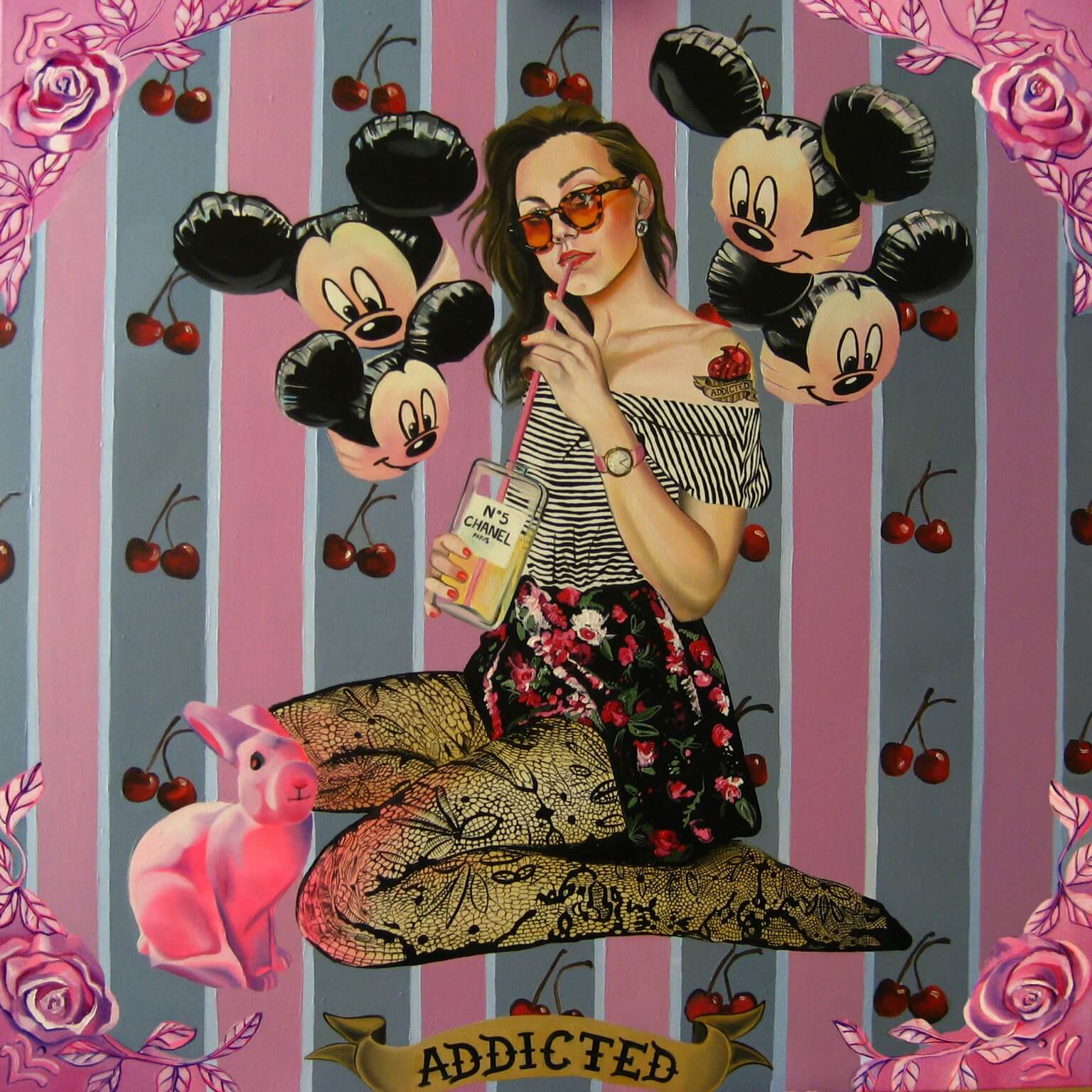 When she finally met Mickey at Disneyland in 2016, Justyna hugged him and cried. "As a kid, Mickey Mouse was my friend; he could take me to places that were just beautiful. He had friends and everybody was happy."
California is everywhere in Justyna's paintings. In them you'll find not just Mickey Mouse, but psychedelic colors, bright sunshine, swimming pools, cheeky nudity, even a leopard wearing a gold chain. Disney's famous mouse is also an integral part of Justyna's personal style. She found a pair of eyeglasses in Poland with round, flip-up lenses mimicking Mickey's ears and has adopted them as her signature accessory. "I need to wear them at art shows or people don't recognize me!" she says. "I think it shows that you have distance from yourself, that you're not taking yourself too seriously."
Not taking herself seriously extends to her choice of model… herself. Starting out, Justyna tried using other people, only to find that they complained, got tired, peckish or bored. Her solution? She hired herself, and in the process, became her own muse and inspiration: woman lost and found in a technicolor dreamscape of her own creation.
Now, some of her pieces are inspired by the abundance and sense of possibility she finds right here on the Peninsula: "I say that it's the best place on earth, really, that it's so diverse, so beautiful. The nature is absolutely marvelous, I love it. And I think that when the sun is shining here, there's no better place on this planet."
Viewing her loud, brash pieces—excess, pop culture, flash, flesh, materialism and capitalism all figure prominently in Justyna's paintings—one might wonder if they'd appeal to the local khakis and laptop crowd, but Justyna believes her work is exactly what collectors here are looking for.
"I think more and more people don't want anything that's blending in. We're all wearing Lululemons and jeans with the same sneakers," she says. "But we don't want what we are wearing to be up in our houses, you want to say something through this art, you want to express yourself. Sometimes you can't do that very freely, but you can do it in your home."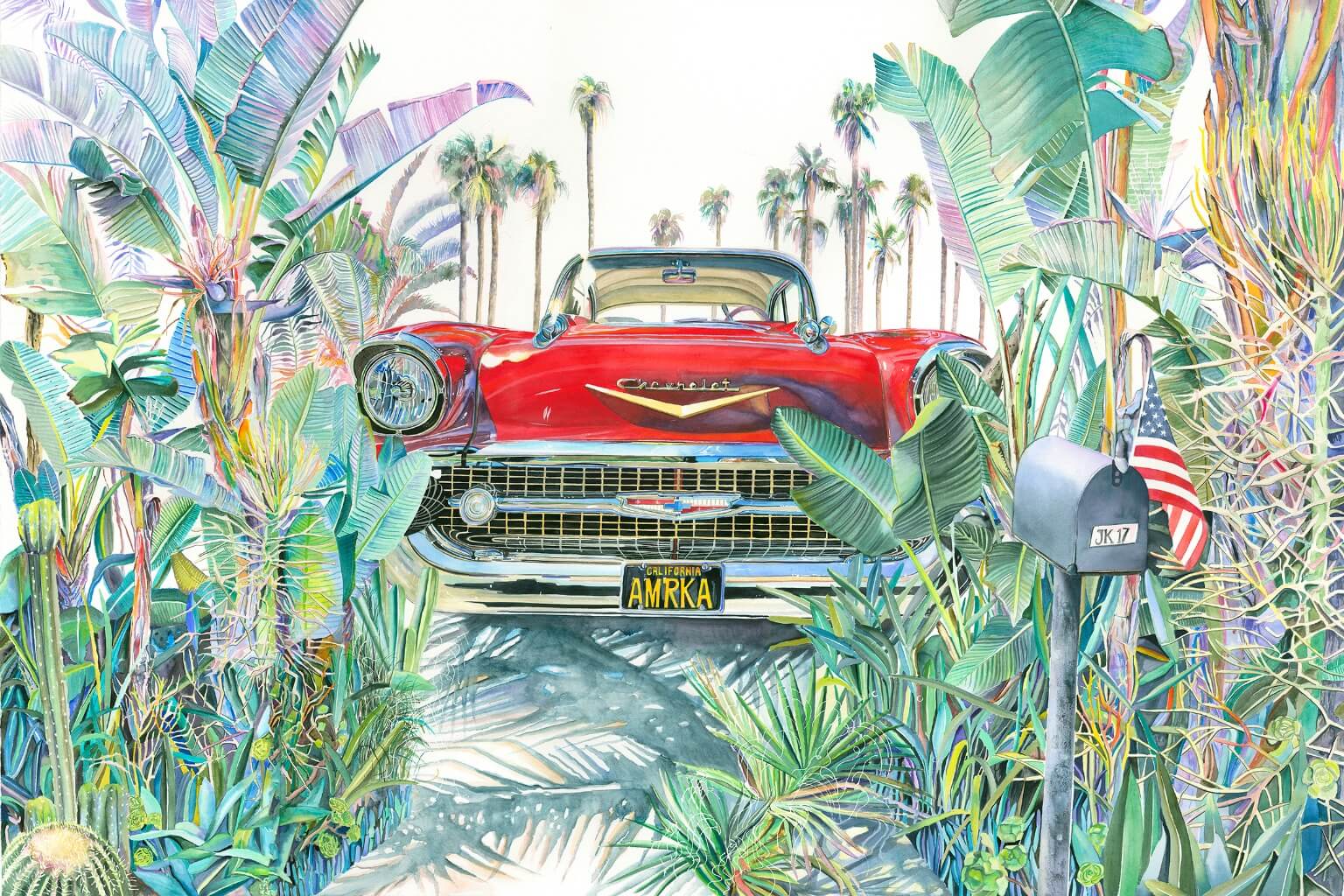 Taking a break from the easel in her light-filled apartment overlooking Burlingame's Washington Park, Justyna tries to process the heady changes in her life. Recently, her work was acquired for the permanent collection of the National Museum in Gdansk, Poland. She's even experiencing her own brush with celebrity, popping up in publications like Elle, Harper's Bazaar and Glamour. Represented by 111 Minna Gallery in San Francisco and Andra Norris Gallery in Burlingame (with the Optimism group exhibit coming up on July 27), she equates her paintings to the perfect party guest: "Whenever you're inviting somebody over, you have a conversation about it and people see you through these works of art as somebody who's more interesting, more compelling and I think this is what my collectors are looking for."
Case in point is a Palo Alto man who has taken to throwing parties around his Justynas. "When he invites you over he wants to push you somewhere. He wants to present you with something interesting, and the paintings are telling a story to his friends," she notes.
Creating community through her paintings is what excites Justyna, particularly while living in the U.S. "There are a lot of interesting people here and so many great things that you have, the sense of community, teamwork, team effort, you know, like 'We the people.' There's no such thing in Europe. There, everybody wants to be an individual, everybody wants to do something by themselves. And I find it super refreshing that here, you can reach out to people; you can just ask for help and you might get it."
That's actually how Justyna connected with our magazine. On a day when she was feeling blue, her boyfriend walked her up to Burlingame's Floral Art + Decor to buy some cheer-up flowers, and lo and behold, the owner told Justyna that she thought her story might be a great fit for PUNCH. Et voila indeed.
Discover Justyna at justynakisielewicz.com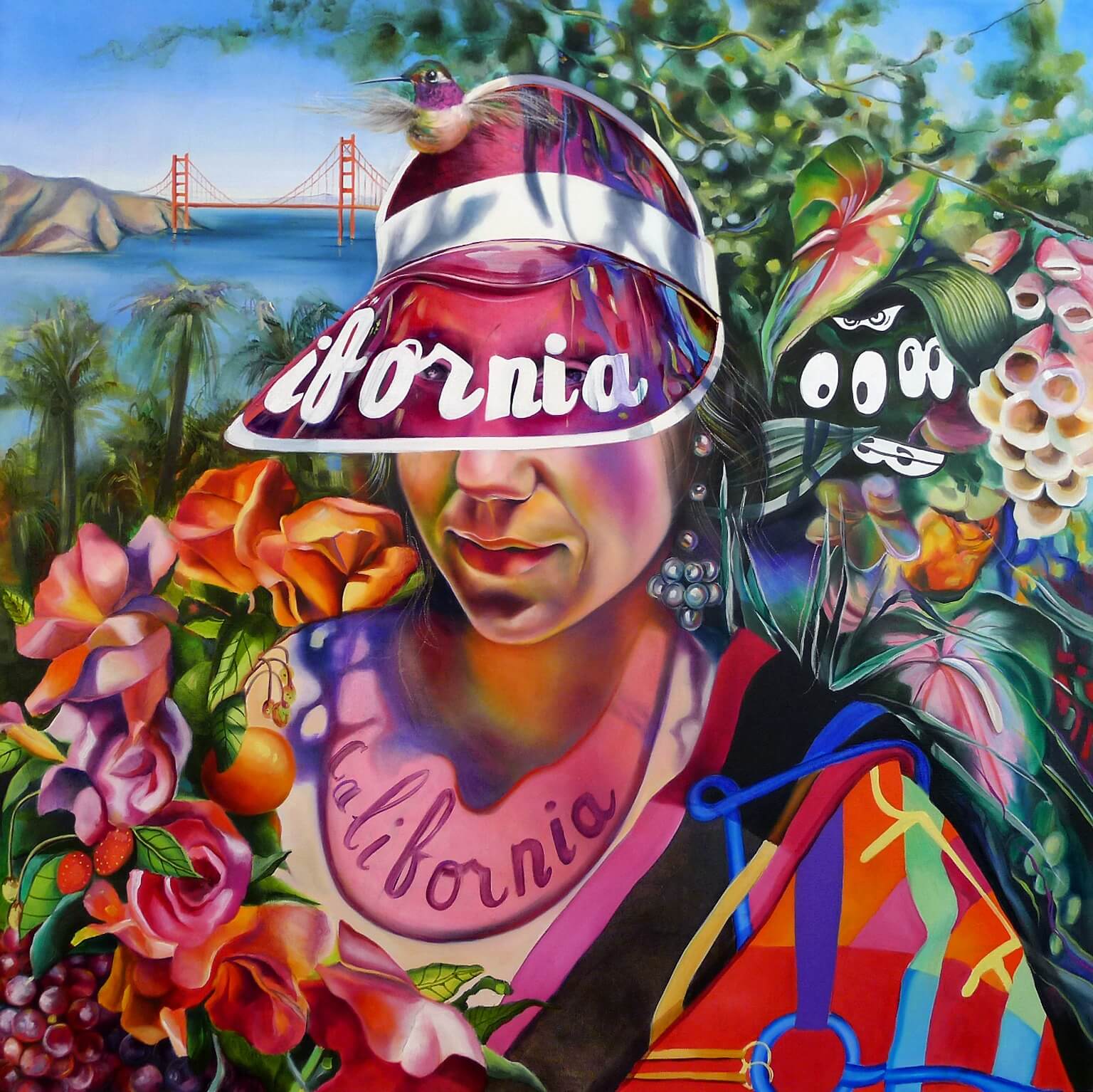 In Justyna's Words: California
This painting is a memoir of an Eastern European painter exploring and reflecting on California. The memoir is, of course, a visual snapshot of sorts, as well as an intellectual and aesthetic vision of the Bay Area. Coming from a former communist country, what strikes me here is the extraordinary light, sun, color, warmth, nature and general happiness and abundance in California.
California is as close to an artistic promised land as it gets. David Hockney writes about the various virtues of California over Europe in terms of light, scenery, imagery, symbolism and topics. I began to understand this only when I got here. Before, I would've dismissed this as naïve and banal. A lot of my paintings so far have been an observation of America from the outside. Right now I am on the inside. I am here and want to share what I see and how I see it. Maybe that is why you might call this painting my vision from San Francisco Bay.
This painting is definitely a lot more than a vision or an interpretation, but a reality. The lush and exotic flowers, plants, scents are what I discovered during house visits with collectors and my walks through Hillsborough, Atherton, Palo Alto, Los Gatos and Burlingame. Looking at the painting, you can feel the midday sun, sounds of daily life, hummingbirds and smell of the flowers. A day in California is never just another day, it is a day in sunny California, with potential and opportunities. The colors, temperature and saturation are not accidental here but provide the essence of California. Observation here is important. You cannot be unreflective in California. There is so much going on.
Although many places in California have a suburban feel, there is a lot of energy that makes this place feel cosmopolitan and well connected. California is full of tunes. From iTunes in Cupertino to Looney Tunes in the studios of Los Angeles. California is well balanced. Humans respect nature and civilization is kept at bay. Humans respectfully transform nature, and technology leads back to nature. From flower power to tech and from tech to landscape, nature and flowers. Welcome to iFornia.