words by Silas Valentino
Divine intervention brought Benyamin Cantz to a sloped hilltop in the Santa Cruz Mountains and led him on his path, but it was his own impetus that grew wine from it.
The vigneron never fathomed that he'd become a sought-after winemaker who sells out his stock in a matter of minutes every January. Much less that he'd live on this mountaintop farm for the entirety of his adult life. In fact, Benyamin could barely stomach it when he first stepped foot on the 60-acre property. But Benyamin's queasiness had nothing to do with the serene and verdant landscape he discovered. Instead, it was a consequence of the journey that brought him here.
"Coming up the driveway is a rather sickening experience," he notes wryly in describing his first venture to this property back when he was a student at UC Santa Cruz. Reaching the sunlit plateau requires maneuvering through a series of sharp, winding switchbacks. 
"I was in the back of a car from the 1940s without back seats holding onto a bowl of tomatoes soaking in vinaigrette," he remembers of the drive en route to a luncheon. "I was lying on my back looking up at the redwood trees as they passed and becoming increasingly carsick."
After Benyamin arrived (and regained his equilibrium), he discovered what was to become his life's work and a true sense of place.
The gradient landscape is about 660 feet from sea level with a couple of structures on the flat peak of the hill to create a home. There's a grove of dense redwoods, a barn of livestock and on a clear day, the Pacific hovers at almost eye level off in the distance. The Santa Cruz Beach Boardwalk is only a 20-minute drive away, but the sense of seclusion here ultimately pervades.
Benyamin arrived here over 50 years ago when the farm was owned by Mary Holmes, an art professor at UC Santa Cruz where Benyamin worked as her teaching assistant. After he graduated in 1971, he returned full-time to trade work for board. A novice at first, Benyamin learned to dig a post, feed the animals and tend to the land before his skill set expanded, allowing him to lay a foundation to build a barn and raise generations of horses and lambs.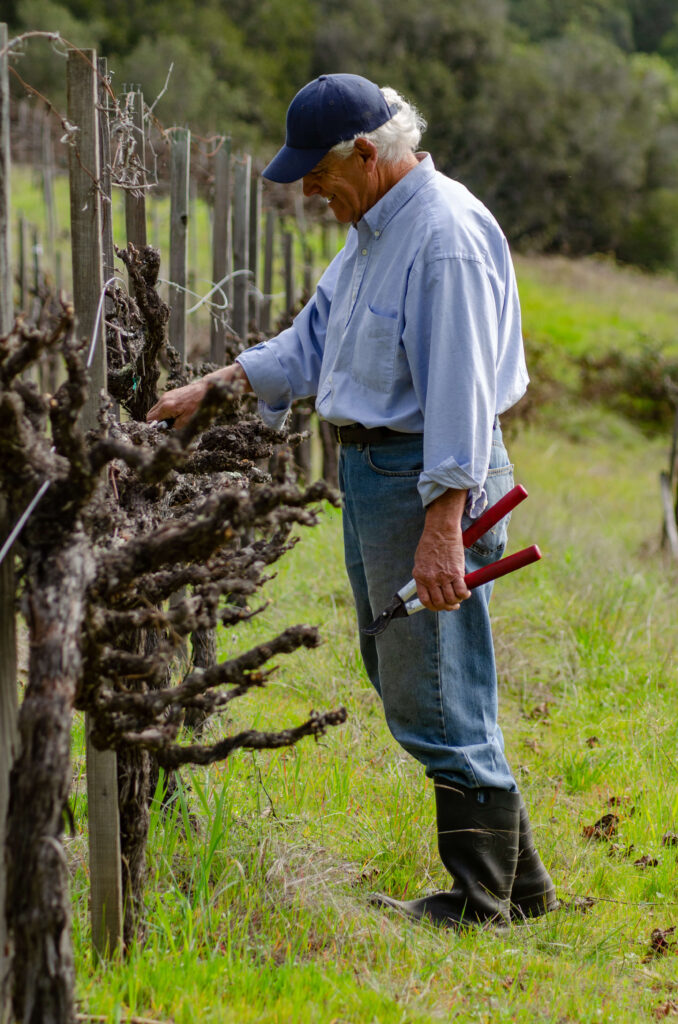 Twenty years after cultivating a new life here, Benyamin decided to grow some grapes he bought on a whim after spotting a sign along the side of a road. His experiment started slowly, but over many years it has grown into an unlikely successful winery—dubbed Four Gates—that serves a distinct purpose. Benyamin specializes in wine used for celebrating Jewish holidays and the Sabbath.
As a Sabbath-observant traditional Jew, he conducts each part of the process by himself—planting, harvesting, crushing, pressing, fermenting, barreling, bottling, corking and labeling—which qualifies the wine for kosher status.
"I didn't come upon this path for myself quickly," Benyamin reflects, seated outside on a chair with his vineyard in view.
"I just took it on one thing at a time and tried it out. If it rang a bell, I then tried the next thing. I'm a rather stick-to-it kind of guy. But in a spiritual, theological sense, you're always figuring things out. There may be a moment when you get an insight and feel a little more connected than before. But then life goes on and that becomes the past. If you're not applying yourself continuously to figure out what God means, then you've chosen a fixed life."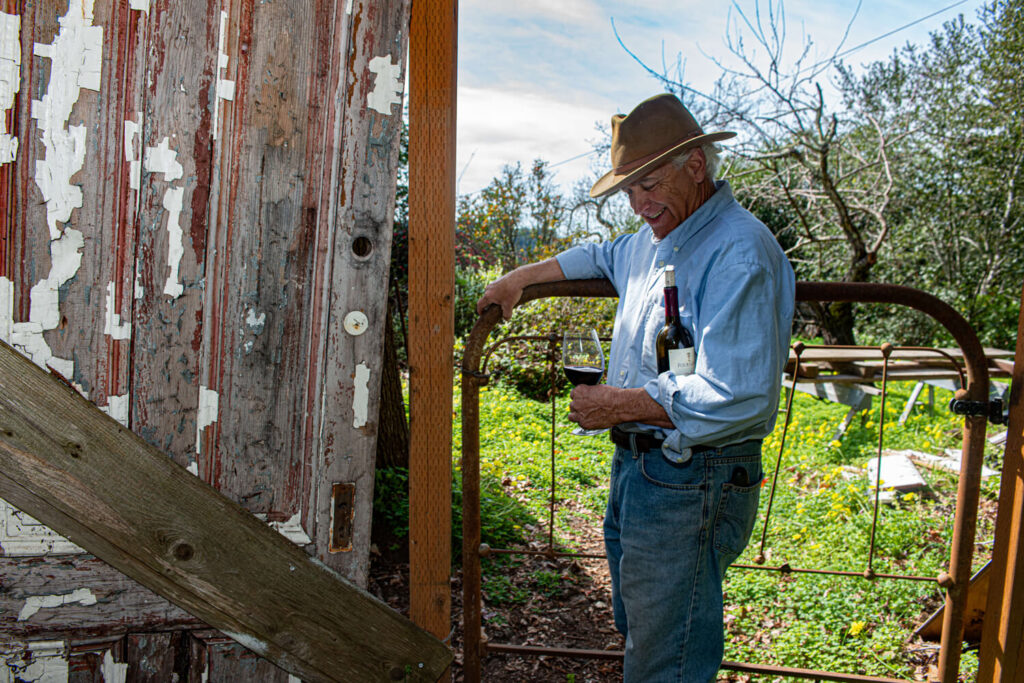 There's a phrase Benyamin finds himself repeating from time to time when he's working in the vineyard: L'Kavod Shabbat or "In the honor of the Sabbath." He repeats this to remember how the product he creates is used in ceremonies that unite humankind with deity—similar to the sliver of space between fingertips that Michelangelo celebrated in his timeless fresco, The Creation of Adam. 
Benyamin clarifies that you don't have to become a winemaker to observe this transformation of the physical to the spiritual; but on this farm, every year, it's essentially all in his day's work.
"It's nice to work outside, obviously, but also to work at something that is really tangible. It's not abstract—it's right there," he explains of his central motivation.
"There's an idea—" Benyamin quickly quiets himself. He shifts attention to a pair of red-tail hawks circling the treetops nearby. A moment passes to admire the raptors, gazing towards the sky, before Benyamin calmly returns to his point. "—the idea that we are to elevate the world. Especially the physical world; to use it for a holy purpose. Maybe that's just a fancy way of saying what God intended it to be used for.
"It's a beautiful image to think that you can take something like goat manure, put it in the ground as fertilizer, schlep in the vineyard, raise a crop, turn it into wine and then set up for Friday night Shabbat. To go from digging into the dirt, to a silver goblet of wine on a white tablecloth—it's transforming the physical world into the spiritual world."
A theme of metamorphosis accompanies Benyamin throughout his life. There's the altering of grapes into libation that he oversees year after year, but beyond the more practical observation is the tale of a young man who discovered how to become the best version of himself by living on a remote farm above the sea.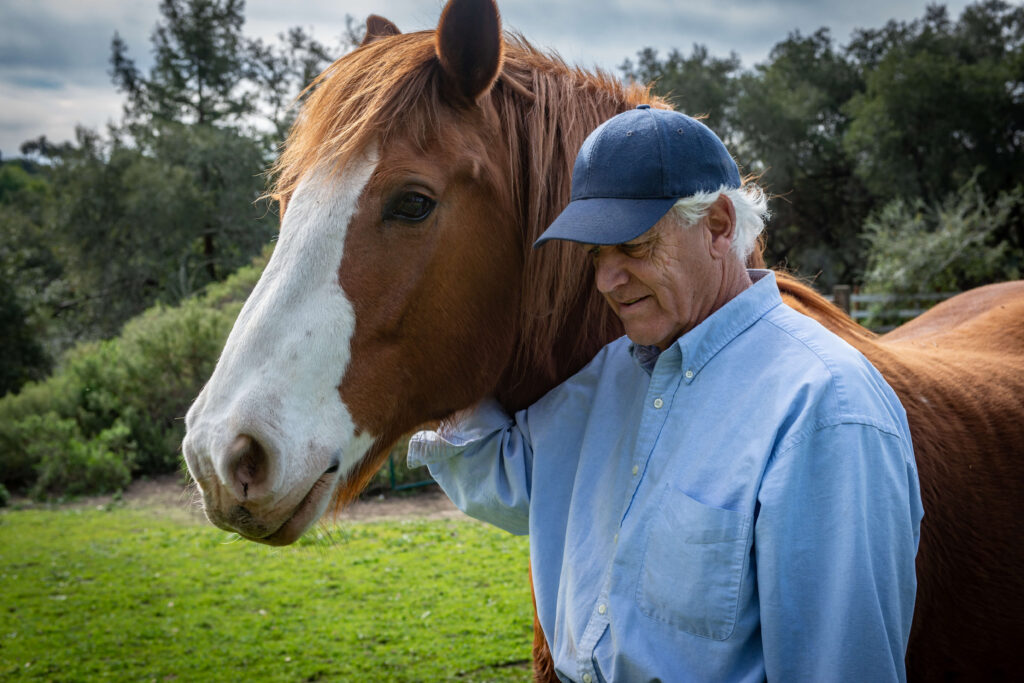 Preconceived notions about a man who lives alone atop a hill in the mountains might lean towards nomadic or parochial presumptions, but Benyamin is no crusty hermit. He greets you with a warm smile and a brawny physique earned from days working under the sun. Today, he dons a wide trilby hat but admits he's more often found with a baseball cap.
Having never owned a cell phone, Benyamin is more connected to the immediate world, allowing him to take a gentle pace as he traverses around the farm.
This was the first year Benyamin used a third-party vendor and distributor to sell his wine, which all occurred within a single hour in January. Four Gates wine has a national appeal (a large portion of his customers live in New York) and regularly earns high praise from wine enthusiasts, but Benyamin is not one to gloat about his runaway success.
Winemaking coincided with his rediscovery of Judaism during the 1980s. His birth name was Bruce before becoming a ba'al teshuvah (returning to Judaism) and assuming his Hebrew name of Benyamin.
Originally from the San Fernando Valley in Los Angeles and raised in what he describes as a "middle of the road Judaic" household, Benyamin came to UC Santa Cruz to study calligraphy and history in 1966. (The university was established just one year prior and he was part of the inaugural classes to graduate.)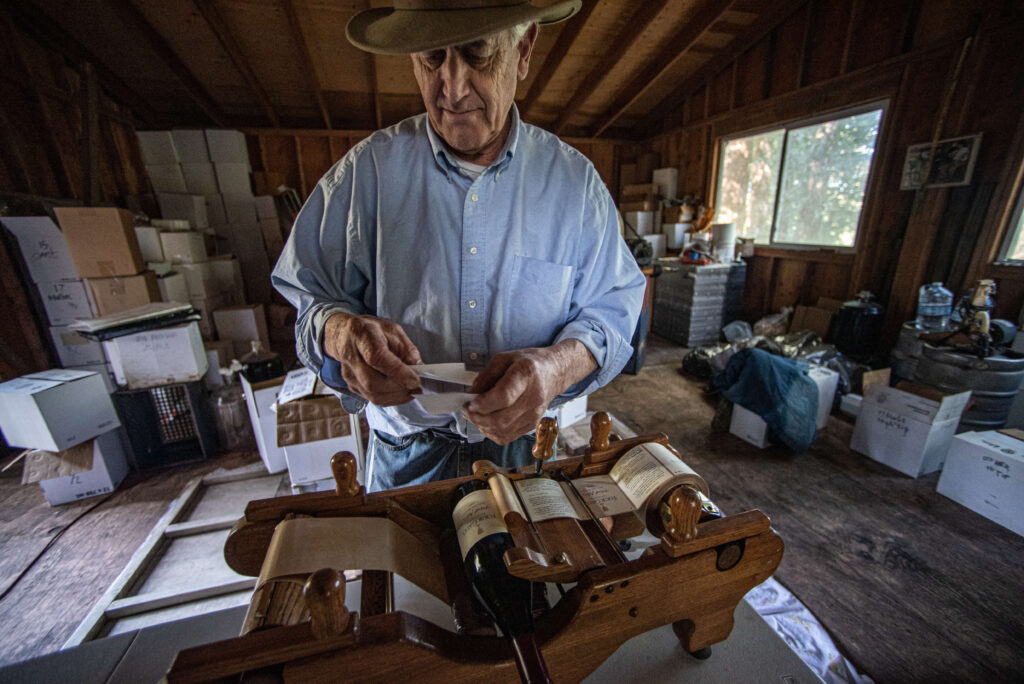 The farm where he lives has a storied history with winemaking dating back to the 19th century. Benyamin once found a small, blue book at the university library that listed all the historic acreages and varieties for wine in the state. He was surprised to read that in 1891, Napa Valley had just two varieties of grapes (Zinfandel and Riesling); however, there were dozens of varieties grown in the Santa Cruz Mountains. He also learned that during Prohibition, vines on the property had been destroyed.
Sometime during the late 1970s, another resident on the farm attempted to grow Chardonnay on the sunward slopes but an unruly hot year killed the project. Benyamin was beginning to become religiously observant with the help of a Chabad rabbi he met in Santa Cruz around this same time.
While driving by some farms near Gilroy one afternoon, Benyamin spotted a sign selling gleaned grapes. He purchased a couple of boxes and used an antique cider press he found for crushing them. He liked what he made, so he returned the next year for more grapes. He began the trial and error of caring for the vineyard and designing his system. He doesn't irrigate and instead dry farms, which produces a lower yield but keeps it manageable for a one-man operation.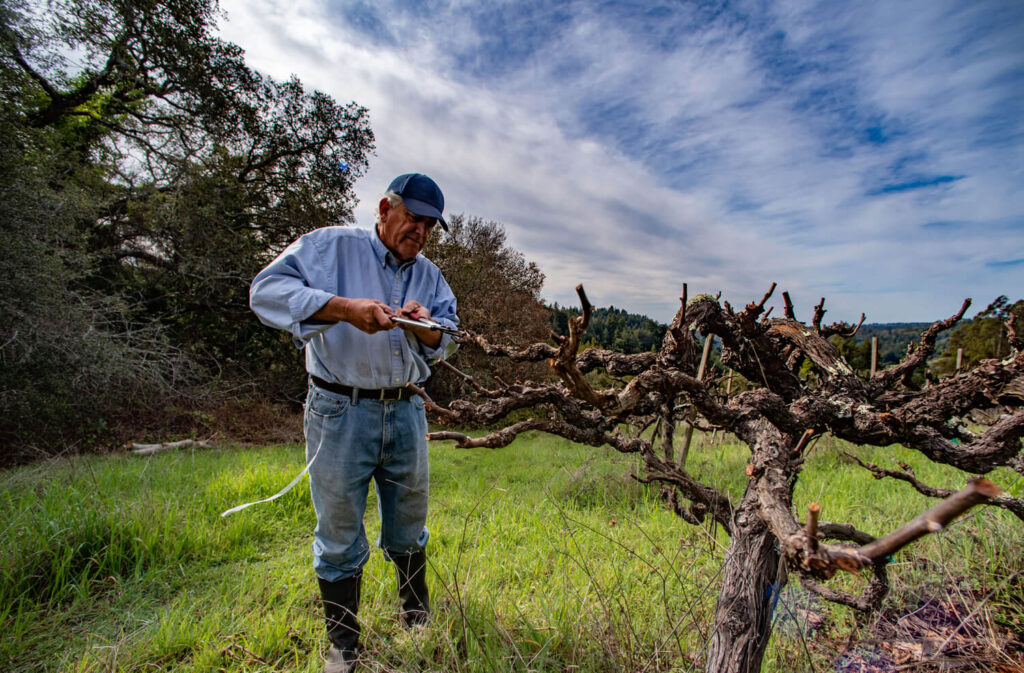 By 1991, Benyamin had planted 3.5 acres of Cabernet Franc, Merlot and Pinot Noir. Adhering to Jewish law, he had to wait until the fourth harvest to use his fruit. He made his first commercial vintage in 1996 and has continued to branch out.
This past year, he planted eight varieties including Pinot Noir, Malbec, Petit Verdot, Cabernet, Négrette, Cabernet Franc and two versions of a Chardonnay. He typically produces about 400 cases a year.
As his hobby grew into a profession, Benyamin spent zero dollars on advertising but attention to Four Gates grew organically from the occasional news article and profile.
"It all happened by word of mouth," he marvels. "The people who buy my wine are almost all from Jewish communities and the word just spread. There are wine guys in every synagogue. In the intervening years, there wasn't a huge market for kosher wine originally. But this younger generation appears to drink more than their parents."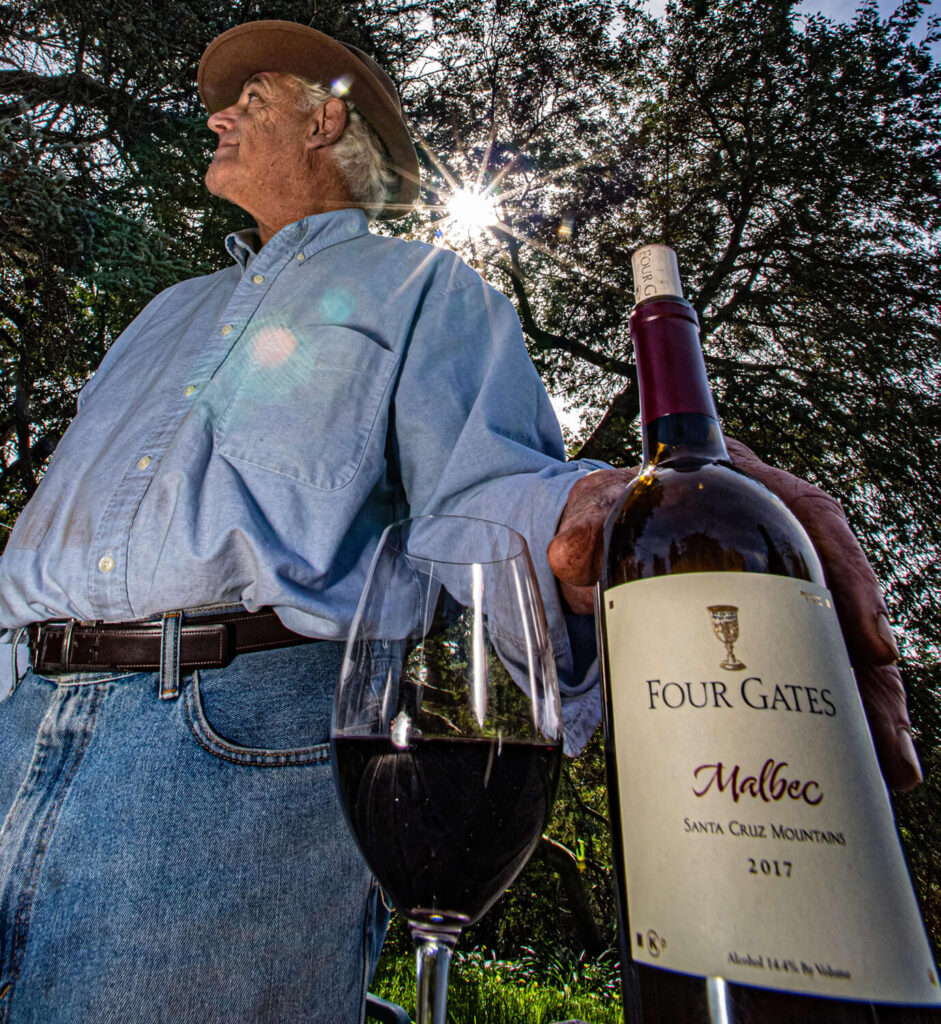 The last decade has been a boon for Four Gates, prompting Benyamin to purchase his first computer and design a website. He doesn't offer traditional wine tours and his vineyard is not public, but he welcomes phone calls to his landline and is appreciative of the heightened interest.
"Six years ago, all the wine was sold out by Passover. Then, the year after that, all the wine sold out in three weeks," he says. "I thought, 'Hmm, word is spreading.' Two years ago, all the wine sold out in 50 minutes and last year, it was all gone in 20 minutes."
On the other side of the property lie the remnants of a dream Benyamin once had. It's abandoned now, but its influence remains. 
A couple of decades ago, he built a cabin back there surrounded by a deer fence with multiple gates: one led to the cabin, one to a cleared hillside for a potential vineyard, one to a garden area and the last one led into the dense and wild forest.
"It was an allegory for my life," Benyamin says. "Home, work, agriculture and spirituality. I casually called it 'Four Gates' and when I went into business, before I knew it, I already had a name."