Words by Silas Valentino
At 1PM sharp, with fog evaporating around the Golden Gate at a gradual pace fit for a Sunday, the ferry captain calls out a warning before sounding a lone bellow signaling our departure for Angel Island.
It's a sold-out shuttle and there isn't an open bench seat anywhere on the open-air upper level deck as locals and tourists alike admire intimate views of the Bay and its surrounding shores. There's a buzz of anticipation amid the sea of tennis shoes; sans one European traveler unfortunately shod in leather penny loafers, a severe oversight for the miles of recreation to come. 
Dock to dock from Tiburon is less than 30 minutes and since 1775, when the first ship anchored at Ayala Cove, Angel Island has summoned adventurers with its ageless allure.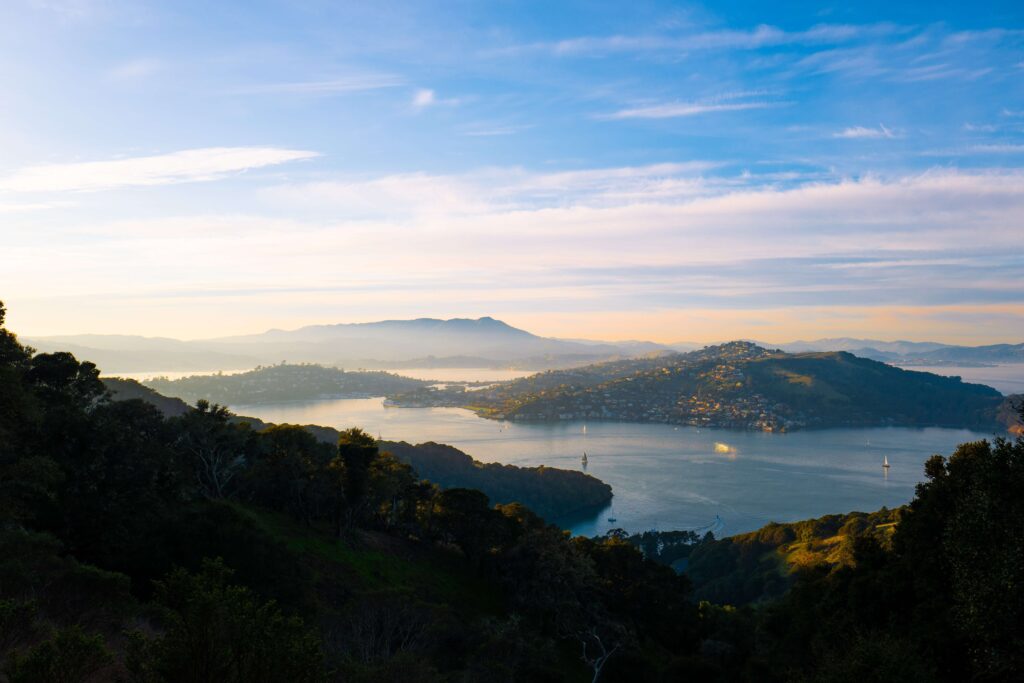 The grassy and woodland-covered sanctuary situated in the middle of San Francisco Bay provided centuries of service to its surrounding landforms. Initially, the untouched territory was a timber trove for the bustling city six miles to the south. Following the Gold Rush, the 1.2-square-mile island was transformed into a military base where brick-built structures arose that still stand today.
Soon after, Ayala Cove earned the nickname "Hospital Cove" for its designation as a quarantine station for foreign travelers and trade ships. At the onset of the 20th century, the island served its final duty as an immigration station, processing nearly a million immigrants over three decades. A comparison to Ellis Island is often erroneously made. On the East Coast, Ellis symbolized welcome whereas during the age of the Chinese Exclusion Act, Angel Island represented enforcement.
In 1955, the island entered retirement as a California State Park and has since become a destination for hikers, bikers and history seekers who ferry to the island every weekend for breathtaking vistas and a stroll through the past 150 years.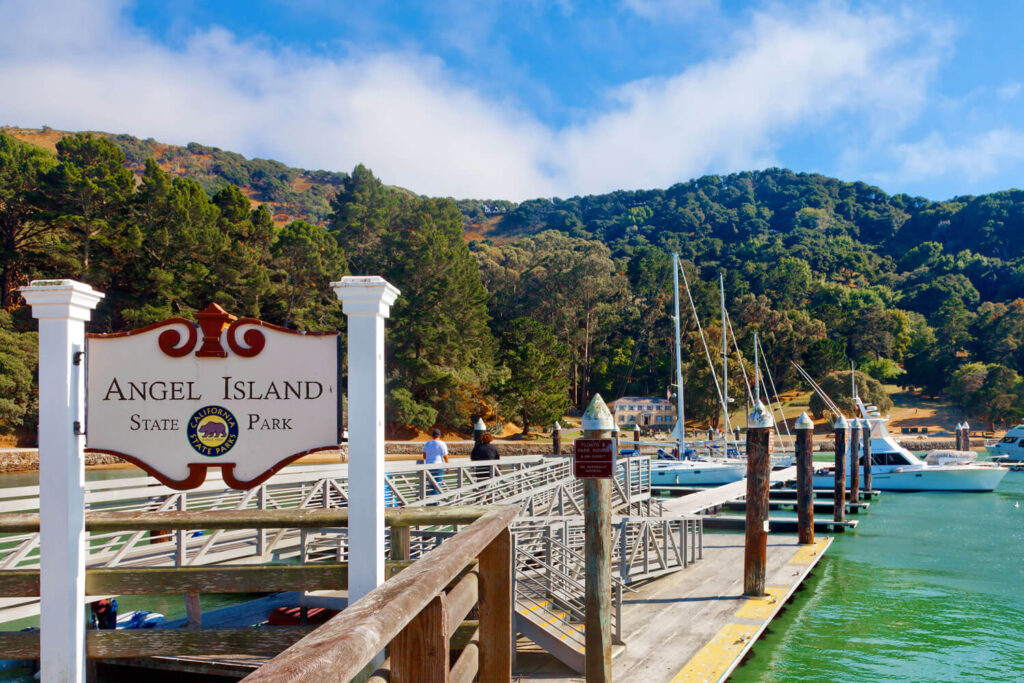 Set Sail from Tiburon
Although you can hail a ferry from Pier 41 in San Francisco, the shorter and more convenient ride is found in Tiburon with the Angel Island – Tiburon Ferry. Located where Main Street hugs the shoreline, the ferry currently runs a few times a day on weekends. It's well advised to buy tickets ahead of time online—although a wait list does exist and will occasionally deliver a seat. You're immediately provided with your return ticket stub and a reminder that the last ferry of the day to return to Marin is at 4:20PM. If you miss it, you might try your luck befriending a captain of one of the several private boats buoyed off the shore.
Angel Island has a cafe that offers salads and sandwiches; however, for a more replete picnic, it's best to pack a bag while in Tiburon. The Woodlands Market is a grocery on par with Draeger's with a deli full of housemade specialty sandos such as a chicken chipotle or a classic turkey sub. A few doors down is a Rustic Bakery outpost with fresh breads and pastries for the early morning start. Once you're on the island, good luck choosing just one bench worthy of your picnic because fetching vistas are in abundance.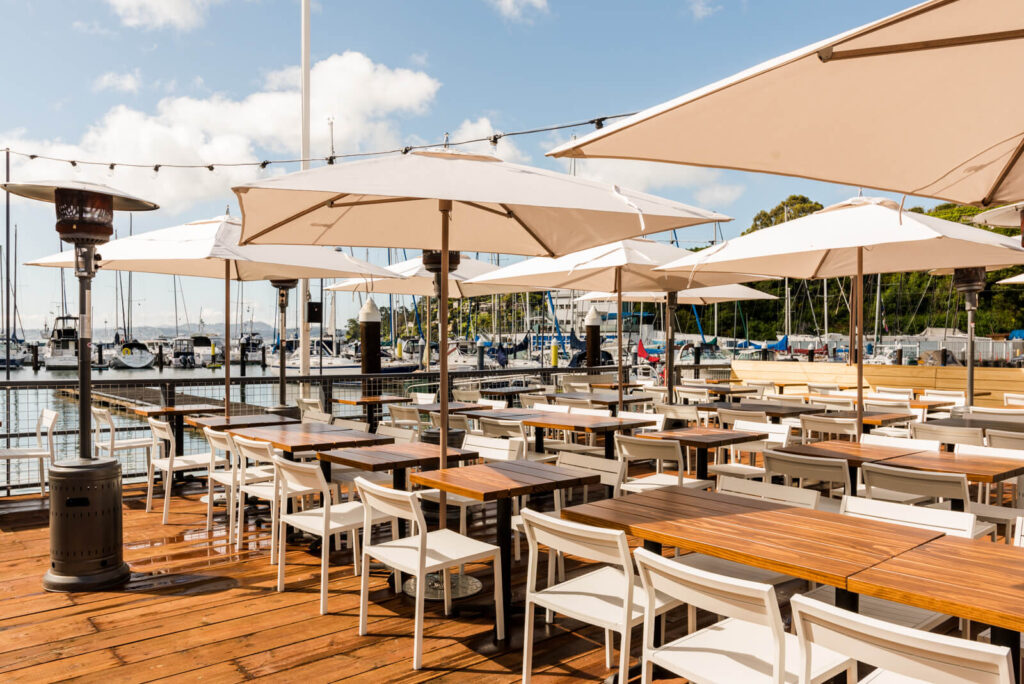 If you prefer to dine on the mainland before or after your excursion, Sam's Anchor Café is a seafood and cocktail mainstay with its famous outdoor deck that's typically buzzing with music and laughter. Tie up to Sam's pier and bask in the ocean spray with an order of oysters or a fresh lobster roll. And to help with your sea legs, order the house special: a Ramos Fizz with Tanqueray gin and prepared using Sam's 100-year-old recipe. Justify a second round as an attempt to suss out the venerable ingredients.
State Park and Recreation
If traversing the island by foot, you have 13 miles of interweaving trails and roadways to navigate. The tallest point is the flat peak at Mt. Livermore, a 788-foot climb through oak tree-forested trails and grasslands. It's named after Caroline Livermore, a dedicated conservationist who spearheaded the campaign to create the State Park. You'll find a few different routes for reaching the top; the Sunset Trail is a moderate loop stretching 4.6 miles and keeps you facing westward for ultimate sun appeal.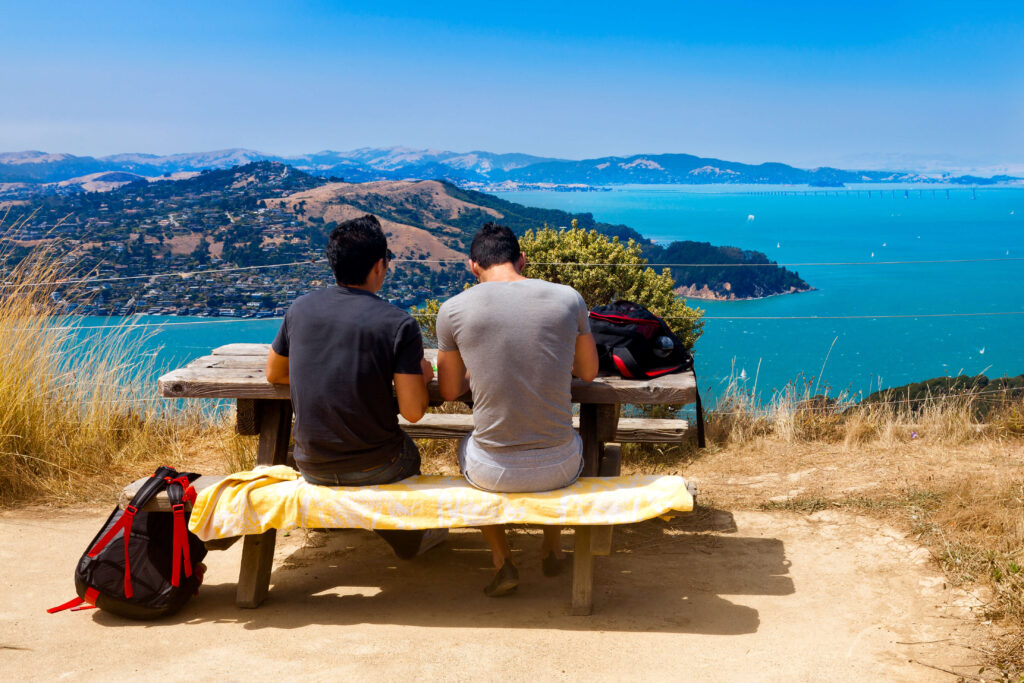 Keep your eyes on the trail to spot the island's most famous inhabitant: the Angel Island Mole, or scapanus latimanus insularis, a broad-footed fur ball that's endemic to the island. Wildlife is plentiful from the sea lions and harbor seals lounging down by the coves to the blue herons, egrets and brown pelicans flying overhead. Not to mention the fluttering wings of hummingbirds and the blue-rump scrub jays.
You can stow a bicycle on the ferry (or choose to rent your wheels once you land), which opens the island up for a breezy loop around the beltline. The Perimeter Loop is just shy of six miles and is mostly paved, creating a smooth ride with a fair share of up- and downhill peddling. Opting to bicycle ensures that you have enough time to wander through the outspread relics from the island's bygone military presence including the Nike Missile Site, Fort McDowell and Camp Reynolds.
In an effort to remain accessible to all, guided tram rides are available to circle the island in the backseat of what's essentially a golf cart limousine. For those who prefer to glide around the Island, Segway tours are a fun and informative way to go.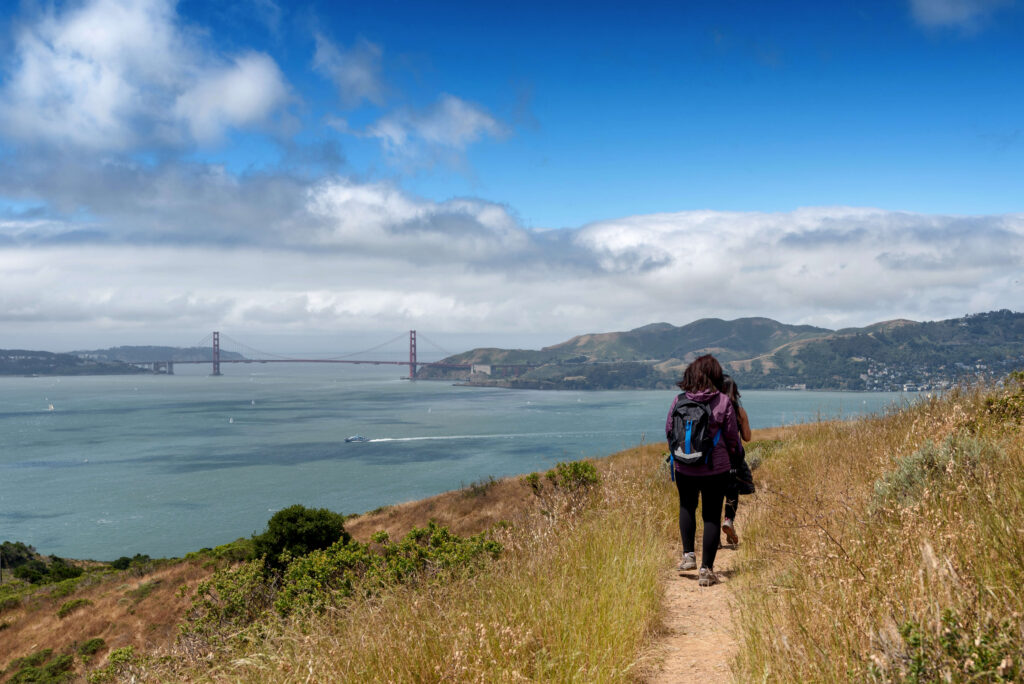 Chiseled in Hope
Although the United States passed the Chinese Exclusion Act in 1882, more than 175,000 Chinese arrived on Angel Island between 1910 and 1940 with the hope of immigrating to the U.S. Many were detained for weeks, months or even up to two years in crowded barracks as their applications were processed.
At the eastern end of the island, history and poetry are incised together at the U.S. Immigration Station, where a multitude of Chinese carvings endure on the interior walls of the detention barracks. Some of the poems were carved into the wood using a classical Cantonese technique; others captured the voices of Japanese civilians interned here during WWII.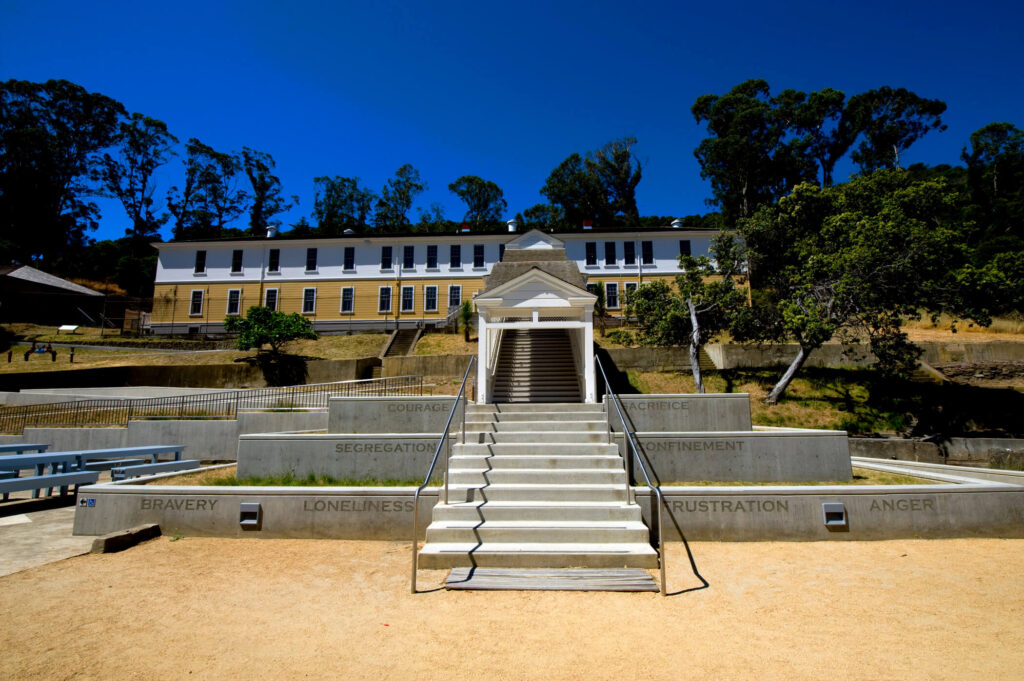 Over 200 poems remain today and the personal testimonies often reflect the detainee's aspiration for a new world that was only miles away—yet still out of reach. Poem 7 concludes with the sentiment: "I only wish I can land in San Francisco soon/Thus sparing me this additional sorrow here."
The island's complex history lingers in the mind as you return to Ayala Cove to catch the last ferry out, a departure signaled yet again by a sonorous bellow. Not long after the island shores fade from view, recollections of the day's adventure mix with the stern's white wake and dissipate into lasting memories.