Words by Sheri Baer
Not five hours down 101 from the Peninsula, we exit Buellton and pass Ostrichland USA. Solvang's Danish architecture and signature windmill come into view, signaling that we're in the final stretch. As we turn onto Alisal Road, the sycamore strands begin to thicken and my breath catches in anticipation. Framed by horses grazing in a pasture, there's the sign, exactly as I remember it: The Alisal Guest Ranch. Much like crossing into the mystical Brigadoon, entering this property evokes a sensation of time slowing—or even disappearing. Inundated by a flood of decades-old memories, I remind myself to hold tight to and celebrate the present moment. After all, that's why we've returned.
The Lore of Alisal Ranch
"There's definitely been added buzz around ranches in the last few years with TV shows like Yellowstone romanticizing the lifestyle," notes Lia Barth, Alisal's communications manager. But far from being trendy-come-lately, Alisal Ranch's Western roots and traditions are deeply embedded in the past. Back in 1843, the newly-established Mexican government granted land nestled in the Santa Ynez Valley to Raimundo Carrillo in consideration for his service.
Over the next century, Carrillo, and five subsequent owners, raised livestock here. Then, in 1946, under the ownership of Charles "Pete" Jackson and family, the 10,500-acre working cattle ranch expanded in a new direction. After converting cattlemen's quarters into guestrooms, the Alisal (meaning "grove of sycamores") opened for visitors. Evolving from its original capacity of 30, today Alisal Ranch accommodates up to 225—offering a luxury dude ranch experience while simultaneously maintaining cattle operations. "We think of it as the way California once was, and at Alisal Ranch, we want it to always be that way," observes Lia. "The authenticity you feel here is refreshing. It's a step back into simpler times but with all of the modern comforts."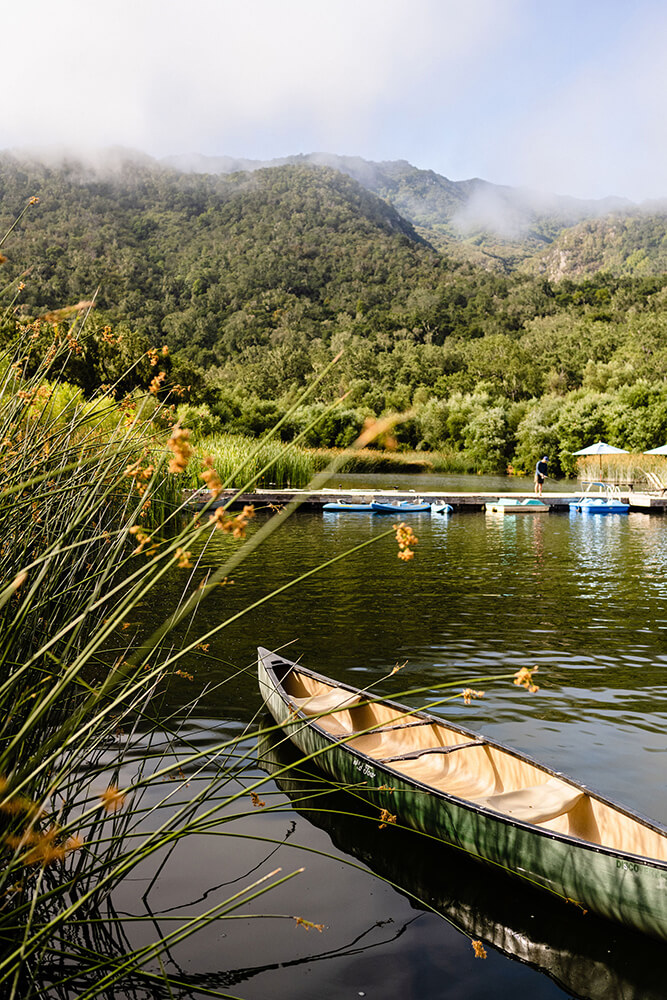 Cover Photo / Photography: Courtesy of Teal Thompsen
Catering to Multi-Generational Families
Our extended family (ranging from infants to 85) first made the trek to Alisal Ranch in 1998—for a milestone birthday celebration spanning four generations. Given the diverse needs and interests of our group, this drivable destination presented like a perfect find: For every stage in life, everything in one place. And indeed, Alisal so effectively delivered on the promise that we returned five more times over the next 10 years.
For our collective gaggle of kids, Alisal meant brushing baby goats and gathering eggs in the barnyard, taking turns being led around a pasture on a gentle horse and making collages in the arts & crafts room. The cousins happily shrieked and splashed in the pool, played countless board games and ran around after dinner on the property's grassy oval. And, as they got older, they each took their inaugural trail ride through Alisal Ranch's rolling hills.
WHOOSH! (That's the passage of time.)
Today, our three-generation family (ranging from 23 to an active 85) is spread across NorCal, SoCal and out to Cincinnati. In search of a gathering place to mark another milestone event, we wondered, "What would it be like to revisit Alisal?" The prospect enticed full attendance, and although the familiar setting triggered some nostalgia (and classic photo re-enactments), we experienced Alisal Ranch as an adult playland nirvana.
Every morning, our entire group hit the pickleball courts (including Grams!) and evenings found us meeting up in the Oak Room Lounge for live music and cocktails followed by after-dinner billiards and ping-pong games. While some opted for the fitness center or spa time, others ascended the Alisal Hiking Trail for panoramic views of the Santa Ynez Mountains. Breaking away from hotly-contested cornhole matches and mega games of chess, we took the shuttle to Alisal's spring-fed 100-acre lake, where we gravitated to fishing, canoeing and dockside reading.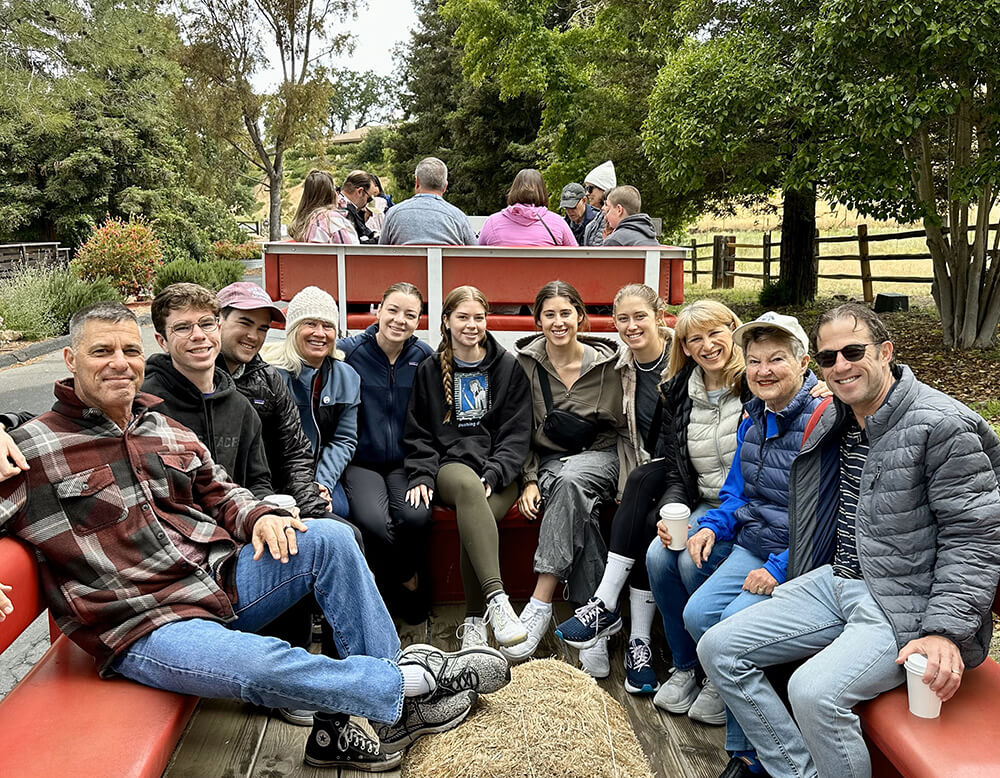 Photography: Baer Family
With over 50 miles of trails, group and private horseback rides remain a ranch visit mainstay. Further promoting the no work-all play mentality: golf, tennis, sand court volleyball, basketball, axe-throwing, archery and air rifle, ropes courses, courtesy bike rentals, as well as guided mountain e-bike excursions.
And who doesn't want to be a kid again? We reprised the hay wagon ride up to Alisal's historic Adobe Camp for a Western-style "flapjack flipping" breakfast. Spending time in the barnyard with goats, pigs, chickens, rabbits and miniature horses felt just as magical. (Our 26-year-old waited patiently for her turn to hold Eddie the rooster.) During our stay, we chatted with a couple from San Diego, accompanied by cowboy hat-wearing eight- and ten-year-old boys. "I was told I was conceived here," the now-grandmother laughed. "I came as a kid and then we brought our own kids and now we're bringing our grandkids."
"We see roughly 50 percent repeat guests," confirms Lia later, when the property's enduring appeal comes up. "So many people tell us the ranch is their happy place, and seeing families choosing to come back year after year for sometimes 40+ years is such a testament to how special this place is to them."
Western-style Hospitality
Alisal Ranch operates on an inclusive plan, which means nightly rates include accommodations, breakfast, dinner, drinks and a host of complimentary activities. Once occupied by ranch hands and wranglers, a mix of 74 room offerings dot the property—ranging from cottages and houses (sleeping up to 12) to smaller studios perfect for three. Whether your accommodations are 400 or 2,000 square feet, the ambiance is kick-back, comfortable luxury, accented by vintage artwork, ranch-inspired antiques and wood-burning fireplaces. No TVs or telephones here, but you will find fully-furnished patios, Pendleton blankets and a just-yonder burbling creek. (And yes, there's Wi-Fi.)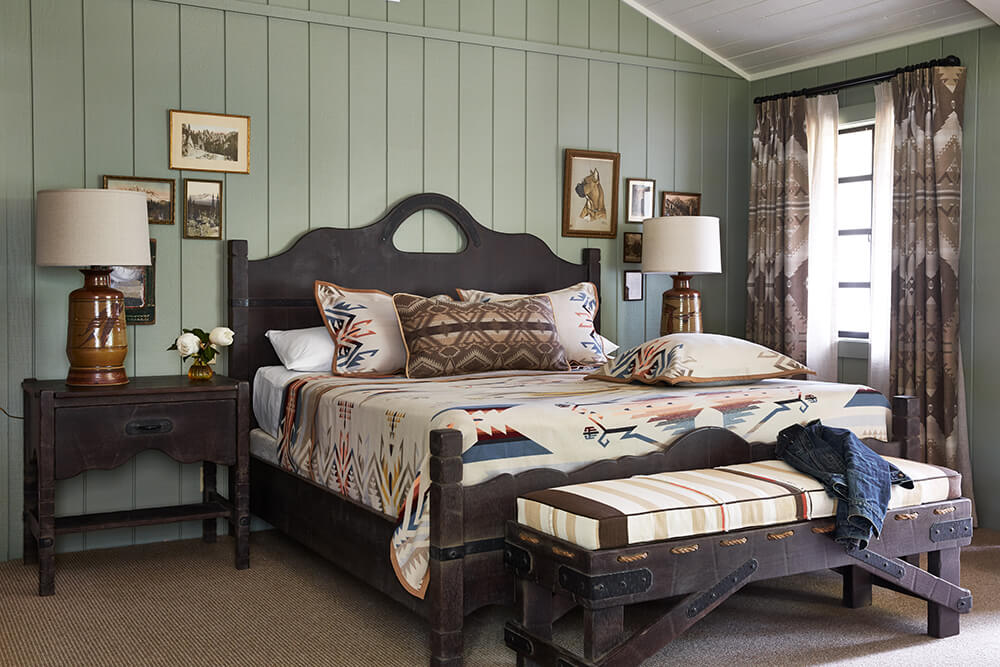 Photography: Courtesy of  Victoria Pearson
Families may spread out during the day, but mealtimes mark a ritualistic return to the whole. Guests are assigned a dedicated table for the duration of their stay, which creates a natural homebase to regroup and linger. Dinners are especially memorable. When Alisal Ranch opened to visitors in 1946, it was the custom to "dress" for dinner—and that tradition is still embraced today.
Although sport coats are required for men 16 years and older (you can spot the closet of spares), even dressy jeans work—it's just about taking a little extra care. "At the end of every day, families honor and celebrate their time together," describes Lia. "They clean up nice and just kind of sit back and have this long, delicious dinner."
Seasonal menus reflect a blend of California cuisine and hearty Western ranch cooking. While kids at nearby tables color their "Lil' Wranglers Menu," we enjoy lively conversation with our grown children, as we select from the extensive cocktail and wine list—and ponder starters like local tuna tartare, white sweet potato soup and Chino Valley deviled eggs. As one might expect, mains include various cuts of steaks, braised short ribs and pork chops—along with offerings like Ora King salmon, bucatini Bolognese and Santa Barbara Hope Ranch mussels.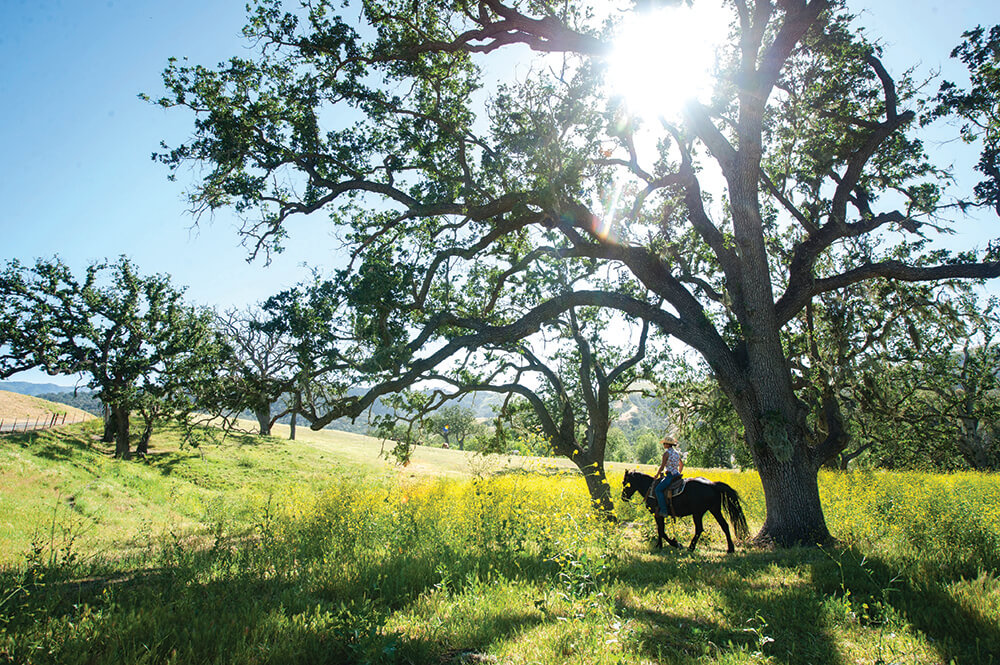 Photography: Courtesy of Alisal Ranch
Season by Season
Alisal Ranch is open year-round, but there's a distinct atmosphere to each season. The first time we visited, we came in November; for our most recent trip, we opted for early June. "I think the biggest change is the feeling," Lia relays. "Summertime has a lively energy with lots of families. We have three barbecues throughout the week and really ramp up our activities. Late fall and winter are cozy, romantic and quiet. Every room has a fireplace going, and you see guests standing around the firepit after a morning ride with hot cocoa. Spring is when the ranch comes back to life bursting with colors and welcoming kids back for spring break."
The property's inclusive model reflects luxury-level pricing, but generations of guests view an Alisal stay as a worthy investment. "You've got access to a 10,000-acre ranch that's in this private, secluded, untouched part of the state," reflects Lia. "It's an easy getaway that feels like a world away."
Home on the Range