Words by Johanna Harlow
Jazz singer Rebecca Dumaine knows a thing or two about finding one's voice. Over the years, songs and self-discovery have gone hand-in-hand for the Menlo Park vocalist, whisking her along on a memorable and melodious journey.
Music runs deep in Rebecca's family. "It's in my bones," she says, revealing that her dad, Dave Miller, followed in the fingertips of his concert pianist grandmother, tickling the ivories even as a toddler. After long days at the law firm, he would regularly decompress on the Steinway. "I fell asleep listening to him plunking the piano every night," Rebecca recalls. He also ensured she grew up on a steady diet of Ella Fitzgerald, Frank Sinatra, Nat King Cole and George Shearing.
Even still, singing took a backseat for Rebecca when she left the Peninsula to study drama at Duke University, followed by a theater career in New York. And even though she sometimes sang in musicals… "They never really moved me," Rebecca reflects. "I thought they were fun, but they didn't do anything to my soul." Precise and exacting, musical theater felt too constrictive. "Whereas jazz, you get to take a lot of risks. You can come in a measure late and then kind of make up for that. You can improvise. There's just something much freer and more expressive about jazz." She holds a particular fondness for bittersweet bossa nova.
A real eye-opener for Rebecca came when she studied and later taught the Linklater Technique, a method intended to free an actor's natural voice. It helped her recognize that her forte as a singer didn't need to be a boisterous vibrato. "I'm not a big Broadway belter. I'm not a Big Voice," she notes. Instead, Rebecca began embracing a sound equal parts resonant, expressive and sincere—a style similar to Irene Kral's buttery tones. "You just need to have your voice be the most expressive that it can be," she finally concluded. "I can just be totally me."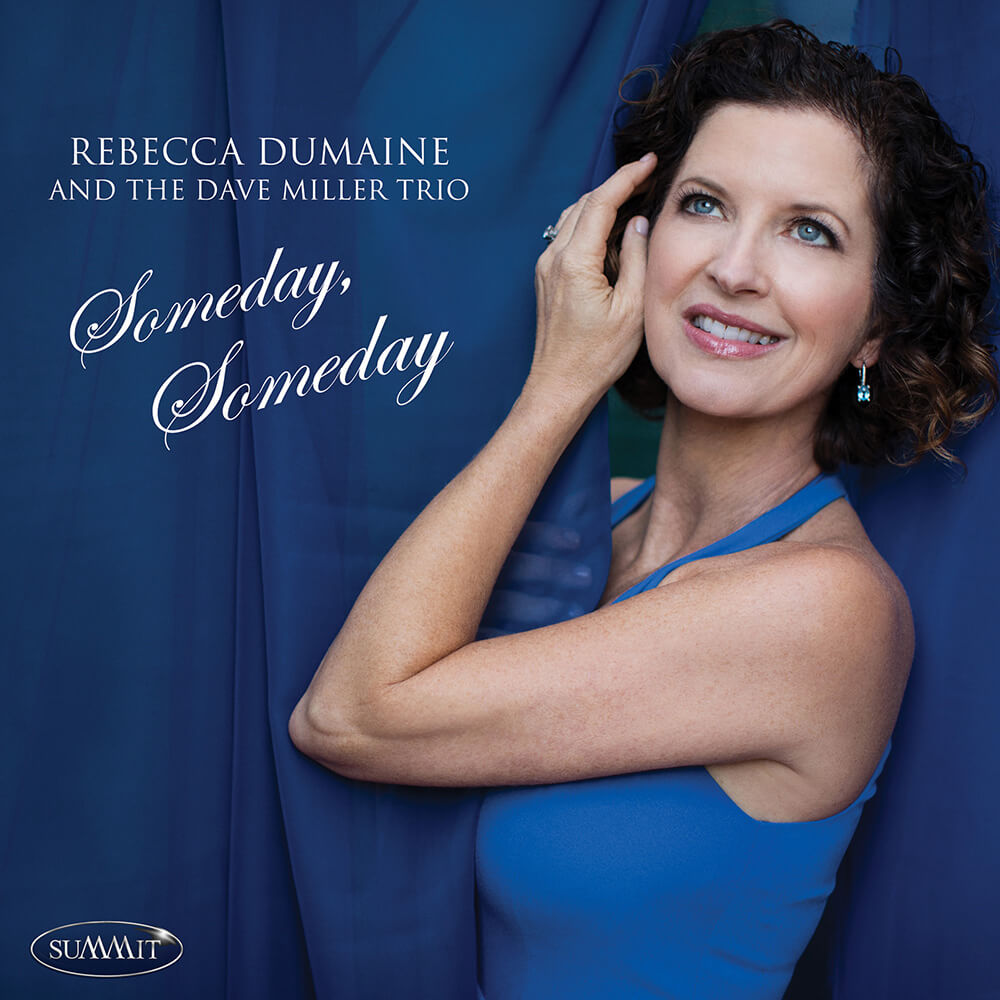 A pivotal turning point for Rebecca came after she agreed to sing with her dad and his instrumental trio on a gig. The experience felt like a coming home. "Something definitely shifted in me, back to jazz… Something happened in my body," she recounts. Reflecting on its strong impact on her, she says, "All of these paths—voice training and acting—fed into this new thing around the time I was pregnant, the most visceral, primal experience."
Upon moving back to the Peninsula, Rebecca began to regularly accompany the Dave Miller Trio. With a singer, the group procured regular restaurant gigs at Redwood City's Angelicas and Menlo Park's Bistro Vida. At first, Rebecca admits to playing it safe vocally. "I wanted to get it right… but that's so boring," she laughs. As she continued to grow as a performer, she gained confidence in this new environment, learning to engage the audience, experiment with her voice and "trust" the songs. "It's kind of like immersing yourself in a new language, in a new country," she describes. "You just have to go and make a lot of mistakes. And then, sooner or later, you're dreaming in that language." Numerous gigs and six recorded albums later, she's certainly hit her stride.
Take scat singing, for instance. Scatting—a vocalist's manner of spouting nonsense syllables in a way that imitates an instrument—is a joyfully improvisational act. It's a technique popularized by Louis Armstrong who, after dropping his lyrics mid-song, started experimenting with his voice off the cuff. "It's a fun, spur-of-the-moment dialogue," Rebecca shares. "Jazz is very much a conversation—between the instrumentalists as well as the singer."
On that same note, the father-daughter bond has become an integral part of Rebecca's sound. "He's my musical soulmate. We just get each other," she shares, stating that they need only exchange looks to communicate. "I don't even know how to describe it," she muses. "It's almost like we're not father and daughter when we're performing. It's like he's my buddy." She smiles as she shares how they tease each other during gigs: "I'll be like, 'Hey, Mozart, too many notes. Chill out when I'm singing—and then you can go do all of your trills when it's your solo.' And he can be like, 'Sure you don't want me to count us in? Because last time…' It's just a blast! I love that level of comfort—that freedom and history."
Other regular band members include Bill Belasco or Rob Gibson on drums as well as Andrew Higgins or Chuck Bennett on bass. Although Rebecca and her father regularly meet to arrange music, the other musicians tend to forgo practice runs before restaurant gigs. Riffing off each other, Rebecca explains, shows comfortability and trust. "I love being able to just say, 'Let's see where this goes today.' It's not this very rehearsed thing,'" she states. That said, they invest plenty of preparation before bigger venue shows such as at the former Savanna Jazz in San Carlos or The Sound Room in Oakland.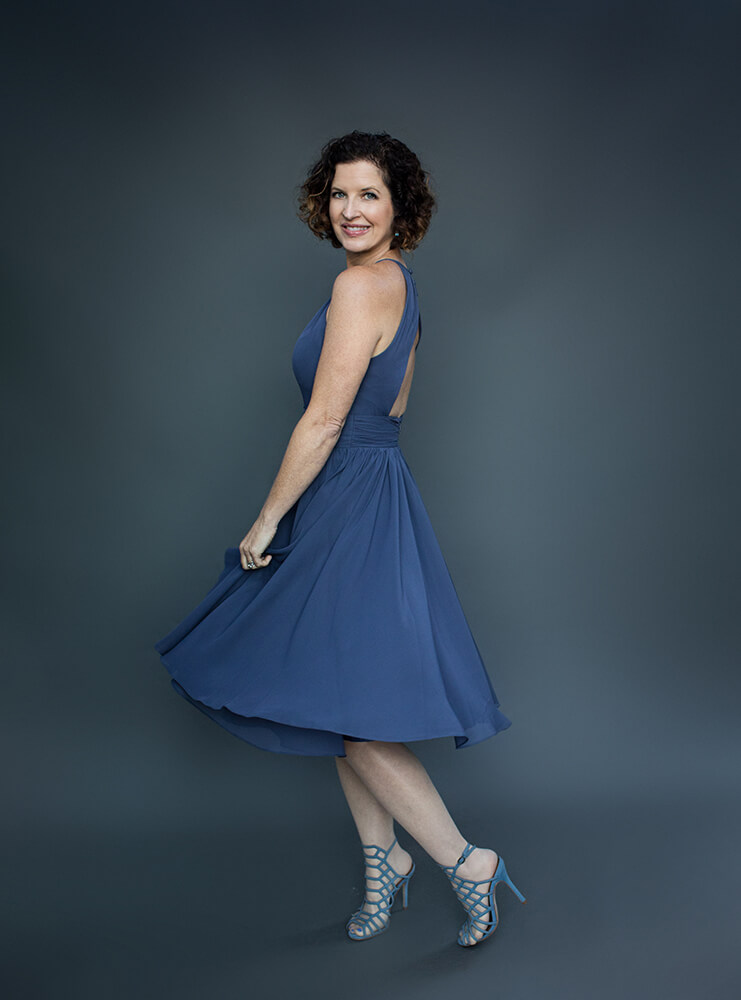 Beyond the playfulness involved in singing, Rebecca also thrills in the storytelling element, a value carried over from her acting career. "I let the words as well as the melody take me on my own journey," she expresses. "I try not to force too much of a subtextual undercurrent to it. I try to live within the images that the song is providing me."
A single word can provoke a number of responses, she asserts. "Even the word 'clear' has so many different images that come to my mind. It can be clarity of thought. It can be literally the clarity of color. It can be an openness in your heart." When Rebecca recorded "On a Clear Day" for her newest album, fires had sent Northern California up in smoke… Needless to say, the lyrics conjured a visceral image.
This fascination with words extends to Rebecca's work as a dialect coach. "I teach it, I sing it—I'm obsessed with language," she grins. The vocalist has taught voice, speech and dialects—previously at NYU, SUNY Purchase, Columbia, The Maggie Flanigan Studio and The Actors Studio, and currently at Academy of Art University. She also acts as a dialect and vocal coach, both privately and at several schools (including Menlo Atherton High where her son is a student), and shares that she's conversant in everything from the polished, clipped tones of the Queen's English to the nasally twang of a Queens New Yorker.
A caged canary no longer, Rebecca's musical journey continues as she weaves stories through song and embraces her strengths without reserve.