The bar is packed; the crowd roars. All eyes are focused on the fierce competition playing out on TV. But it's not the Dubs, the Giants or the Niners who emerge triumphant—it's Peninsula chef Eric Keppler.
Such was the scene when the Four Seasons Hotel Silicon Valley hosted a viewing party last June to root for Eric, its own executive pastry chef, who beat out eight other professional contestants to win the Food Network title: Best Baker in America.
"I was just happy to be there," he says. "To show the world how much I love what I do and I hope that it came across in what I made—apparently, it did!"
Eric's road to sweet victory began in his small hometown of Danville, Pennsylvania, where he absorbed his grandmother's work ethic and passion for creating. "She grew up on a farm during the Depression. She knew how to sew her own clothes; she used to embroider and make quilts and she cooked and baked and just did everything well," he says.
In fact, it was Eric's adaptation of his Nana's chocolate cake that won him the "Best Baker" title in the final round.
"She was like Superwoman to me and I learned all these things from her. We were always baking cookies or baking bread and her ability to just make anything was magic to me," he remembers. "If we were shopping and I'd see some popcorn balls, I'd say, 'I would love a popcorn ball.' And she'd say, 'Let's go home and make popcorn balls'—and we would! So baking was always something I loved but I never thought it could be a career, because most pastries in small towns were pies and cookies and supermarket cakes. There wasn't a 'pastry world' per se that I knew about because it was so rural."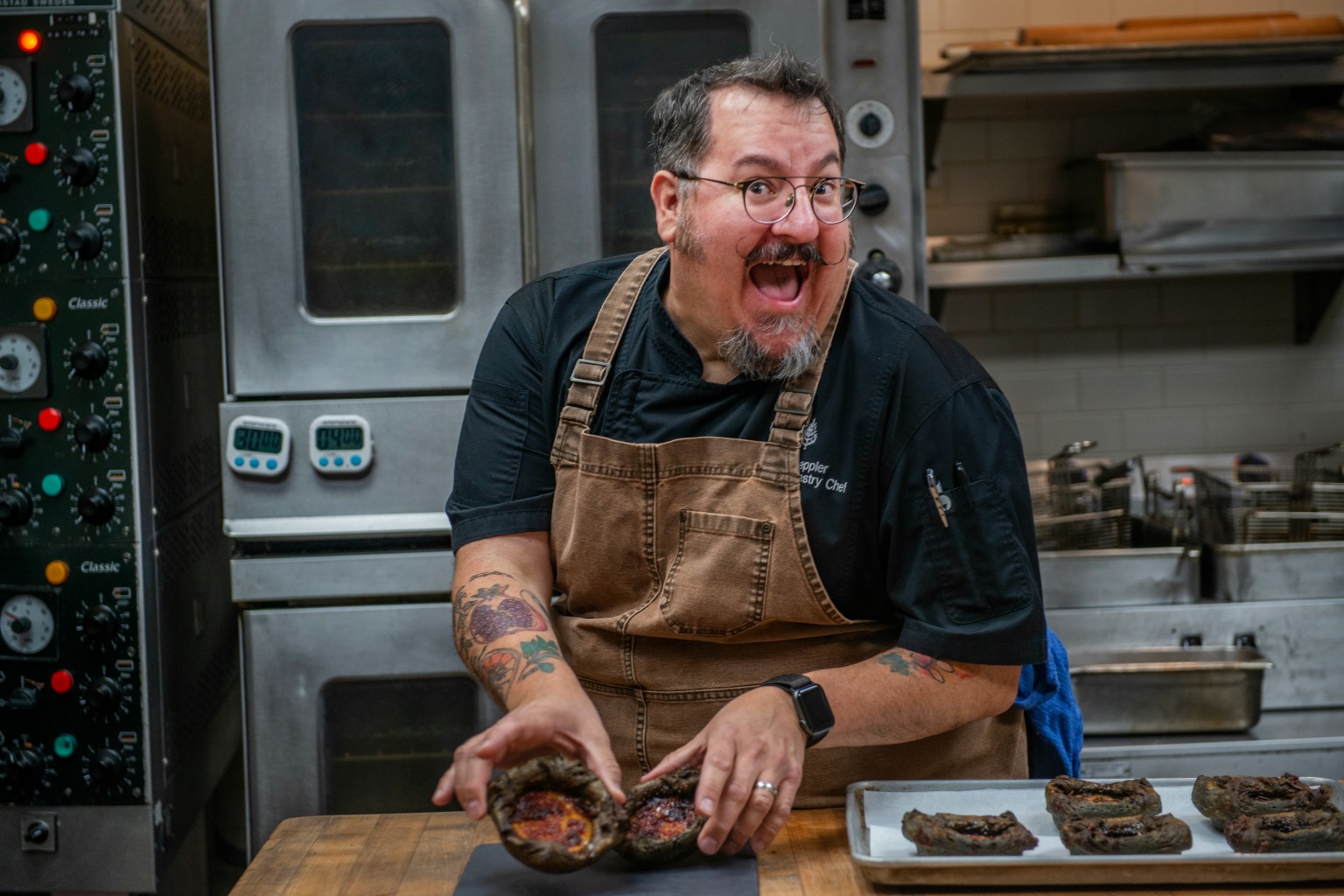 But as the years went by, Eric was always the guy at school and at work who'd be asked to make desserts for special events, family and friends. One day, a coworker was complimenting one of Eric's treats and suggested he go to school for baking.
Armed with Nana's inspiration and his own raw talent, Eric did just that. He enrolled in Johnson & Wales College of Culinary Arts in Providence, Rhode Island. After graduation, Eric made his way to San Francisco and began his ascent up the tiers of professional pastry and baking, eventually landing at the Four Seasons Hotel Silicon Valley in 2011.
A towering structure at the intersection of University Avenue and Highway 101 in Palo Alto, the hotel aspires to create an authentic local feel. Eric, according to a representative from the hotel, is an outstanding ambassador for the business. From day one, he wanted to share his passion, telling other staff members to "Come into the kitchen, see what I do."
You can find Eric's warmth and passion literally on the plate—Nana's Chocolate Cake is prominently featured on all the menus at the hotel. He and his team create a wide variety of desserts every day, from sweet comfort treats like date walnut sticky buns to pistachio lemon tortas and house-made savories like their parmesan fennel crackers or an intriguing item called a smoked salmon cruffin.
"Everything is made from scratch," Eric says. "I think a lot of people don't know that."
Desserts featured at the Four Season's coffee bar and restaurant Quattro run the gamut from indulgent cakes and cookies to ice creams and even homemade chocolate bars and French bonbons, often with fanciful names. The Jasmine Masters, for example—a lemon olive oil cake with fromage blanc, strawberry gelee, jasmine tea gelato and confit strawberries—was named for a famous drag queen because, Eric says, it's "a little bit extra."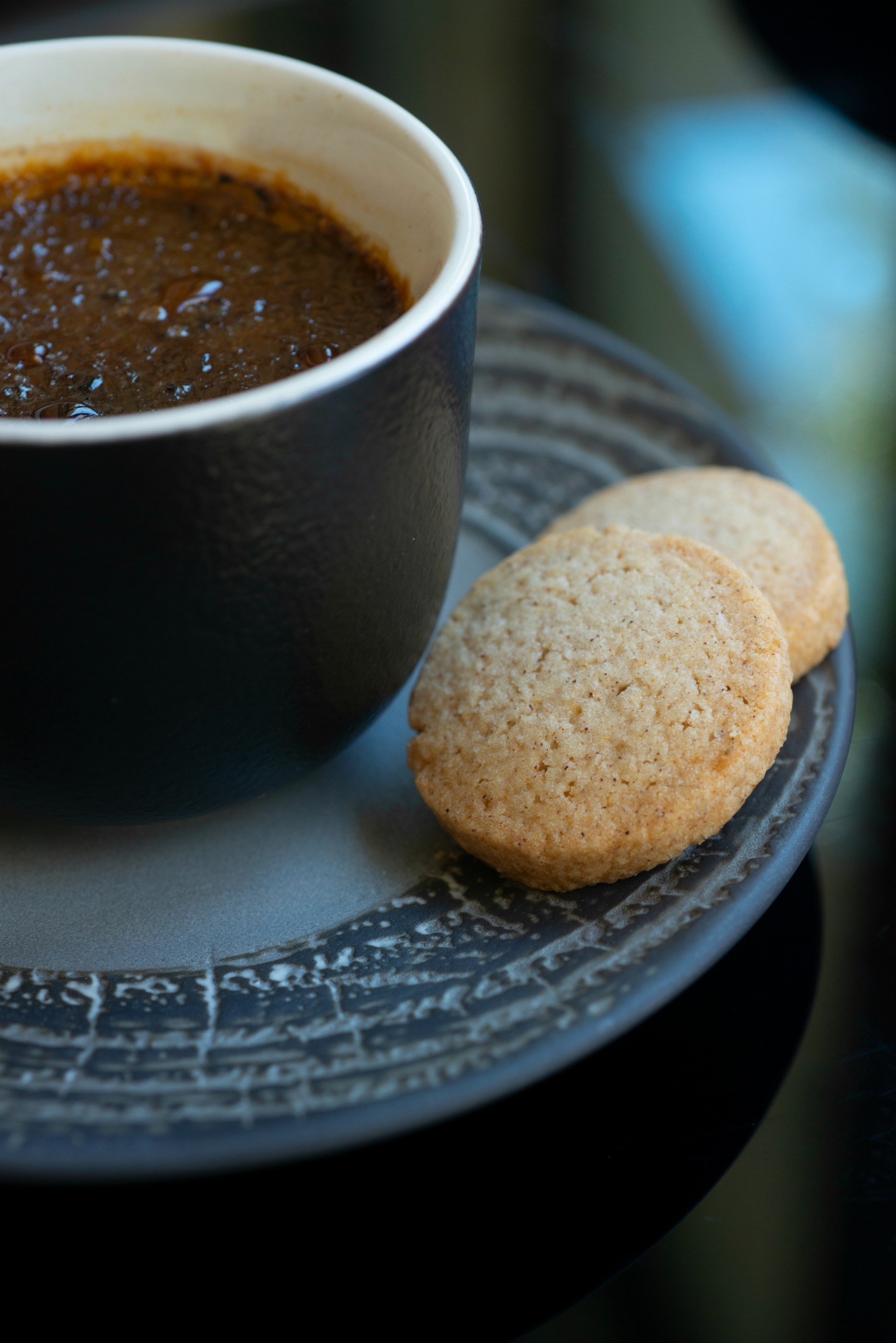 Then there's the Super Moon, a play on a key lime pie, which highlights the sea buckthorn berry, a fruit said to have more omega antioxidants than salmon. Who knew? Eric is also the mastermind behind the massive dessert buffet extravaganzas for major holidays, plus a sold-out gingerbread house decorating class at Christmas that's become an annual tradition for many local families.
"I want to give that sense like my grandmother gave to me," he says. "That what I do is an extension of my loving and caring for people. I want them to feel that through my work. I want locals to know that you can feel that, too. You don't have to stay here to feel that. You're our neighbor, come on in! Grab a coffee and a pastry and have a great day. If you're stuck in traffic, swing by and grab a drink at the bar; chill out. We're part of the community and we're here for you, too."
Continuing, he says, "I've lived in every part of the Bay Area and I love the Peninsula. It's got a nice mix; you can really find a little bit of everything here. It's been a huge influence on me as a chef, our diversity of Latin, Asian and other cultures. Coming from here makes me a better chef."
Following 20-plus years as a professional capped by a "best baker" title, what does Eric think it takes to become a great pastry chef, even in your own home? Just three things: patience, measuring and reading.
"Patience and measuring is key. If you weigh everything, your recipes will suddenly just become so much better. And reading the whole recipe all the way through is super important."
But he also emphasizes that even if things go wrong, there's nothing to be afraid of. "You didn't cause an earthquake and no one got hurt, right? Okay, your brownie didn't come out, but you know what? It's still yummy and you can try again." Wise words from a local culinary hero. 
make it
Pistachio Lemon Madeleine Cake with Strawberry Jam
serves 10-12
ingredients
195g all-purpose flour
3.5g baking powder
½ tsp kosher salt
5 whole eggs
150g granulated sugar
45g brown sugar
½ of a lemon's zest
28g pistachio paste (to make, take ½ cup lightly toasted
pistachios, grind in a spice or coffee grinder until a paste forms)
170g unsalted butter
instructions
• Preheat oven to 350 degrees, and prepare a cake pan by lightly spraying the bottom of the pan with nonstick spray and adding a circle of parchment.
• Sift all the dry ingredients together to combine.
• In the bowl of a stand mixer with the whip attachment, add in the eggs and sugars with the lemon zest and whip until light in color and a thick ribbon forms.
• Gently melt the butter, remove from heat and add the pistachio paste until combined; let sit until room temperature.
• Remove the whipped eggs when ready from the mixer and gently fold in the dry ingredients.
• Fold in the room temperature butter mixture last, and mix until well combined but not deflated.
• Pour into prepared cake pan and bake for 25-30 minutes or until the cake is lightly browned, slightly pulling away from the sides of the pan and a toothpick inserted in the center comes out clean.
• Let cake cool completely and remove from the pan by running a paring knife gently around the edge of the pan to release the sides of the cake and tip the cake gently out, removing the parchment paper from the bottom of the cake.
to serve
Dust the top of the cake with powdered sugar. Cut a slice of cake and serve with a spoon of strawberry jam (preferably homemade, but store-bought is fine), sweetened whipped cream and sliced fresh strawberries.  For an extra touch, top with lightly toasted chopped pistachios.