words by Sheri Baer
Watching from the sidelines during their daughter's first AYSO soccer season in Menlo Park, Helen Wilmot and Greg Davidson noticed something different about their daughter. Although Tierna Davidson geared up in the same blue jersey and tiny shinguards as the other "Blue Snowcats," her laser focus clearly stood out. "At those first games over at Oak Knoll School, you'd see girls stepping back and saying, 'Sorry! Sorry!' But Tierna had the mentality, 'I want that ball. I'm going to get that ball,'" Greg recalls.
Tierna's fierce determination remained a constant. "She was very focused, very early—very self-motivated and driven," Helen adds. "We encouraged her but we never had to push her. She did that herself."
And Tierna pushed herself a very long way—from scoring into those first yellow-rimmed miniature nets in kindergarten to taking the field for Team USA in the 2019 FIFA Women's World Cup in France. "If you had told young Tierna that this was going to happen, I can't really say that she would have believed it," Tierna says. "It's really quite indescribable, the feeling of going out on a field and having your entire country rooting for your team."
Adding to that experience, Tierna also had the distinction of being the youngest player on the 23-woman roster. Just 20 years old during the World Cup games earlier this summer—she turns 21 on September 19—Tierna's soccer career already included winning the NCAA Division I National Championship with the Stanford women's team in 2017, starting in 12 games for the U.S. Women's National Team (USWNT) in 2018 and becoming the first draft pick in the National Women's Soccer League (NWSL) by the Chicago Red Stars this past January.
PUNCH Magazine caught up with Tierna and her parents for the inside story on her journey from the Peninsula to the world's biggest soccer stage.
The Player: Tierna Davidson
Growing up in Menlo Park, Tierna remembers first kicking the ball in Burgess Park's Kidz Love Soccer program. She attended Oak Knoll Elementary School and Hillview Middle School, followed by Sacred Heart Preparatory in Atherton. Playing for club teams coached by Andres Deza, she was recruited by Stanford University as a high school sophomore and left Stanford in her junior year of college to play professional soccer.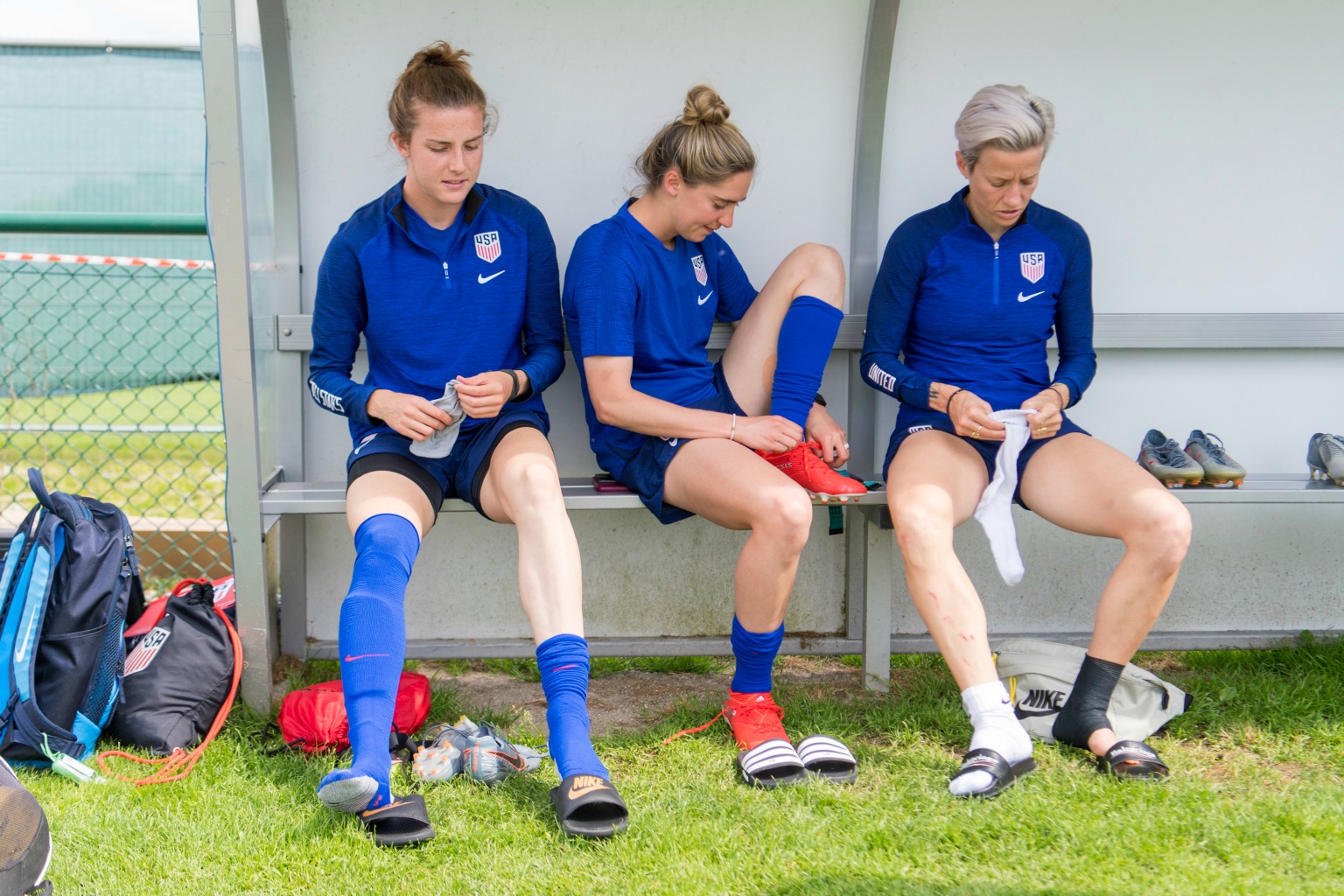 What do you recall about getting started in sports? Did you have any role models?
Some of my earliest memories are playing with my brother, Rory, in the backyard. Because he was two years older than me, I literally did everything that he did. If it was basketball, baseball, swimming or soccer, I hopped in wherever he was going. And I remember soccer just feeling like a very natural thing for me. Being so close to Stanford, we had season tickets to all the sports. I grew up watching Christen Press and Kelley O'Hara playing soccer for Stanford, and it was very cool to eventually play on the same team as them. It was really a full-circle type of thing.
Here's another full circle. When you were recruited by Stanford, how did it feel to play for a team that you had followed so closely?
It was so weird to be a freshman at Stanford and realize that there were kids in the exact position that I was in, ten years prior, wanting signatures on their shirts and on their hats. I took a moment to think about it and I realized that these small moments for these kids will be remembered forever because I remember walking up to the fence and asking someone to sign my jersey. I felt like I was meeting celebrities—people in positions of real female power—and that was just so special.
Tell us about your position on the field and what it entails.
I am a center back or a left back, kind of depending on the day. As a defender, the definition of success is a little bit gray because it's not, 'Oh, let me score a goal!' It's more about helping my team succeed, and of course, it means keeping goals out of the back of our own net.
Describe the moment you found out you made the World Cup team.
I got a call after practice one day in Chicago and my coach said, 'Congratulations, you've been selected!' I might have blacked out for a little bit; I don't completely remember everything that she said, but I do remember really not being able to say anything but 'Thank you.' After that, I called my parents and I said, 'You can book your tickets. Here we go!'
How remarkable is it to have two players from Menlo Park on the USWNT? Abby Dahlkemper got her first call-up in 2016 and was a starting central defender in France. Like you, she also went to Oak Knoll, Hillview and Sacred Heart Prep.
It's just the weirdest kind of coincidence. I didn't know Abby going through Sacred Heart because she was five years ahead of me. I actually hadn't even met her until I came on to the national team. One of the days we were coming back from camp, we drove her home and she literally lives 10 minutes from my own house. It's kind of wild to think that two players out of this whole entire national pool could come from such a small region, but it also speaks volumes about the kinds of people that the Silicon Valley cultivates—people who have a really strong drive for success and are very determined in what they love to do.
We understand you had a personal fan section that included up to 20 family members and friends. How meaningful was it to share this with them?
I had family or friends at every single one of my games, and it was so nice to have a little bit of home in the stands, even so far away from home. To have both my mom and my dad there was so great. My dad always yells, 'Go T-Dog!' right before every game—all the way from club through my international career; no matter how many fans are around, he'll always yell it, and I always hear it. It just kind of harkens back to the memories of me being a 12-year-old kid, all gangly on the field, and my dad cheering for me on the sidelines. They have consistently been able to make time, despite their jobs, despite their lives and everything that they have to do and get done every week. It's been really special to have them there through all of my stages of soccer and I think it's been very special for them too.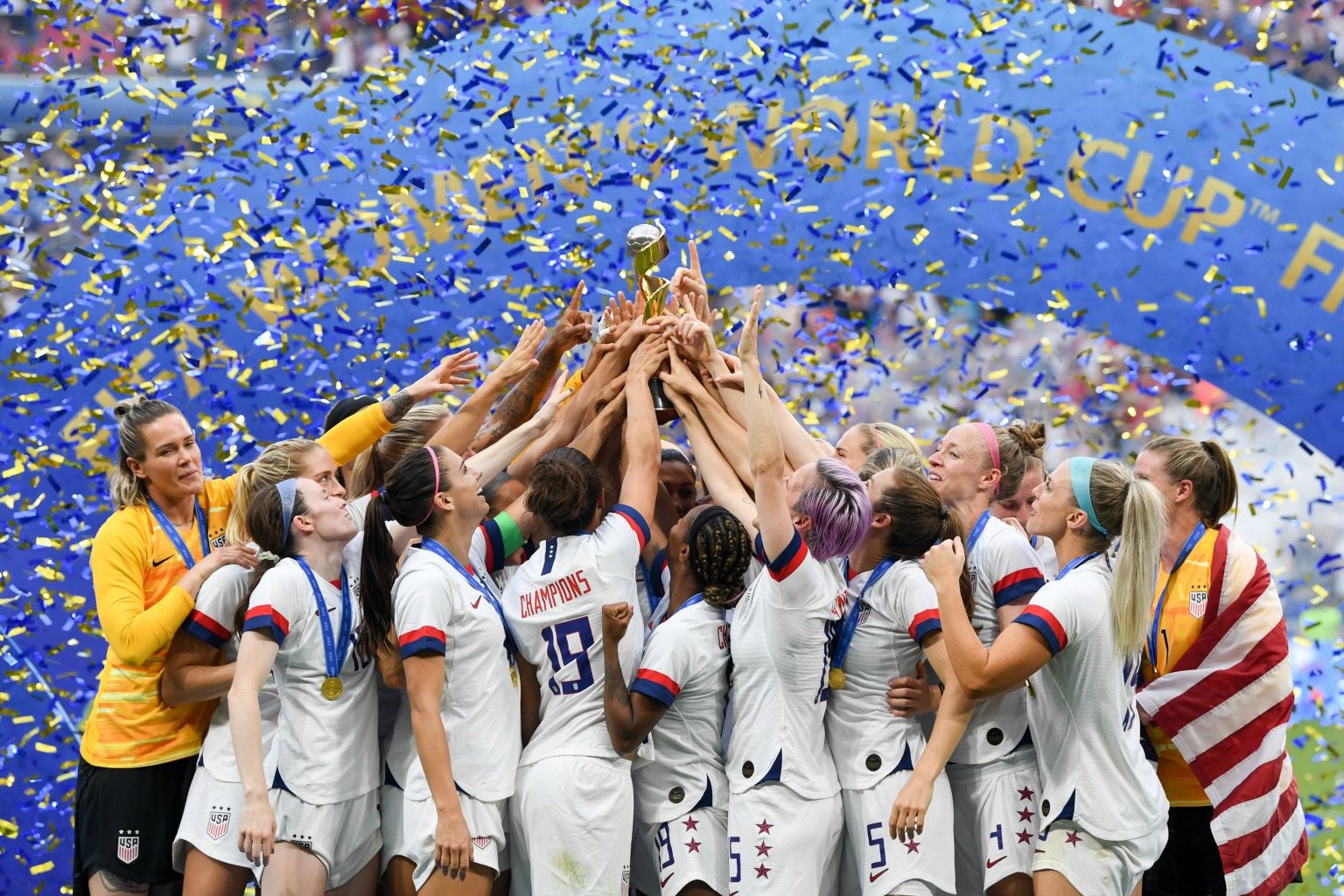 As part of the USWNT, how does it feel to be playing a role in the fight for equal pay for female athletes?
It's incredibly important and it's so powerful and I feel so lucky to have come into a group of really strong women who want to speak out about it. There were 58,000 people at our game against the Netherlands for the finals. After we won, the most resounding chant that we heard was "Equal pay! Equal pay!" To know that what we have been trying to broadcast to the world has reached all of our fans and everyone who watches us is really satisfying.
What happened after the big win?
It was a whirlwind because we hopped on a plane the next day, flew on a charter straight to New York and then had a ton of media. We went on Good Morning America and then we had the parade and then we had to get on a plane to go straight to the ESPYs in L.A. They had makeup artists and hair people on the plane for us because we landed and had 45 minutes to get ready. It was definitely like one blink and everything's done!
The Parents: Greg Davidson and Helen Wilmot 
Greg is a former corporate lawyer of 30 years and currently a fellow in the Distinguished Careers Institute at Stanford. Helen is the VP of facility services and planning at Stanford Medical Center, which includes being responsible for the operations planning and opening of the new hospital. In addition to being diehard soccer fans, they are weekend travel team road trip veterans to such destinations as Modesto, Manteca, Sacramento and Santa Rosa.
Describe when Tierna called to say she made the World Cup team.
GREG: It was very emotional for us. We were confident but not overconfident, certainly. There's no sure thing. When she called to tell us, I actually had just gotten out of a class at Stanford and I started crying. I was very proud, obviously, and it was very special to hear the news.
HELEN: I would say that I was more emotional when she got drafted as the number-one pick in the draft, which is actually going to make me cry now, because that was the moment when she was making the commitment to change her life entirely. So the World Cup, of course, oh my God, making the national World Cup team was amazing, but the draft was the moment when she was exiting this part of her life and going to the next part of her life. She had just turned 20 and was going off to Chicago by herself.
What was it like seeing Tierna wearing her #12 jersey in France?
GREG: When she was out on the field and they were playing the national anthem, Helen and I were just looking at each other and hugging and crying. 'This is just crazy, is this real?' It was just surreal in a lot of respects. Wow, all this time and effort and work over the years and her dedication—there's a payoff here. And at all of the games, we were sitting in the friends and family section, so it was amazing to be with our family and friends and all the other parents.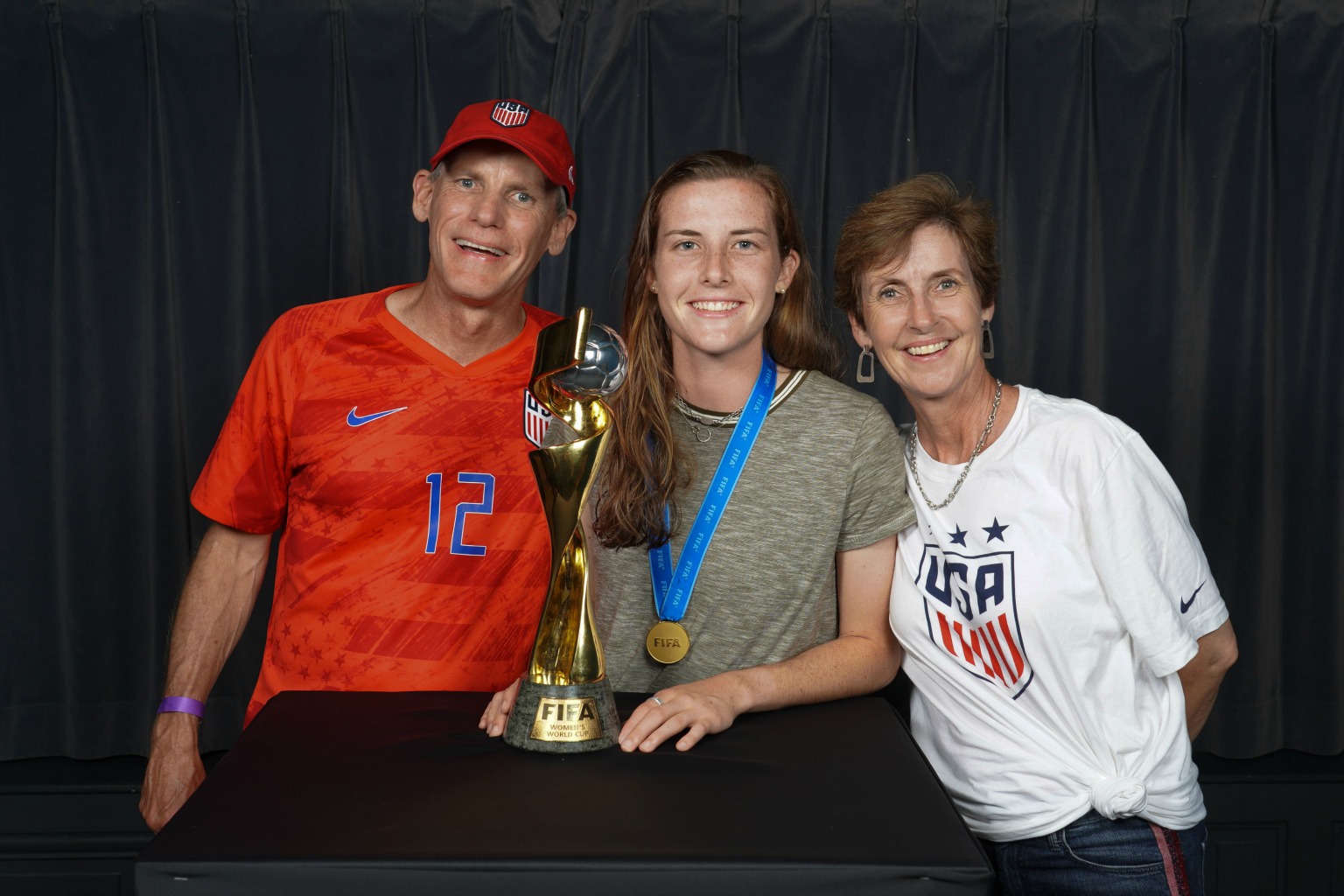 How do you view what's next for Tierna?
HELEN: If she is fortunate enough to go to the Olympics, the Olympics has a roster of 18. The World Cup had a roster of 23. So there's no guarantee ever. It's a constant reprove cycle that you have to do, so it's tough. It's a tough mindset. And if she's fortunate enough to make the Olympics, then it's three more years before the World Cup happens again.
GREG: I've always looked at Tierna and thought that she has tons of options and could be great at whatever she wants to do. She's intellectual, she's smart, and Stanford is flexible and welcoming to have people back. So she's not abandoning her Stanford degree, she's just postponing it.
Every so often, we ask, 'Are you enjoying this? Is it still your passion? If not, you don't have to do it.' But she loves it. She loves playing, no matter which team it is—Stanford, Chicago or the U.S. She just loves being out there. She loves the camaraderie. She loves the game. So, we think, 'Then go ahead and keep doing it.'