Words by Silas Valentino
Five minutes into her first time dining at Amour Amour, Barbara Jiang turned to her husband David and gave him a knowing look. 
The couple was at a corner table in the tapas bar near downtown San Mateo soaking in the ambiance, wooded and brick décor, with glasses of red wine. They both had successful day jobs but their passions for hosting and cooking were underfed.
"I had this voice in my head saying, 'This is it,'" Barbara remembers. "So I asked the waitress if the owner was there and she was in the kitchen. She came out and I said, 'Hello, my name is Barbara—do you want to sell this restaurant to me?' She took it nicely and liked the directness."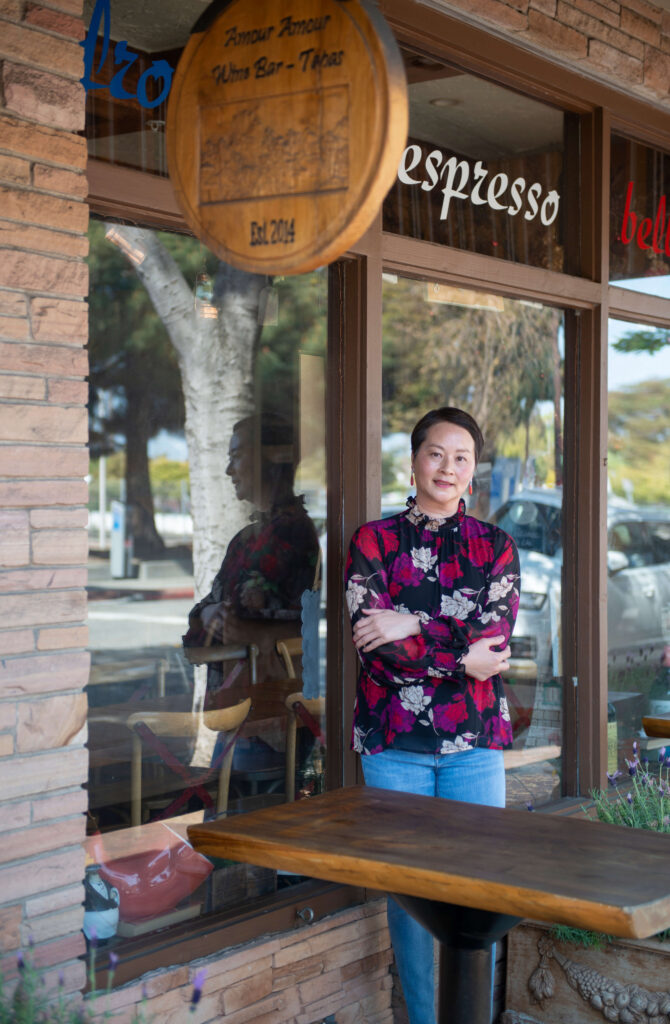 At the time, the founder was merely three months in from launching the tapas bar and was determined to see it grow. Equally determined was Barbara. The two exchanged numbers and sprouted a friendship.
"We'd see each other and every time, I'd ask, 'Are you ready to sell?' That went on for three years. Then, in September 2017, we were having lunch at Pausa up the street when she said she was ready. She didn't want to hand it over to just anybody and she knew I'd take good care of it."
Barbara and her husband are now four years into running the restaurant and their passions are respectively nourished.
David owns the kitchen, hand-making each item from scratch and spending his mornings exploring markets for fresh ingredients. Barbara thrives up front. She's a matriarchal maître d', genially welcoming guests with a keen sense for remembering faces and replicating the same spirit that dazzled her during that first visit.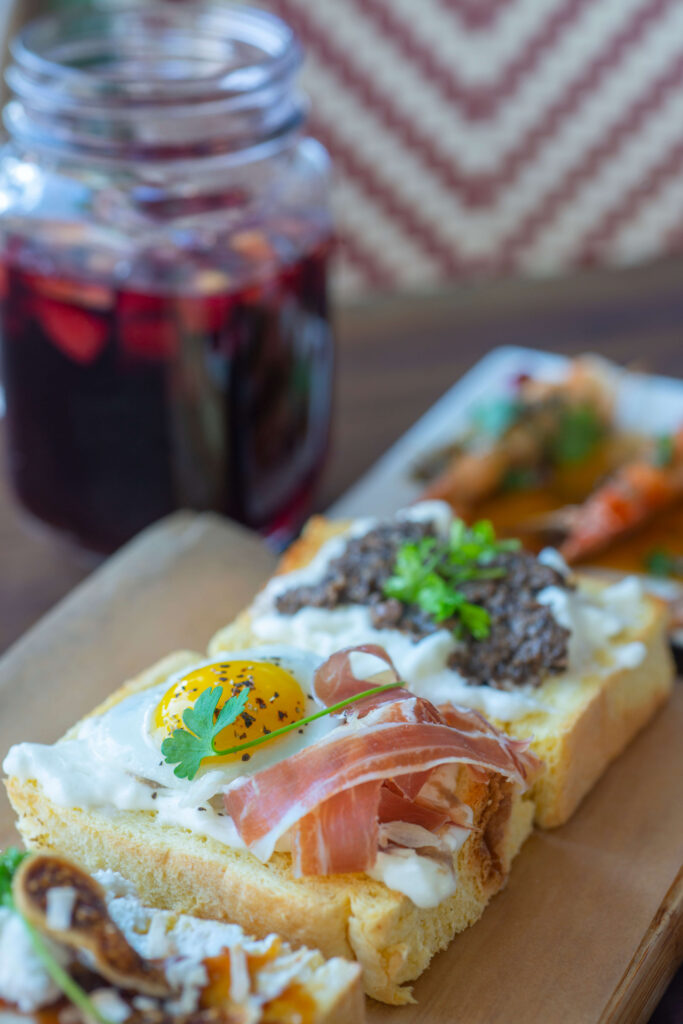 Barbara estimates that 80 percent of customers are returnees and regulars who yuk it up with her and the waitstaff over a menu of excellent bites and hand-picked wines. The restaurant is a popular choice for first dates; the casual atmosphere and flow of drinks calm the nerves, and Barbara has seen her fair share of engagements at the tables.
Amour Amour provides a social environment for settling in, sampling a variety of multicultural bites and uncorking a bottle (or two) as the hours slip by.
"I personally like Napa Cabs but I won't select too many because it's too commercial," Barbara explains. "Customers are local and know the Napa wines. I'll find wines from Chile and Mendoza because it pairs better with the menu. And I'll make sure it goes with the season, like from May to October when a lot of people are into white and dessert wines. When it's winter, I'll have stronger reds."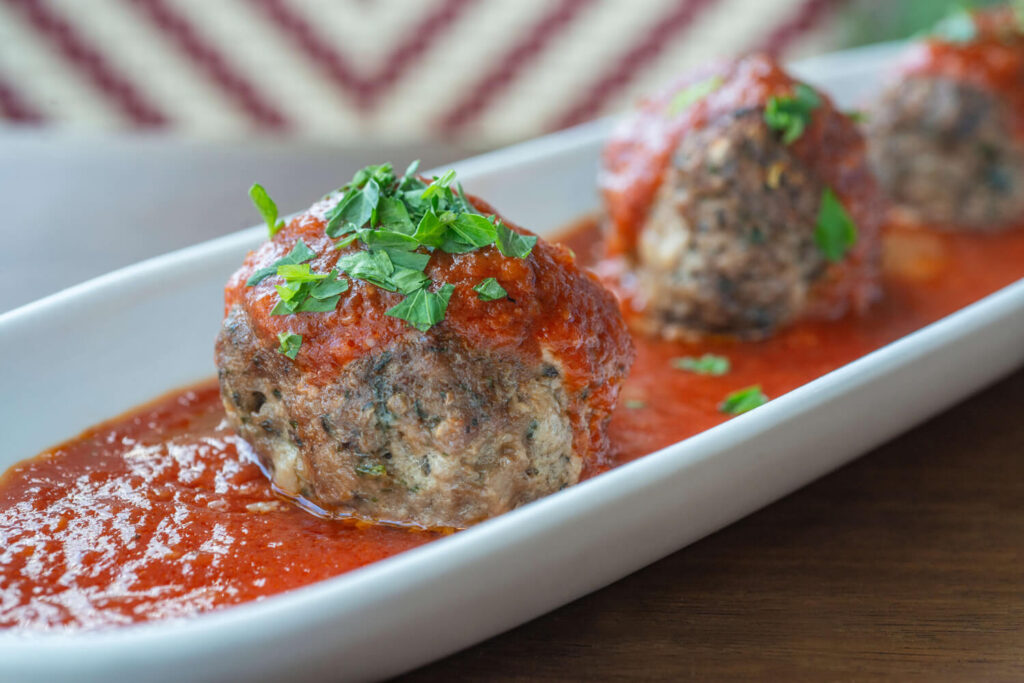 Not to be missed amid the wine is the house sangria, which combines white and red wines with apples and oranges, plus a toss of sake for an extra zing.
Born in China, David spent some time in Latin America where he learned Spanish and enhanced his cooking. He divides Amour Amour's menu into four categories: meat, seafood, pasta and vegetables, with three or four items each. He mostly cooks using the oven as opposed to stir-fry, meaning less fat and the absence of smoke, which is essential since the kitchen opens to the dining area.  
Some favorites on the menu include the black truffle mushroom crostini and honey-ginger spiced Bali Hai ribs. Barbara notes that nearly everyone orders the roasted Brussels sprouts topped in bacon and truffle salt or the cavatelli: imported Italian pasta with a lobster sauce.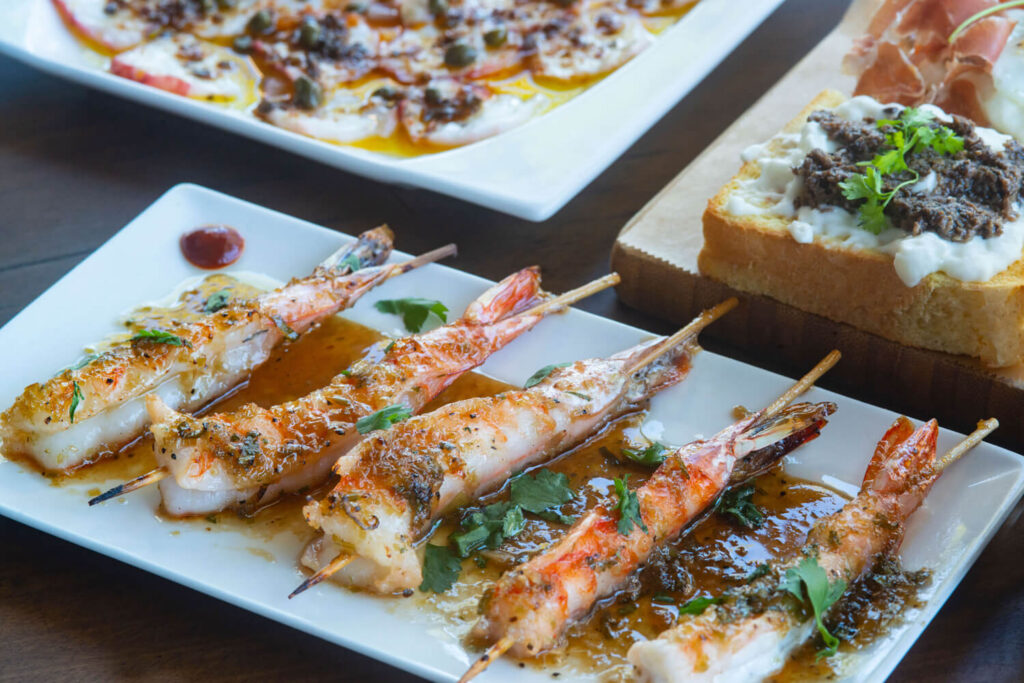 "David is absolutely hands-on and the most important thing to him is the quality and freshness," notes Barbara. "He's here every day. He goes out each morning and spends a half-day purchasing fresh ingredients before coming in at 3:30PM to prepare the sauces. He feels recharged every time someone tells him they love their meal."
Barbara met David through mutual friends some 25 years ago at the Peppermill in Daly City. They've lived in San Francisco and Millbrae, where they raised their two daughters, Rachel and Sofia, who are now in their early twenties.
At the time they discovered Amour Amour in 2014, David was working for NASA, focusing on a project to construct and maintain an airborne observatory. He specialized in computer hardware and had previously spent over a decade at SLAC National Accelerator Laboratory. Barbara still maintains her day job running a pharmaceutical company that serves assisted living facilities across the Bay Area.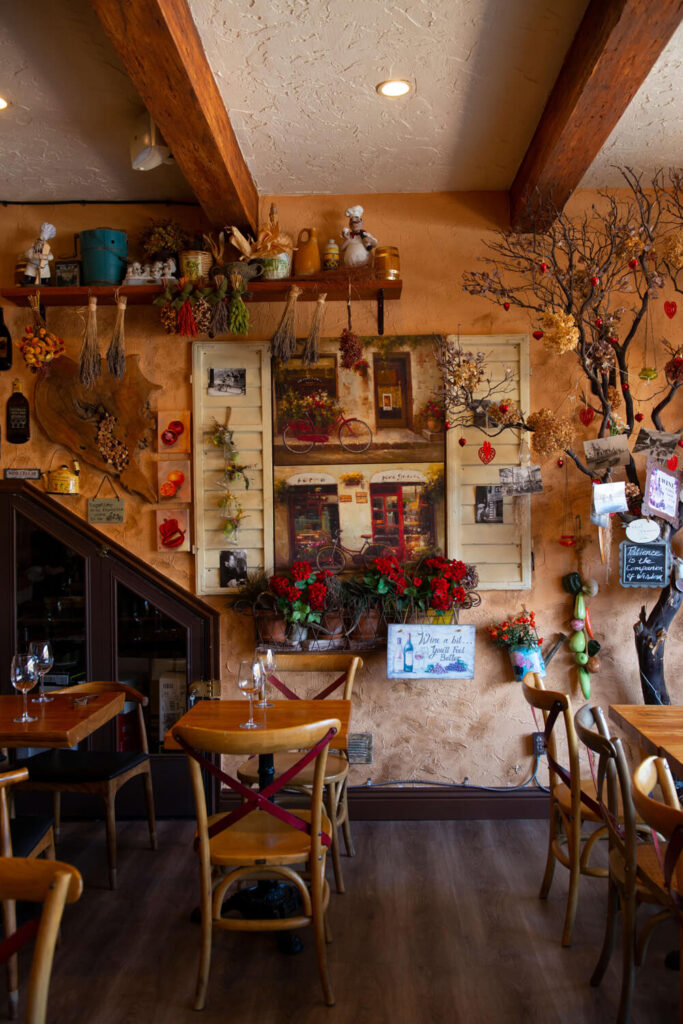 "Your way of making a living is very different from having a passion," she says. "To me, the thing that you have to do and need to do is stricter. You have to make money. But the things you want to do can be more flexible. It's lucky if you're able to get both."
The interior of Amour Amour is flush with character and a Where's Waldo of charming flair. A chalk sign might read, "Take home a little Amour," while bunches of flowers, wheat and some garlic are suspended from the ceiling. Hung on the wall is a small slab of wood with the words "together is my favorite place to be" imprinted alongside a tandem bicycle.
"David is passionate about cooking and I'm passionate about drinking and entertaining," Barbara summarizes with a smile. "It pumps you up when you walk into a place and everyone is happy in a comfortable way. It positively affects you."