words by Kate Daly
Kate Daly considers herself lucky to have discovered Sun Valley decades ago. She splits her time between the Peninsula and Ketchum and keeps finding a new favorite season there.
For the second year in a row, Ski Magazine ranks Sun Valley as the #1 ski resort in North America. Will Sun Valley make it to the top of your list this winter? Back in the 1930s, Union Pacific Chairman Averell Harriman handpicked the former mining town in south central Idaho to become America's first destination ski resort. Today, the first-class getaway offers so much more, ranging from sleigh rides to spa treatments. Yes, two mountains with more than 2,400 acres of diverse terrain and extensive snowmaking equipment ensure that skiing and snowboarding are top-notch, but the added allure of natural beauty, Old West charm, comfortable accommodations and classy dining and shopping broadens the appeal. No wonder Ernest Hemingway lived there, Tom Hanks has a hideaway retreat and multiple Olympians call the place home. A warning though: Weather can be variable in any mountain town, but this is particularly true of Sun Valley during the winter.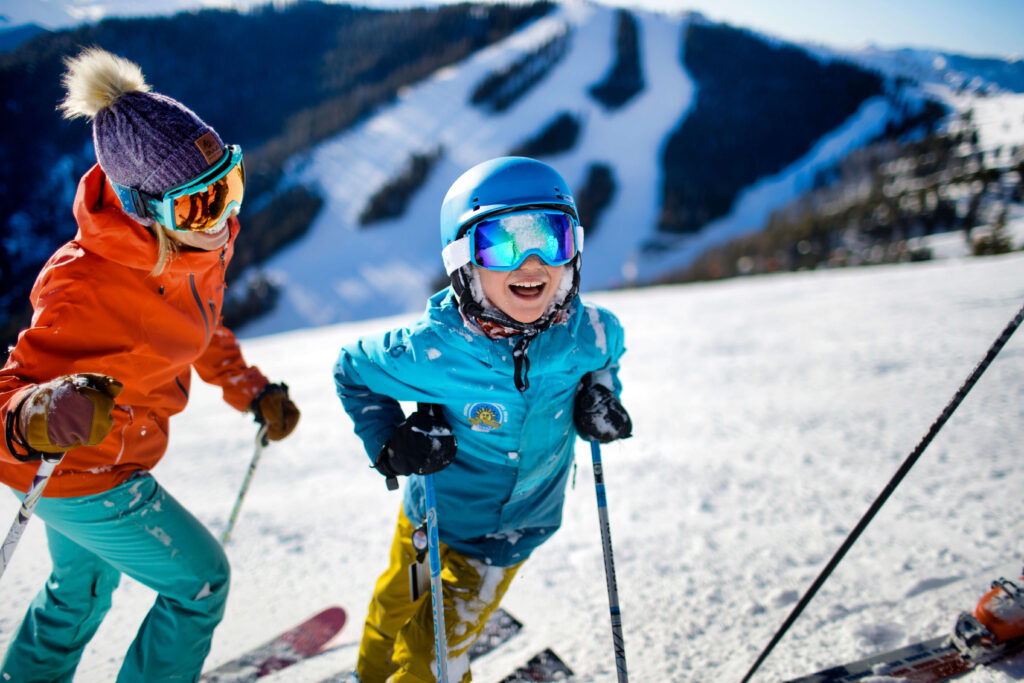 Where to Stay
Sun Valley Lodge is the iconic place to book if you want to be right in Sun Valley Village. The spacious guest rooms, spa and bowling alley have been redone, but the halls off the main entrance are still rimmed with black and white photos of the many luminaries who have frequented the resort over the years. Nearby condos can be arranged through the resort's rental office. A mile or so away in downtown Ketchum, Limelight Hotel is a contemporary upscale addition to town, with an active lobby full of eating, drinking and live music. Also on Main Street, Hotel Ketchum offers more basic rooms. Rental properties are sprinkled throughout the Wood River Valley. For supplies, stock up in Ketchum at Atkinsons' and Village Market for groceries and Chateau Drug, which carries every sundry imaginable, including road salt.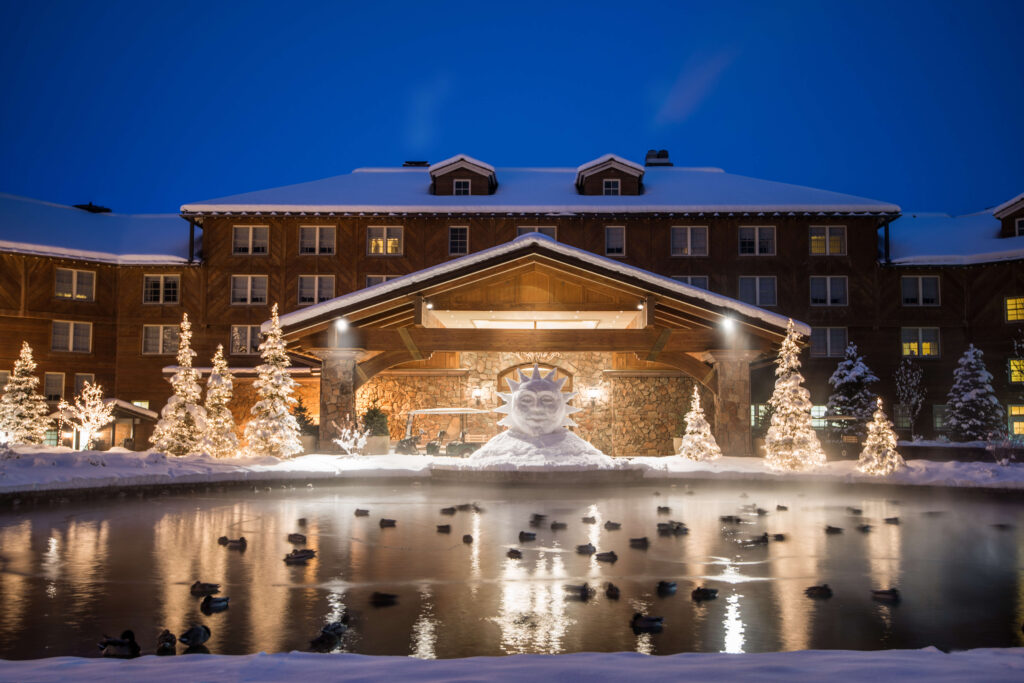 What to Do
Sun Valley is a popular playground for all snow sports enthusiasts. Skiers and snowboarders head to Dollar Mountain (elevation 6,638') in Sun Valley if they are beginners or want to try the terrain park. Intermediate and more advanced downhillers go to Bald Mountain (elevation 9,150') in Ketchum for the challenge of 65 varied runs. Parking is free and gear rentals are offered at Baldy's two entrances, River Run Plaza and Warm Springs Lodge. Foodies should know that a bell rings at Warm Springs when oversized chocolate chip cookies are fresh out of the oven, and River Run has a gondola that enables even non-skiers to enjoy fondue and fancy sandwiches at the Roundhouse Restaurant at 7,727'. Be sure to check out the photos of famous visitors who have come through since 1939. Now that Sun Valley is an EPIC pass partner, crowds fluctuate, so it's wise to reserve a table.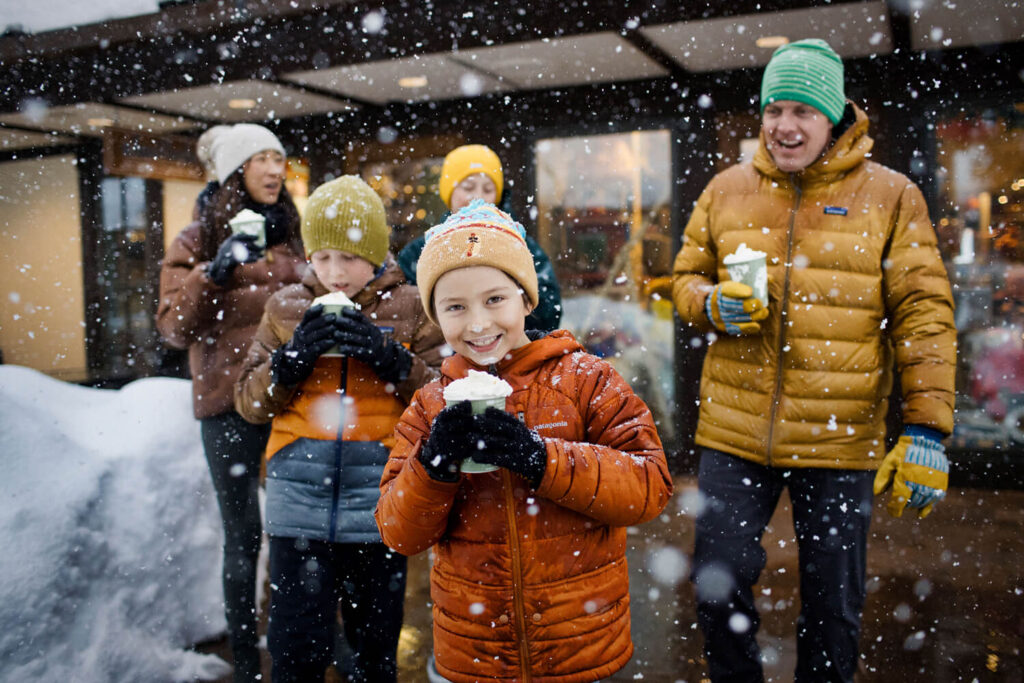 Snowshoers, Nordic classic and skate skiers can whip around the groomed trails at the Nordic Center in Sun Valley, or try the Blaine County Recreation District's network straddling both sides of Highway 75. It's well worth the half-hour drive north to Galena Lodge to explore those trails and recharge with a hearty lunch in the classic log cabin. Backcountry skiing, snowmobiling and yurt rentals are additional options up north. Best to book in advance.
Sun Valley Outdoor Ice Rink at Sun Valley Lodge is open to the public and the focal point of a fun family holiday tradition. Christmas Eve starts with hot cocoa, mulled cider and cookies set out on the terrace overlooking the rink. Local skaters and special guests dance, jump and twirl to seasonal songs. Carolers and Santa Claus round out the show, which then shifts to Dollar Mountain where, in the distance, Sun Valley ski instructors carve down the slopes in a Torchlight Parade. Fireworks cap off the night. 
You can start your own tradition by taking a sleigh ride from the nearby Sun Valley Inn. Make a reservation and bundle up for a memorable 30-minute excursion surrounded by scenic mountains.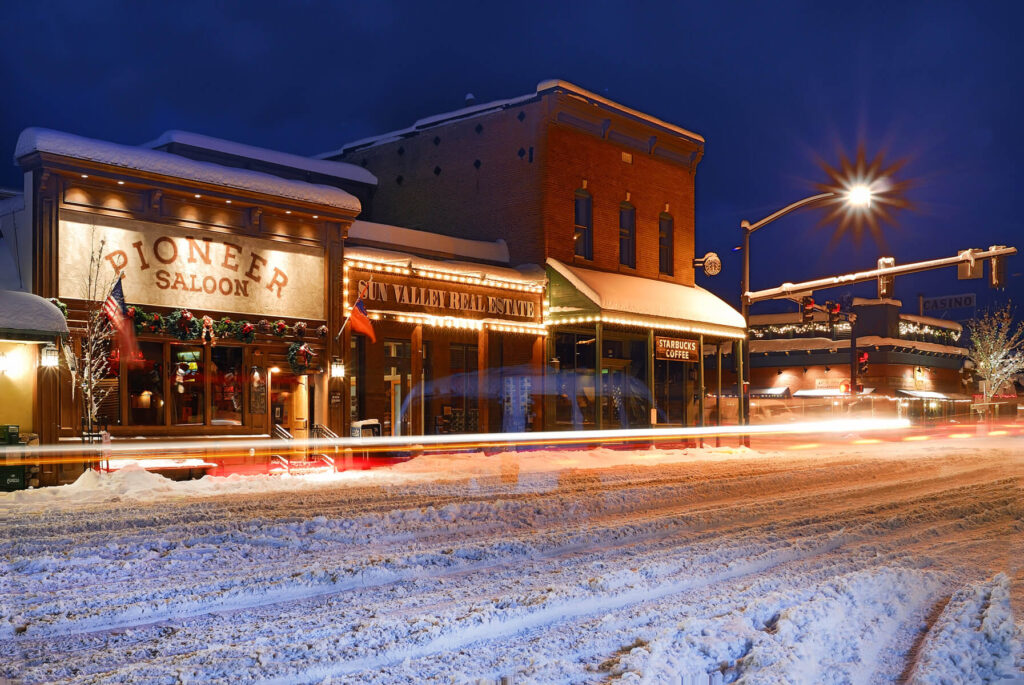 Dining and Going Out
Breakfast or lunch may take you to Konditorei in Sun Valley Village or The Kneadery in Ketchum. Muffin and coffee fans will want to seek out the highly-acclaimed "Bowl of Soul" at Java, or a cup at Maude's, also in Ketchum. Rasberrys serves wonderful lunches and sweets in Ketchum. Looking for more local fresh fare in town? Try Enoteca, an Italian wine bar, or the pub, Warfield Distillery & Brewery. A fixture since the 1950s, Pioneer Saloon stands out a few doors down Main Street with its "Prime Rib and Cocktails" sign. Step in to study the mounted animal heads and old firearms, and stay for the steaks and signature Idaho baked potato dishes. Dating back to the same era and perfect for a couple's night out, Michel's Christiania Restaurant and Olympic Bar serves up cocktails and fine French cuisine in Ketchum.
If you are looking for something lighter, the Duchin Lounge at Sun Valley Lodge has a piano bar with a menu of quick bites. For more  nightlife, try Whiskey Jacques' in Ketchum, which doubles as a sports bar and a live music venue. Also in Ketchum, the Argyros Performing Arts Center attracts all kinds of traveling talent.
Art gallery walks usually fall on the first Fridays of the month in Ketchum. On those evenings, galleries greet you with glasses of wine, and people mill around the exhibits and sometimes meet the artists.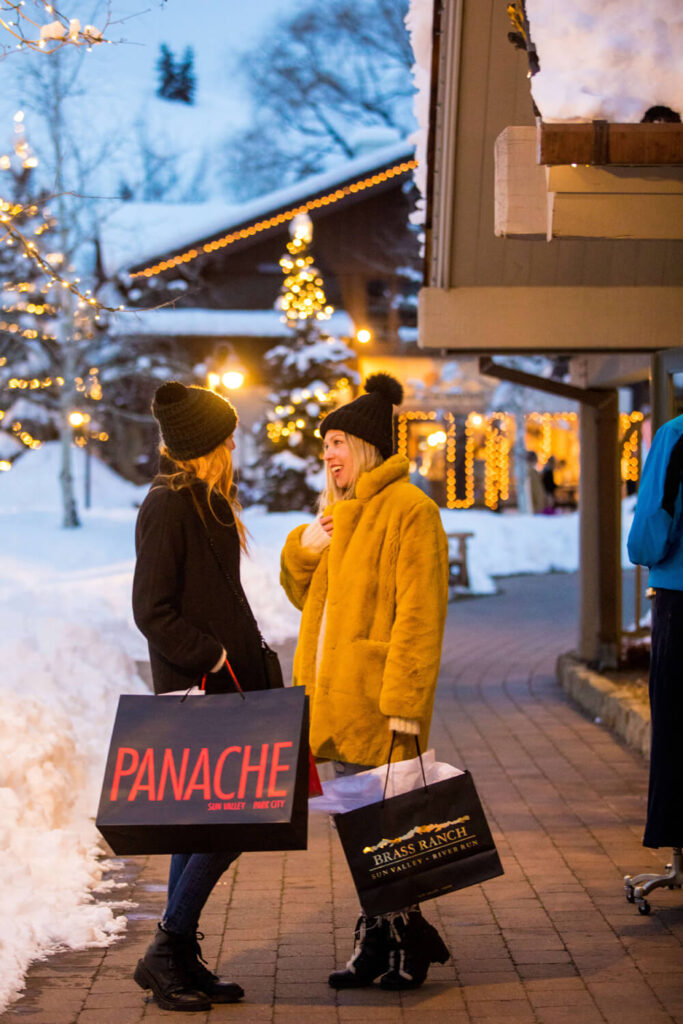 Shopping Time
Panache in Sun Valley Village carries many high-end lines of women's clothing. In Ketchum, two boutiques, Sister and Baby & Company, lean more towards hip and chic designers. You might see Peninsula cyclists sporting colorful Maloja sportswear, likely purchased at Bavarian Soul in Ketchum. Silver Creek Outfitters takes good care of shoppers seeking classic clothing, but if you are specifically looking for activewear, go to Backwoods Mountain Sports, Sturtevant's or Elephant's Perch in Ketchum.
The great news is that they can also cover what you'll need when you return in the summer to go hiking, biking, fishing, golfing, horseback riding or rafting. The latter happens up north, but Sun Valley works well as a gateway. Regardless of the season, the message stays the same: Get ready to enjoy mountain life and a slew of activities.
How to Get There
Direct flights are available on United during the season from SFO into SUN (aka Friedman Memorial Airport) in Hailey, a 25-minute drive to the ski resort. Winter storms can cause flights to be diverted from Hailey to Twin Falls, which is about a 90-minute drive away. Delta offers service to Hailey connecting through Salt Lake City; otherwise, Southwest, United and Alaska fly into Boise, the state capital. The two-and-a-half-hour drive from Boise to Sun Valley starts on freeway and then switches to two-lane roads where wildlife and tumbleweed may cross your path, especially if you take the Highway 20 shortcut. Some lodges, hotels and businesses provide shuttles, and Mountain Rides runs free buses in the area, but most visitors will want to have their own vehicle to handle cold-weather conditions. Note, the drive from the Peninsula to Sun Valley takes about 12 hours.