words by Sheri Baer
Before the first sighting, the peculiar sounds can be heard from as far as a mile away—vocalizations that are difficult to describe. We ask Año Nuevo interpretive specialist Sarah Mastroni to try.
"Sometimes they sound like flushing toilets to me. Sometimes it's like a gurgling pipe sound," she offers. "The juveniles sound like little screaming monkeys and then the females kind of screech also. They are a noisy group."
The group Sarah is referring to is the colony of Northern Elephant Seals that haul out on the beach twice a year at Año Nuevo State Park (1 New Years Creek Road) in Pescadero. Like clockwork, Northern Elephant Seals return to this area to breed and to molt, drawing curious visitors from all over the Bay Area, across the country and even around the world. Located 35 miles south of Half Moon Bay, docent-guided walks start in mid-December and run through March. "It is the closest thing you can get to being on a National Geographic crew," Sarah tells us. "The ability to see this unique group of large animals in their natural habitat is mind-blowing. This is not a zoo. We are inside the exhibit."
BOOKING YOUR TOUR
To join the adventure, advance reservations are recommended to secure a spot. Public seal walks depart every 15 minutes daily—from early morning to mid-afternoon—with each departure time limited to 20 people. Weekends sell out quickly, so aim for a weekday for best availability. Even if you're shut out on a prospective date, spots do occasionally open up, so it's worth it to swing by and ask. Tickets run $7 plus fees, with a $10 parking charge per vehicle. Visit parks.ca.gov/?page_id=523 or call 800.444.4445.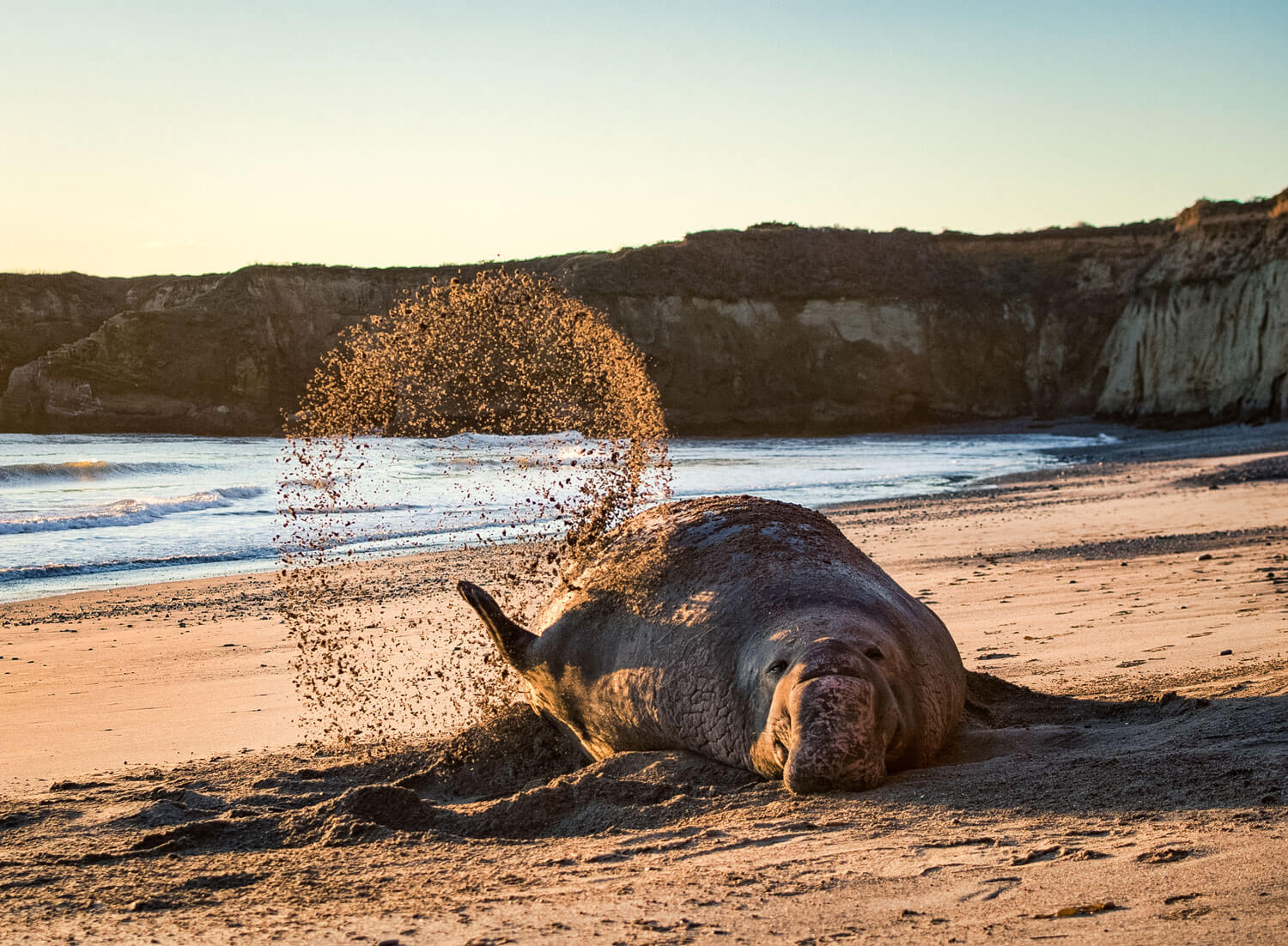 WALK ON THE WILD SIDE
When you arrive, check in at the Marine Education Center, where you'll find natural history exhibits and all kinds of fascinating facts. Here's one: Male and female elephant seal pups look alike when they're born. As they mature, the males grow significantly bigger and develop a prominent "elephant"-like proboscis. Those description-defying guttural noises you hear? That's the males inflating their fleshy noses to threaten and scare away rivals.
Come prepared for a three-mile (approximately 2.5-hour) moderate hike over varied terrain, including sand dunes. When your time slot arrives, you'll be directed down a gravel path, allowing you to take in the first mile (and later return) on your own. As you bask in soul-replenishing coastal and freshwater wetland views, keep an eye out for Coots, Mallards and Black Phoebes foraging for food. You'll meet your assigned docent at the staging area, which also offers one last bathroom stop before you officially head out.
On this particular day, the 11:30AM tour is led by Andrew Kaufman, one of more than 200 extensively-trained volunteers eager to share the natural and cultural history of the park. "Stay alert," Andrew cautions our group. While there are generally designated routes and stops, Andrew reminds us that we are in another animal's habitat. "I may have to call an audible," he says. "At any point, we can be walking and stumble across a 2,000-kilo male 20 feet away."
Año Nuevo offers the rare opportunity to observe hundreds of these spectacular mammals up close. As we pull up at an overlook, at first, they present like massive, motionless lumps dotting a stretch of sandy beach. Until you begin to notice small movements: over there, a pup nurses; across the way, a large male tosses sand onto his back; just yonder, a female rolls over, in a fluid ripple of lumbering fat. And, suddenly, an alpha bull bellows a warning and arches his back.
Through a mix of walking, talking and watching, Andrew conveys the wonder of this species over the course of the tour. "The physiology of the elephant seal, what they're able to accomplish for their existence, is just extraordinary," he says. "The lengths that they take to procreate and to get back here and the fact that they come to the same place… I marvel at them each and every time I see them."
ON THE WAY TO AÑO NUEVO
Although an Año Nuevo guided tour can be pulled off as a Peninsula day trip, it's also the perfect excuse to plan a coastal getaway. Whether you're taking Highway 92 to Half Moon Bay or winding your way along curvy State Route 84 to San Gregorio State Beach, you'll feel like you're lightening your load with every turn of the road.
Once you're on Highway 1, keep an eye out for Pescadero State Beach. Veer off on Pescadero Creek Road for the scant two-mile stretch leading to historic Pescadero. The knotty-pine-paneled Duarte's Tavern (202 Stage Road) is the town's time-honored eatery. Save room for a piece of Duarte's famous Olallieberry Pie with its flaky, buttery crust. Right next door to Duarte's, you'll find the cozy tasting room for Sante Arcangeli Family Wines (216-A Stage Road). Named after the great-grandfather of owner/winemaker John Benedetti, Sante Arcangeli specializes in small-lot Pinot Noir and Chardonnay, primarily sourced from the Santa Cruz Mountains.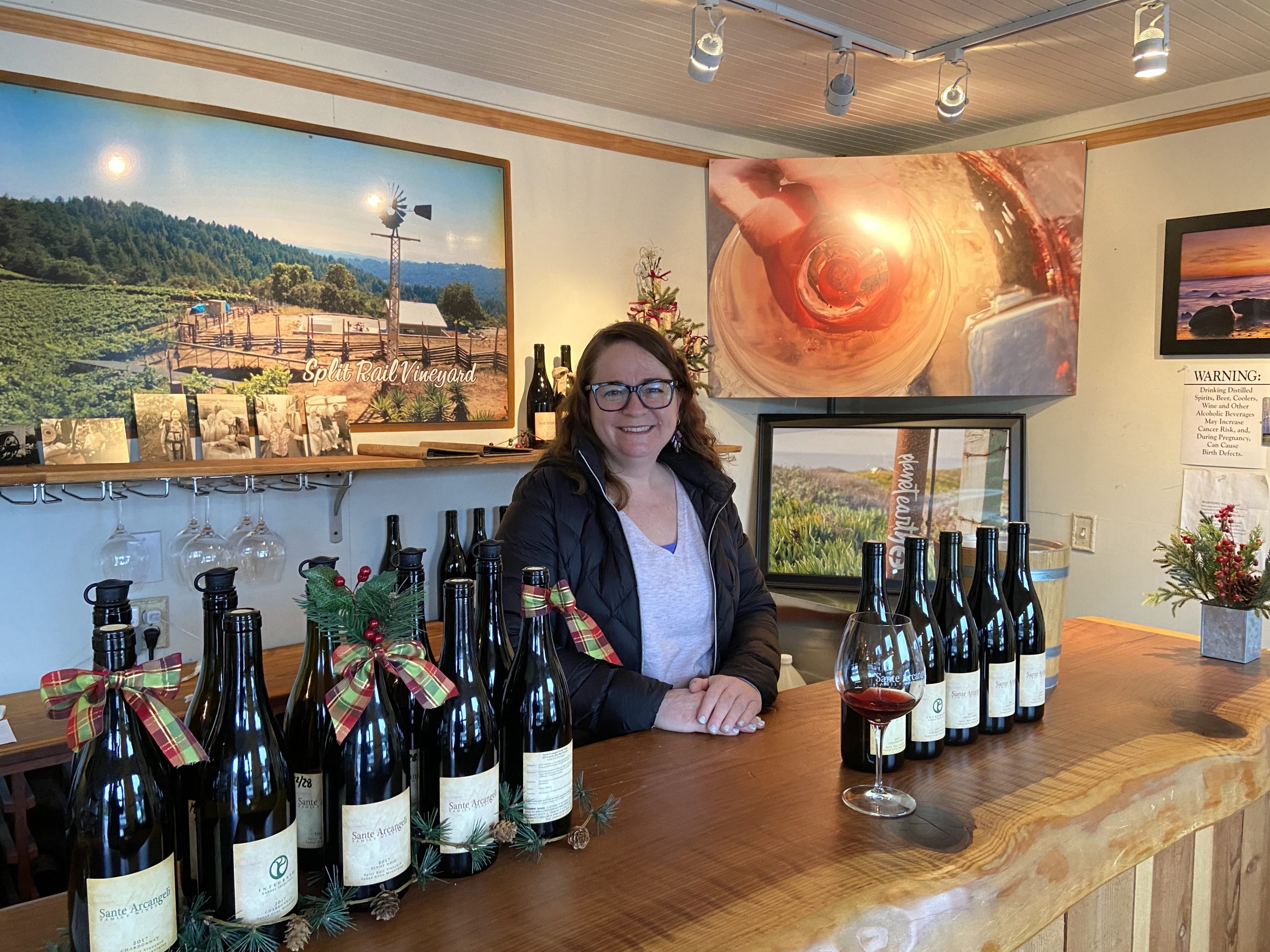 Just down the road, you'll find Arcangeli Grocery Co. (287 Stage Road), also known as Norm's Market (Benedetti's dad), which is managed by Benedetti's brothers, Mike and Don. Three words are all you need to know: Artichoke Garlic Herb. Think fresh-out-of-the-oven crusty Italian bread laced with chunks of artichoke. Pro tip: Grab a loaf and a wedge of goat cheese (locally sourced from nearby Harley Farms Goat Dairy) and pair it with Sante Arcangeli's crisp Chardonnay Integrato for a deliciously simple feast.
Six miles south of Pescadero State Beach, a treasured (and oft-photographed) landmark on the California coast comes into view, signaling another reason to stop. Constructed in 1872, the 115-foot Pigeon Point Lighthouse (210 Pigeon Point Road) was equipped with the most powerful Fresnel lens of the day, using 1,008 handcrafted, brass-framed lenses and prisms to project its beam up to 24 miles. The tower itself is closed to tours with restoration efforts underway, but you can see the Fresnel lens and other exhibits up close in the Fog Signal Building. The grounds are open from 8AM to sunset, offering stunning backdrops and scenery.
If you're looking to extend your stay, four Light Station buildings make up Pigeon Point Lighthouse Hostel, offering bunkrooms and private lodging for couples and families. On a moody, drizzly day, it's easy to look out at the fog-blanketed coastline and imagine the many shipwrecks that happened here, including the Boston-based Carrier Pigeon, a clipper ship torn apart on the rocks in 1853, giving Pigeon Point its name.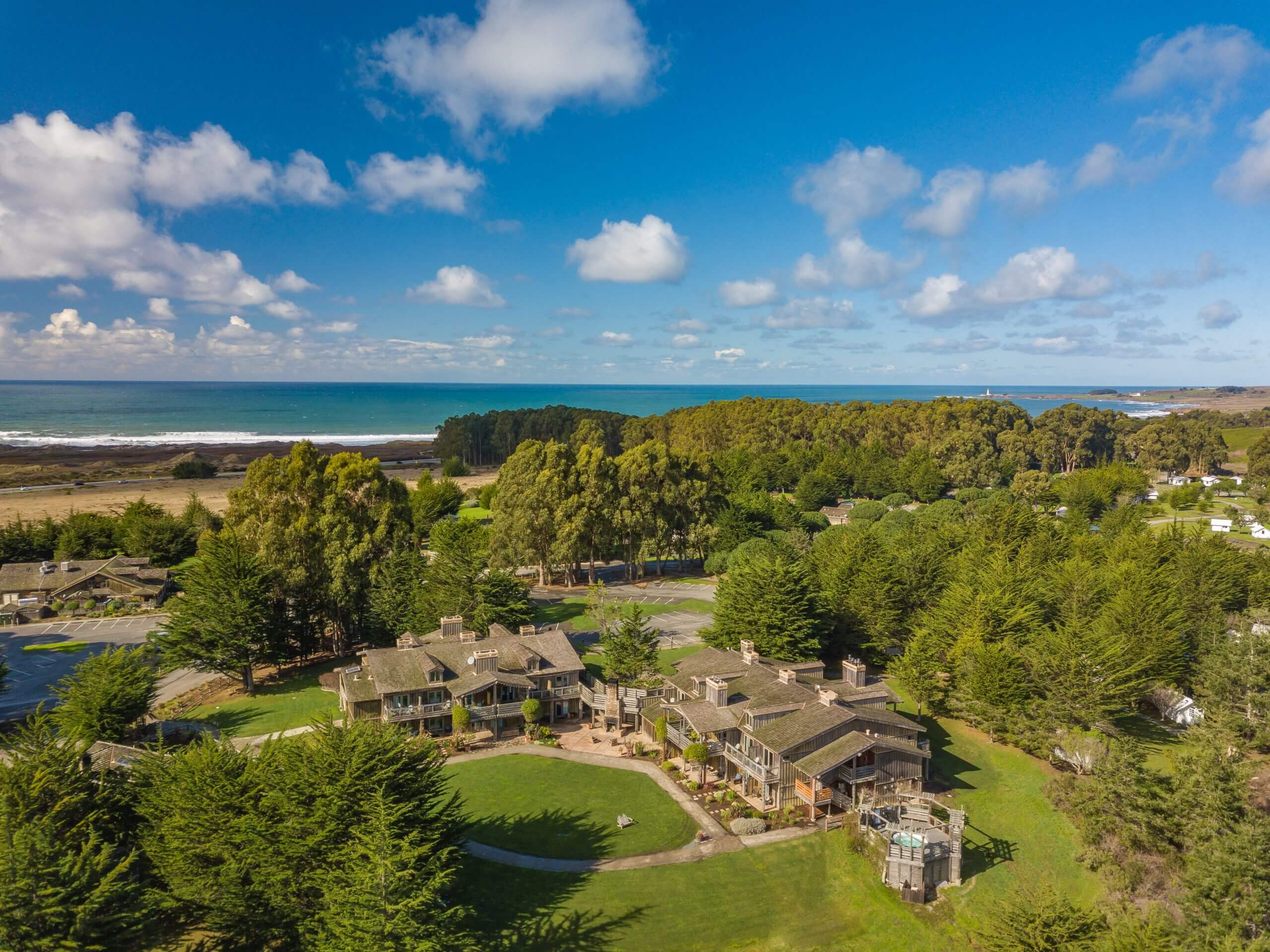 Complete the Escape at Costanoa
Less than a 10-minute drive from Año Nuevo State Park, you'll find the eco-adventure resort known as Costanoa (2001 Rossi Road at Highway 1), a critical piece in the unplug and decompress equation. Overlooking a stretch of rugged bluffs, Costanoa offers a gateway to secluded beaches, four state parks and 30,000 acres of hiking trails.
What strikes us first is that there's everything and nothing to do here. We take a deep breath and try to process the unfamiliar sensation of slowing the rush. We look over the trail map we are handed when we check in. The short trek to Whitehouse Creek Beach & Tidepools looks enticing—or perhaps the hike to Ohlone Ridge Lookout for sweeping views of Año Nuevo Point.
On Costanoa's events calendar, we see offerings of complimentary yoga, a mushroom hike exploring the local fungi and guided bird-watching. There's also kayaking, on-site horseback riding or mountain biking. The thought of a rare afternoon nap beckons too, especially when a light rain begins to fall.
Later that evening, we make our way to Costanoa's Cascade Restaurant + Bar and settle in on two bar stools. Casually conversing with (and high-fiving) other patrons, we take in an epic 49ers win on the property's only TV screen. We meet a San Francisco couple who share that this is their seventh Costanoa visit. With accommodations ranging from luxury lodge rooms with private baths to cabins and tent bungalows with well-equipped "comfort stations," they say they make a point of switching up their experiences.
We talk with Craig and Tracey from Vallejo and hear about their memorable bike ride past artichoke fields. They also rave about a presentation they caught the night before when Katharina Pierini provided insights into trail camera footage of the local wildlife.
Sipping on drafts (we select a hazy IPA and a Kolsch-style ale) and nibbling on bar bites, we taste that delicious Harley Farms goat cheese again, this time with a balsamic reduction on flash-fried crispy Brussels sprouts. We savor Pacific mussels and manila clams, dipping crusty bread (and even french fries) into the white-wine garlic broth. And we glance, with full stomachs and envy, as farm-to-table specialties get carried by, ranging from diver scallops to mushroom risotto.
Be prepared for limited cell reception and spotty wifi, but calling Costanoa rustic would be a stretch—you'll even find spa services here. Surrounded by every bit of nature's bounty, it's up to you to define "unwind" and choose your own path and pace. costanoa.com