Words by words by Sheryl Nonnenberg
There is a stereotype about artists working alone in cold, drafty studios, miserable in their poverty and isolation. It might make for good drama but in reality, contemporary artists want and need all the usual creature comforts as well as the camaraderie of fellow creative spirits. That is why places like Art Bias, an artist collective in San Carlos, are so vital both to the individual artist and the community.
Located in the busy industrial area of San Carlos, Art Bias has been in existence for five years, but its inception goes back much further. In 1993, a group of artists joined forces to create the Redwood City Art Center in the downtown area. As often happens, the group was displaced when the building was bought by a developer. Fortunately, a former office building at 1700 Industrial Road became vacant and the artists took the lease on the second floor. Gradually, the first floor area opened up and soon the building filled to its current capacity of 50 studios.
Artists working in a wide variety of media—ranging from painting, drawing and assemblage to photography and jewelry design—occupy the studio spaces, which vary in size from 100 to 800 square feet. Artists are charged according to studio size and are welcome to design and decorate their spaces as they wish. Doors can be closed for privacy and common areas, perfect for conferring with fellow artists, can be found on both floors.
A walk through the collective reveals an amazing array of inspiring spaces, each reflecting the artist's chosen craft as well as the ability to create cozy yet efficient ateliers.
Open to the public weekdays from 9AM to 4PM, this unique setting exudes a feeling of warmth and welcome, where visitors are invited to enjoy art on display, talk to the artists and, perhaps, make a purchase.
Visit Art Bias on any given day, and you'll likely find a contingent of artists on-site, since tenants can access their studios 24/7. "This is what is so appealing about a place like this," observes board president Jeanette Karthaus. "It's not a static gallery experience."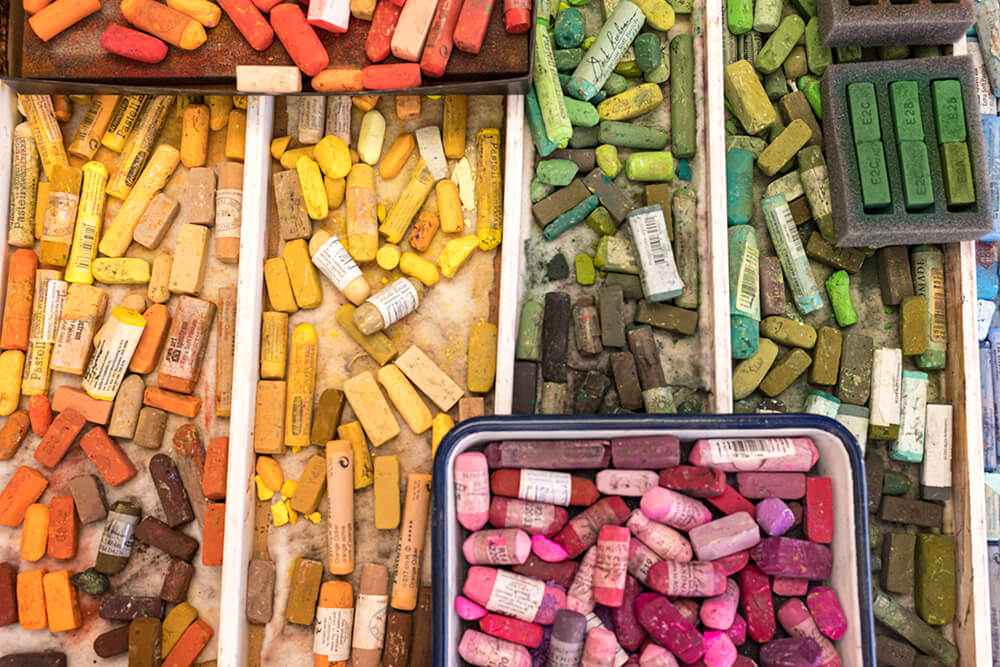 Neither Jeanette nor fellow board member Alistair Jeffs are artists but, like the other six members of the board, they bring business and high-tech acumen to the nonprofit. Alistair serves as liaison to the Industrial Arts District, a five-block area designated by the City of San Carlos to support and encourage the arts in the city. "San Carlos has said that arts and crafts are important and has identified this as the area for it," explains Alistair. He cites a need for artists to have more professional development and business skills—like software knowledge and working with QR codes—and summarizes his goal succinctly: "How can I help the artist thrive and be successful?"
Jeanette is tasked with tenant relations and promoting Art Bias to the community. She also had the difficult job of keeping the organization going through the ups and downs of the pandemic. Closed during the early lockdown phase, the studios reopened for artists as soon as it was feasible. According to Jeanette, tenants were given a discount on rent and Art Bias saw very little attrition during the past two years.
The board is also responsible for the fiscal health of the collective and Jeanette explains that the main income sources are rents and jury fees. Tom Chapman, an artist and the only staff member (he serves as facility manager), has overseen the jurying process for a number of years. Tom shares that five of the resident artists meet to consider applications, which include a portfolio. A four out of five vote is necessary to be accepted and criteria varies but, explains Tom, "The most important thing is that the work is good."
"We are looking for working artists who are serious enough that they want to invest in a studio," adds Jeanette. And with such a variety of needs, personalities and media, how does it all mesh? Tom laughs, "It's like living in an apartment house. Everyone here gets along really well."
In addition to the individual studios, there is ample space for the display of art. Hallways on both floors serve as galleries, and a large community room features both two- and three-dimensional pieces. Two tenants, Zdenka Bleile and Lindsay Hogue, have stepped into the role of curators, overseeing the quarterly exhibitions throughout the building. "To be honest, we stumbled into it because we have been here since the art center moved to this location," says Zdenka. "We ask artists to submit paintings and select groupings that work well together. We have a hanging system so we hang all the paintings ourselves." All of the art on display is available for purchase with 100% of sales revenue going directly to the artists. Artists are also allowed to teach in their spaces.
These displays and Art Bias's involvement with outside events like Silicon Valley Open Studios promote the artists' work to the public. Jeanette says that the entire community comes together for the Open Studios and their own holiday events. "That's when you really get to understand how magical this place is," she notes.
Each artist has the opportunity to show their work and to interact with visitors, explaining their background and process. "There are artists in studios working," notes Jeanette. "It's not just a showcase." The board deemed these events important enough to embark on a new program, First Sunday Open Studios, which began in March 2022.
Jeanette speaks with justifiable pride about the continued success of Art Bias and how the tenants reflect the community at large. "In terms of diversity, race, age and media, it's all here," she says.
Jeanette is also quick to point out that it is not the physical plant that makes this venture work so well. "The building is not the draw here," she reflects. "This is an older building in an industrial part of town—it really is the community."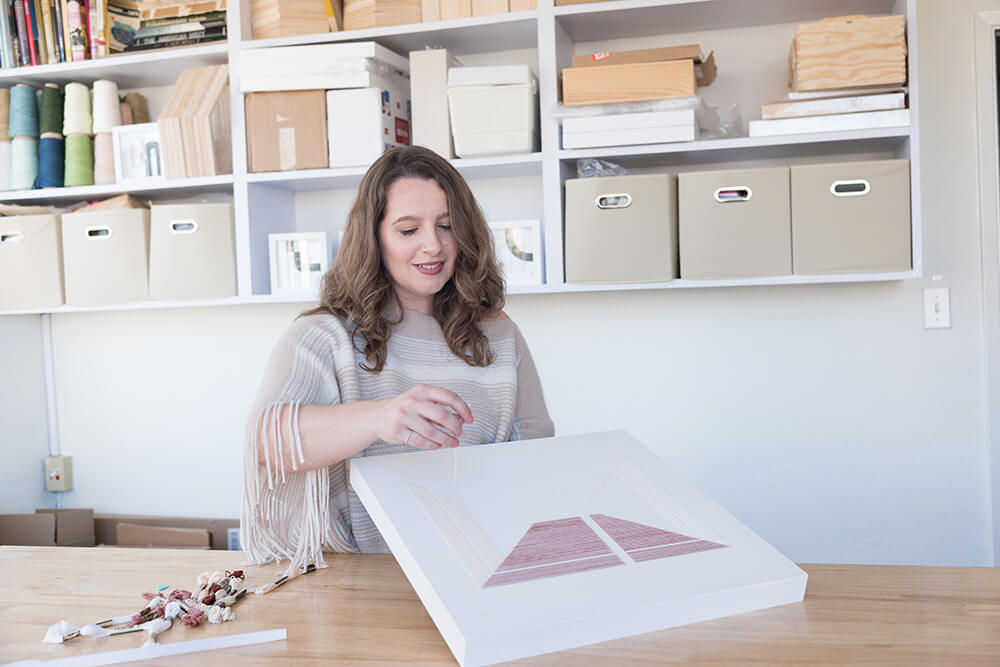 Studio #101 – Natalie Ciccoricco
Natalie was a freelance translator looking for a creative outlet. In 2015, she began making collages using embroidery thread, fiber, paper and wood. "Since I started renting my art studio, I have seen an increase in my production and sales. I have been able to take on more custom art projects for hotels and corporate clients, which has accelerated my shift towards becoming a full-time professional artist. Being part of an art community has also been a benefit to my art career, as we can learn so much from each other." Natalie credits Art Bias with being just the boost she needed to progress. "It gave me confidence to take things to the next level," she notes. "Renting an art studio has truly been one of the best decisions I've made as an artist."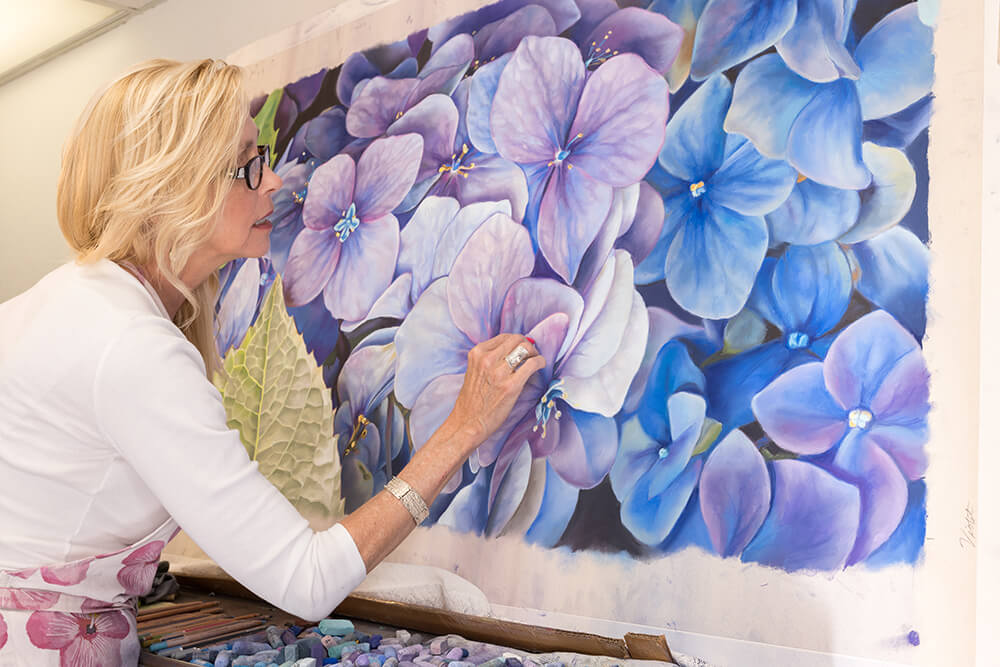 Studio #113 – Deborah Shea
Deborah studied with Wayne Thiebaud at UC Davis and also attended a summer arts program with Ruth Asawa. "They were both wonderful artists," she says, "and definitely influenced my work." Deborah cites pastels as her favorite medium ("You are working with almost pure pigment.") and is currently focused on large-scale florals: "I am constantly amazed by all the beautiful gardens I see in the neighborhoods. I love to capture all the beauty in florals—exploring the abstract shapes, finding the path of light, creating transparency and building the luminous color of the flower centers and petals." She considers having a studio space as a critical step in defining yourself as an artist. "I come to my studio every day and revel in a creative space I can call my own," she says. "To be able to focus, spread out and dedicate yourself to your art is magic."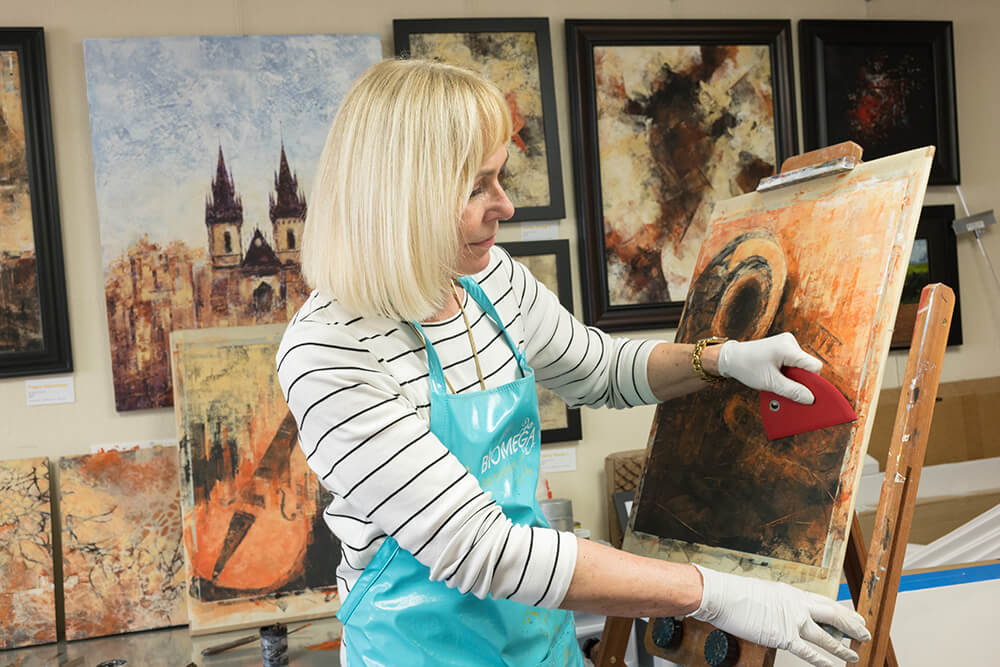 Studio #212 – Zdenka Bleile
Zdenka is a native of Prague who began making art via drawing, painting and cut linoleum as far back as she can remember. Although she had a successful career as a freelance graphic designer, she felt the call of more creative work. She began painting with oils, working in an impressionistic manner. "Abstract art was always something I admired, but I didn't know how to tap into that side of me," she shares. "I was fortunate to discover a new medium: oil and cold wax. It immediately resonated with me and allowed me to move further away from descriptive reality. It is a joy to let go and immerse myself in a flow of imagination." Zdenka considers her Art Bias studio as much more than a physical space. "It is my refuge from distractions, my connection to the art world and art community and my inspiration."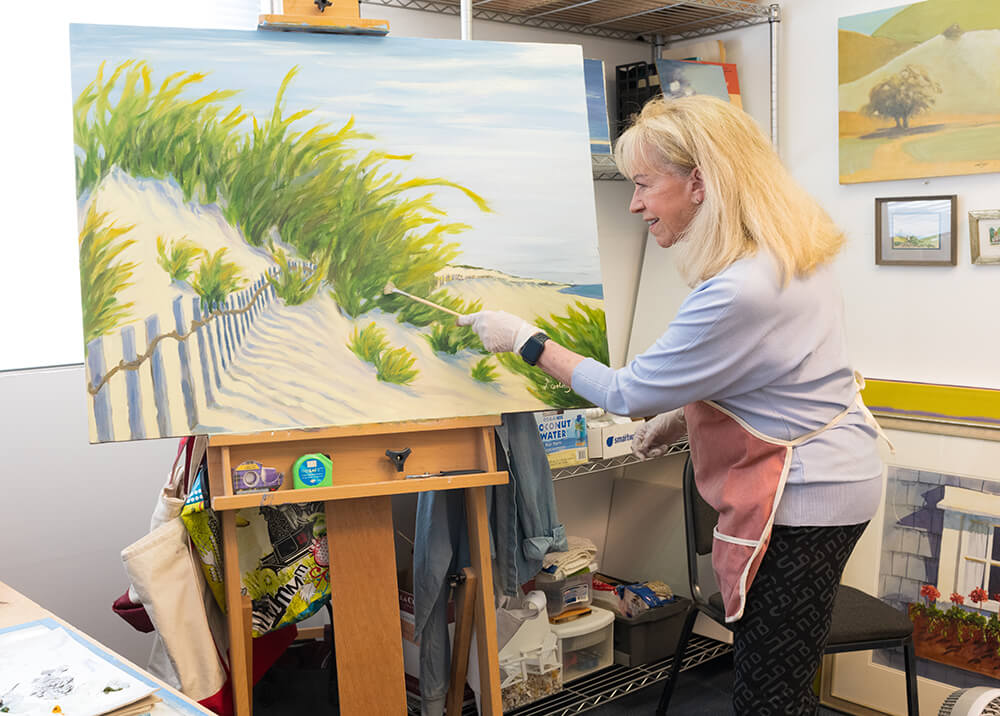 Studio #103 – Jil Coolidge
Jil is a painter whose history with the collective dates back to the Redwood City Art Center. "I have been an artist since I was 15 when I asked my mom to show me how to draw a horse," she recalls. "I was forever after obsessed with sketching and drawing." After a career in the airlines, Jil set up a studio to paint and teach workshops for both kids and adults. "I started with watercolor and still lifes, then used my travel photos to work with destinations, always focusing on principles and methods." Jil enjoys painting familiar spots on virtually any beach she visits and is fortunate enough to have studios on both coasts (here and Nantucket). She says about Art Bias, "It's an incredible mix of artists, and I am very happy to have such an inspiring group of like-minded creatives."
Art Bias: Open to the public Monday to Friday, 9AM-4PM
For a tour of the facility: jeanette@artbias.org
1700 Industrial Road, San Carlos • artbias.org