words by Sheri Baer
When a Woodside sculptor decided it was time to sell her home, the idea of a traditional staging approach didn't resonate with her aesthetic spirit. While she understood the concept of showcasing spaces with universal appeal, her life was devoted to creativity and art—and she wanted her home to reflect that. So, she reached out to a collaborator and friend with an unusual request. 
"She approached me and said, 'I'm looking for someone with a very artistic vision who can make my house beautiful and widely attractive but also unique and memorable,'" recounts Matthew MacCaul Turner, an architect and interior designer who had originally connected with the artist through the San Francisco Decorator Showcase. "She essentially wanted to create the house of her dreams—a true artist collector's home—in order to sell it. And she saw this as a way to distinguish the house from other competitive properties at the same price point." 
Matthew remembers his initial response: "This is not my usual kind of project. My jobs usually take months and years, not a couple of weeks."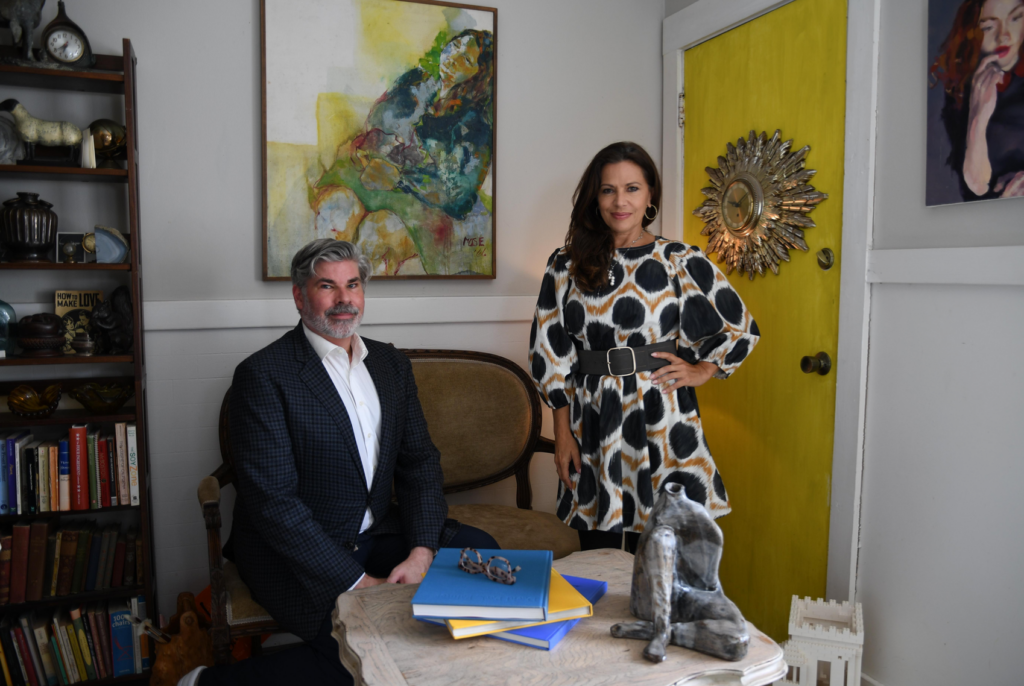 But the project also intrigued him and ideas began to spark. "The more I thought about it, the more I realized I could do this," he says. Equipped with the resources and expertise to tackle the interior design strategy and furnishings, Matthew recognized that he needed a partner to fully realize the home's potential. "Right away, I thought of Alex Ray, an amazing art consultant I could bring in to help me with the task."
Born in the U.S. and raised in London, Alex blended her fine art degree at Central Saint Martins with training as an interior designer. Although she worked in various roles in the art and design realm, she embraced one unwavering passion. "I am crazy about art and love nothing more than weaving art into a project," she shares. "It's the icing on the cake—the fun part of expressing a client's personality and the impact that they want to create within the home." 
After Alex relocated to the Bay Area in 2006, she identified a niche opportunity in the market:  being a resource for homeowners who want to buy quality art. While working as an art consultant, she started doing Showcase houses, and that's where she met Matthew, who had opened his own practice in 2007. "I wear both hats of an architect and an interior designer, so I bring that attention to detail with the practical construction knowledge as well," he relays. "I like to joke that with me you get two for one."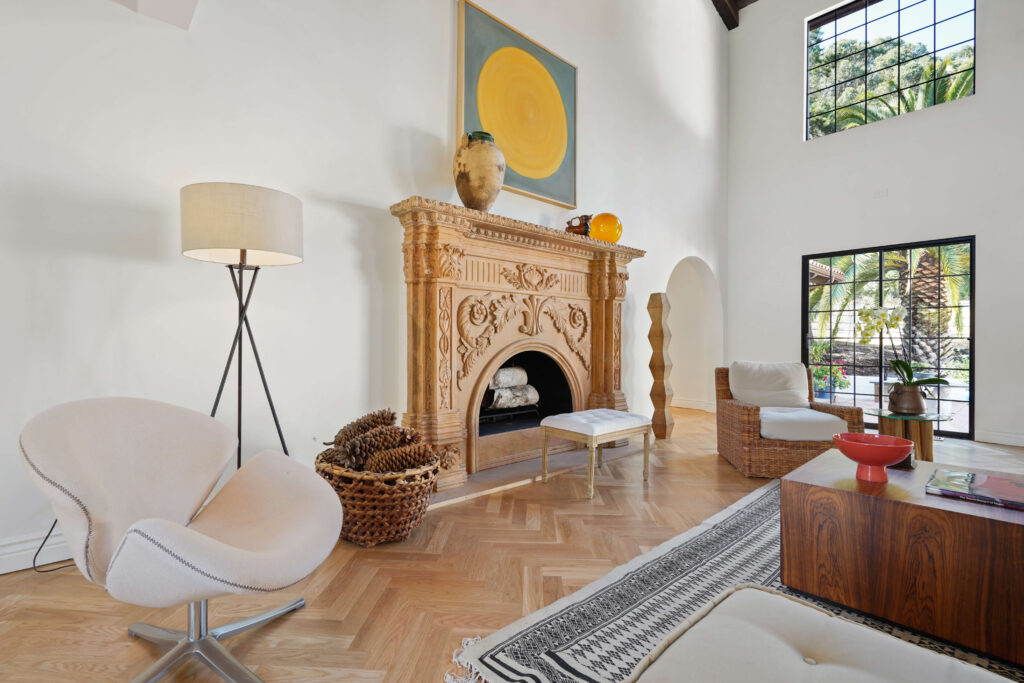 When Matthew reached out to Alex about the Woodside project, she recognized a synergy with a business model she was already implementing with clients in San Francisco and Marin. "I do what's called a stage-to-sell model. The model is that the house is for sale and so is the art and everything in it," she explains. "I bring in original art from top galleries—interesting pieces that I think suit the home—and it's like putting on a mini-exhibition."
In this particular case, the client's Mission-style home offered up 5,500 square feet of "exhibit" space wrapped around a courtyard on more than an acre of land. As Matthew designed the plan for furniture, he envisioned a young family moving into the residence's five bedrooms. With everyone—including the client and realtors—on board with the staging concept of a family home that belonged to an artist, it was time to get to work. 
Although Matthew hadn't staged a property before, he drew from his experiences with Showcases. "I've done four of them in San Francisco where you're trying to appeal to a wide audience of potential clients, yet at the same time show who you are as an individual and create a memorable space," he says. "This staging was very much an extension of a Decorator Showcase room." For the furnishings, Matthew blended modern with vintage antiques. "When you create something that has a mix," he notes, "there are a lot of different angles that can resonate with a variety of people."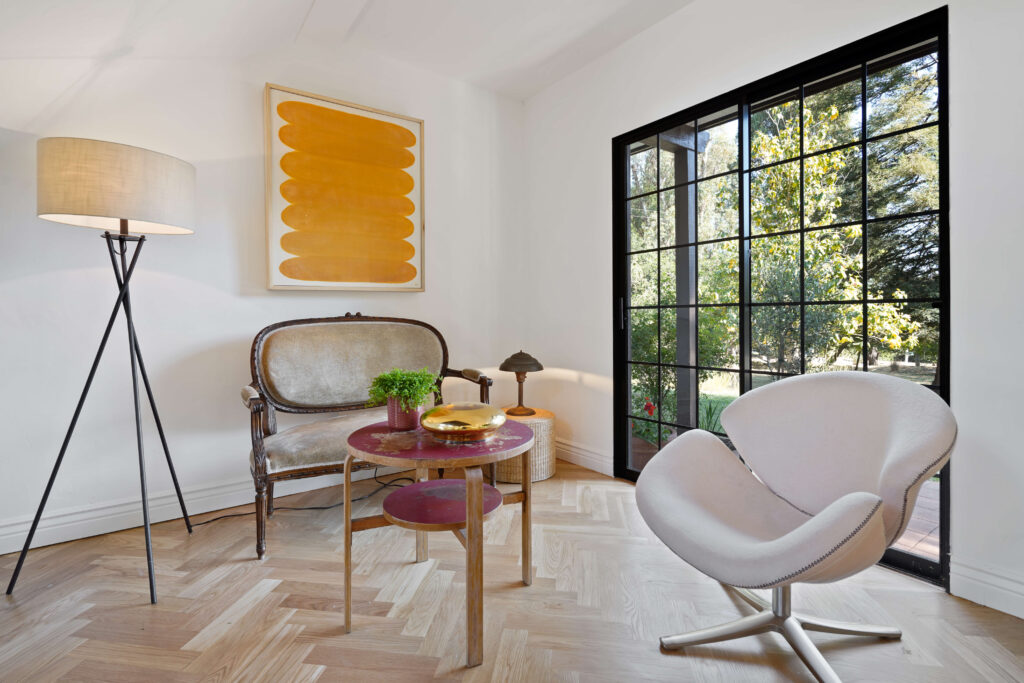 As for Alex, she took Matthew's cues on where art might go and ran with it. "I know Matthew likes to mix in a bit of old and I love that," she observes. "I thought that it was important to have a real mix of textures and color and photography along with paintings and some textile pieces. I felt that's what an art collector, an artist's home, would stretch to—and I wanted to weave in a California craft vibe." 
A threaded piece by Nike Schroeder. Photography by Jonathan Smith and Jock McDonald. A bronze head by Martin Bialas. A stainless steel sculpture by Rainer Lagemann turned upside-down like a suspended diver. Despite working on parallel tracks, Matthew and Alex were delighted to discover a creative psychic wavelength. "I had placed an amber glass orb on the large mantelpiece in the great room," recounts Matthew, "and Alex coincidentally showed up with a Ryan Snow painting of a giant ochre sphere surrounded by a grass field. They couldn't have been better suited to each other." Alex smiles, adding, "I had no clue of the furniture really, but I think designers are all on a kind of subconscious Zeitgeist." 
After meeting the three-week deadline and budget, Matthew summarizes how their approach played out: "The broker tour was on a Tuesday and by Friday, they had a done deal. The buyers are a young family with three children and one on the way, so they'll be using all five bedrooms."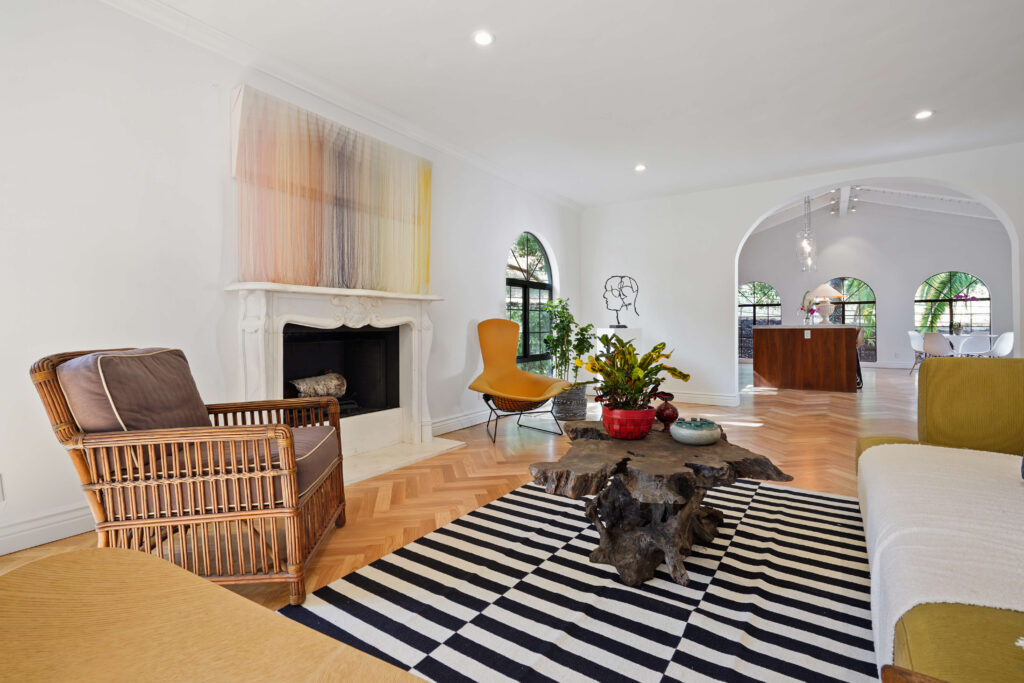 Given that the property sold above asking price before hitting the market, the owner shifted the scheduled open house into an opportunity to view the art for sale and celebrate her completed vision. "We had a very successful event, and we sold pretty much all the big major pieces in the house," says Alex. "It gives art a platform and some exposure where you might not otherwise see it."
While the staging assignment initially felt like a stretch, Matthew now views the Woodside home as "proof of concept." He envisions memorable home design featuring a blend of furnishings and original art for sale—with right of first refusal going to the eventual home buyer. "We would create a catalog for the project, a supplement to the whole sale package," he says, "and people can open it up and see, 'Oh, I really can have it all right now.'"