Words by Eva Barrows
Ruler-straight rows of 21 flavors of ganache and praline-filled chocolates line the glass display case of artisanal candy shop Shekoh Confections. Chef and chocolatier Shekoh Moossavi's confectionery creations layer crisp chocolate shells over creamy, delectable fillings. The former research scientist experiments in visually appealing flavor pairings, going through vigorous R&D sessions until perfection is achieved on the shelf and the tip of the tongue.
Shekoh Confections is the culmination of a longtime dream. After Shekoh's second time training in Paris, France, at the L'École Valrhona chocolatier program, she returned to the Peninsula with the desire to open her own chocolate shop. "I love the way Europeans approach chocolate," she says. "I threw myself into the culinary world in France and I learned a lot, not just how to do things but also how to run a business."
Finding a suitable storefront space turned out to be Shekoh's biggest challenge. After two and a half years of searching, she opened in March of this year on El Camino Real in Palo Alto. Intrigued by the handwritten "We're open" on a chalkboard street sign, eager neighbors from the Stanford University area lined up to try her chocolates. Before long, Shekoh had converted a steady stream of repeat customers.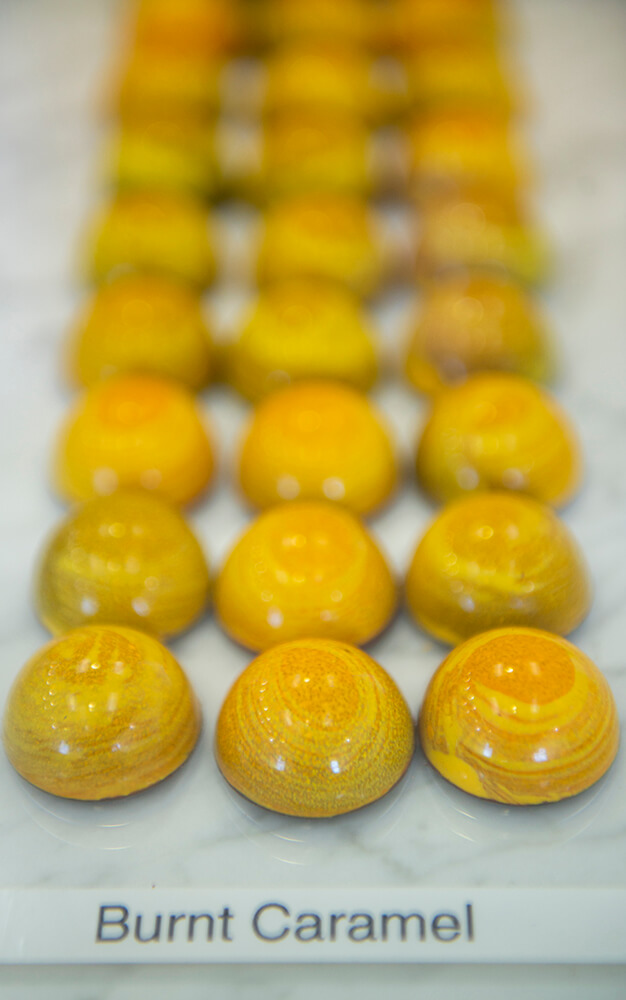 Four days a week, Shekoh whips up fresh batches of candy. She makes praline nut fillings in-house, including peanut butter, almond butter and lemon almond, then encases them in dark chocolate. Most of the chocolates in the display case are ganache-filled with flavors ranging from citrusy bergamot (Earl Grey) and Grand Marnier to burnt caramel and Persian saffron.
"I love the classics. I don't care for trends," enthuses Shekoh. "Classics are forever. I don't like to put chili powder or bacon in my chocolate. I don't like to put wine in the chocolate. I love drinking wine with my chocolate but not inside my chocolate."
Shekoh also conjures other delicious sweets like handmade marshmallows and nougats. Dunking fresh rosewater- or cardamom-flavored marshmallows into Shekoh's hot chocolate, house-mixed tea or coffee tantalizes the taste buds. And so does roasting them for next-level s'mores.
Shekoh's chewy, nut-filled French Nougat Montélimar makes another great tea accompaniment. "Nougat is really delicious," notes Shekoh. "It doesn't have so many calories, so eat a piece or two or three."
As a discerning artisan chocolate maker, Shekoh uses the highest quality ingredients and sources locally when possible. Raw Valrhona French chocolate, which can go for $180 to $200 a pound, is the chocolate base for her candies. Shekoh praises Valrhona's mouthfeel and its high percentage of cocoa butter, which is ideal for candy-making. "I don't believe you can have mediocre raw products and then make really good products," she asserts. "Your raw products have to be really good before you can make anything else."
Tapping into her Persian heritage, Shekoh features Persian damask rose, a small, flavorful and aromatic rose sourced from Canada in marmalade filling. California almonds, honey and Straus Family Creamery organic butter and cream from Petaluma add local flavor to her creations.
Shekoh's scientific background in glaucoma research at the University of Miami informs her chocolate-making process. When developing new flavors, she tests the candy's texture, color and quality, monitoring them over a period of time. "One marshmallow I made, I've had for two years, and I'm still looking at it. It's not edible anymore, but I want to see what happens to it. I'm curious," she says. "I want to see why, when, where, how. The more you ask these questions, the better you get at your craft."
Shekoh experiments in the back of the shop on a stone table top where only candy molds and chocolate are allowed. "I dream about flavors, and then I do it. I do a lot of tests," she says. Through trial and error, she decides how the candy will look, what color to paint it, which chocolate (milk, dark or white) pairs best with the ganache without overpowering it. "With chocolate, you have to add the scientific part to it and make sure when you make it that if it's shiny today, it will be shiny tomorrow, and shiny for the next three weeks and even more."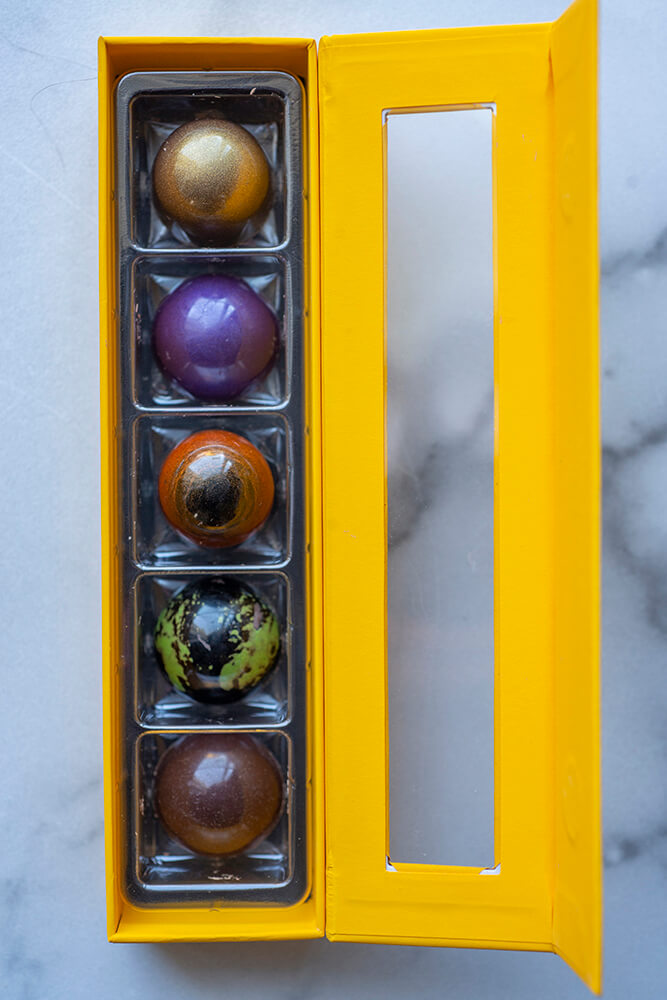 Not satisfied with her first career in science, Shekoh enrolled in culinary school at the Florida Culinary Institute. She didn't intend on becoming a professional chef but something hooked her during her time in the kitchen. "Even before I knew I was going to change my career," she reflects, "I had mentally already changed my career. I've always loved to cook." Dazzled by other students' flashy kitchen techniques, she let her teachers know she wanted to learn those skills. After graduating, she worked at the Ritz Carlton in Florida, where she learned from accomplished chefs from all over the world.
After moving to San Francisco, she learned about Northern California cuisine through her work in the high-end restaurants Acquerello and Gary Danko. "I chose those kitchens based on what I needed to learn at that step of my life and career," Shekoh explains. "Once I learned what I needed to learn, I went on to the next step." For Shekoh, that meant opening her first restaurant, Gervais Restaurant in Saratoga, followed by another restaurant, which ultimately led to her pastry and chocolate endeavors.
Ultimately, becoming a chocolatier was the perfect choice for Shekoh. She sees it as a neverending opportunity to learn something new. When she and her chocolatier friends in France run into chocolate conundrums, they message each other to help troubleshoot. "Even though they are all experienced chocolate makers, they still run up against issues," she observes. "You can never perfect making chocolate."