words by Jennifer Jory
No need to travel to Europe to experience holiday markets—the Peninsula serves up its own traditions right here at home. The local artisan culture is back after taking a hiatus over the past year, with events ranging from Burlingame's Kohl Mansion Holiday Boutique to Mountain View's German Fair offering ways to support Peninsula makers. And shopping local also means you can leave with gifts in hand without having to worry about shipping delays. 
Here's a sampling of the spirit and ingenuity that drives Peninsula artisans and the many ways to discover their inspired creations.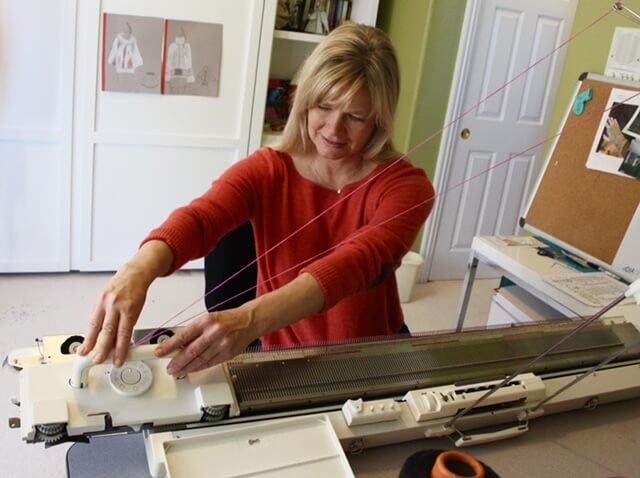 Maarit Knits
Burlingame artisan Maarit Visbal keeps a three-generation legacy of hand weaving alive by creating unique embellished knitwear. "My grandma taught me how to weave in Finland where I grew up," says Maarit. "We had huge looms and we would weave rugs. All of our rugs were homemade in the Scandinavian style." She gestures to a two-story-high weaving hanging in her entry, handmade by her mother with a distinct native pattern. "It's definitely indigenous," she affirms. "These are the colors from the district where I grew up in the northeastern part of Finland." 
As a student, Maarit came from Finland to San Francisco State University to study languages and then went on to hone her knitting skills through professional classes at the Academy of Art in San Francisco. Using high-quality silk and merino wool yarns made in the U.S., she knits with a machine-like loom creating wraps and sweaters with hand details such as leather fringe and applied Swarovski crystals. She considers working on her loom to be a meditative experience. "I am in the zone," she describes. "Colors from nature inspire me, and in the fall the muted multitude of colors is not one-dimensional." 
Maarit's work will be on display at artisan events throughout the Peninsula including the annual Kohl Mansion Holiday Boutique in Burlingame. maaritknits.com
Cherry Blossom Lane
When you come across Judy Stanley's work at an artisan event, your eyes dart over a feast of vintage treasures repurposed with new life. Her one-woman business, Cherry Blossom Lane, produces original decor, jewelry and keepsakes such as vintage dog show medals turned into art or an old wooden table leg reimagined as a candlestick. "It's all in the hunt for pieces that I can make into something else, such as a handle on an old dresser," Judy emphasizes. A South Bay native who displays her work throughout the Peninsula, Judy started her up-cycled art making one-of-a-kind belt buckles. Using vintage brooches embellished with stones and crystals, she sold her original buckles at stores across the country and eventually expanded into making vintage jewelry.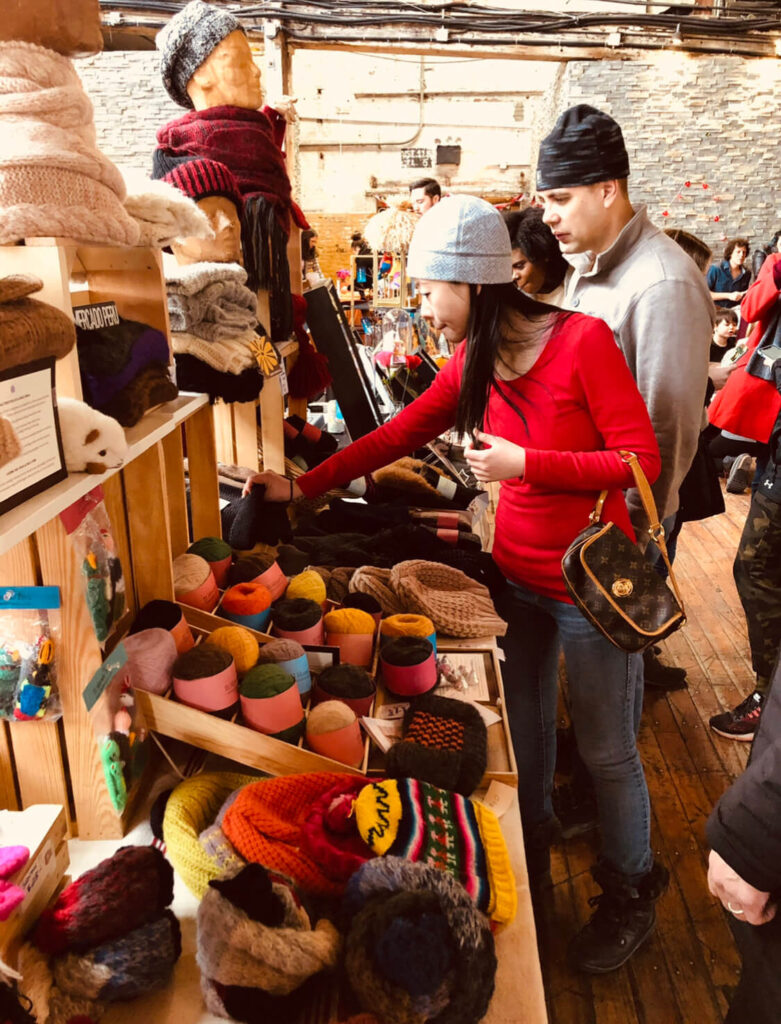 "I look for small, interesting pieces that I can string onto old wooden beads, which I hand-paint with many layers," she explains. "I get bored if I keep doing the same thing." Judy's unique jewelry includes sliced vintage pool balls from the flea market joined together and artfully transformed into necklaces. She turns the ordinary into art such as wooden decorative signage made from old fences. "I am always looking for fences coming down, and I love to make things out of old fence posts," she says. "It is all in finding something that inspires me, and then I get the saw out." She also uses German glass pieces to craft custom signs with popular sayings and themes.
Judy's favorite creations are Christmas ornaments made from vintage horse show ribbons from the 1950s. She fashions the vibrant colored ribbons into flower shapes that frame an image such as a dog photo and turns them into keepsakes. "Someone's trash is my treasure," she happily notes. 
Cherry Blossom Lane's current creations will be on display at Saint Francis High School's Christmas at Our House event on December 3 and 4. judystanley.wixsite.com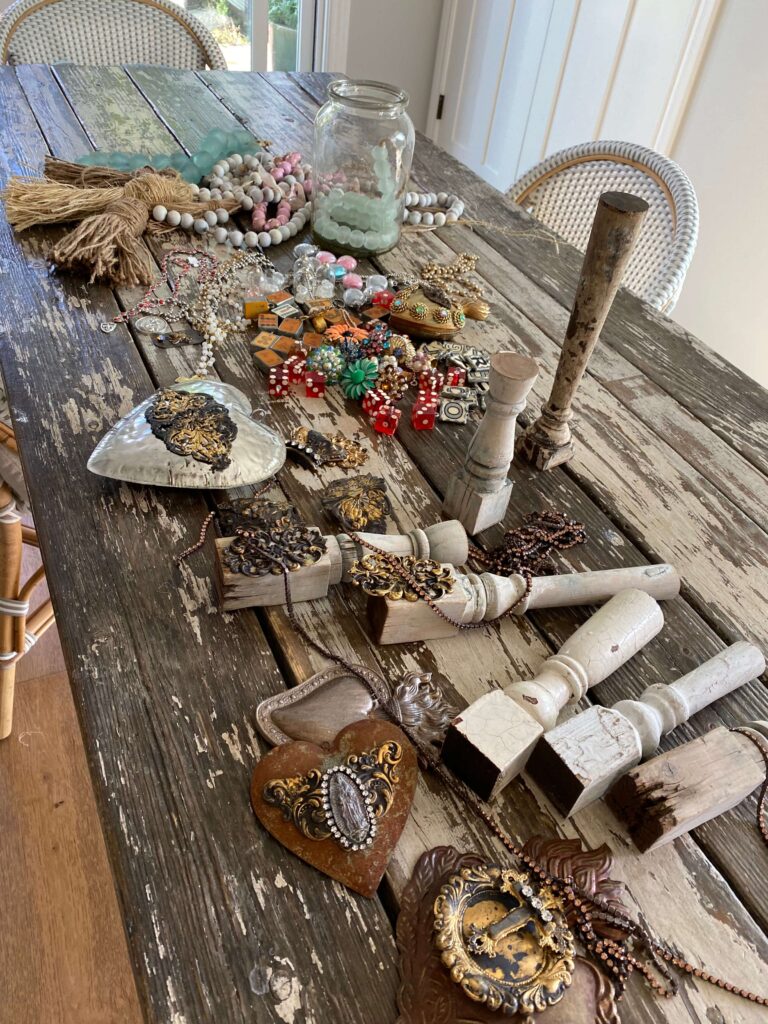 2 Wonder & Wander
San Mateo native and jewelry designer Valerie Gartner makes it her mission to create one-of-a-kind pieces that are different from everything else she sees on the market. She began her career as a stylist, but her passion for creating jewelry for friends and family drove her to start her business, 2 Wonder & Wander. Using 14- and 24-karat gold-plated chains, Valerie handmakes unique necklaces that incorporate vintage pieces and gems. Her style gives a nod to her own past and heritage that has influenced her jewelry aesthetic. "My great grandmother always dressed to the nines and layered her jewelry, both real and costume," reminisces Valerie. "I always wear a piece of my grandmother's jewelry. It is my own personal story, and I strive to help others tell their stories."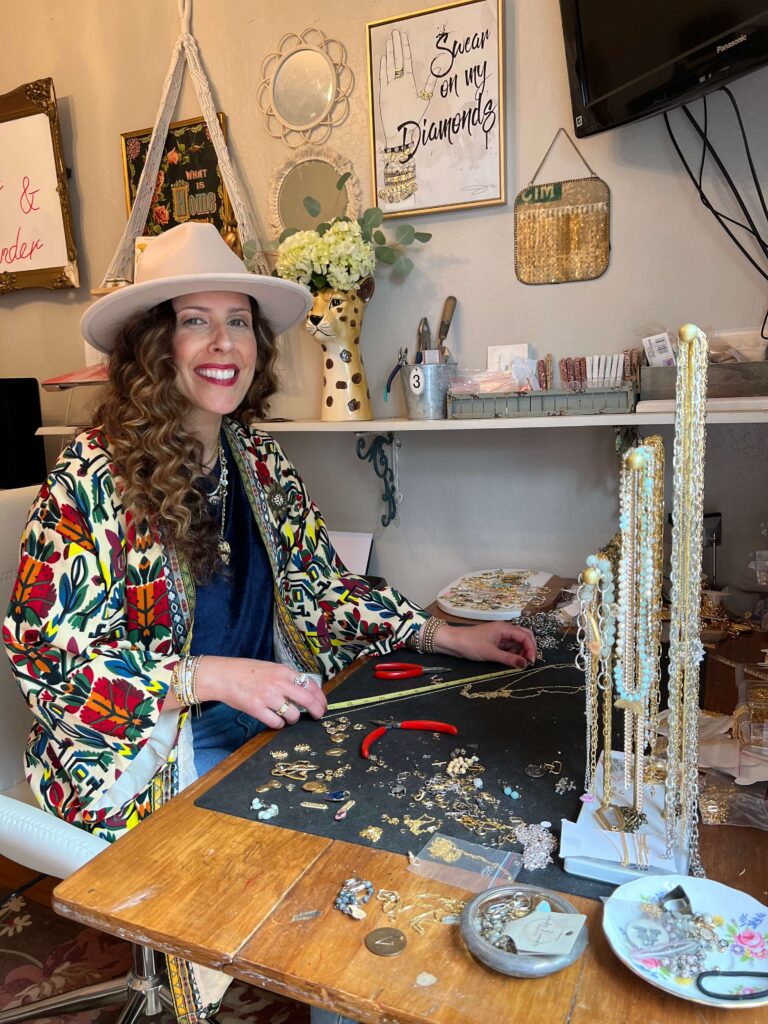 Valerie often travels to Petaluma antique stores and flea markets to search for vintage baubles and parts of jewelry that she can transform into new adornments. She shares that the message behind her jewelry is that it's often a conversation starter that tells a story. "I didn't expect so many people to follow me to different events," she adds. "My goal is to make people feel unique."
Valerie's signature medium is pavé crystal. "It makes you stand out," she says. She also works with glass and antique gold and silver electroplating pieces, applying coating to enhance the aesthetic of a gem. "When the light hits these necklaces it gives them a subdued sparkle, which everyone loves for the holidays." Often working 60 hours a week on her creations, Valerie's jewelry is sold at events and stores throughout the Peninsula including Prairie and Sol Y Luna in San Carlos. 2wonderandwander.com