words by Sheri Baer
In studio #13 in the west wing of the Peninsula Museum of Art (PMA) in Burlingame, it looks like Paul Bunyan just swept through with his mighty axe. Leaning every which way, hefty logs dripping with sap are stacked against tree trunks with gnarled bark. The room smells like a forest. There's walnut, Bradford pear, Brazilian rosewood, ginkgo biloba, Italian cypress and cherry. From under tables, oak stumps peek out.
With the help of a colleague, Ruth Waters puts her knees into it and lifts a hefty 100-plus-pound chunk of olive wood up onto her work bench. She shifts and turns the log, using the railing for leverage. Next, she strategically plops down weighty sand bags, anchoring the slab in place. Eyeing faded chalk marks, she positions her chisel just so and then draws back her mallet. "Whap!" A small snippet goes flying, just one of thousands of pieces that will be whittled away, as Ruth transforms inanimate wood into seemingly living pieces of art.
This isn't a "behind the scenes" private look into the secret world of an artist. In fact, it's just the opposite. From 11:00AM to 5:00PM every Wednesday through Sunday, anyone can drop into studio #13 and watch Ruth ply her chisel and mallet and then wander by 29 other studios to observe and talk with an eclectic range of artists—sculptors, painters, photographers and even hat makers—as they express what drives them creatively.
With five rotating exhibition galleries showcasing Bay Area living artists, working artist studios, workshops and art courses, PMA offers a very personal way to engage with the arts. "It's the difference between static and active. When you only see finished works, you don't understand the process," Ruth says. "This is an environment where people can begin to understand how art happens, meet the artists and ask questions. There's nothing else like this on the Peninsula, and I think we're unique in the country."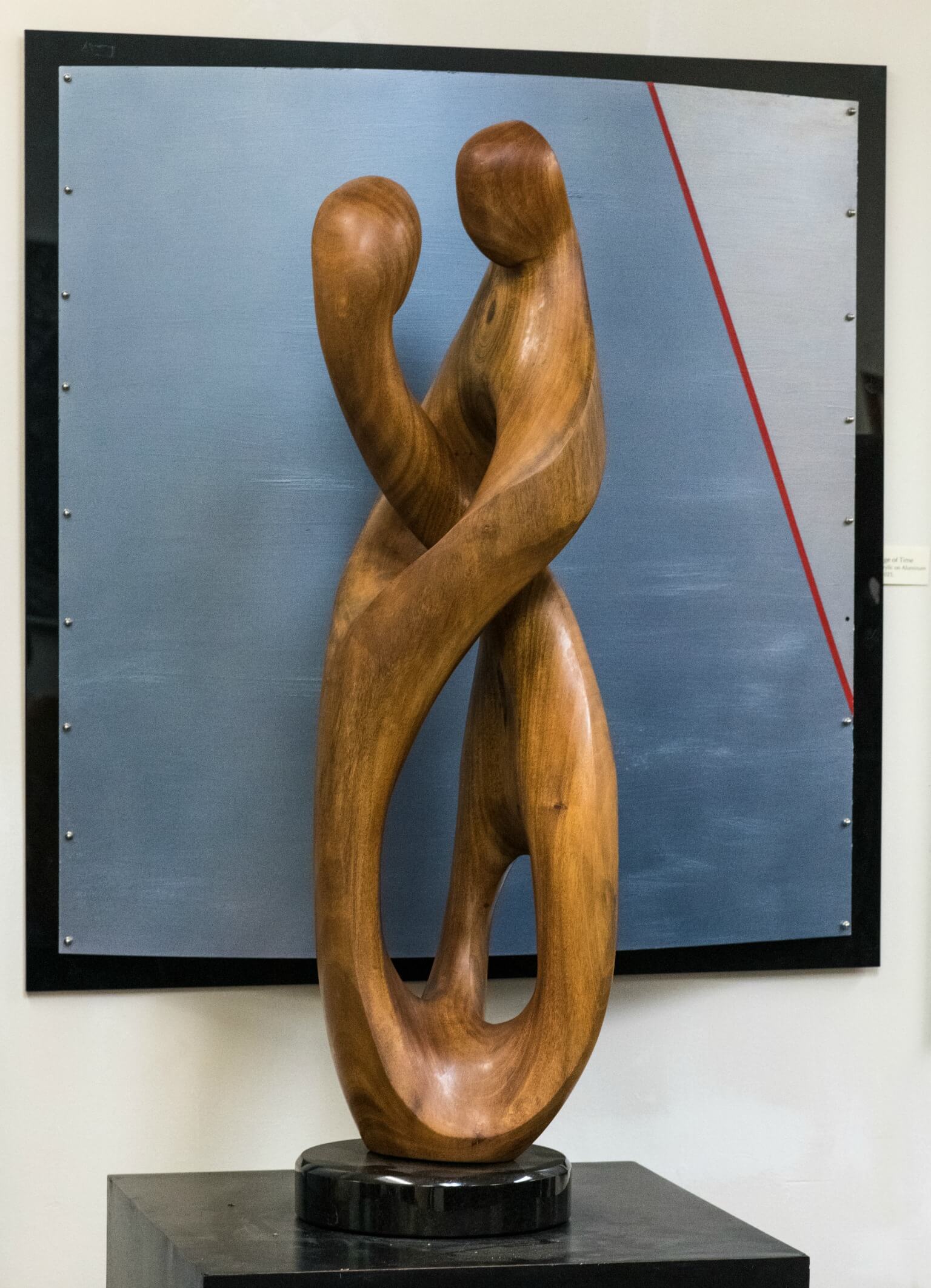 Ruth should know. As PMA's founder and director, she's the force behind it.
Originally from Seattle, Ruth comes from a family of teachers; her mother taught home economics, and her father, industrial arts. "I was born with DNA for doing things with my hands," she says. Adding to that foundation, Ruth's parents also collected and restored antiques. "I grew up with beautifully carved and finished rosewood and walnut and mahogany furniture. That's what we lived with—the kinds of things you reach out and stroke," she says.
Ruth arrived on the Peninsula in 1951 as a Stanford journalism student. In 1957, a casual stop in a Sutter Street art gallery in San Francisco gave her a new direction and purpose. "I turned around and there was a sculpture carved in wood. I looked at it and thought to myself, 'I can do that.'" Ruth tracked down the right tools and started to perfect her craft. By 1962, she had her first solo hardwood sculpture exhibition.
Fifty-plus years, hundreds of pieces and countless exhibits later, Ruth's mediums now include hardwoods, bronze, marble, constructed room-size sculpture and painting—with many of her works held in private, corporate and public collections. She sculpts primarily in classic subtractive mode, meaning starting with a mass and taking away. She has no shortage of material–sourcing from trees that are cut down to make space—and constantly ponders the various thick and heavy shapes of wood stacked around her. "They're always lurking in the back of my head," she says about the swirling images that need to crystalize before she makes the first strike. "I have to know exactly where I'm going before I start because once it's cut, it's gone," she says emphatically. "Cut and it's gone is what I live by."
Ruth describes her focus as exploring the human condition, commentaries on humanity, observations of individuals and reflections on universal truths. "There's nothing more important than basic human relationships," she says. Titles of her work—The Dance, Siblings, Interceptions, Partners, Interaction—reflect that theme. Crafted from an avocado tree, Intimacy shows two lithesome forms seamlessly and forever intertwined. Ruth recalls how Intimacy was selected for a 1994 show at the Rockefeller Center Gallery but was excluded after being deemed too erotic. She takes pride in the rejection: "It must be a pretty good piece," an assertion supported by the eight casts of it she has sold in bronze.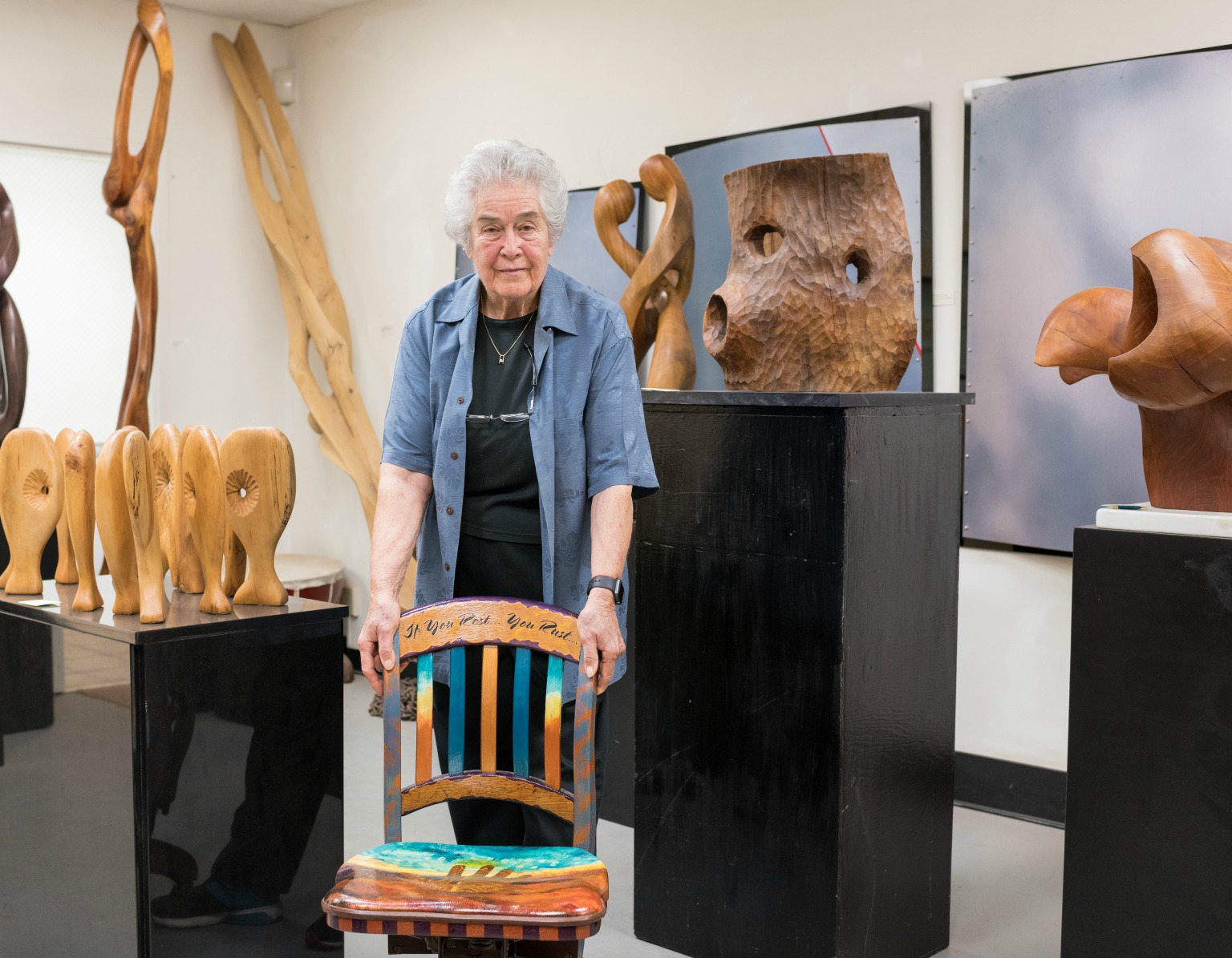 Ruth's art and her belief that art belongs in the community are also intertwined. After moving away, she returned to the Peninsula with her husband and three children in 1976 and immediately recognized the area's shortcomings—artists working in isolation and Stanford's art collection one of the few cultural touch points between San Francisco and San Jose. On a mission to embed art into the local community, she founded the Twin Pines Art Center in Belmont in 1977, which evolved through various iterations and eventually incorporated into the Peninsula Museum of Art in 2004, occupying the Manor House in Belmont for eight years, before moving to Burlingame in 2013. In a testimony to Ruth's perseverance, PMA will celebrate 15 years on the Peninsula with its Spring Gala fundraiser on April 13.
A $1 million donation by local philanthropist Charles Homer made PMA's current facility possible, allowing for the conversion of an 18,000-square-foot building into exhibition, studio and classroom space. Throughout its history, the continued generosity of individuals and philanthropists has kept PMA afloat. "We have no paid staff and lots of wonderful volunteers," Ruth shares. "What keeps us going is that it seems like every time we have a specific need, the right person walks in the door, so we operate by serendipity."
However, PMA's Burlingame locale requires paying commercial rent, which is a rarity in the museum world, and the facility lies directly in the path of development progress. These are problematic concerns. To guarantee long-term survival, Ruth envisions PMA moving into a converted public space, ideally a city, county or school district building. "Art is an advantage in any community," Ruth says. "Communities deserve to have art, and artists deserve to have a supportive place to work."
"Whap!" Another fragment of wood goes flying, as Ruth repositions her chisel and whacks it with her mallet. A tennis player and former competitive marathon runner, she is clearly tireless, which extends into her art and her work as a local arts advocate. Painted by one of PMA's artists, Ruth's office chair is embellished with the fitting motto: "If you rest, you rust." Asked about the physical demands of sculpting, given that she's now 85, Ruth retorts, "Do you want to feel my muscles?" A quick squeeze confirms that her biceps are indeed impressive. "I have plenty of endurance," she adds. "I rarely feel tired." Still, she acknowledges that she is planning for PMA's future and is looking at candidates to eventually succeed her. "I don't want it to fall apart when I do," she says, drawing the mallet back again. "Whap!" It's hard to imagine that ever happening.
Now, thanks to Ruth's efforts, wander down the hallways and discover how other artists are channeling their creativity at PMA's Museum Studios.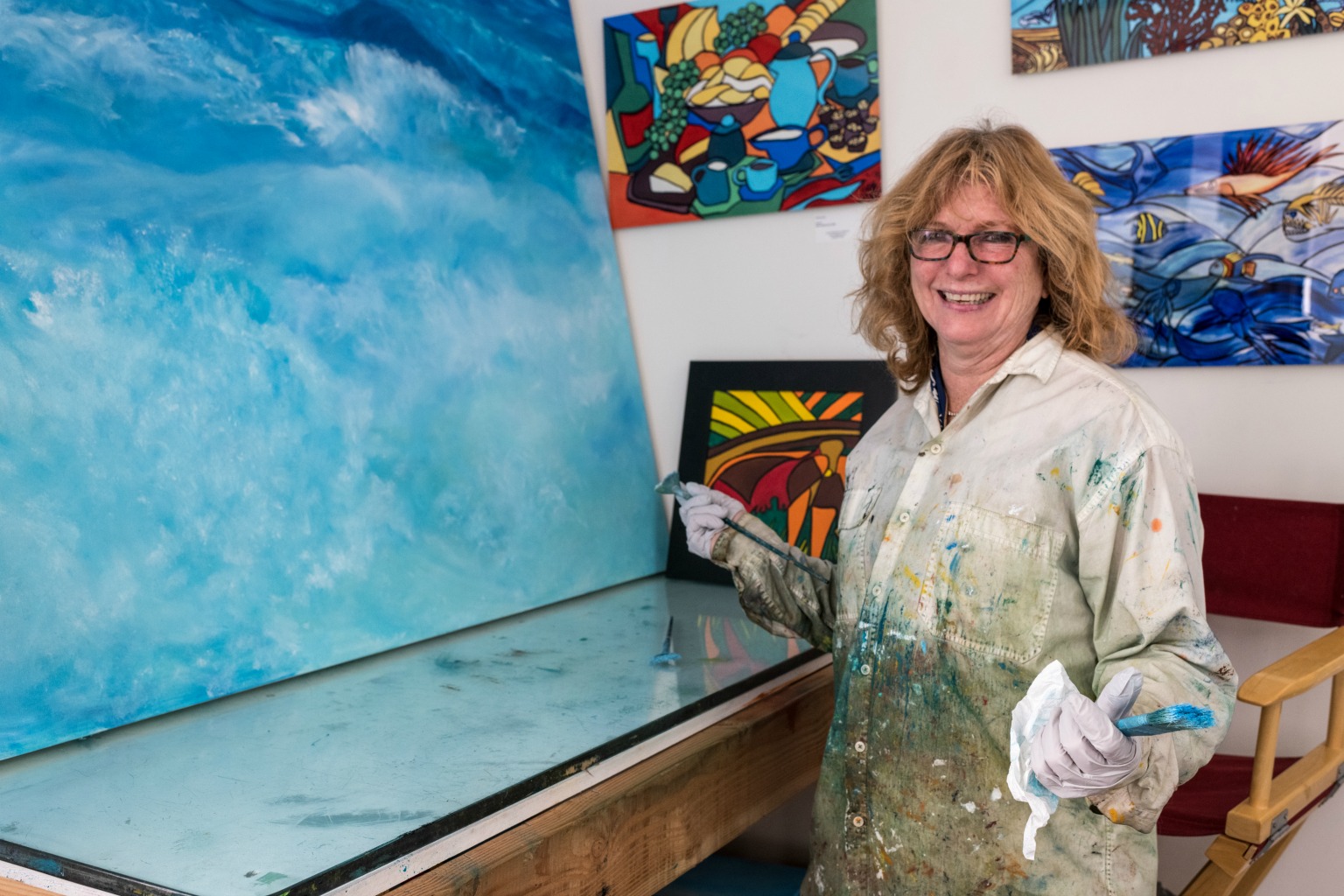 Studio 20
Greta Waterman 
Putting the finishing touches on The Pacific, Greta likes to weave colors throughout the canvas to add balance and composition. Originally from New York, Greta is currently working on a solo show, The Four Seasons, opening March 14 in the Museum Studios Gallery.
Studio 21
Myrna Wacknov
Seen here painting a recent boat excursion, Myrna's greatest passion is painting faces she finds interesting with the focus on expression and character, rather than likeness. Recently, she has been investigating the self-portrait as a means of expression and likes the viewer to see the hand of the artist in her finished paintings.
Studio 28
Michael Kesselman 
Made from incongruous components, Michael's sculptures portray common objects in unexpected forms. His current work is carved from the limb of a plum tree. It is the Greek god Apollo, leaning forward to grab the nymph Daphne, who is ironically saved at the last minute by being turned into a tree.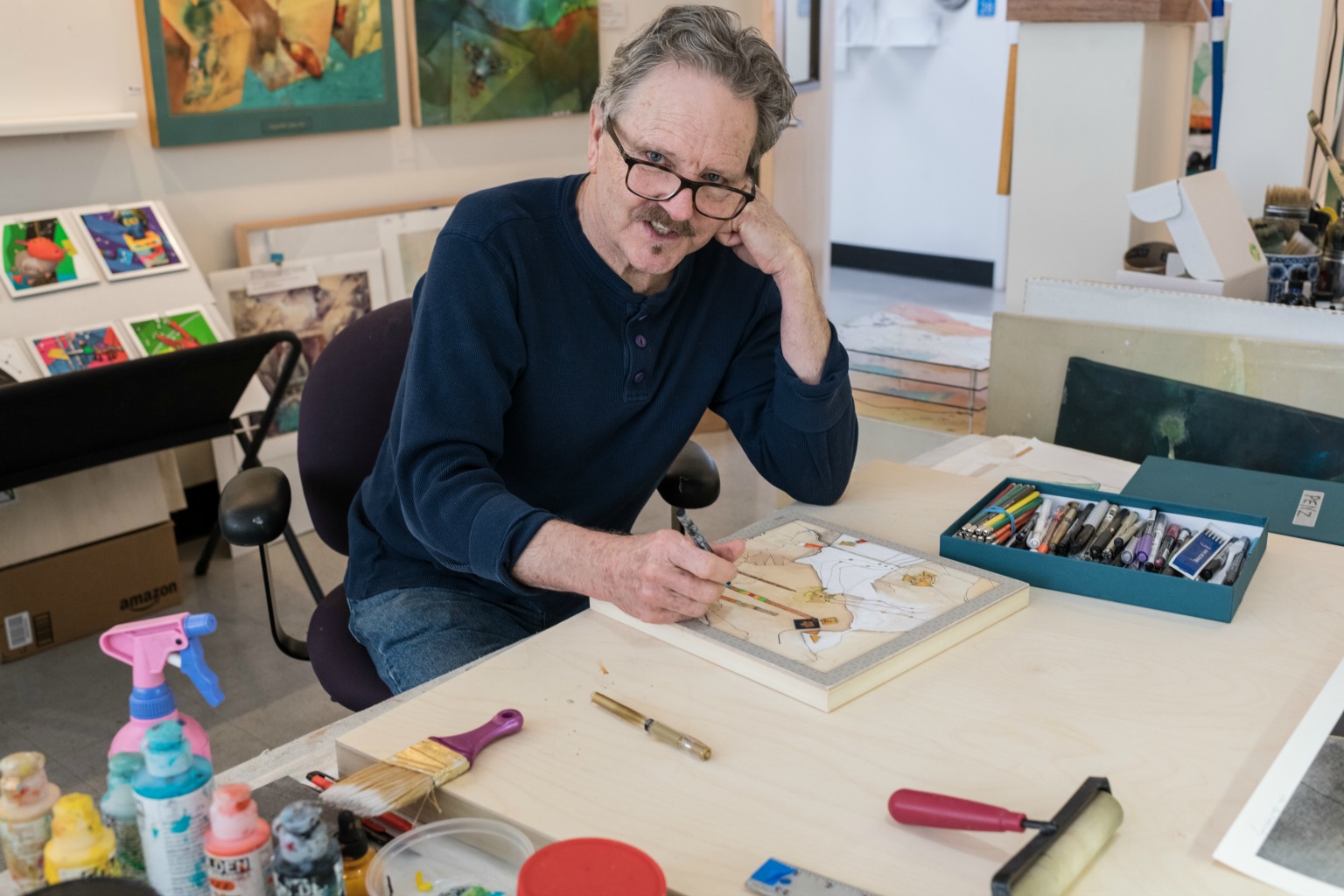 Studio 29
Neil Murphy
Neil pulls his inspiration from the exciting and timely nexus of art, science and technology. Neil is working on a piece in his ongoing series, Curious Maps of Impossible Places, which he describes as abstract maps with trails through the terrain of the absurd and wondrous.
Studio 32
Teresa Hsu   
Teresa is a watercolorist who loves studying the details in nature and reflecting them in her paintings. On a recent walk, she found a tiny feather on the ground and got the idea to combine her portraits of rocks and pebbles with an element of nature.
Studio 33
Barbara M. Berk 
Barbara works directly with metal, making bobbin lace with
stainless steel and phosphor bronze wire by hand. She then curves, loops, twists, interweaves and sews her flat "fabric" into hanging, wall-mounted and free-standing three-dimensional forms, like this sculpture that will hang from a gallery's ceiling.