In 1920s Paris, Gertrude Stein famously inaugurated her "salon years." Her home at 27 rue de Fleurus was a well-known outpost for intellectual conversation for some of the most influential thought leaders of the time. Stein, along with contemporaries like Pablo Picasso, Henri Matisse, Ernest Hemingway and F. Scott Fitzgerald, just to name a few, brought together their varied talents to understand and inspire art, literature and critical thinking. A century later, Peninsula native Vanessa Hood heeded a calling to unearth that time-honored tradition of The Salon in order to remedy what she saw as a "scarcity of culture" in the hub of technology that is Silicon Valley. The get-togethers Hood organizes as your Salonniere are her effort to bring that back.
After Hood finished with prestigious degrees from Yale University (Political Science) and King's College London (War Studies), serving in a number of government roles, including at the NYPD and the International Criminal Court and the U.S. State Department, launching the tech giant Palantir into the government market and driving its meteoric growth, the Peninsula came calling. And she answered.
The fact that Hood saw the Peninsula (and Silicon Valley in particular) as the least obvious place to begin a new salon actually made it the perfect place. The progress that's made in Silicon Valley is mind-blowing, but the pace is also overwhelming, and Vanessa felt that the sea of tech was desperate for a hub of culture to provide a space for prioritizing thoughtfulness and bringing back in-real-life (IRL/not digital) conversation. In a place where the "no new friends" meme went viral, Vanessa knew that encouraging just the opposite—new friends and acquaintances, bringing people together who were unlikely ever meet to otherwise—would benefit everyone involved. "Being around people who are so good at what they do makes you better. It's the idea of playing up. And not only playing up, but playing across," Hood says. Since The Salon's inception in 2017, Vanessa (photographed here in the beautiful Los Altos Hills home she shares with husband Gavin, daughter Milly; and their terrier, Bosley) has curated conversations and community (for both women and men) around extraordinary talent in art, global affairs, spirituality and fashion. 
There was David M. Kelly, who invented the Apple Mouse and also founded the design firm IDEO. And Tamara Mellon, the female business powerhouse who just happens to have started Jimmy Choo. There's the incredible Avril Haines, former Deputy National Security Advisor, former Deputy Director of the CIA and the first woman to ever hold the position; former Vogue Editor Emily Holt, and many, many more. Yet what's important to note is that these guests and moderators who participate in The Salon are not a who's-who of fame or fortune.
These are people of substance who share in Vanessa's goal to elevate the culture of our area on the Peninsula. They are people as concerned with teaching based on their experience as they are in perpetually learning more.
The recent increased visibility and brand recognition of The Salon begs the question: How will Vanessa harness and retain the intimacy that is part of what defines it? "I want to keep these very special occasions. Ideally, we will have an event only every six weeks or so at the most frequent. I believe there is value in that scarcity. And I also don't always invite the same people. We are clearly not a volume business."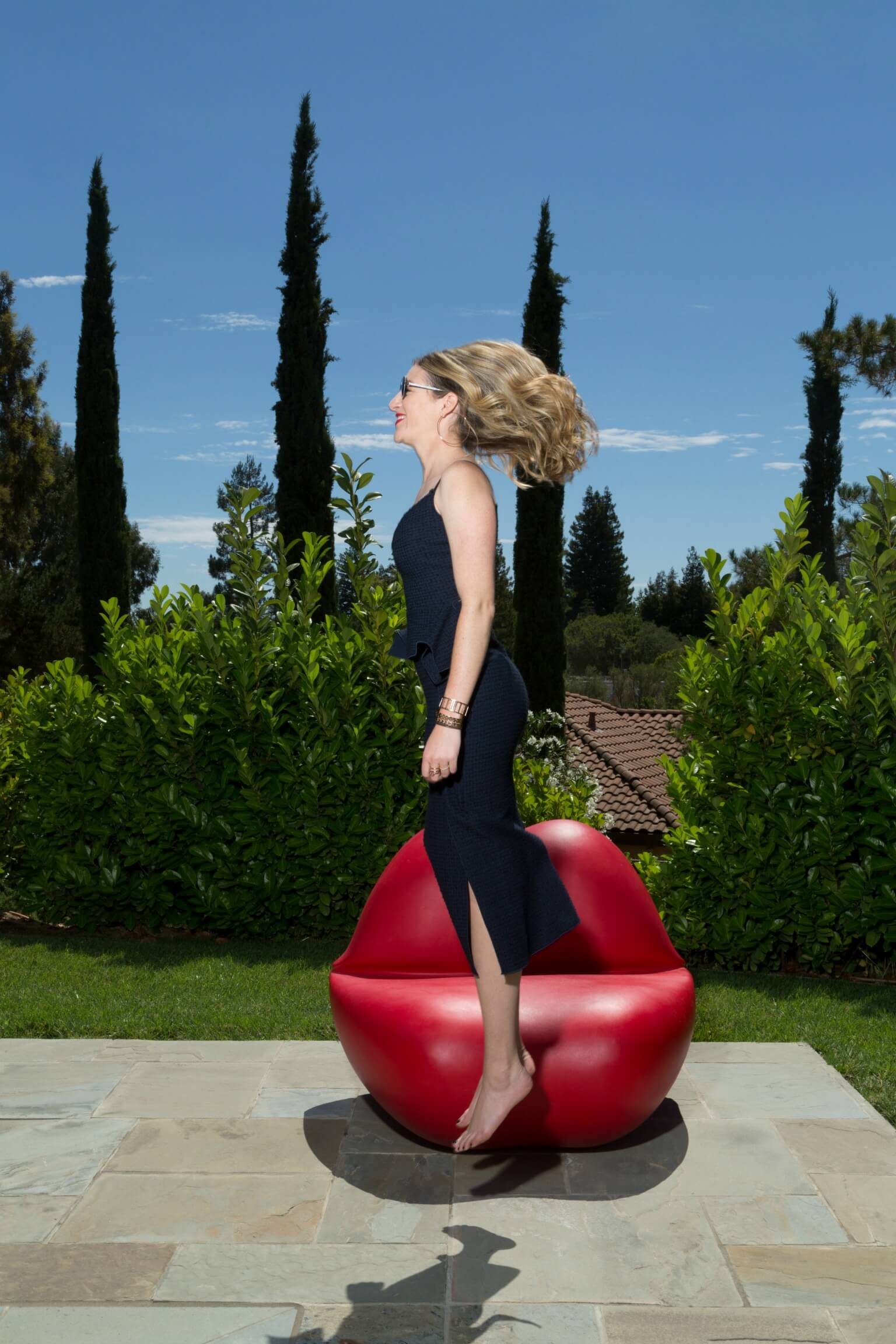 Vanessa is still bringing people around to the idea, giving life to her vision and focusing on the quality of the offering itself. "We are working to create the intrinsic value of The Salon as well as a really valuable digital offering, before any sort of scaling," Hood says. For now, Vanessa feels that The Salon is still in "startup mode." Though you wouldn't know it by the quality, legacy and caliber of the brands queuing up to work with her.
What would Vanessa say to people who claim that they don't have time for the kind of connections and conversations that The Salon aims to cultivate? Especially since, ostensibly, the more interesting a person is, and therefore the more they would bring to a Salon event, the busier that person might be. Vanessa says that thoughtfulness and critical thinking need to be priorities.
"If you already go out to dinner, attending a Salon is a more elevated way to spend that same amount of time in your evening. I know that people don't have a lot of time, so I would tell them the more limited your time, the more you should use it wisely," says Hood.   
It's a great point. It doesn't make much sense for a couple to use their "date night" just to go out and eat. The best way to really get a respite from children's playdates and chicken nuggets might be to attend a more cerebral, adult event to discuss creative endeavors and global affairs.
Speaking of more adult themes, there is a small subset of The Salon that Vanessa calls Spicy Torah. It welcomes the same 14 ladies who would come for dinner and conversation but Spicy Torah in particular is more intimate and off-the-record.
The reason for the name is that, contrary to popular belief, there are many spicy moments in the Torah. Hood adds as a reminder that there is no religious affiliation with The Salon. She just happens to be Jewish herself, so that comes through in her activities and discussions. 
The idea behind the Spicy Torah meetings is to discuss sex and relationships, then and now. Using pieces of literature (from the Torah, for example) to introduce content from a historical perspective, and then to lead a conversation bringing these issues into modern context, can be a really effective way to get answers. At a recent Spicy Torah, the group studied a passage wherein it is described that unwillingness to partake in sex with your spouse can be grounds for divorce. Vanessa goes on to explain that the Torah actually lists the frequency expected by occupation. If your husband is a merchant, perhaps the frequency is higher than that of a sailor. "The women were in hysterics…but then we got into this really important discussion of power struggles in relationships. The literature or quote just serves as a prompt." Despite the size of these groups—both Spicy Torah and The Salon in general—it's important to note that although Vanessa curates the crowd at The Salon events, it is not to be exclusive, but to optimize the experience.
A lot of people who have been to Spicy Torah have come back to tell Vanessa how it changed their perspective. Sex and sensuality is not only part of life—it is life and creates life, not just relationships. It's essential to family and leads to spirituality. It's not just a salacious thing, and when you see that sex is in one of the oldest texts in the world, it flips the script and the paradigm. Vanessa loves that Salon discussions can reframe these ancient topics in ways that are helpful—and often entertaining—to her guests.
One of the biggest benefits of The Salon might not even happen at the event itself. While she knows it is a lovely and stimulating event in the moment, Hood really wants the impact of the things you consume at The Salon to impact what you consume afterward and continue to inspire you long after the evening has ended. Like mental party favors: you can put those lessons in your mind and your proverbial toolbox to use them later. 
When hearing Tamara Mellon discuss surviving sexual assault at a recent Salon event, the room was captivated. It's quite clear that any woman who heard her story, should she encounter difficulty thereafter, might think of Mellon's strength and be empowered by it. This perfectly demonstrates Vanessa's vision for The Salon: bringing in exceptional people who are willing to talk at a open and sometimes raw level.
Recently, Vanessa was dealing with a challenge of her own—there was something she just couldn't figure out. To hearten herself, she sought some text by Rabbi Naomi Levy (a well-received Salon speaker) and voila, she figured out her problem.
Hood would not have known about Levy if it weren't for discussions at The Salon and how they have influenced what Vanessa consumes intellectually and spiritually. The growth of The Salon is keeping Hood very busy these days, but she intends to foster the intimacy that allows it to be so special. That's because Vanessa is a connector in the truest sense. She enjoys helping people and identifying cross-cultural associations that may be beneficial to everyone involved. And these "small world" moments seem to come back to her. When The Salon hosted Avril Haines, former Deputy Director at the CIA, for example, she was traveling with John Brennan (former CIA Director). He joined as a surprise guest that evening and spoke from the audience!
Gertrude Stein would be proud.
For more information, visit AttheSalon.com
personal accounts
EMILY HOLT
"Thanks to Vanessa's generosity, accomplishments, and enterprise, I've been in the same room as John Brennan, former director of the CIA. Like, sitting feet away from him on the other sofa. There is no universe in which I'd ever imagined that would happen. And there is no one other than Vanessa who could bring such disparate worlds together."
DAVID M. KELLEY
"Vanessa and her Salon were totally enjoyable for me as a host and speaker. Given our lives today I find that we have very few experiences like The Salon where one has the chance to make real, in-person, human connections. I could tell that the participants really enjoyed the intimacy and the resulting conversation."
AVRIL HAINES
"The atmosphere that Vanessa creates at these events—or Salons—is nothing short of extraordinary. Vanessa brings together interesting people from very different walks of life, including writers, artists, politicians, teachers, business people and public servants, and challenges them to have a conversation that they would not ordinarily have—one that is meaningful but different. I was lucky enough to be part of igniting the conversation at one Salon, but the genius of Vanessa's approach is that the people who attend have as much to add as those who are asked to speak, and they all bring a different, and sometimes provocative, perspective. Remarkable women like Vanessa have a long history, not just in the United States but around the world, of driving the intellectual life of communities through such gatherings, but I cannot think of a time when such discussions are needed more than they are today. I am extremely proud to have been a part of The Salon!"
TAMARA MELLON
"My business is based in the digital space, but there's nothing quite like being able to sit down and talk with like-minded women face to face. I'm so grateful to my friend Vanessa for creating The Salon and bringing together a community of women who want to share, learn and support each other."
GREG KUZIA-CARMEL
"It has truly been a pleasure getting to participate in, and support, Vanessa and The Salon through its evolution over the past two years. The Salon brings together a truly world-class and fascinating community to ruminate and reflect on a variety of different interests, as well as provide a much-needed medium for the social discourse of the new garde of Silicon Valley. While the spectrum of personalities is quite vast and diversified, the common denominator of this group is that they have impeccable taste!"