If the interiors of an Atherton home that Fannie Allen recently decorated for a Silicon Valley couple seem playful, there's a reason. Fannie's design career effectively began with dressing up dollhouses.
"My mother and I built dollhouses as I was growing up, including all the furniture to go inside them," she says. "I was always making and arranging new furniture, wallpaper, staircases, rugs. I sewed. I even made flowers for a garden."
Since there never was a doll inside, she had no "client" and was free to let her imagination wander.
Fannie's parents also exposed her to travel at an early age and, because her mother was an art historian, their excursions inevitably led to European museums and to Romanesque cathedrals filled with heraldic color and art. Such experiences, along with her mother's collection of handwoven, embroidered fabrics from around the globe, are still sources of inspiration for her.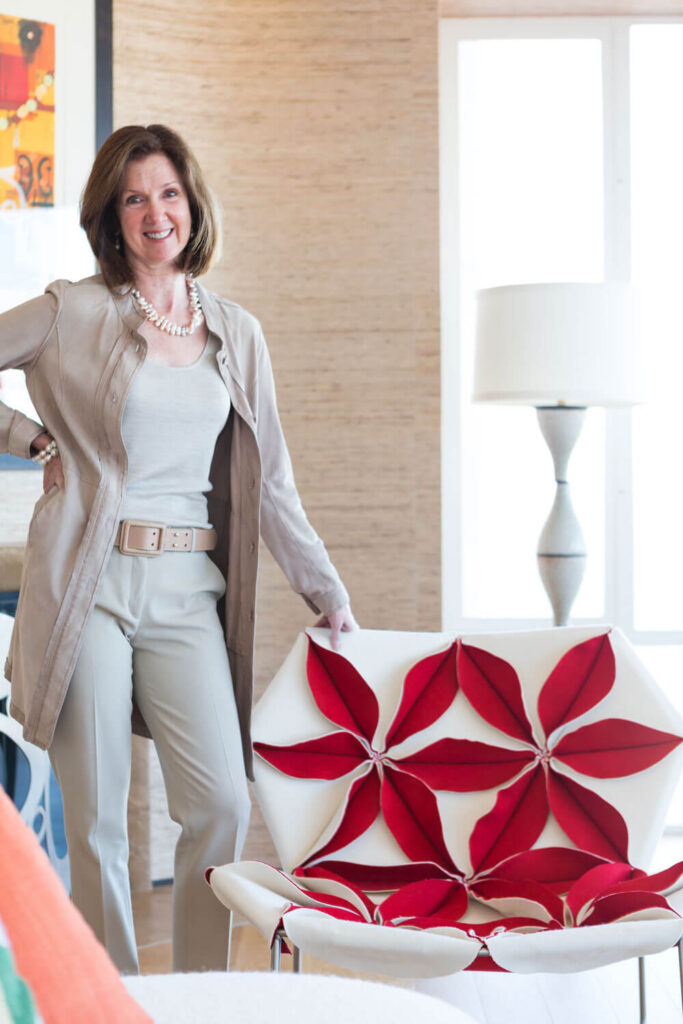 Influenced by her mother, Fannie also got a B.A. in art history at Stanford and that has helped to transform her vivid formative memories into a creative life. True, an M.B.A. from Harvard briefly steered her into marketing and project management in the tech world, but Fannie has returned to her true calling.
When she decided to stay home after the birth of her third child, Fannie began to decorate her house and was soon encouraged by friends and Silicon Valley neighbors to work on their homes and second homes, near and far.
Twenty years have whizzed by doing just that. Fannie's clients clearly like what she describes as her "active use of color." Working from her Atherton home, she designs two or three interiors each year that often sport bold color combinations inspired by European, Indian, Chinese and African fabrics and lace she collects. Think purple and red, orange, raspberry and pink or regal blue, purple and gold. "I love grey and white too," she says coyly. "But I wouldn't do only that!"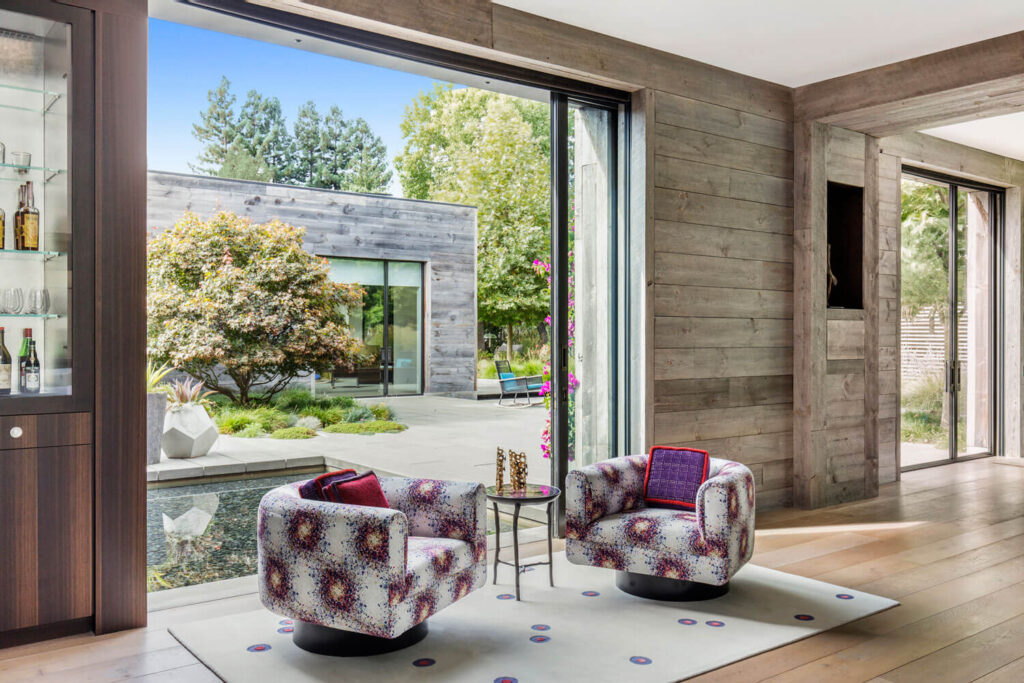 For an Atherton 11,307-square-foot home—composed of three separate structures—designed by San Francisco architect Ken Linsteadt, Fannie, the self-styled provocateur, decided to create art 'masquerading' as furniture.
Bespoke furnishings made locally and in Maine (where Fannie spends her summers) fill the modern, U-shaped three-story, 7,000-square-foot main house, an adjacent two-story guest house/garage and a stand-alone gym beside the pool on the north end of the compound.
Fannie's artful furniture helps to bridge the owners' divergent tastes. The wife's former house "was definitely a color explosion," Fannie says. She should know, because she decorated it 15 years ago. "When I first met her she was an operations and marketing guru living in an all-brown, white and very neutral apartment and I believed that's what she liked," Fannie recalls. But then Fannie looked inside the closet and discovered clothing in shades of shocking pink, rich blues and other colors that nobody told her client she could use in her home. Fannie did.
Now that she was working with the husband, a product engineer who had also only lived in muted interiors before meeting his wife a decade ago, Fannie offered him a rainbow of choices as well and eventually delivered colorful, individualized 'toys' amid new spaces with wood, stone and white plaster-clad walls.
"They picked everything collaboratively—even each other's office colors," the designer says.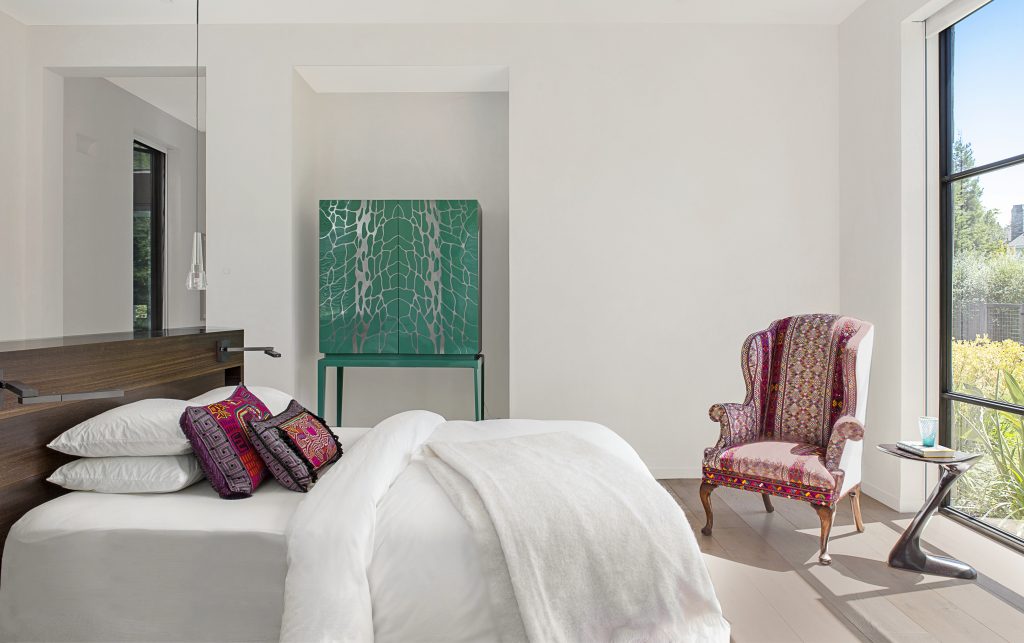 Some of the home's seating is voluptuous and curved, echoing the prominent spiral staircase that leads up to the wife's loft office in the main house where Fannie installed a Roche Bobois Mah Jong chaise covered in six colorful Moroso fabrics. For the office, Fannie also commissioned a curvaceous red desk from Maine, and familiar Eames chairs covered with multicolored fabric and a recliner with pink suede. For his office, she got a blue desk and in the upstairs 'green room' (it opens to a living roof garden above the dining room), which they both share, his slate-and-felt pool table assembled by a team flown in from Spain "is a work of art in itself," Fannie says.
During planning sessions, "everybody was present: the clients, builders and the architecture team including project designer Molly Layshock. The lighting consultant would come and then me. I was there soaking up the architect's vision," Fannie says, adding, "I would listen to what functions they all wanted and return with proposals."
The clients got involved not just in aesthetic decisions but, given their interest in technology, they also weighed in on the electronics, radiant heating and cooling systems and filtration for a floor-to-ceiling aquarium, for reflecting pools in the central courtyard that abut the foundation and the lap pool. All that took close to six years and Fannie, who knew the couple well, provided valuable input from start to finish.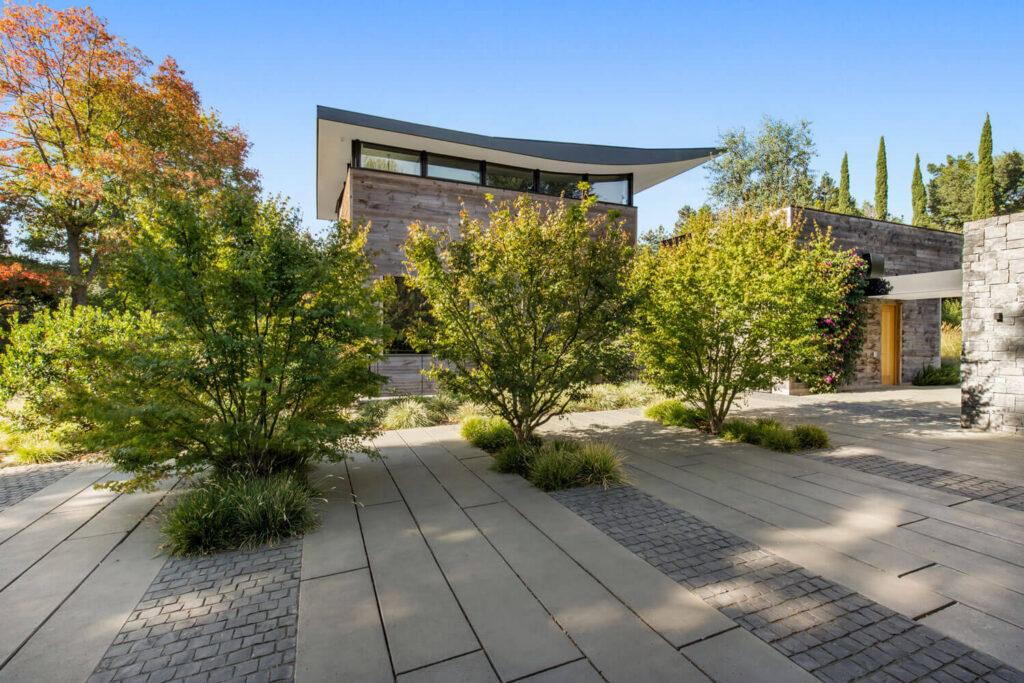 "In the beginning, I was just weighing in loosely on textures and colors," Fannie says, but before long her incisive insights grew to include cabinetry, plumbing and lighting fixtures and hardware.
Instead of white see-through shades for the house's many large windows, Fannie pushed for dark ones because "I know that black shades let you see out more easily," she explains. She then suggested that the open-plan master closets should have enclosed cabinets because her client has dust allergies; the fridge, initially located outside the kitchen, was brought inside because Fannie knew that the wife loves to cook for friends. And, for white concrete kitchen counters, Fannie favored a "bullet-proof" sealant because she knows her clients hate patinas and stains. While she was at it, Fannie snuck in a bright-orange commercial-style Bluestar cooking range in the grey and white kitchen and, all around the house, six clear and colored blown-glass chandeliers and pendant lights by Berkeley glass artist Jess Wainer.
"The goal was to get away from the predictable," Fannie says. "For me, art is always three-dimensional, and you should be able to walk around it, touch it, stand on it and even sit on it," she says.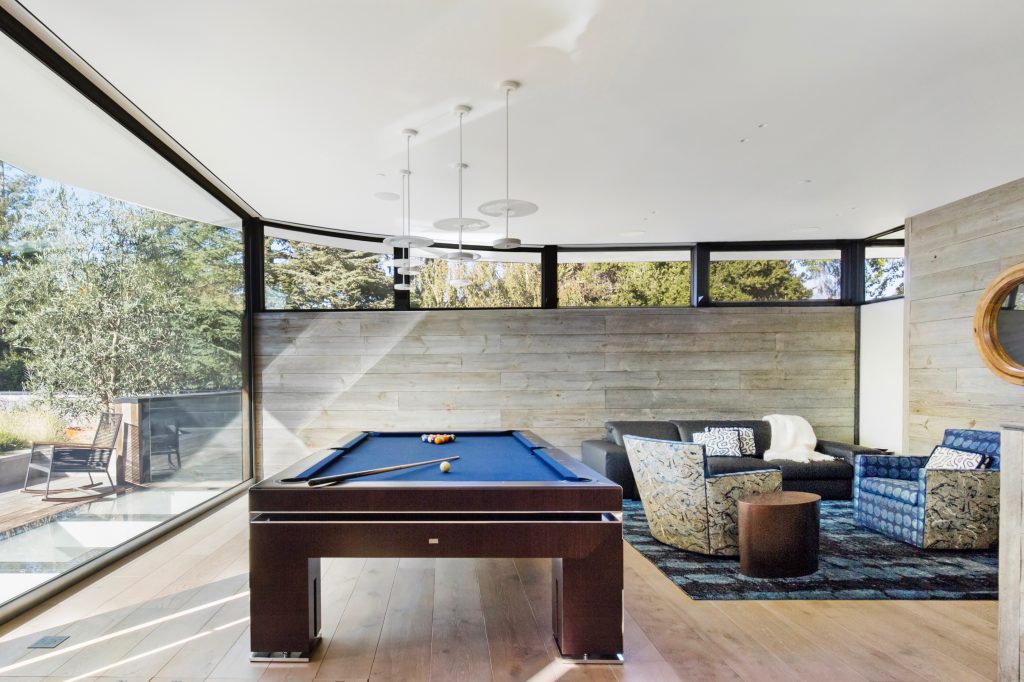 Although the couple moved into the house in 2016 with their old furniture, Fannie continued until mid-2019 to have Bay Area makers create artful yet functional pieces for them. "I also mixed in a few antiques, including vintage Hepplewhite dining chairs, which I stained white to pair with the modern white Italian dining table," Fannie says. Their mismatched seats are covered with green and aubergine fabrics that resemble the aubergine velvet of an upholstered serpentine Coup d'Etat sofa in the living room. The sofa floats above a rich blue and coffee-colored wool and silk custom rug from Stark.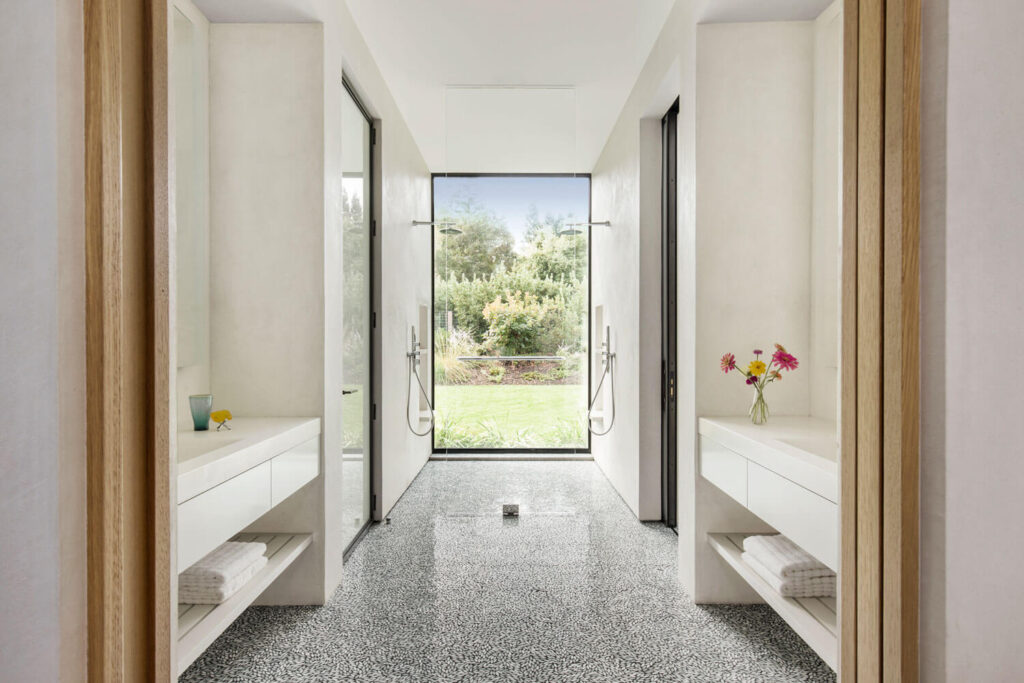 In the master bedroom, an antique wing chair upholstered with embroidered fabric from Bhutan sits next to a custom turquoise-green lacquer cabinet inlaid with stainless steel made in Los Angeles. "I love the intricate embroidery juxtaposed against the cabinet's large organic stainless-steel inlays," Fannie says. Some of Fannie's mother's Molas or reverse appliqué fabrics from Panama were made into pillows for the bed and they provide geometric "canyons of colors."
"My job was to absorb what the architect was doing so I could furnish the dynamic open space and help my clients to 'play' in it," Fannie says. After all, for her, despite its large scale, this project was just another dollhouse. But, unlike the ones she worked on with her mother, this one came with appreciative and real 'dolls' inside.
design playtime
fannieallendesign.com