words by Silas Valentino
Tucked away alongside Willow Road about a block from Highway 101 in Menlo Park is a miniature, L-shaped strip mall you wouldn't naturally associate with mouthwatering cuisine. But blink and you might miss the compact restaurant adjacent a laundromat that has an ambiance and a deep-flavored menu plucked straight from Jamaica.
If beloved Los Angelino food critic Jonathan Gold, a champion of strip-mall eateries who passed away in 2018, had ever found himself on the Peninsula, Back A Yard Caribbean Grill would likely have earned his praise.
Outside are a few plastic chairs and tables scattered under tree shade and the building's ocean blue awning resembles a wave crashing onto the plantain green façade. The atmosphere inside pays homage to a beachside grill with a counter made of corrugated metal and wall paintings depicting Jamaican life framed in bamboo. A small sign under the cash register requests patience since the food is made from scratch and reminds customers to "Enjoy the Yard Vibe!"
On a recent afternoon, a line continues to form even though it's a few hours past the traditional lunch rush. Some customers wear ties, others are in shorts and one person complements the Yard vibe with a Panama hat. They all flock here for the bona fide grub, often peppered with curry to deliver a refreshing spice kick that doesn't activate the tear ducts.
The chalkboard menu promises genuine Caribbean fare: fried plantains, coconut-infused rice and beans, mango passion fruit juice and sweet potato pudding. Various meats—chicken, pork, lamb, goat, salmon and beef oxtails—anchor the entrees prepared either barbecued or jerk. The entire farm is represented (and combinations are available for the indecisive).
Only a native could accurately conceive this scrumptious Jamaican spread and that chef de cuisine is Chef Robert Simpson. The San Jose resident first came to the Bay Area when he was in his early twenties on a food-focused cultural exchange. While he was in San Francisco one Saturday morning, he stopped by the Ferry Plaza Farmers Market where he was stunned by the sheer quantity and possibilities of all the offerings.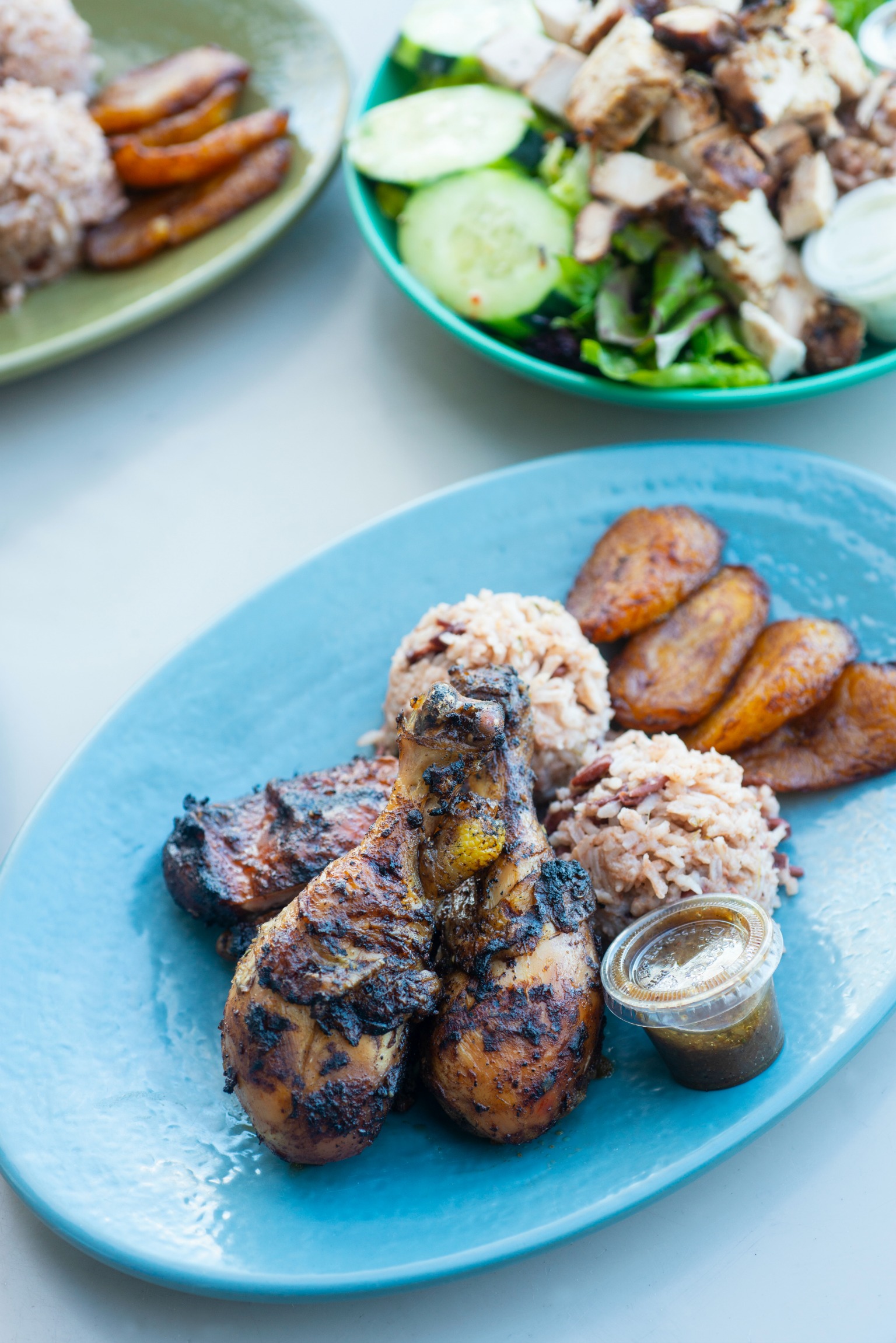 "I went there from 10AM until it closed at 5PM," he recalls with nostalgia."In Jamaica, you have one tomato—no one has five different tomatoes! I still show pictures of that trip to my sons. I realized that if you enter this craft, you always want to be learning something new."
Brawny and genial (on his LinkedIn page he writes, "Being hospitable is the most sincere gesture one can offer."), Robert captains his kitchen with calculation. He expects followed directions, not head bows, from his staff, and he strives to encourage them with concise, specific orders. Recently, as he was manning the fire to prepare the curry shrimp special, his sous chef and line cook stood nearby, ready for his guidance.
"Take your time; I need curry, jalapeno and thyme. And four of the best plantain slices you have," he directs, returning to the grill to flip the shrimp. By the time he's ready with the shrimp, the plate is prepared with two rice and bean balls and four neatly sliced fried plantains. "Good good, that's nice," he tells his crew as he places the finished plate up on the window counter for pick-up.
"If you do it right, by taking care of both the customers and staff, things will work," Robert later says. "I've had some great chefs but I've also had ones who didn't know how to mentor. For me, it's about getting better at listening. You listen to what they want. I've watched former chefs grow into executive chefs and the best thank you is, 'Chef, I'm just like you.'"
Menlo Park was Back A Yard's first location and is designed as a fast-casual eatery with a focus on takeout and limited seating. It opened in October 2005 and Robert has since established three satellite locations in San Jose. The most recent, which opened off North 13th Street, debuted last year. He even had enough stamina to roll out the full-service restaurant Coconuts Caribbean Restaurant and Bar in Palo Alto in 2008.
Although it's the smallest in terms of size, Menlo Park continues to be the flagship location. Robert uses its tight quarters to invite his chefs from the other locations to come in and experiment without worrying about the other aspects of running a bigger restaurant.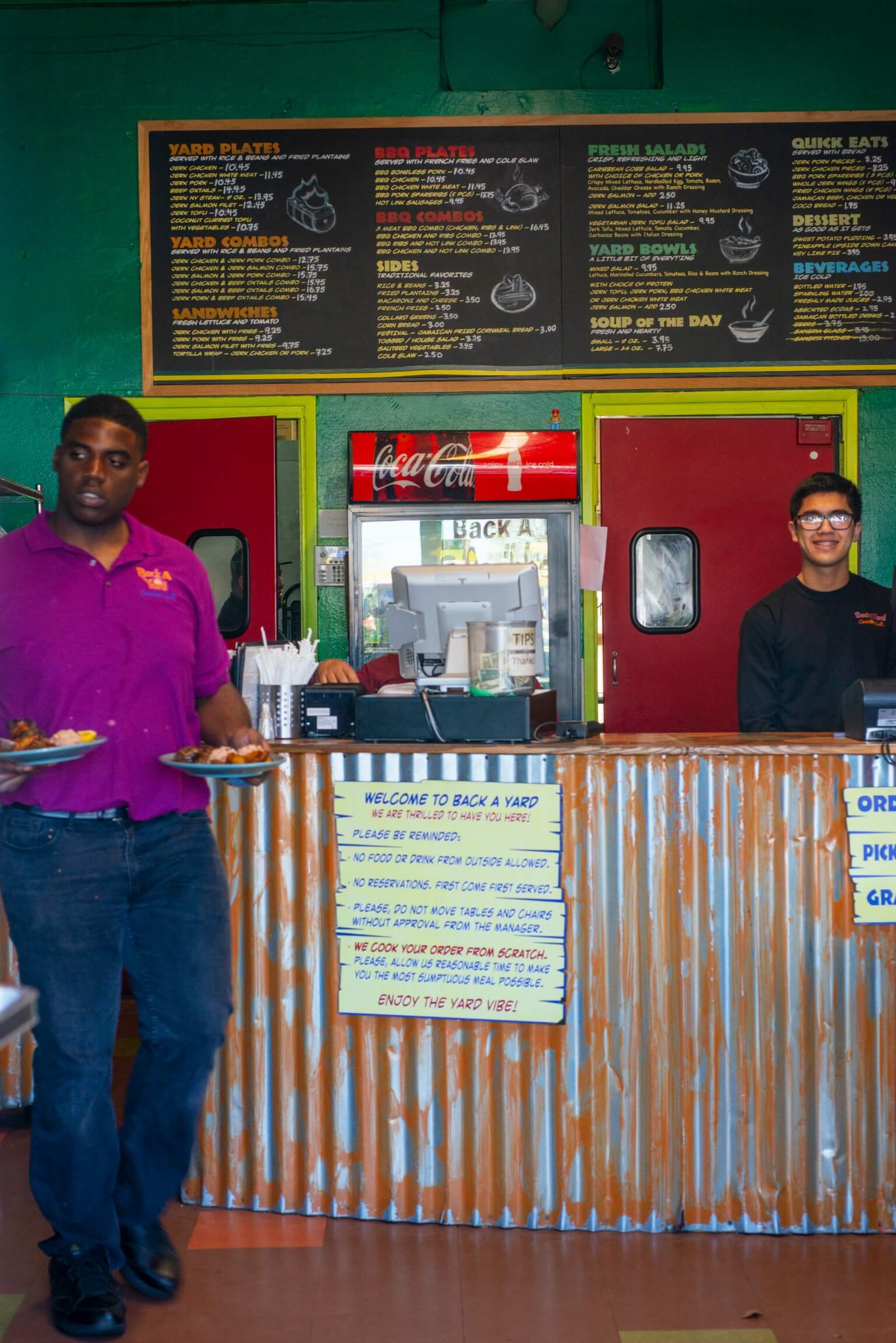 "Part of growing is that you don't lose what you are," he says. "With Menlo Park, as much as it's slated for renovation, I want to make sure it doesn't lose its appeal."
Robert runs a tight, reliable ship and part of Back A Yard's attraction is the gravitas he's established with the business. He relays how a customer was surprised by the availability of even the most obscure items on the menu—even though the restaurant had just opened for the day.
"A Jamaican guy came in once at 11:20AM and asked if the oxtail was ready," Robert recalls. "He was shocked when I told him yes; he said New York Jamaican restaurants don't have oxtail ready right when they open. I think people have seen the seriousness of what we were doing."
Much of the menu can be traced back to Jamaica, but to allow for a fast-paced kitchen in demand, Robert took a few liberties for amending recipes, particularly with the essential coconut rice and beans.
In traditional Jamaican cuisine, you'd cook rice on a stovetop while routinely stirring but Robert needed to produce large quantities that required less attention. He's a fan of Michael Ruhlman's book, Ratio: The Simple Codes Behind the Craft of Everyday Cooking ("It's one of the greatest books ever written," he says.), so he calculated the exact amount of water, rice and time to instead bake in the oven. The result is a luscious, gooey adaptation and one of his Jamaican cooks even joked that Robert deserved a Nobel Prize for his creation.
During those few precious hours between lunch and dinner, Robert slides out of the kitchen to embrace the afternoon air. A departing customer recognizes his white double-breasted chef's jacket and sings praises of the meal. Robert's teenage son Julian, the youngest of three who's been working here since he was old enough hold a mop, is nearby clearing tables. The sycamore tree that presides over the restaurant rustles in the breeze and the calm aura feels like an unworried afternoon on some faraway island.
The naming of Back A Yard was Robert's way of paying tribute to his homeland. The phrase is slang, simply translated as the way things are done back home.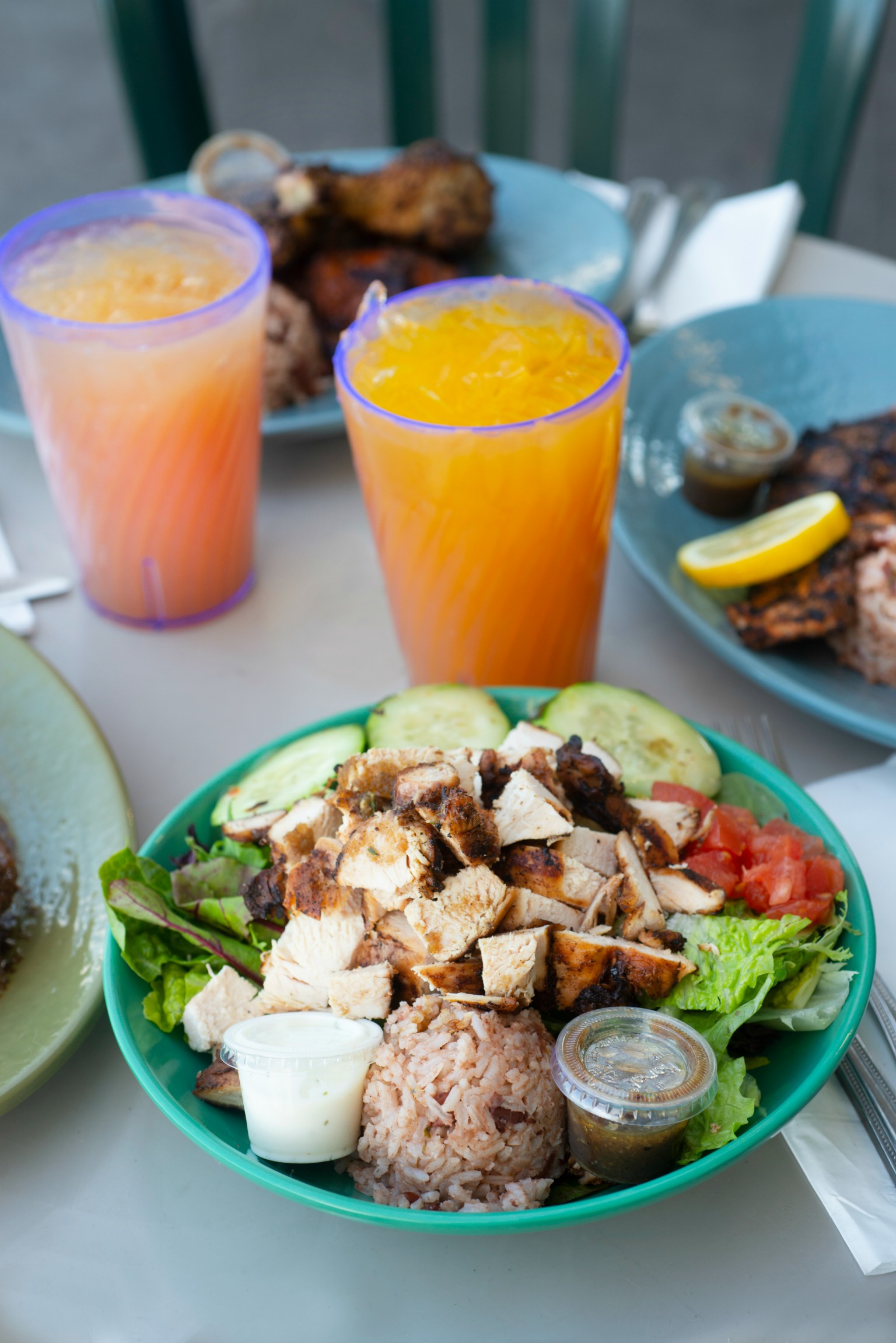 "When you get off the plane in Jamaica, as soon as you step off, you're in the tropical climate. It's the feeling, the air. That's what I wanted it to feel like. I wanted this to be like how it is back home," he says, pausing to really consider the differences between here and there. He begins to laugh, "Except we really do have the oxtail on time."
flavor getaway
1189 Willow Road
Menlo Park
650.323.4244