The smell of wood as it burns seems to forever evoke a campfire. Even in the context of pyrography, where heated pokers decorate slabs of wood with artistic burn marks, the aroma calls to mind s'mores. "It smells like marshmallows," observes Devon Kardwell, a middle school student from Menlo Park, during a recent pyrography class at Woodcraft in San Carlos.
Tom Smith, the course instructor, is by her side with pointers on how to carve intricate shapes by fire with the glowing tips called nibs. He explains how the three nibs—shaving, stifling and skewed—are used for shading in or outlining an image. Devon begins by writing a few words, "fire" and "punch" included, before using a piece of carbon-transfer paper to help trace an image of a blooming rose.
With a pencil sticking out of his ponytail, Tom moves over to a different craft table in Woodcraft's upstairs classroom to demonstrate another form of woodworking: carving. He's in the middle of, or about 30 hours into, carving a detailed dragon into a chunk of wood the size of a medieval chest plate. He uses a mallet to ever-so-lightly tap into the back end of his chisel, called a gouge, to produce thin wood cuts fainter than a pencil shaving, which he'll then brush onto the floor. (Note: If your woodshop isn't dusty, you own a storage room, not a woodshop.) In the wake of his carves with the depth of a pushpin are perfectly neat lines summoning a Tolkien dragon to life.
With another 30 hours to go, Tom's dragon will become a vibrant three-dimensional piece of wood art, just in time for holiday gift giving.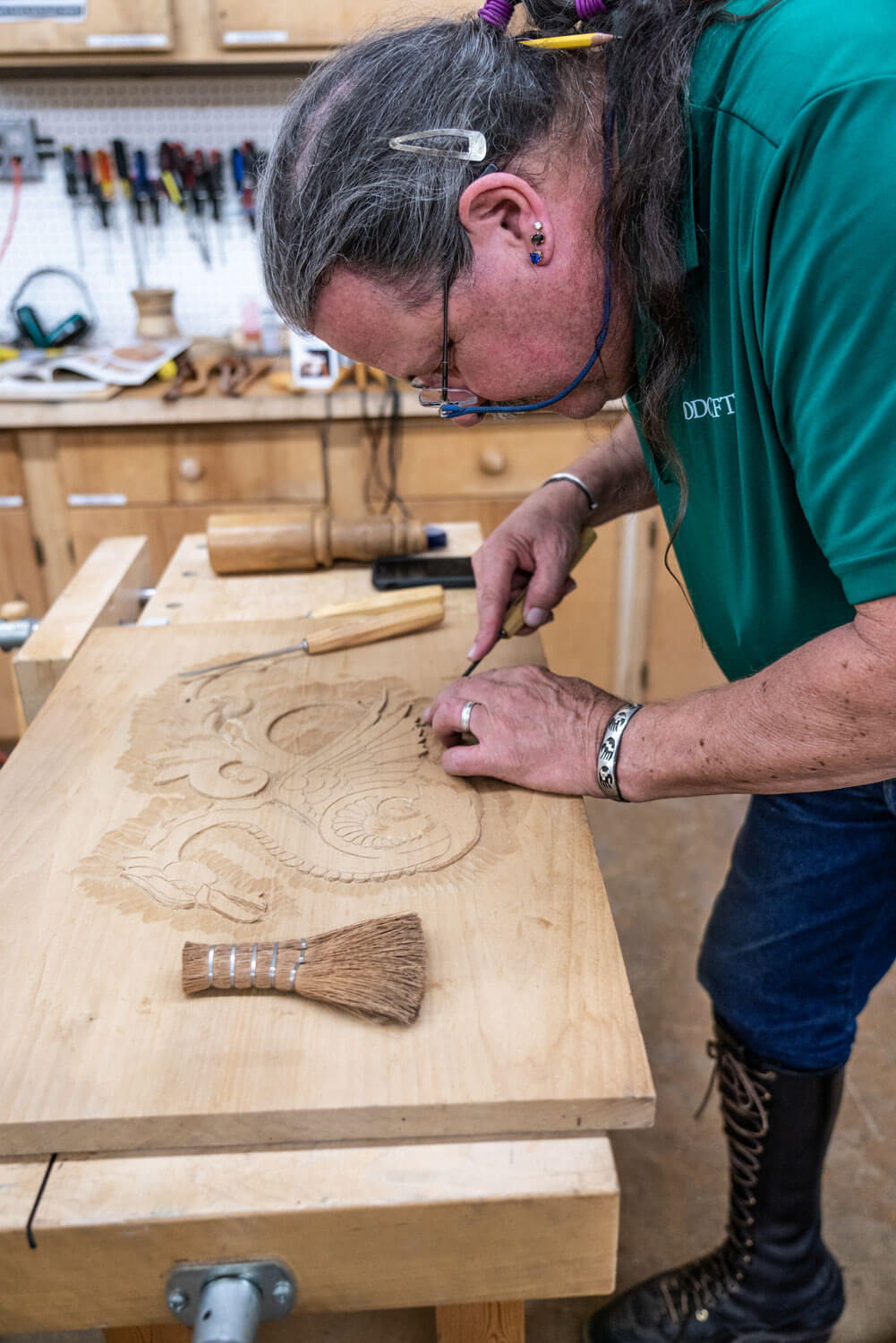 In a region defined by wood—San Carlos is sequestered between "Redwood" City and Palo Alto, named after an historic old-growth sequoia—the Peninsula has nurtured woodworking as a trade, hobby and artistic expression for generations. Presently, one store has become a hub for veterans and neophytes alike, where beginners can take classes to learn the art of pyrography while seasoned chiselers can source a rare piece of Sirari Rosewood.
The San Carlos location for Woodcraft is owned by Charmaine and Eric McCrystal, a wife-husband partnership. They were inspired to open the shop after recognizing a lack of specialty tool shops on the Peninsula as they were in the process of remodeling their house in Redwood City some 20 years ago.
"We have tool, hobby and big box stores on the Peninsula but Woodcraft is a niche," she says. "In the early 2000s, the Internet was not what it is now and the closest Woodcraft franchise was in Dublin. Eric and I would run over there to get all these specialty saws and tools and every time we'd drive back, we'd ask why isn't there one on the Peninsula?"
Charmaine grew up between San Carlos and Redwood City (she remembers taking wood shop at Kennedy Middle School) and her family owned a local concrete company. Before opening up Woodcraft, Eric worked in tech sales positions that required a lot of travel and the couple desired work that rooted them at home. They opened Woodcraft in October 2004, first in an industrial sector of San Carlos near Highway 101 before relocating to its current address along El Camino Real about nine years ago. Tom, either instructing classes or working the floor, has been with them since day one.
The store, although part of a nationwide franchise, attracts a loyal local customer base with regulars who rely on Woodcraft for hard-to-find hand tools, power tools, accessories and up to 40 species of quality wood—not to mention the opportunity to indulge in some shared lumber camaraderie.
Charmaine says she's watched the craft evolve from a male-dominated hobby into one that attracts both genders. Her most active customers tend to be Latino or folks from Southeast Asian countries. "They come from places where they still do craftsman's skills," she notes. One longtime customer will pop by every time he's in from his home in Uruguay.
"People come here to get something more than a 2×4 you'd get at a Home Depot," Charmaine says. "We'll have a 2×4 made of maple or walnut or mahogany. At Home Depot, it's building wood made for putting under the structure. You hide it. This type of wood you actually see, it becomes a piece of furniture."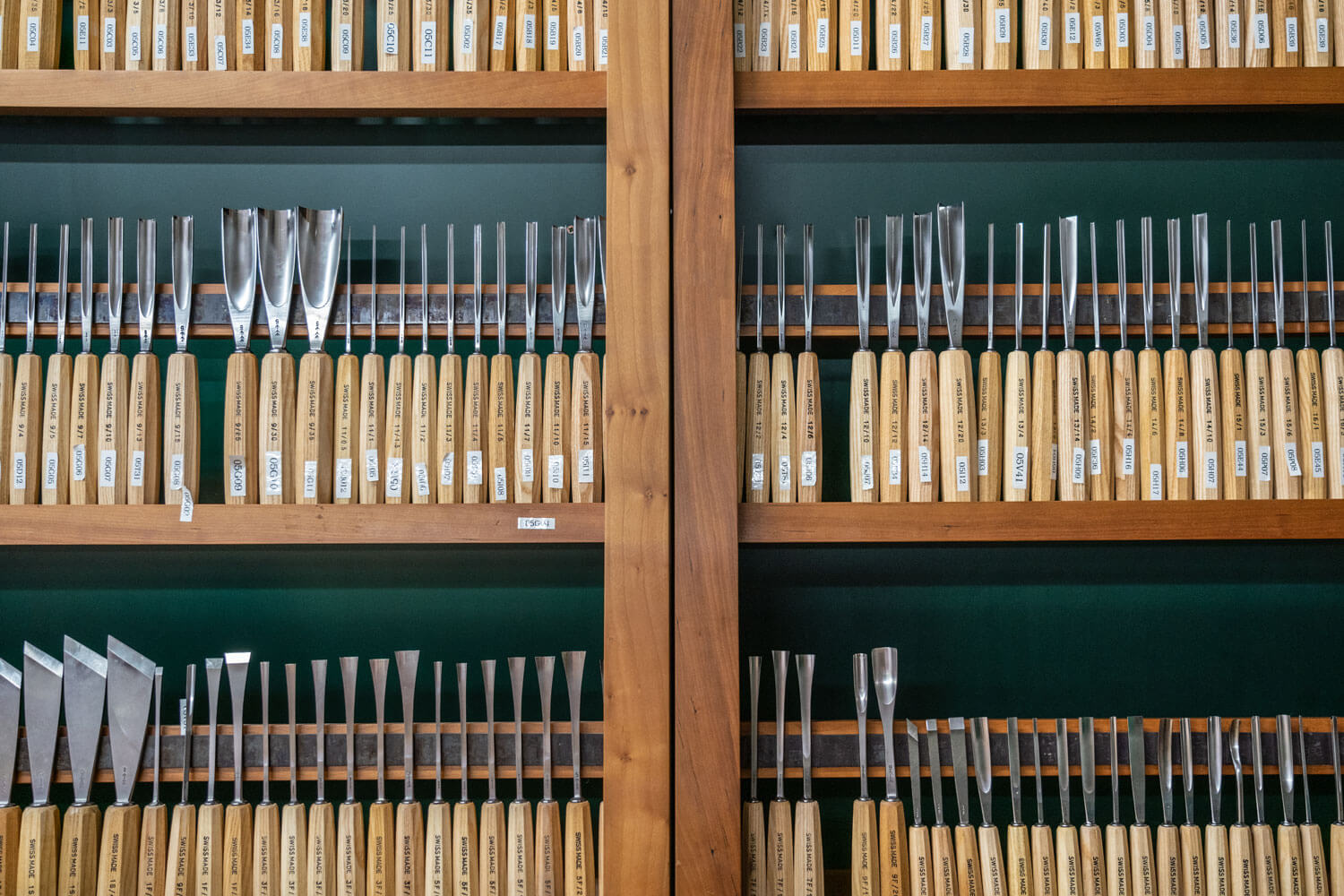 Woodworkers are craftspeople who deploy patience and planning for creating their masterworks. They also have a healthy knack for hoarding wood. "I don't have wood scraps," Tom defends. "I utilize everything I work with." As for specific attributes that help distinguish woodworkers, Charmaine recognizes a few particulars.
"Woodworkers tend to love dogs. Not that they're not cat lovers but we have customers who are crazy dog lovers who bring them into the store. They also tend to ride motorcycles," she says, before pausing to laugh. "Dogs and motorcycles—woodworkers love dogs and motorcycles!"