Romantic meadow grasses rustle in the light breeze, accented by wildflower splashes of purple, pink, orange and red. Meandering pathways beckon, and just beyond, a glimpse of stone steps descending—and then dropping away, with hints of a rock outcropping, a sunken plaza and a burbling waterfall tucked just out of view.
This may sound like a scene from a Tuscan villa, but in fact it is the backyard of a two-story home in the Menlo Oaks neighborhood of Menlo Park. Now consider that this one-acre flag lot started out as "flat as a pancake."
Going back a few years, the property's swimming pool and tennis court certainly provided pleasure. But the home's owner, an avid wine collector, recognized that something was missing. Forced to rely on two off-site storage facilities, he wanted to more easily access and appreciate his reds and whites. He reached out to the landscape architect who had developed other elements on his property. As David Wollney recollects, the conversation went something like this: "What do you think about doing a wine cellar?" Instantly intrigued, David responded, "I'll get back to you with ideas."
Half-Italian from his mother's side, David also shared a passion for wine—as well as the art and science behind winemaking. In fact, it was David's love of both art and science that drew him to landscape architecture: "All projects have the design, which draws from the right, artistic side of the brain, but then you have to figure out how to construct your design, which fires up the left, technical side." When David struck out on his own in 1992, he befittingly called his firm Paesaggio, "landscape" in Italian. "I wanted to honor my grandmother because I didn't know how many more years she had left," David says. "But she had quite a few as it turned out," he adds with a smile.
Having recently completed a project for Fortunati Vineyards, a boutique winery in Napa, David's sensibilities were already tuned in the right direction. As he scrutinized the Menlo Oaks property, one fact was immediately evident. "We couldn't put the wine cellar under the house. We had to put it outside," David recounts. "Everybody's grateful for that now. Otherwise, it probably would have just been a staircase going down into a basement, but instead, we were able to create an experience—the wine cellar becomes part of the way you use the outdoors."
David's client had a few stipulations. He desired an entertaining space, but he didn't want it right up against the house. "He asked for lovely plantings in the foreground, leading up to this 'hole in the ground'—a plaza and wine cellar," David says. The one-acre property also had multiple constraints that had to be taken into account. Turning his left brain on, David created the site plan. "I determined the size and shape of the wine cellar, where it was going to be located and how deep we were going to put it."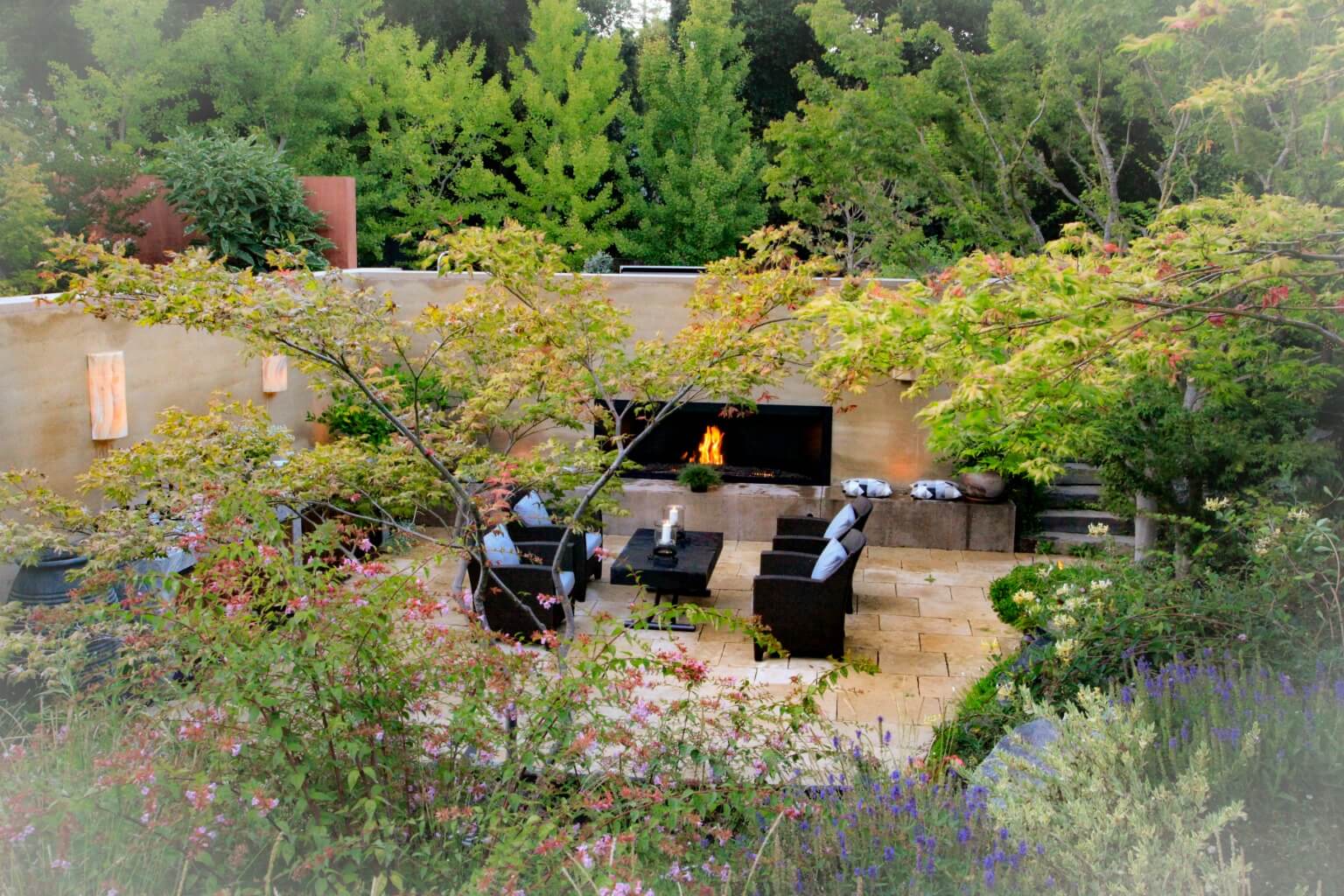 To conceptualize the design, David switched gears to the right. "You always hear people talk about the napkin sketch," he says. "There's a certain marker that I have with a pen width that's perfect for me. I drew up the space with the simple geometry of an L-shaped wall on one side and a wiggly line on the other. I didn't have all the answers at that time. I just had this sketch and it sang to me."
To both define the plaza and block the wind, David developed a rammed earth L-shaped retaining wall. "It's an old technique that has an earthly, sedimentary feel," he says. On the other side of the plaza, the wiggly line evolved into a more natural landform: "I wanted it to look like a rock outcropping and an ecology of plants just flowing down into the plaza and exposing a cave entrance, the entrance to the wine cellar—almost like Roman ruins that you're excavating."
The blend of the two elements delivered the effect David was seeking. "The landform side is more feminine and the retaining wall is more masculine," he notes. "And the two together is what really makes the space magical."
Working with the conceit of a natural cave formation, David recognized the logical extension, adding a small waterfall cascading down a rock bed. "Even though it looks "natural," it truly isn't. It's meant to create a pleasing sound, and you can turn up the volume for parties or keep it to a trickle when you're reading the Sunday newspaper," David says.
Although the myriad of materials included quartzite, boulders and more modern colored concrete, David knew the plaza floor needed to be distinctive. The solution revealed itself in a storage yard in Redwood City. "We met this mason who collects all kinds of artifacts from France and Italy. We immediately fell in love with paving from a road in Provence, likely 200 to 300 years old," David shares. "It got a lot of wear, so it looks like these old stones that have been excavated up."
David describes the physical wine cellar as a rectangle with a vaulted arch: "It's truly an indoor-outdoor relationship, even though there isn't a window. You just open up the door and people flow back and forth between the wine cellar and plaza space." Although fine wine could be stored in the cellar's ambient temperature, the owner installed a separate cooling system with the capacity for about 2,000 bottles. "He wanted it to be the perfect 55 degrees, so it's behind glass on beautiful wine racks that he had custom-made out of redwood," David says. "He has a spreadsheet so he knows what wine he's going to be drinking until the day he's on the wrong side of the green."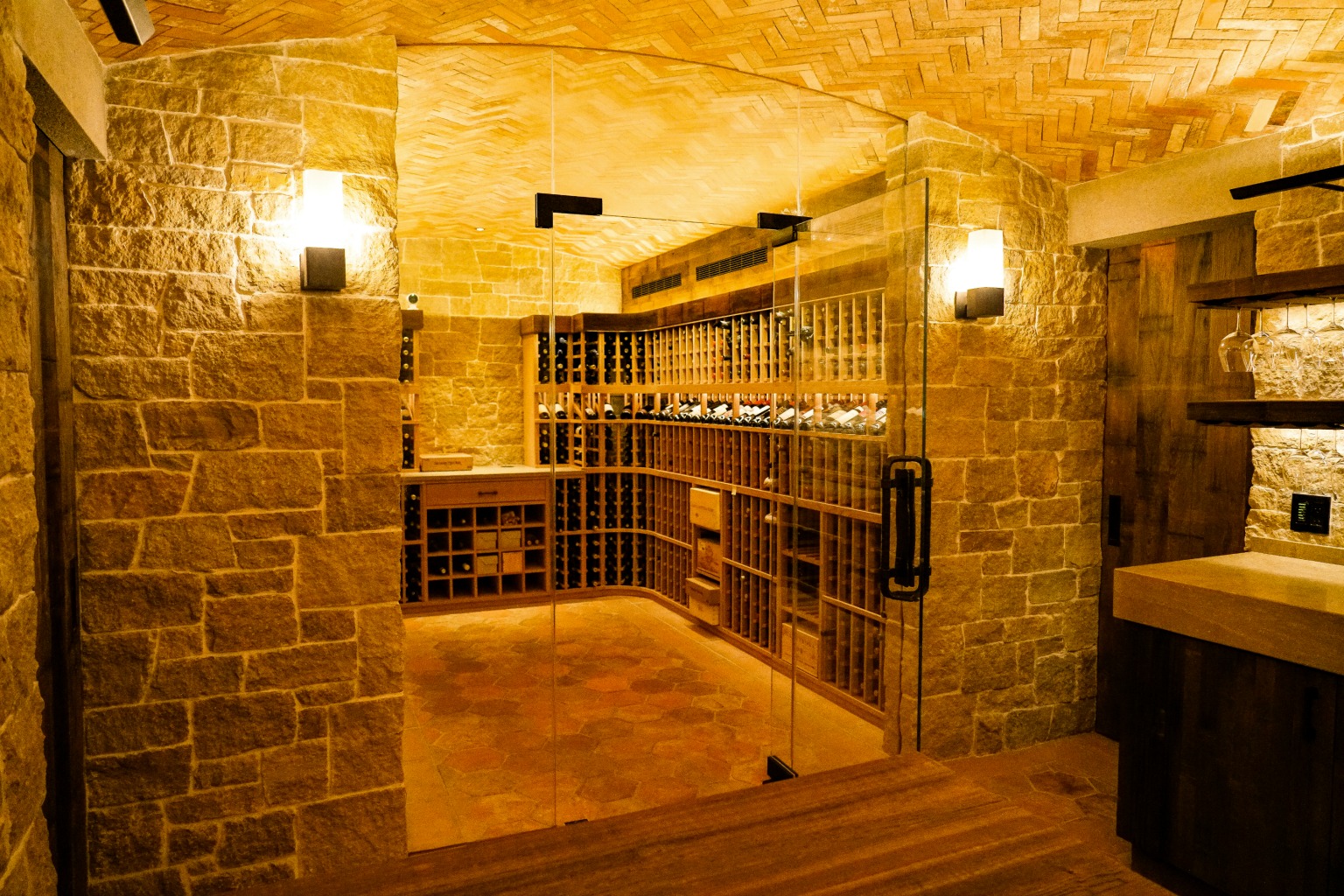 For the plantings, David collaborated with horticulturalist John Greenlee, guiding him to smother the top of the "cave" with plants year-round—and then extend his artistry throughout the site. "He's a genius who loves grasses and we wanted it to look like a meadow," David says. "The grasses are the main character in the movie, right? And then the supporting cast are all these beautiful little nuggets of color that come into play throughout the seasons."
In the end, all the different elements came together—including "the magical hole in the middle of the meadow," along with an outdoor kitchen and dining area, a bocce ball court and even a bistro table set amidst the grasses for enjoying a morning cappuccino. Looking out at the view, David emits a clearly contented sigh, "It truly is one of a kind. I don't know of anything like this that exists or that's even similar."
And while David has tackled about every kind of landscape architecture project in his career—ranging from residential to retail to resorts—he knows what he'd like to do next. "You know how all the rage was putting in home theaters? I'm hoping the next rage will be doing personal wine cellars outside of the house," he says. "I'm truly happy when I'm using the right side and left side of my brain, and I think this project, more than any other I've worked on, challenged me that way." paesaggio-la.com