Words by Kate Bradshaw
From the outside, the Bair Island Aquatic Center doesn't stand out much from the industrial marshlands of Redwood City. But pass through the center's nondescript gate and a sensory-packed world awaits. The rhythmic sound of oars dipping in and out of the water. The satisfying pull of muscles stretching to achieve. The visual splendor of a color-splashed sunrise on the bay. Here, people of all ages rise at the crack of dawn to experience camaraderie and competition, row on world-class waterways and even sight the occasional baby seal.
And Bair Island Aquatic Center welcomes newcomers.
"We cater to every level," says Sharon Wienbar, a longtime rower with the Center and board member of USRowing. "There are Olympians at our club and people who are holding an oar for the first time."
Bair Island puts its finest hospitality on display when hosting one of its biggest annual events: National Learn to Row Day. Visitors who sign up have the opportunity to learn the basic mechanics and lingo of rowing, and then venture out on a boat for about a half-hour—all for free. Staff and volunteers bustle around in green t-shirts, helping more than 80 people through their introductory sessions.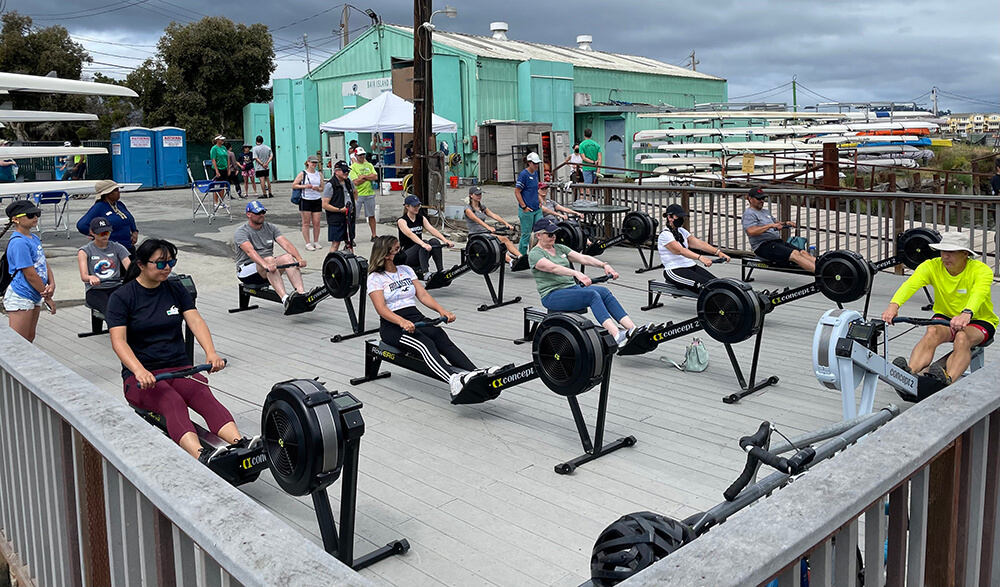 Photography: Courtesy of Vicky Bialas
Overlooking the water, "ergs," or rowing machines, line the aquatic center's deck. Here, instructors guide beginners through each step of a stroke (or pull) of an oar—from scrunching up in the "catch" position to the "finish" position, legs extended, bodies angled back, oars against the chest. Later, from a motorized boat on the water, coach Jana Comstock shares insights with her group of eight participants, most of whom are rowing for the first time. "As you may have noticed," she calls out, "rowing is hard."
For many, that's the appeal. At 48, Sharon launched her journey with the Bair Island Aquatic Center in a common way: with a Learn to Row class. The experience inspired her to join the club's novice team and then continue working her way up. In the process, she learned to become a morning person and harness her height for maximum pull on a rowing machine.
Twelve years after Sharon's first stroke in the water, she's won national championship races and competes as part of the club's coastal rowing team—an even more hard-core version of rowing that seeks out rougher offshore waters. (The sport will likely be added to the 2028 Olympics, and Bair Island Aquatic Center is a hub for it, she notes.)
Sharon has also built deep connections here, which she credits to a community of trust. "Rowers are generally good, clean-living people," she says. "If you're going to get up at four or five in the morning, you don't do crazy stuff. You're willing to work hard."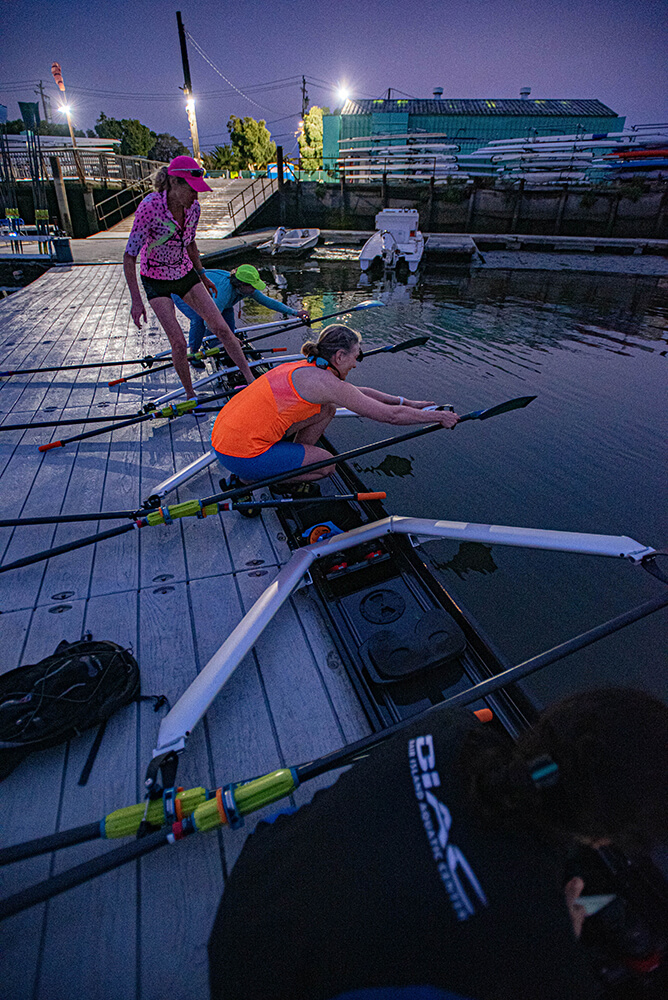 Over time, rowers progress from novice to open and then competitive teams. They build muscle memory—through hundreds, then thousands of repeated strokes—in order to pull, "feather" or twist their oars and drive the boat forward in synchrony with their boatmates.
According to Sharon, rowing is the ultimate team sport. "There's no heroic three-pointer at the buzzer," she points out. "What makes the boat run well is when everybody goes together."
Curiosity brings them in. Examples abound of people who choose to stay. Eileen Cheng, a volunteer at the center's Learn to Row Day, explains that she first heard about rowing from her boyfriend, a coxswain (the person in the bow of the boat who steers and commands the rowers) for the Center's competitive team. "I was hooked," Eileen says of her own first Learn to Row class. Now, she's captain of the center's novice team.
According to Chris Flynn, director of operations and head coach of the competitive masters team, the aquatic center is the Peninsula's largest rowing club and one of the few local places where the community can access aquatic sports. In addition to adaptive programs for visually impaired rowers and those with disabilities, the Center also offers youth club rowing, dragon boating, stand-up paddleboarding (SUP), outrigger canoeing and surfskiing.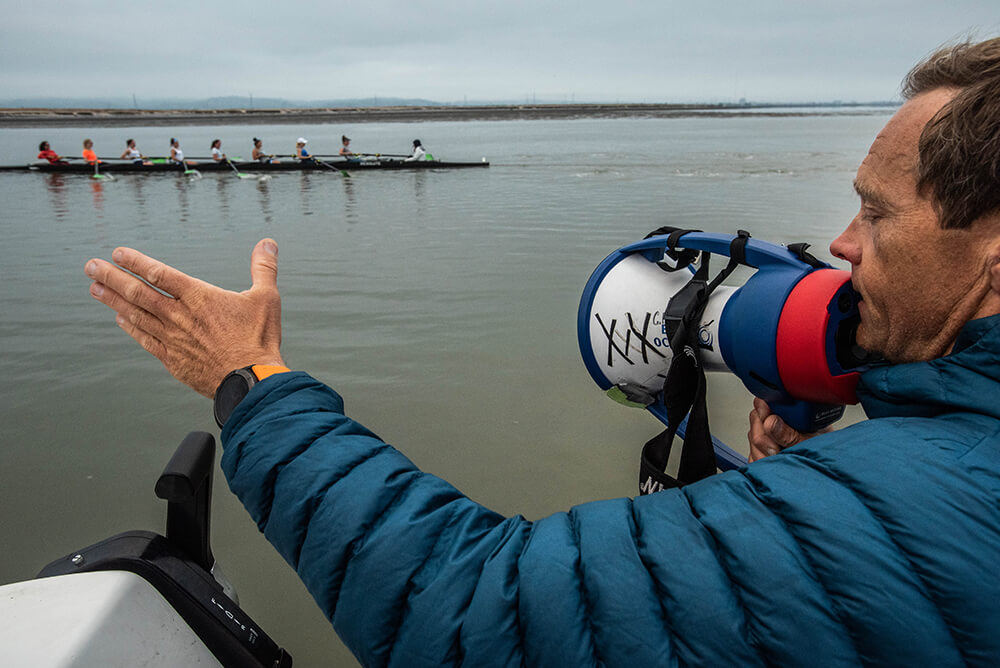 Another big incentive to get out on the water here: special access to Bair and Greco Islands, federally protected habitats where rowers spot harbor seal pups, birds, dolphins and whales. "It's an amazing place to row," observes rower and coach Vicky Bialas, who adds that the Peninsula rowing ecosystem also includes clubs such as Stanford Rowing, Redwood Scullers, Palo Alto Rowing and Menlo College.
For rower and former Australian resident Frances Rubinstein, the sport is beautiful, but mastering it is elusive. Newcomers shouldn't feel discouraged if they don't ace the techniques right away, she says. "Don't think you'll get the perfect stroke immediately. Most of us are still working on the best stroke."