words by Eva Barrows
"The trick with piping," Richard says to a small gathering in the Baking Arts kitchen as he applies fine icing details atop a bare ginger cookie snowflake, "is to start at the base, lift up and let the icing fall into place." He hands the bag of icing to me so I can try my hand at holiday cookie decorating. Richard's words replay in my head as I anchor a dot of icing on the snowflake while keeping even pressure at the bag's top, bringing it across the cookie while allowing the icing to flow from the tip to adhere lightly to the cookie's surface. 
"I did it!" I smile as I fill in the rest of the design with lines, arrows and dots. I compare my cookie to Richard's and notice it's a bit off. He points to where I've missed an arrow and two dots in the design. "Aha!" I say, filling in the spaces.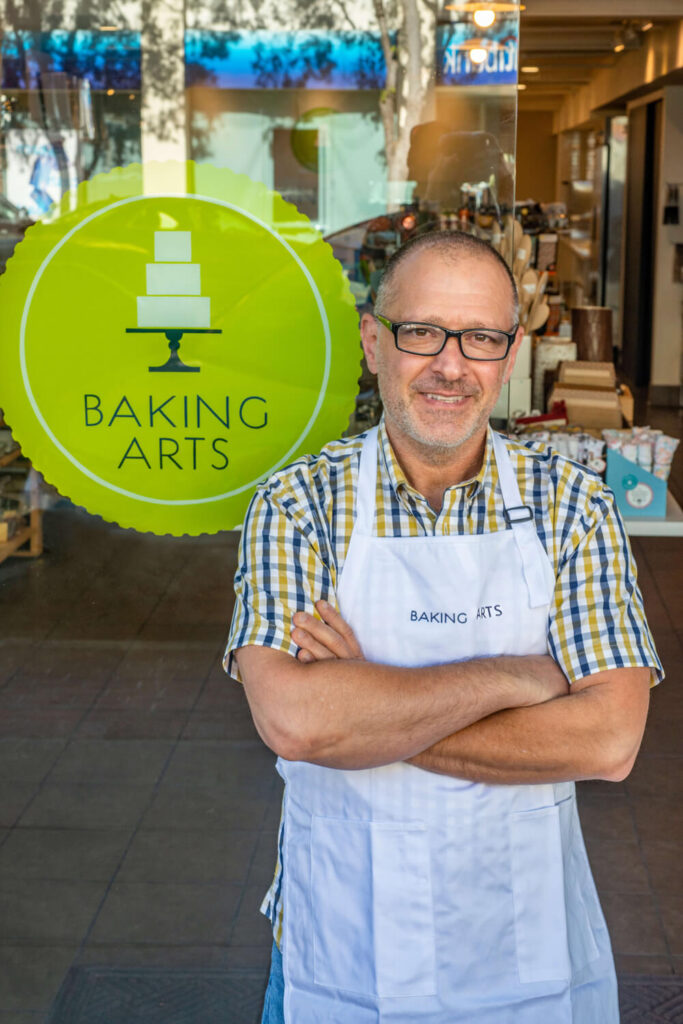 Richard Festen, chef and owner of Baking Arts culinary school and baking supply shop in downtown San Mateo, provides personalized hands-on instruction for anyone looking to improve their baking skills. Tucked behind the colorful retail front, the learning kitchen is furnished with standing-height wood-topped workstations, a purring double refrigerator and a spotless white marble countertop with a stainless steel sink. 
The idea for Baking Arts was sparked by Richard's disappointment in the classes he took where he worked as part of a group on a recipe but left feeling like he didn't learn anything. "For all my classes, people get to work individually and complete everything from start to finish on their own," he explains. "That way, we can ensure we're really teaching people something they'll be able to recreate when they get home."
In Baking Art's Holiday Cookie Tray class, students learn how to make and decorate a variety of goodies from scratch. A Baking Arts instructor leads the class in making Viennese and Linzer cookie dough, forming and baking the cookies and then filling them with raspberry jam or dipping them in tempered chocolate. At the "Special Occasion Cookie" class, students learn icing and decorating techniques to make festive cookies any time of the year.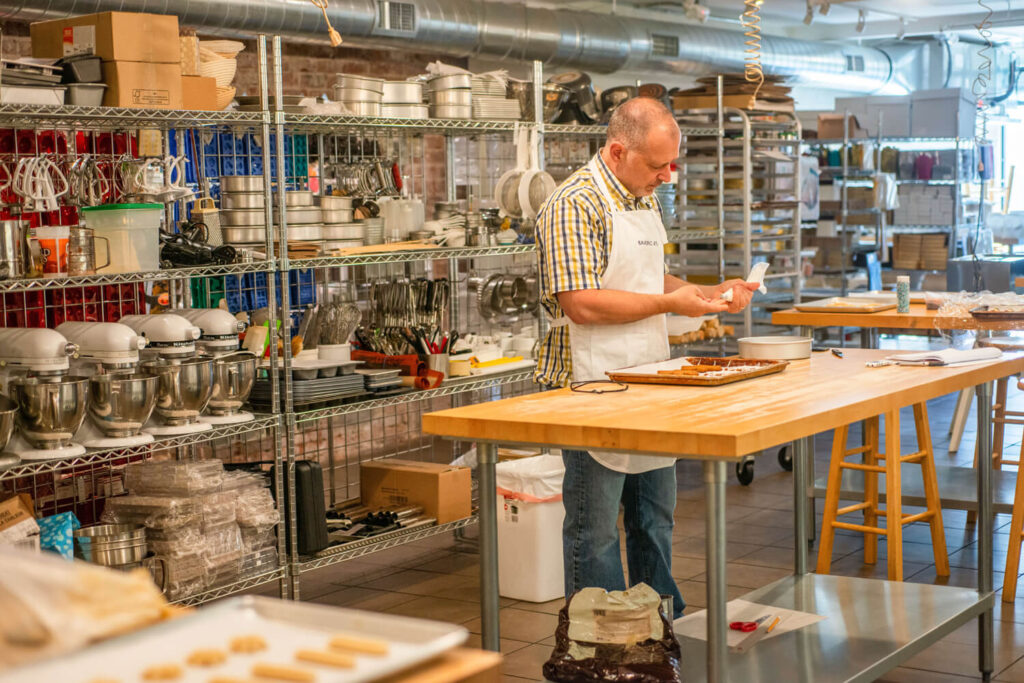 Students go home with their baked goods and descriptive recipes to help them recreate what they learned in class. Instructions for the Viennese Piped Biscuit say, "Look for a lump-free mix with the texture of soft hand lotion." Not exactly the wording you'd expect to find in a cookie recipe—Richard has a special knack for making it easily relatable. 
"When people leave us, and we're not standing with them baking, things will go a little awry," he observes. "We need to make sure a recipe is flexible enough so people are going to still be really successful, even if they're not doing it as precisely as we did it here in class."
Richard grew up loving baking. At ten years old, he shared his first efforts with his grandmother. "I watched her take a forkful of what I had made," he recollects fondly. "She just kind of rolled her eyes and oohed and aahed over it." Looking back, Richard thinks his grandma was a little dramatic with her appreciation of his baking. "But," he says, "that started me on my path."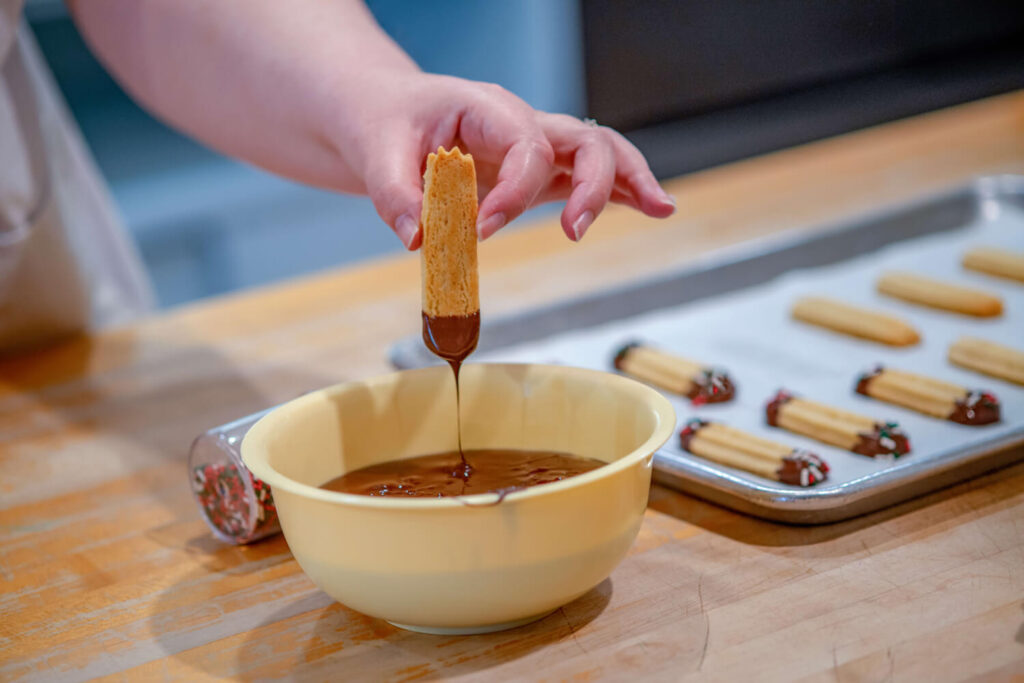 Before becoming a chef, Richard worked in biotech and lived overseas, but he never stopped baking. While living in England, Richard collected recipes from his friends and the people he worked with, looking for inspirational homemade recipes. On a business trip to the south of France, Richard stopped at a patisserie. "I pointed to these little pastries," he recalls. "And this lovely French lady told me I was purchasing mille-feuille. I took my little packages and ate them while looking over the water. It was just a transcendent experience." 
Those French pastries inspired Richard to take a year off from work and go to culinary school. He attended the California Culinary Academy's Baking and Pastry Arts Program in San Francisco, after which he founded Baking Arts. What started as private baking classes 20 years ago in a San Francisco loft has grown into a cooking school and retail store dedicated to baking, decorating and confectionary arts in downtown San Mateo. 
Baking Arts' colorful retail front has everything that new and experienced bakers need to feed their passion for baking—whether it's aprons, tea towels and pot holders or cake pans, ramekins and flour sifters. If gift-giving is in your holiday baking plans, you'll find cupcake kits, decorative sprinkles, along with festive cellophane baggies, patterned tins and cardboard boxes.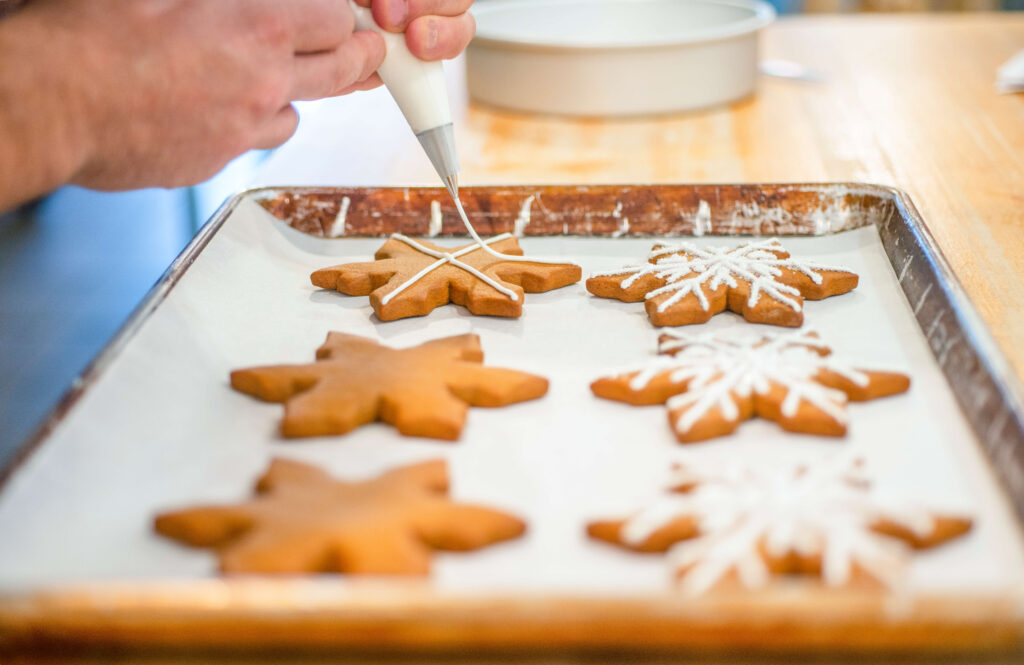 Richard's freshly-made baked goods are also available in limited supply. Most days, his decadent brownies are in stock along with whatever type of cookie he feels like making and always a selection of handmade candies like truffles and salted peanut rocky road. These expertly crafted morsels give the aspiring baker a taste of what's possible.
When Baking Arts doesn't carry a hard-to-find ingredient, Richard can often suggest a different approach. "We've been baking for a long time," he notes, "and we can give them substitutions we know from experience actually work." But on rare occasions, there's no alternative, and Richard advises against making the recipe: "You don't want people to end up with a disaster."
The online schedule of Baking Arts classes is filled with mouthwatering sessions: Neapolitan-style pizza, French Macarons, Kouign Amann and combos like Pies & Pie Dough, Toffee & Brittles and Biscuits & Scones. Savvy students know to plan ahead as classes fill up quickly. Difficulty levels of baked goods range, but Richard and his instructors supply all the support needed to succeed. "Our fundamental focus is teaching people how to make really, really good food, using simple ingredients with the equipment they have at home," he says. "If we can just inject really good technique and a little know-how, it's amazing what we can accomplish."