Words by Sheri Baer
Call it rock 'n' roll kismet. The setting: a Grammys-themed school fundraiser in 2006. Karaoke is the main event, and a Menlo Park dad dressed like Tom Petty steps up to the mic. "This guy in a top hat and tails is belting out these songs and I'm like… oh my gosh!" recounts Rich Johnson, who had coincidentally shown up as Tom Petty's Traveling Wilburys bandmate Bob Dylan. As it turns out, the standout vocalist is Rich's Menlo Park neighbor, Jeff Bird.
For Rich, it was akin to Simon Cowell spotting the X-Factor. "Guys, guys, look what I found!" the bass guitar player raved to Rod Scherba, Allen Weiner and Roger Inman. After connecting over a shared passion for music on the sidelines of a CYSA soccer game in 2004, the group had been regularly jamming in garages. They successfully recruited Jeff (lead singer and guitar), who later looped in another neighbor, Scott Wachhorst, for keyboards and vocals. "We knew then that we had the pieces we needed to form a band," notes Rod. "It was never for profit," emphasizes Jeff. "It was mostly to be around friends—so fun, friends and philanthropy."
And that's been the ethos of The Members, Menlo Park's now-legendary rock 'n' roll cover band, since the start.
Musically-inclined Menlo Park dads—that's the common thread. Professionally, they run the gamut with titles like neurosurgeon, law professor, commercial real estate developer and biotech VC. While juggling young kids and demanding careers, they met up for chilly late-night garage practices—grateful for supportive wives. "It was frenetic, there was always something going on, right?" remembers Allen, who learned to play a drum kit in junior high. "I'd be having a stressful day, and I'd often stop and think, 'Oh, is tonight band night?' If it was band night, you knew you'd get to hang out with your mates, act a little juvenile in a way that you don't get to in your day job and do something that you really love—make music."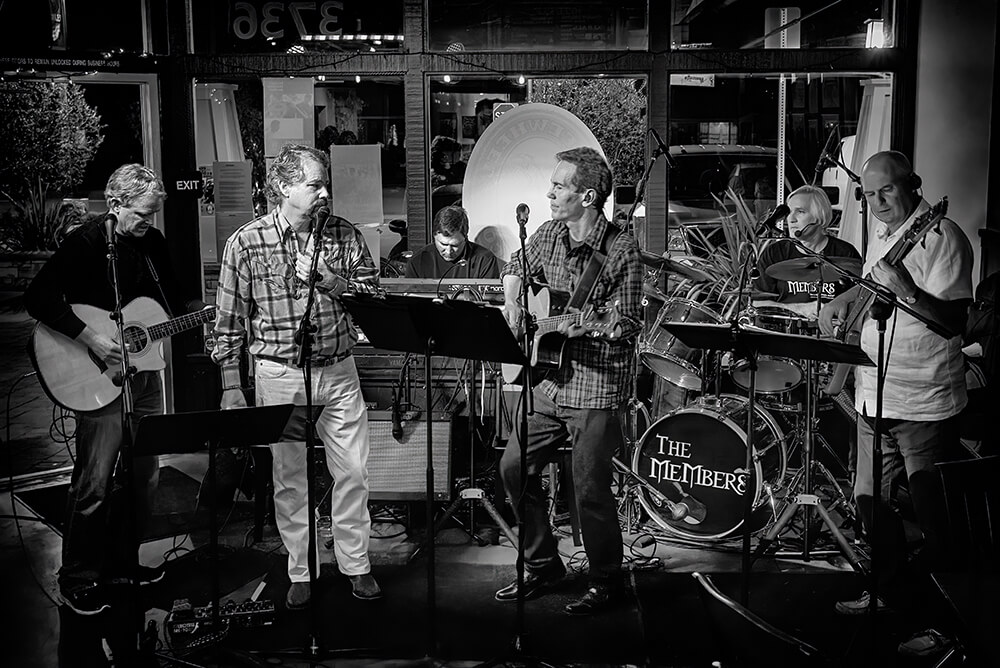 Since their official debut at an elementary school picnic, The Members have gone on to master a repertoire of more than 300 songs. They've taken the stage at local venues like Pioneer Inn, Freewheel Brewing Company, Club Fox and Menlo Park's latest live performance space, The Guild. Always a popular draw, they've raised hundreds of thousands of dollars through school and community fundraising events.
As gig followed gig, the dad band watched their collective gaggle of kids progress from learning to read to leaving for college and beyond. They marked milestone birthdays and graduations together. And then, one huge, heartbreaking loss: the death of their bandmate, Roger Inman, from diabetes complications in 2020. An audio business executive, Roger not only contributed rhythm guitar, percussion and vocals, he also equipped the garage band to deliver professional-quality sound. "The reason The Members exist is because Roger Inman deemed it so," reflects Rich. "Losing Roger was like losing a family member," shares Scott. "We think of him every time we play."
At a recent performance at The Guild to benefit the Ravenswood Education Foundation, blue, purple and magenta spotlights illuminate the stage. Jeff's clear voice carries out over the crowd, "She's got a ticket to ride, She's got a ticket to r-i–i–ide but she don't care…" as the rest of The Members chime in, "My baby don't care… My baby don't care…" to wrap up the familiar Beatles hit. "That's an original song," Jeff quips with an impish grin, after the applause settles. "I'm glad you like that. We've got more sing-alongs tonight."
While they occasionally quibble about song selection, The Members all agree on the genre: classic and current rock 'n' roll. Van Morrison. Green Day. The Eagles. Elton John. The Rolling Stones.Counting Crows. Tom Petty. "We started out playing the music that we had grown up with and that we'd listened to and that we loved," explains Allen. "We also like John Mayer, Train—more contemporary songs—because they're a little more technical and you can play with them," continues Jeff. "And you get a real buzz when you get it right, 'Wow, that just felt fabulous!'"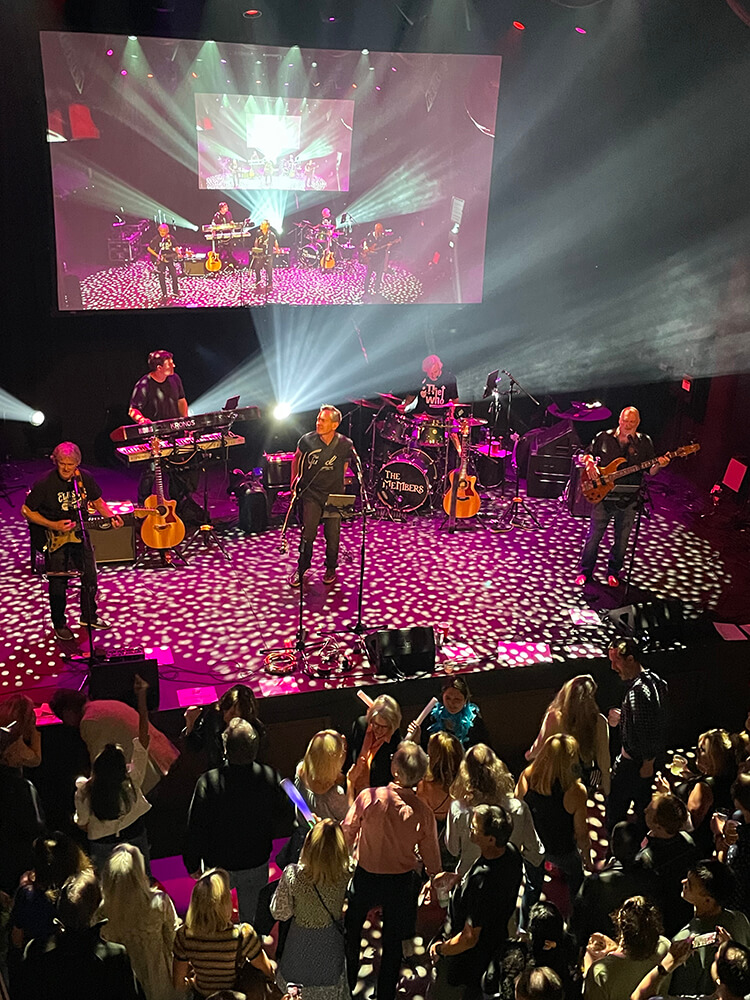 As a cover band, The Members say they strive for a high degree of fidelity to the original, although they'll look for ways to add subtle personal touches. "We want people to feel, 'That's a song I know and I like that song,'" says Allen. "Our theory is that it makes people think of times when they were partying and maybe it makes them want to dance."
That's certainly the case at The Guild, where the dance floor is packed—bodies swaying, arms waving—as the set list unfolds in a back-to-back sequence of crowd-pleasing favorites. "I absolutely love it when the whole band is clicking," describes Rod, who plays lead guitar. "Allen's laying down the beat and holding us together. Everybody is singing—Jeff, Rich and Scott have got their beautiful harmonies going—and I can lay down a tasty solo."
That communal buzz ratchets even higher every October 31, when The Members play their signature Halloween Block Party. What began as a simple offering for the neighborhood kids evolved into an epic "everyone is welcome" event drawing hundreds of neighbors and friends. Set up in Rich's West Menlo garage (decked out like a haunted castle), they play in costumes—the Warriors, Ted Lasso, even Boris Johnson—amid hay bales, pumpkins, kegs of beer and homemade pizzas, for five-plus rockin' hours.
When the house directly across the street sold, "We were in the disclosure package," smirks Rich. "They had to acknowledge that they knew there was a big block party there. When you're in the land registry, you know you've made it. We've left our mark."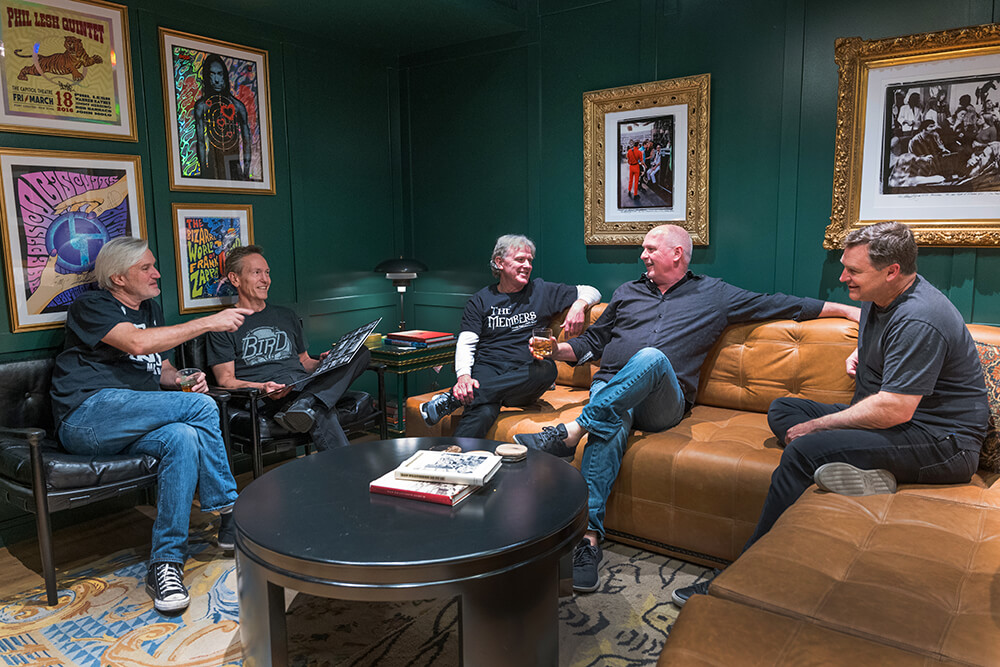 Having become bandmates in their early 40s and 50s, The Members now tally their ages as late 50s and 60s. (Jeff's 60th celebration included a Tahoe performance at Sugar Bowl.) "We cherish each time we're able to play at a venue, and even the times we just practice in the garage," sums up Scott.
How long can they keep it going? "I get a kick out of seeing people like Lyle Lovett tour or when The Stones or Springsteen play," observes Allen. "You can play music for a really long time."
Back on stage, to the accompaniment of hands clapping and feet stomping, The Members break into the chorus of "Drift Away," singing, "Give me the beat, boys, and free my soul, I wanna get lost in your rock 'n' roll…"