Did you know that you can walk or cycle around the entire San Francisco Bay? Well, not quite all around yet. Currently, 350 miles of the Bay Trail are completed out of an eventual 500, which will pass through 9 counties and 47 cities across 7 toll bridges.
Four segments of the Bay Trail, which is celebrating its 30th anniversary this year, are here on the Peninsula, stretching from the Brisbane Lagoon to Mountain View. But in a sampling of our fellow Bay Trail walkers, most people seem to stick to the portion of the Trail that's closest to their home geographically. We think they're missing out.
Venturing to segments a bit further afield, you'll discover the Bay's rich historical past, walking or cycling through a variety of landscapes, most with spectacular views. And you just may stumble upon some new and delicious eating spots.
NOTE: We walked these segments. Cyclists can cover much more ground. The BayTrail.org website offers bicycling route suggestions.
Byxbee Park up and around Baylands Nature Preserve (Palo Alto)
4 miles
If Seal Point and its art is our new discovery, the sculpted earth and conceptual art at Byxbee Park and the Baylands trails are very familiar, as these parks often default as our 'go-to' place.
We usually aim for a four-mile loop, hiking up, down and around the crushed oyster pathways, keeping to the higher trails. And while you can't really get lost, given the location by the Bay, it's easy to get on a trail that takes you the "wrong way," meaning not where you intended to go. Snap a photo of the map located near the restrooms to help navigate the winding paths, or download one from the Baylands website before you head out.
The ambitious can add a lot more mileage; there are a total of 15 miles of trails in Baylands, covering almost 2,000 acres of mostly marshland. note: The trail around the perimeter of Baylands is dirt, which quickly turns to mud after heavy rain.
BONUS: These parks are perfect for general aviation enthusiasts as you can watch small planes and helicopters as they head to the Palo Alto airport to land.
Keeping with the aviation theme, head to the Abundant Air Cafe, located at the Palo Alto Airport (1901 Embarcadero Road #103). Felipe's Famous Fiesta Chicken Salad with its "highly secret fiesta sauce" has been a long-time favorite.
Sierra Point to Oyster Point (Brisbane)
8 miles out & back 
NOTE: There's some interesting Bay history on this paved path between these two Points.
The area around Oyster Point once was the home of a thriving oyster fishery, which flourished from the late 1800s until the early 20th century. As the population grew in the surrounding area, so did the pollution in the Bay, which adversely affected the oysters. By the 1920s, the local oyster population in the Bay was in decline, with farming moved to more northern counties.
Oyster Cove took on a decidedly different look during World War II. Today, it's easy to spot where 48 Liberty Ships were built. The purpose of the "ugly ducklings," as the cargo ships were called, was to supply the Allied Forces with food and supplies. A historical plaque in the area notes that they had to be launched sideways due to the channel's narrowness.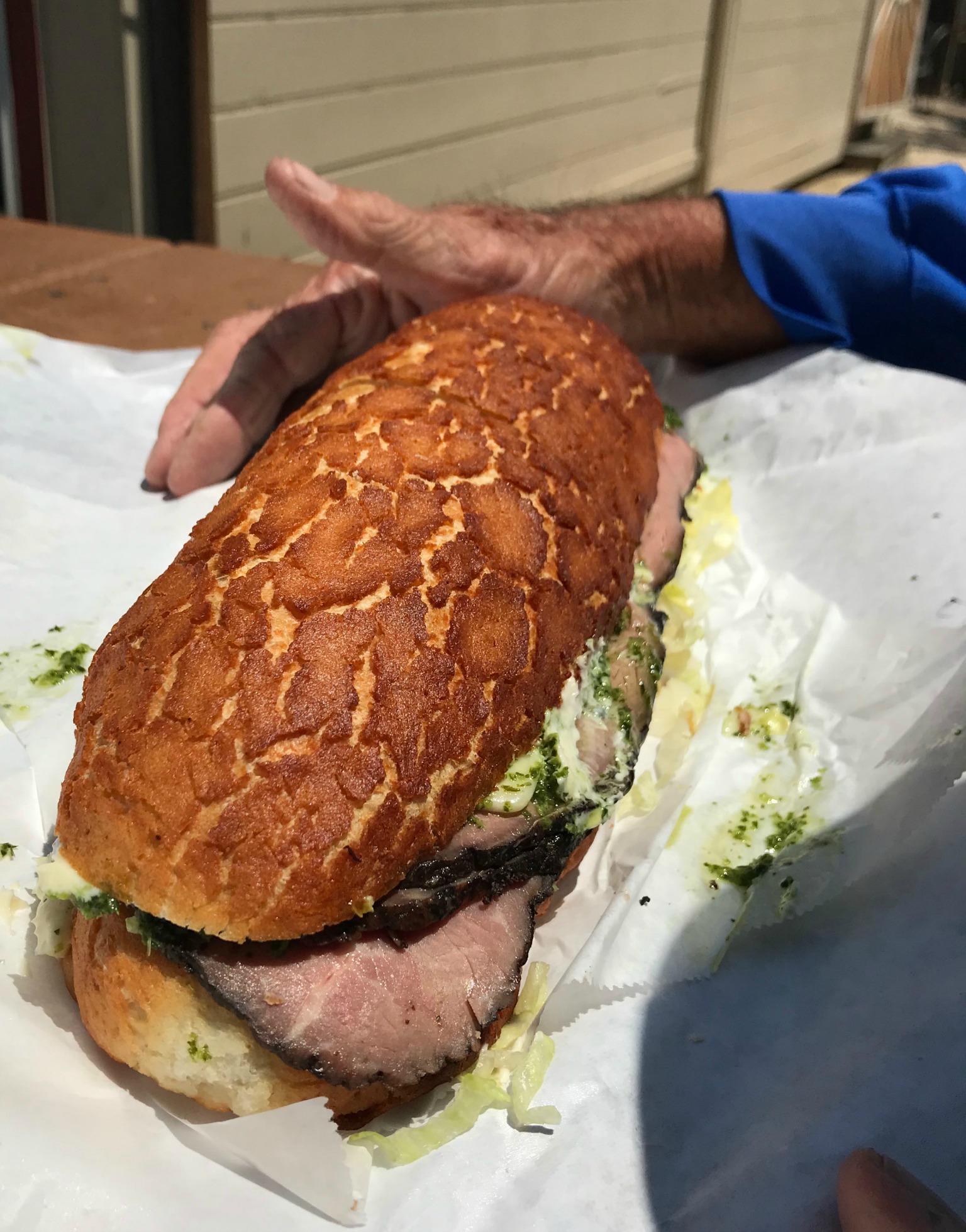 An eight-mile outing works up an appetite, so a stop at Little Lucca in South San Francisco (724 El Camino Real), for what many people believe are the best sandwiches on the Peninsula, is always in order. Expect a line, so patience is required, but the garlic sauce is famously good and the sandwiches are huge!
Fisherman's Park (Burlingame) to Coyote Point (San Mateo)
4 miles
NOTE: A bonus loop around Coyote Point is this segment's added attraction.
Starting at Fisherman's Park, there's a long open stretch, marked Promenade Trail by the County of San Mateo.
This area was once the site of a big amusement park called Pacific City, which lasted only a year, from 1922 to 1923. It featured a fierce roller coaster and a huge ferris wheel, but according to a historical marker, people were put off by the smell of sewage (being dumped into the Bay in those days) and the winds.
To enjoy the 670-acre Coyote Point Recreation Area, continue on the Bluff Trail, which takes you up and around the Bay side of this pretty park. Kids enjoy the Magic Mountain playground and the CuriOdyssey Museum, the latter of which gets very busy on weekends.
You'll descend next to a little marina before picking up the actual Bay Trail, which passes through a large eucalyptus grove adjacent to the Poplar Creek Golf Course. Return along the flat stretch to Fisherman's Park.
New this year at Coyote Point—seven fitness stations along the Bay Trail. All stations accommodate more than one person, except for a single-user rowing machine, so you can pause for some strengthening work with your walking companion.
A favorite local eatery nearby is Nini's Coffee Shop (1000 N Idaho Street, San Mateo). Tucked away in a residential neighborhood, it serves yummy breakfasts and lunches with indoor and pet-friendly outdoor seating.
Bayside Joinville Park up and around Seal Point Park (San Mateo)
4 miles
Discovering these adjacent Shoreline Parks along the Bay Trail, we could only think, "Why didn't we know about this?" This being the very cool Seal Point Park, a former landfill, that's now home to a collection of public art.
This is also good bird-watching territory. You can walk the boardwalk along the Bay Marshes where you might spot the endangered California Clapper Rail.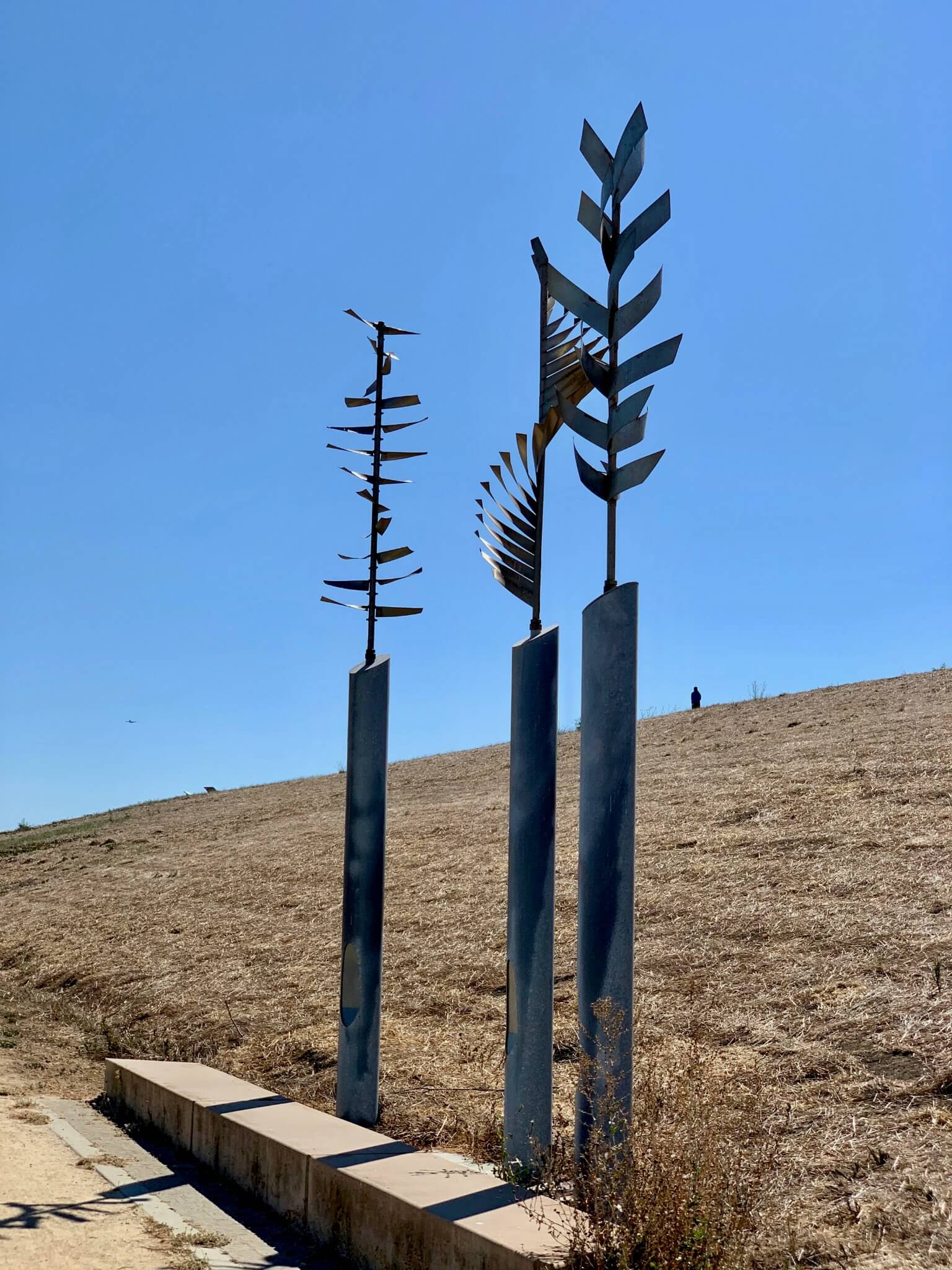 The Seal Point Plateau advertises a "wind walk," with the art installations engaging with the wind in various ways. There's also a three-acre off-leash dog park.
We parked near Bayside Joinville Park, crossing J Hart Clinton Drive to get to the Bay Trail leading to Seal Point and then Ryder Park. There are various loops you can take up and around Seal Point before heading back to the parking area.
As with Coyote Point, Nini's is the best dining option.
good to know
+ Retail shops to buy Bay Trail maps are listed on baytrail.org
+ Except for dirt pathways on the Baylands perimeter trail, the four segments highlighted are either paved paths or crushed oyster, making them good for outings even in rainy weather
+ These segments all allow leashed dogs
+ Ample free parking, making for longer or shorter out and back. Again, see baytrail.org
+ Restrooms at adjacent hotels in northern segments of Bay Trail and at Coyote Point, Seal Point dog park and Byxbee Park