Words by Johanna Harlow
As the weather starts to cool down, warm things up with high tea.
son and garden
Menlo Park
When visiting Son and Garden, expect flowers absolutely everywhere. Rosebuds on the fine china. Carnations on the danishes. Hyacinths beneath the awning of the wraparound porch. Blooming flower tea. And an entire photo op wall of silk roses. With a tea service as aesthetic as it is tasty, a wide selection of sweet pastries and savory sandwiches await. Seasonal autumn options mean that maple cakes, pecan nut tarts and carrot cakes will adorn your triple-tier stand. Doubling as a popular brunch spot, Son and Garden invites you back for decadent French toast filled with vanilla pastry cream and a flight of mimosas in multi-colored pipettes. 1195 Merrill Street. Open Monday to Sunday from 9AM to 3PM. High tea is $110 for two people.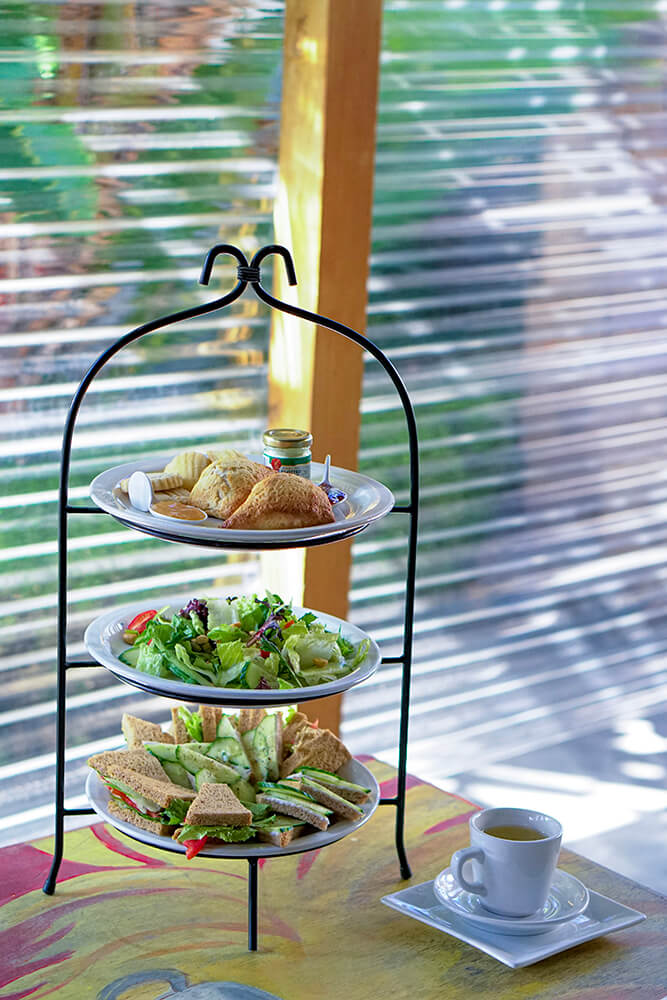 leland tea company
Burlingame
Immerse yourself in vintage nostalgia at Leland Tea Company—where hand-painted folks from the '30s and '40s galavant on the walls, tables and counters, and Louis Armstrong's trumpet plays the bright notes of "La Vie en Rose" in the background. Tea service offerings balance salad and sandwiches with homemade madeleines, scones and cookies—but most impressive is the loose-leaf tea menu. It's as chunky as a novelette and ranges from Breakfast Club to Coco Blanc, Mandarin Green to Mumbai Chai. Narrow down your options by asking the owner (who has a flair for suggesting flavor profiles) or embrace the shop's vintage vibe with a themed tea. You'll find ones named after classy old films like My Fair Lady and It's a Wonderful Life as well as iconic singers like Billie Holiday, Josephine Baker, and Ginger Rogers. There's even a cheekily-named Grey's Kelly. 1223 Donnelly Avenue. Open Wednesday to Sunday from noon to 5PM. Closed Monday and Tuesday except for reserved events. High tea starts at $19.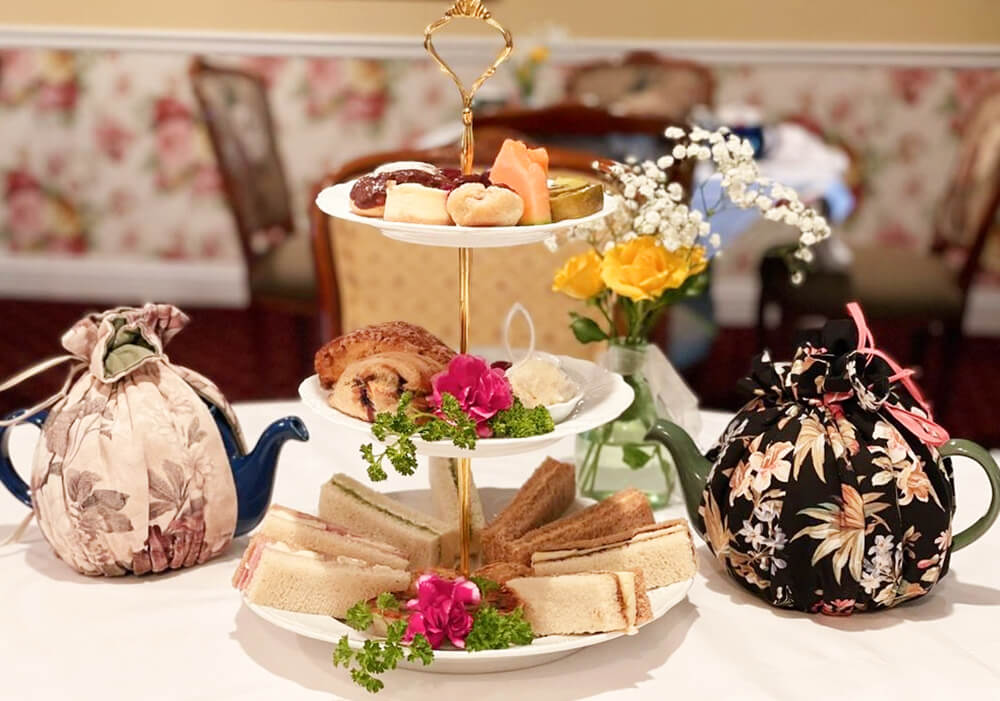 tea time
Palo Alto
For a perfectly lazy afternoon, we suggest sipping a cup of Caribbean Jazz or Casablanca Chamomile while lounging in wicker chairs on the umbrella-lined patio of Tea Time. Owned by the same folks as Lisa's Tea Treasures in Los Altos, Tea Time takes pride in the details by dusting desserts with powdered sugar, doling out lace doilies and bundling teapots in cute tea cozies. Catering to both the sweet tooth and the savory seeker, the cafe offers chicken-apple-walnut sandwiches and vegetarian tartlets as well as cinnamon and cranberry scones. And if your visit inspires you to host your own tea party in the future? Purchase a teapot and cups from the shelves upon shelves displayed inside. 542 Ramona Street. Open Thursday to Monday from 10:30AM to 4:30PM. Closed Tuesday and Wednesday. High tea is $45 per person.