Words by Johanna Harlow
If the way to the heart is through the stomach, woo your date with these romantic restaurants.
porta blu
Menlo Park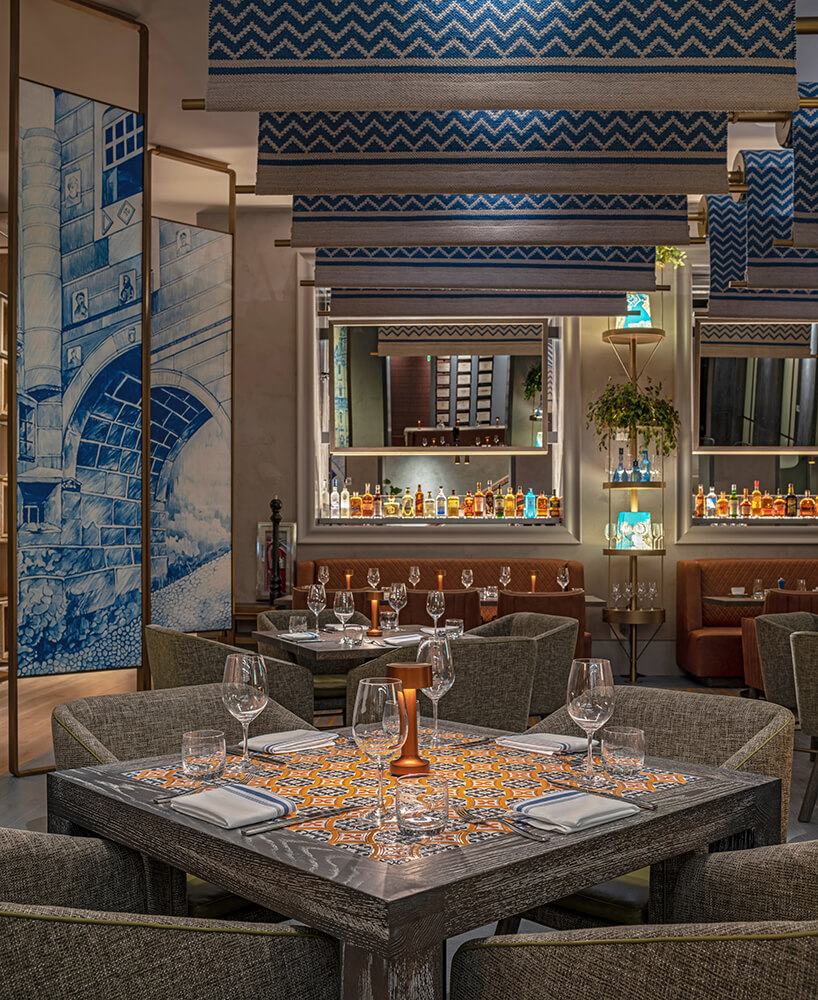 Sure, nothing beats an idyllic trip overseas, but Porta Blu is the next best thing. Upon entry, this coastal Mediterranean restaurant sets the scene straight away with striking floor-to-ceiling depictions of European streets. Further enhancing the atmosphere: a palette of soft, sophisticated neutral colors and striking gold and blue accents. With Spanish, French and Italian ingredients and an emphasis on sea-centric dishes, the restaurant serves up Dungeness crab, prawns and sea bass. For land lovers, the kitchen offers wood-fired flatbreads and ribeye. Conveniently located within the wonderfully boutique Hotel Nia, feel free to make a night of it and book a room. 200 Independence Drive (Lobby Level). Open daily from 6AM to 2PM and 4PM to 9PM.
rocca
Burlingame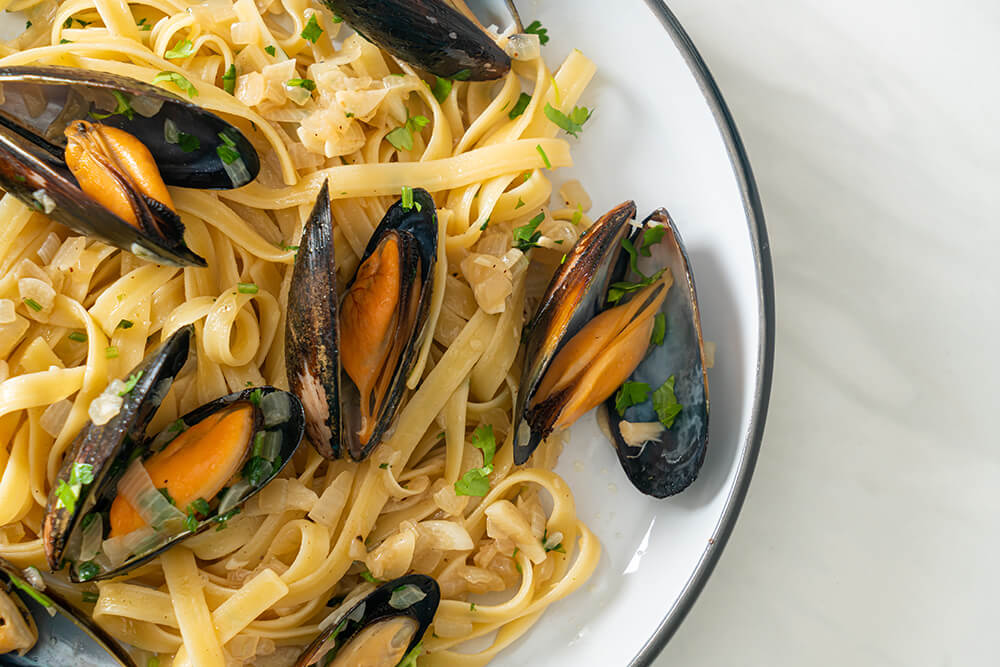 Is there anything quite so romantic as Italy, home of Venus and Saint Valentine? Wine and dine your date at Northern Italian restaurant Rocca. After the rosemary-speckled focaccia bread, consider some rotellini di melazane appetizers (oven-baked eggplant rolls stuffed with marinara and cream sauce, ricotta cheese and roasted garlic). As for a main dish to share with your main squeeze? Feed your date bites of the farfalle gratinate—butterfly pasta adorned with porcini mushrooms, prosciutto, chicken and decadent cream. Like Rocca's other noodle dishes, this one contains house-made pasta. Your special someone will be further impressed by the decor: fleur-de-lis ceiling tiles, a mural of the Italian countryside, table candles and balcony seating. That's amore! 1205 Broadway. Open Sunday from 4PM to 9:30PM. Monday through Saturday from 11AM to 2PM and from 5PM to 10PM.
rooh
Palo Alto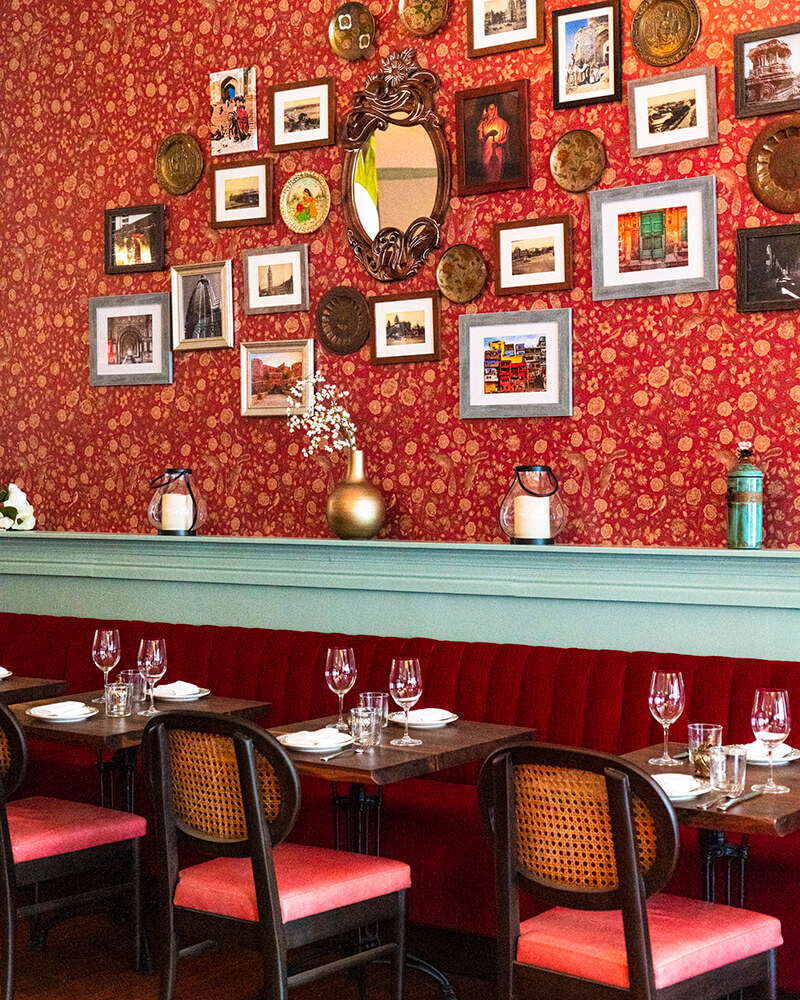 For a place that puts as much care into dressing up your plate as you put into selecting your date night outfit, try ROOH, a progressive Indian restaurant that champions traditional flavors. Spice things up with an order of chili rolls, then partake in well-loved dishes like the chicken malai tikka (blanketed in a creamy sauce with a dusting of pistachio dukkah) and the prawn ghee roast (tossed in byadgi chili paste masala and topped with pickled ginger and a crispy thatch of vermicelli noodles). ROOH matches artful food with stunning mixology. The blush-colored Goa Cooler with pisco and Pimm's is a prime example; pop the cream-colored bubble on top and watch dry ice smoke spill over its sides. As for the ambiance? Velvet green chairs and a brilliant red chandelier bring bold splashes of color to the room. 473 University Avenue. Open Monday through Thursday from 5PM to 9:30PM. Friday from 5:30PM to 10:30PM. Saturday from 11:30AM to 2PM and 5:30PM to 10:30PM. Sunday from 11:30AM to 2PM and 5PM to 9:30PM.