Words by Emily Mcnally
Although I've lived in Half Moon Bay, just down the street from Poplar Beach, for the last eight years, I'm barely considered a local in a town where families mark time in generations. But beaches have become part of my daily routine. I've learned whom to call when I find a beached seal (the Marine Mammal Center), how to spot a whale (look for flocks of seabirds over the ocean) and when to schedule our next boogie board or tidepool excursion (tide-forecast.com). The San Mateo Coast gladly welcomes visitors from all over the world to this unique stretch of sandy beaches, forested bluffs and rolling, green farmland. The ocean here is unpredictable and potentially dangerous, so always check safety conditions—riptides, waves and bacteria levels—before entering the water. What follows are highlights from some of my favorite spots (along with tips from other locals), but the mercurial coast is most rewarding when you're open to what it presents at any given moment. A gusty day provides the thrill of frothing waves crashing over rocky outcroppings. A perfect calm interrupted by low-flying pelicans or the barking of distant sea lions crystallizes a memory. Unexpected delight is always more rewarding than any plan could possibly be.
Bean Hollow State Beach
Highway 1 (17 miles south of Highway 92)
Great for: tidepooling, wildlife, nature walks, romantic sunset viewing, leashed dogs
Amenities: small parking lot, portable toilets, picnic tables
Bean Hollow is made up of two small cove beaches that include Pebble Beach to the north and Bean Hollow to the south. They are connected above by a trail through coastal vegetation or by rock scrambling (preferred by many a kid) below. From above, enjoy the trails from which you can view groups of seals on the rocky outcroppings and rugged native plant life like yellow bush lupine, lizard tails and seaside daisies. From below, relish the seclusion of the sheltered beach while you watch the drama of the crashing waves. The tidepooling at Bean Hollow is excellent, allowing up-close-and-personal encounters with anemone, crabs and sea stars. Arcangeli Grocery Co. in Pescadero has all manner of picnic supplies, including deli sandwiches and addictive, freshly-made artichoke bread. Bean Hollow is a great spot for kids, but it may be best enjoyed as a romantic spot to cuddle up with a blanket in a cozy cove and watch the sun set.
"I love Bean Hollow for the sheltered beaches. It's a great place for a romantic stroll at sunset." – John McNally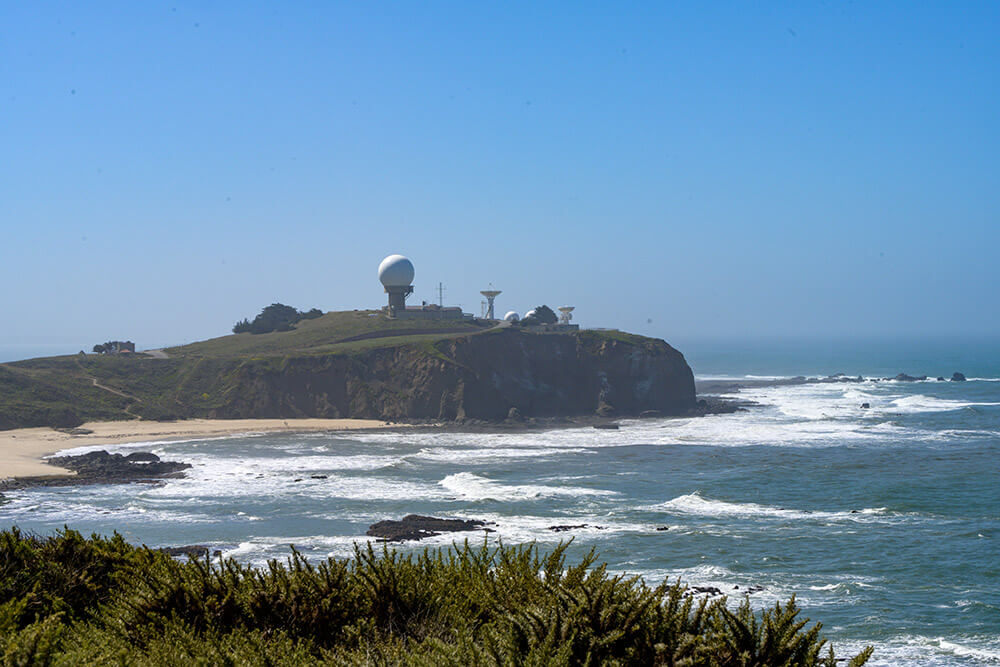 Mavericks Beach
West Point Avenue, Half Moon Bay (5 miles north of Highway 92)
Great for: tidepooling, dogs, ocean views, expert surfing and spectating
Amenities: restrooms, free parking, trails
Located at the southern point of Pillar Point Harbor Beach is magical Mavericks, named for the famous big wave surf competition held between November and March when conditions permit. Because of the stretch of rock formations under the water, this is also a great spot to view a wide swath of creatures and plants in the intertidal zone. The beach isn't large, but the views of crashing waves, sheltered by high bluffs, never disappoint. On the walk from the free dirt parking lot, nesting herons and egrets can be seen in the spring. I routinely visit this beach when I need to be reminded about how epic coastal beauty can be. Leashed dogs are permitted here and it's a favorite spot of mine for an early morning walk with our family pup, Athena.
"I love Roosevelt Beach because it's peaceful. Some beaches have powerful crashing waves, but at Roosevelt the waves are relaxing. My daughters love roaming around the little cliffs (mom-approved) and jumping off them." – Rebecca Goodell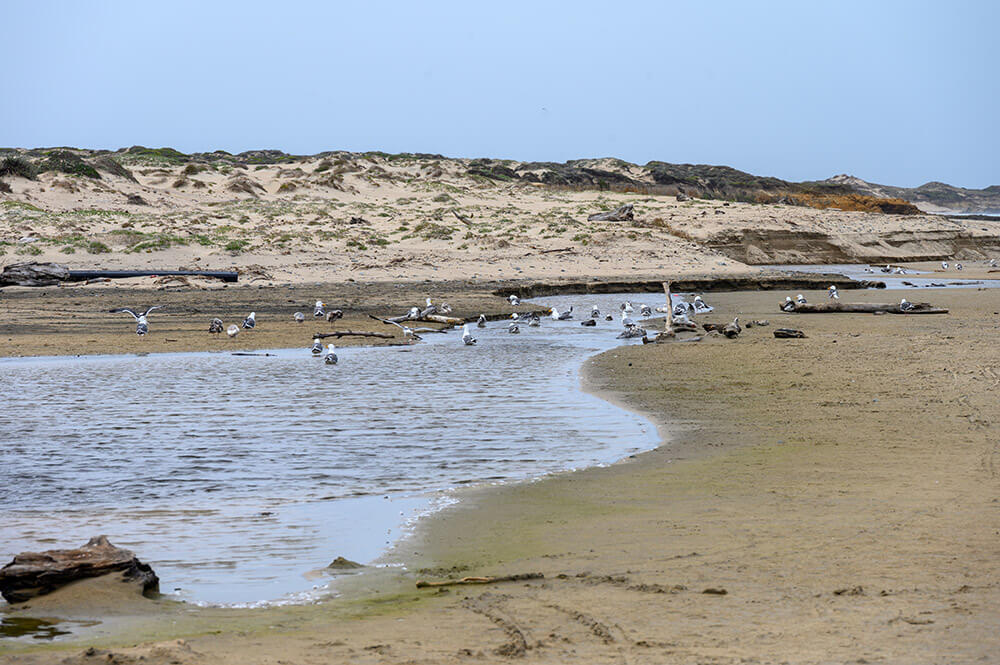 Gazos Creek State Beach
Highway 1 (23 miles south
of Highway 92)
Great for: beach hikes, birding, tidepooling
Amenities: free parking, restrooms
This wide, windswept beach brings the drama. With the picturesque Pigeon Point Lighthouse to the north and a creek running through it to the south, you can literally walk for miles. Birds shelter and breed near the pooling water of the creek flowing to the ocean, so snowy plover, gulls, migrating sparrows and low-flying pelicans can be counted on to make an appearance. This beach is not necessarily pretty in the traditional sense of the word and the surf here is notoriously rough, so don't turn your back, but sometimes a wild, windy walk is exactly what you need to clear your head and open your heart. Highway 1 Brewing Company, along with a gas station, is located across from the parking lot, so you can fill your tank and your belly in one fell swoop.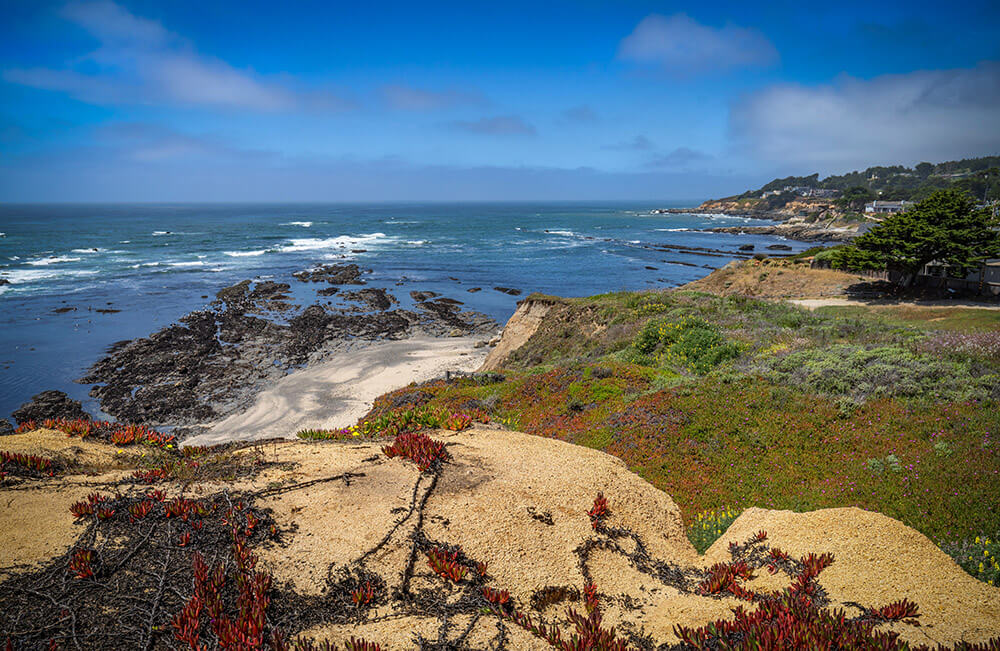 Fitzgerald Marine Reserve
200 Nevada Street, Moss Beach (6.5 miles north of Highway 92)
Great for: naturalists, kids, tidepooling, hikers
Amenities: restrooms, a limited parking lot and picnic area, a small educational visitors center
When my kids were little, I took them to this tranquil, tucked-away beach almost every week. From the fairy forest of soaring cypress and eucalyptus trees on the bluffs, you can watch the antics of a large population of harbor seals. The extensive and excellent tidepooling here is not to be missed, with sea stars, sponges, mollusks, crabs and even the occasional octopus all representing. It's not surprising that Fitzgerald is recognized as one of the best marine habitats in Northern California. Routinely manned by rangers, this is a wonderful place to really dig into the flora and fauna and learn about everything from the life cycle of a mollusk to the fragile ecosystem of the surrounding marshlands.
"I love Montara State Beach for the picturesque mountains, the sand, the crashing waves! It's so beautiful. I love beach glass and occasionally you might see a few good pieces there too. Honestly, the prettiest and cleanest beach for miles." – Christina Frediani
Poplar Beach
At the end of Poplar Street in Half Moon Bay (1.5 miles south of Highway 92)
Great for: gatherings, hikers, birding, leashed dogs, horses
Amenities: parking lot ($10 per day), portable toilets
When I see the triangle of cypress trees framing the place where sea meets sky, I know I'm home. Poplar is a wide, long beach, which extends from Half Moon Bay State Beach to the north to the southern rocky point where you can view the Ritz Carlton. It's the perfect spot for animal lovers, with both leashed dogs and horses allowed. Because of its size and stunning views, Poplar is the ideal beach to bring a picnic, an umbrella for shade and a frisbee, volleyball or Spikeball set to make a day of it. Please watch the surf here! Riptides and rough waves can make this a dangerous beach for swimming or water sports, but if you get restless on the beach, take to the bluff trails above for some excellent birding. Peregrine falcons, red-shouldered hawks, ravens and herons all make frequent fly-bys. To grab arguably the coast's best sandwiches on the way, hit up Garden Deli Cafe at San Benito House on Main Street. Because it's so good, it's always busy, but ordering ahead will streamline the process.
"I'm partial to our local treasure, Poplar Beach. As a local, I'm blessed to be able to visit any day of the week and any hour of the day. And it never disappoints, with beautiful views, whether from the bluffs, the sand, the water or even above the ocean from my drone." – Steve Maller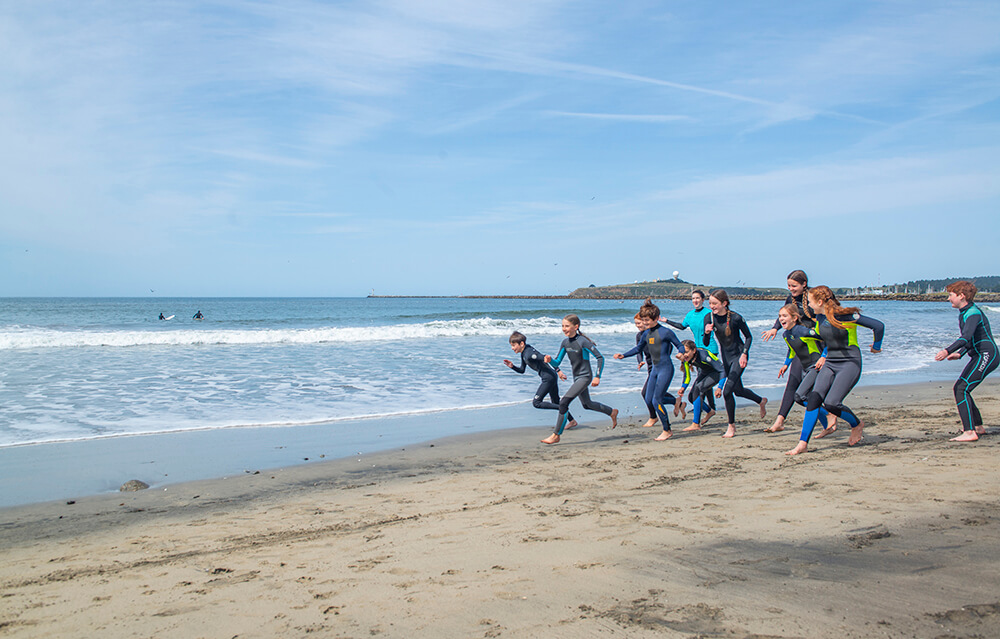 Mirada Surf Beach
Magellan Avenue and Mirada Road, El Granada (3 miles north of Highway 92)
Great for: swimming, surfing, boogie boarding, kids
Amenities: parking can be found on Highway 1 (directly adjacent) or in the lot across the street from the beach
We informally call the beaches in this area "Swimmers Beach" (South) and "Surfers Beach" (North). Because the surf here is a little more predictable and there are fewer rocky outcroppings that can cause hazards, this is the best spot to take young ones eager to try their hand at boogie boarding, body surfing or just some low-key time in the waves. It's often a little sunnier in the heart of El Granada, so that can be a perk if you're hoping to warm up after some time in the water. It's also a great location to watch serious surfers test their skills. If you get inspired, consider taking a lesson from Pillar Point Surf School or Blue Swell Surf School and enjoy the rush for yourself.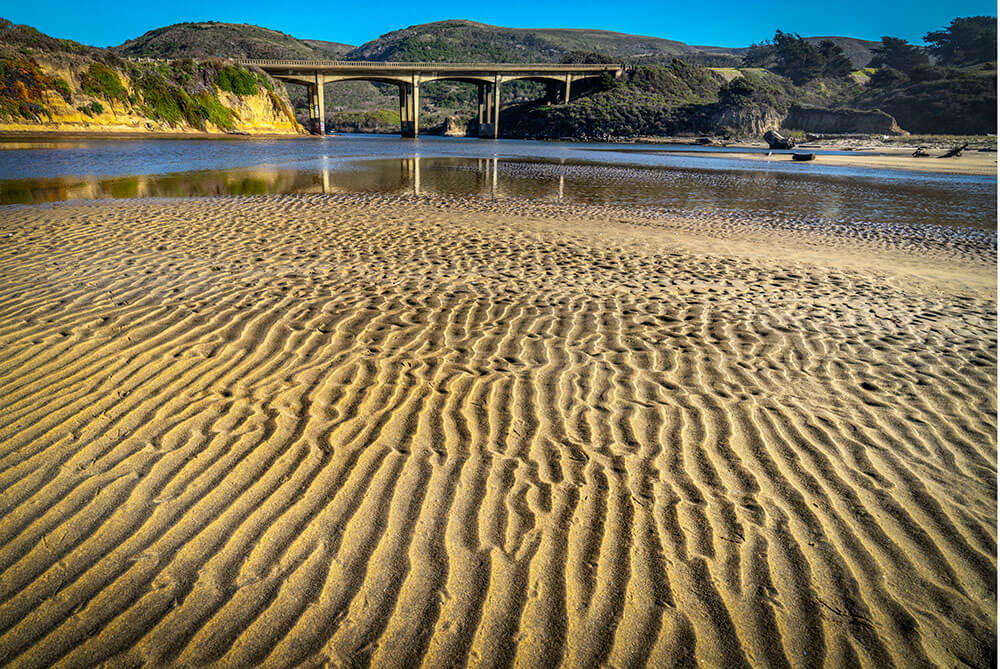 San Gregorio State Beach
San Gregorio Road and Highway 1, San Gregorio (11 miles south of Highway 92)
Great for: kids, driftwood, hiking, cave exploration
Amenities: picnic tables, BBQs, restrooms, large parking lot, bluff trails
There's a fairytale quality to San Gregorio Beach that will immediately captivate you—from the towering sandstone bluffs inviting you into the lush fields of succulents and wildflowers to the driftwood structures meticulously crafted by mystery sculptors to the brackish lagoon created by the marriage between San Gregorio Creek and the crashing ocean. Explore the hidden mysteries in the caves north of the creek or examine the life cycle of the steelhead that breed in fresh water before making their way to the salty ocean. The lagoon can provide a fun, safe spot for young kids to splash around, but check on bacteria levels in the water that can make swimming unsafe. San Gregorio General Store, just a mile inland, is a great spot for snacks or a cup of coffee if you need to stock up before you hit the beach.
Photos Courtesy: Jennifer Fraser, Andrea Ou (Paws & Play Studio), Robb Most, Steve Maller