Hooray! Yes, we'll miss summer, but glorious autumn is here. As temperatures cool, fall's first spectacular colors break out in California's Eastern Sierra and gradually descend, week by week, foot by foot, bringing a vibrant palette of magentas, yellows and reds into our own downtown streets and backyards. Still, coastal California isn't famous for its fall foliage, so we have to work a bit harder on the Peninsula to embrace our inner autumn. We've scoured the region and here's our guide to finding and enjoying the best of Peninsula fall.
1. Explore the Gardens (and Patches)
For an immersive experience of fall bursting into color, the Peninsula has a bounty of botanical gardens, arboretums, and of course, pumpkin patches that you can explore. Woodside's Filoli Historic House & Garden is staying open for its second fall season. Beyond the famous gardens showcasing gigantic oaks, golden gingkos and Japanese maples, Filoli offers orchard tours where you'll find a fall rainbow of apples, persimmons, pears and peaches, over 400 varieties in all. Also, make a note of Filoli's family-friendly Autumn Festival on September 22. Check filoli.org for details. The Elizabeth F. Gamble Garden in Palo Alto feels like your own secret garden, a 2.5-acre fall symphony of Chinese tallow, scarlett oaks and tupelo trees. And, it's free to visit. Gamble Garden is the place for a quiet stroll amidst oakleaf hydrangea, wisteria and barberries sparkling in shades of bronze, mustard and scarlet. See seasonal photos and more information at gamblegarden.org. And finally, what would fall be without our favorite orange gourds? The "World Pumpkin Capital," Half Moon Bay, hosts its annual Half Moon Bay Art & Pumpkin Festival October 13-14, celebrating the area's autumn splendor. If you're not up for braving the traffic and throngs of visitors, venture over another time for a more relaxed visit to the Bay Area's best pumpkin patches. There's a list at visithalfmoonbay.org/bay-area-pumpkin-patches-and-farms
2. Follow the Grapes
Local wineries offer front-row access to one of autumn's best shows, and even better, you get to taste the fruit of the vine. Look for a rolling display of fabulous color, as grapes ripen for harvest and different varietals hit their peak, any time from September through mid-November. At Thomas Fogarty Winery & Vineyards in Woodside, you'll see plump purple Pinot Noir and green Chardonnay grapes with leaves turning deep orange and vibrant yellow. Visit fogartywinery.com for everything you need to know about the tasting room and tours. If you're up for a winding, scenic drive into the Santa Cruz Mountains, you'll find Monte Bello-Ridge Vineyards nestled at 2,300 feet. Monte Bello grows Bordeaux varietals, with a picnic area where you can soak up views of historic vineyards decked out in fall finery. See ridgewine.com/visit/monte-bello for visitor tips and Monte Bello's tasting opportunities.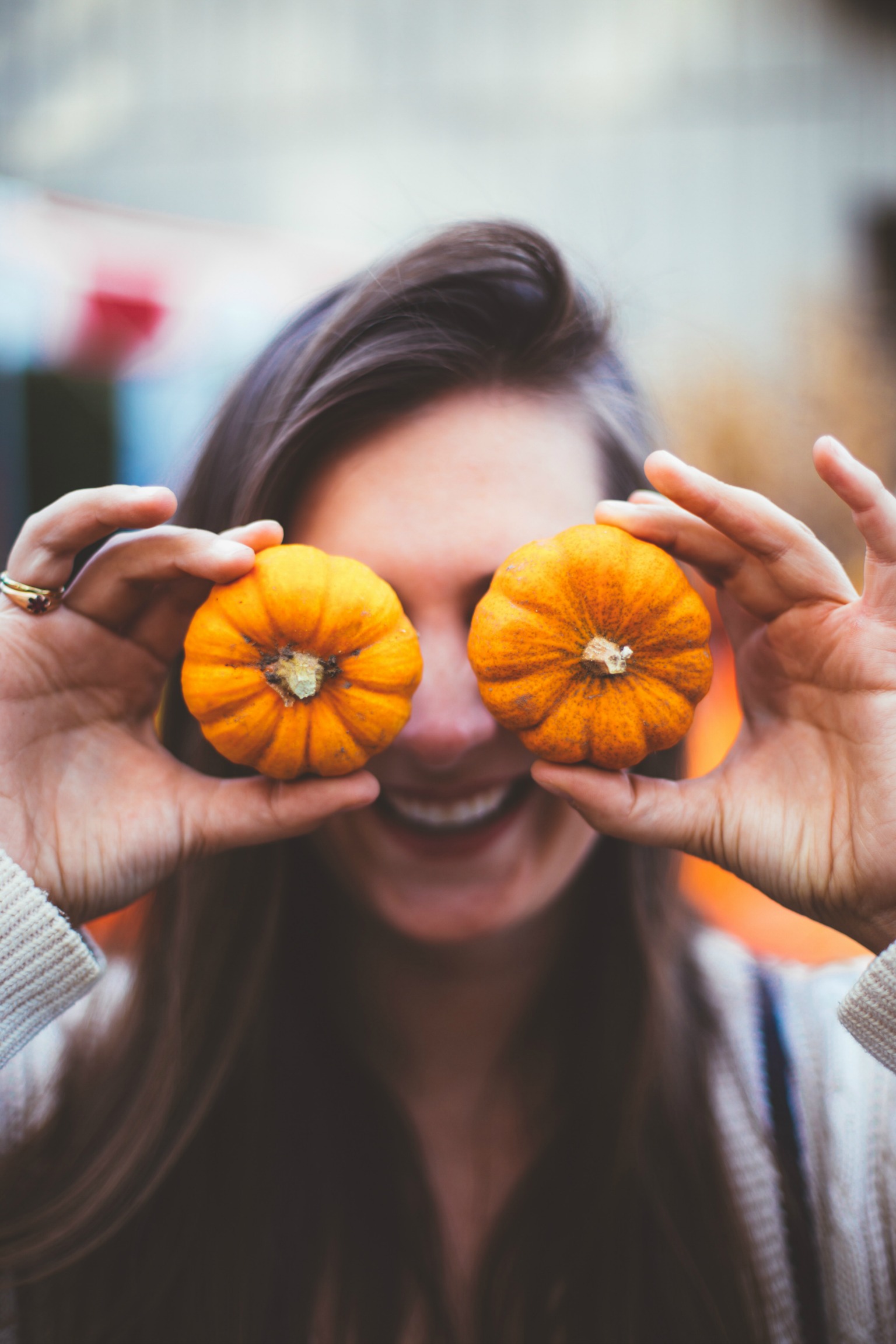 3. Go Downtown
With the Peninsula's tree-lined downtowns draped in brilliant color, it's the perfect time to stroll, shop or grab a sidewalk seat while sipping an espresso or hot cider. Even familiar spots look dressed up for the season, so you can stay close to home or hop over a few towns. In the six-block triangle of Downtown Los Altos, you'll see a stunning mix of Chinese pistache, locust, sweet gum, ash and gingko trees. With its quaint village vibe, Los Altos offers more than 150 shops, along with orange-speckled sycamore leaves catching in the breeze. Palo Alto counts nearly 65,000 trees in its urban forest, which fall transforms into a wash of reds and shimmering golds. Get your fill of liquidambars and gingkos as you meander through Palo Alto's art galleries, specialty stores, and inviting coffee shops. And then there's Burlingame, aka the "City of Trees," a designation Burlingame has worked hard to earn. Burlingame's eucalyptus rows are stunning year-round, but fall's stars include yellowish-brown California sycamores, purplish-red zelkovas and blazing red sunset maples. Visit October 27-28, and you can combine downtown autumn shopping with Burlingame's third annual Fall Fest.
4. Hit the Streets
Sitting in traffic on El Camino is no one's pick for a good time, but that frustration is lightened in fall, when we find ourselves slowing down to notice the leaves brilliantly changing colors. A weekend drive up our own El Camino is now a favorite autumn outing, especially if you take time to pull off, explore secluded side streets, and fully appreciate the lush gardens and tree canopies in our Peninsula neighborhoods. We all have our own special detours we like to take this time of year. If you're setting a course with your GPS, here are a few more suggestions: Hillsborough's Barroilhet Avenue, Chateau Drive, Remillard Drive and Ralston Drive; Atherton's Atherton Avenue, Isabella Drive, Almendral Avenue and Monte Vista Avenue; Menlo Park's Allied Arts streets and Guild, Bay Laurel Drive, Oak Avenue and Glenwood Avenue.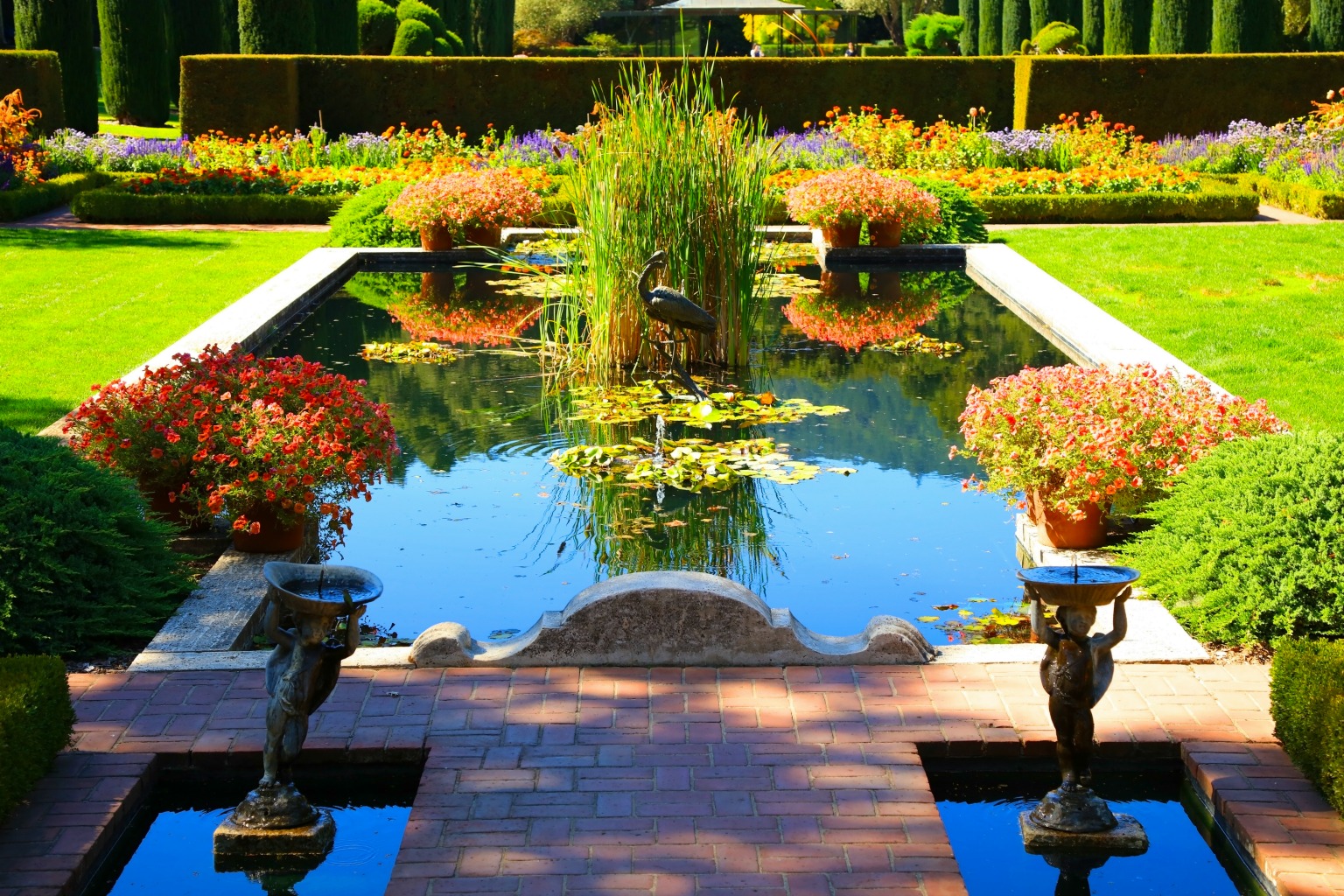 5. Head for the Parks
Whether you're laying out a picnic, hunkered down for a good read on a bench or lacing up hiking boots, the Peninsula's neighborhood, city and county parks offer the perfect fall backdrops. In San Mateo's Central Park and Japanese Garden, delicate and iridescent red and yellow leaves flutter down from the Japanese maples. Wind your way back to Huddart Park in Woodside for miles of trails and the chance to see native trees like bigleaf maple, California black oak and valley oak, with deeply-lobed leaves turning from yellow to light orange. Heading south, but still part of the Midpeninsula Regional Open Space District, Rancho San Antonio County Park and Open Space Preserve has rolling hills aglow with native deciduous oaks and maples. Take an easy one-mile stroll out to Deer Hollow Farm or map out a fall splendor loop from the area's 24 miles of trails.
the peninsula's #1 leaf lover
Sure, we all love fall, but John Poimiroo's passion for nature's parade of show-stopping color makes him the ultimate fan. Originally inspired by a New England colleague outraged by any California boast of fall color, he launched California FallColor.com, a website dedicated to making sure every spectacular changing shade of blazing orange, yellow and scarlet is fully appreciated. The site's tagline is "Dude, autumn happens here, too."
Although John now resides in El Dorado Hills, his roots are deeply embedded in the Peninsula. He grew up in San Mateo and Hillsborough and attended Burlingame High School, and it's here that his admiration for autumn first took seed. In the same way our mix of locals and transplants makes Peninsula communities unique, John will tell you that it's our blend of native and exotic trees and plants that gives us fall shades and hues you won't find anywhere else.
If you've ever noticed the colors starting to change and then blinked to discover bare trees and piles of crumpled leaves, John is just the guy to make sure you don't accidentally blow past this fabulous season. Instead of "Ready, Set, Go!", his website speaks in leaf language: Just Starting, Patchy, and Peaking (Go Now!). It's a handy resource if you don't want to get caught again by his final leaf stage: Past Peak (You Missed It).
When it comes to fall colors, New England typically gets all the shout-outs. What do we have to brag about here in California, and specifically, on the Peninsula?
The reality is that on the Peninsula, there is very little native fall color. You really have to search for it, you have to be quite an appreciator of it, and you have to go out of your way to find it. It's in the creek drainages, and it's along some trails. Whereas the fall color that's been planted here is overwhelming, in New England, they have all native trees. Because we have a Mediterranean climate, we're able to grow plants from all over the world, like deciduous trees that show their fall color in those countries and can survive in California. Therefore, we have an added layer of fall experience that other destinations don't have. We also have the longest fall color season in North America that actually starts in September and continues past January.
What do you love most about fall on the Peninsula?
Many people think that October on the Peninsula is the best time of year. You don't have the cold air coming across from the ocean, it's clear blue skies and warmer and stiller, and it's just beautiful color at that time. The hills in Burlingame and Hillsborough are just full of spectacular displays of exotic trees, oaks and so forth. I remember in my youth going to football games at Burlingame High School and just being surrounded by this beautiful rainfall of leaves as we walked to the football game. There's this crisp feeling in the air. The fall colors are really seen in the towns, and I love going to a great little coffee shop or walking through a shopping district and being surrounded, just enveloped by it.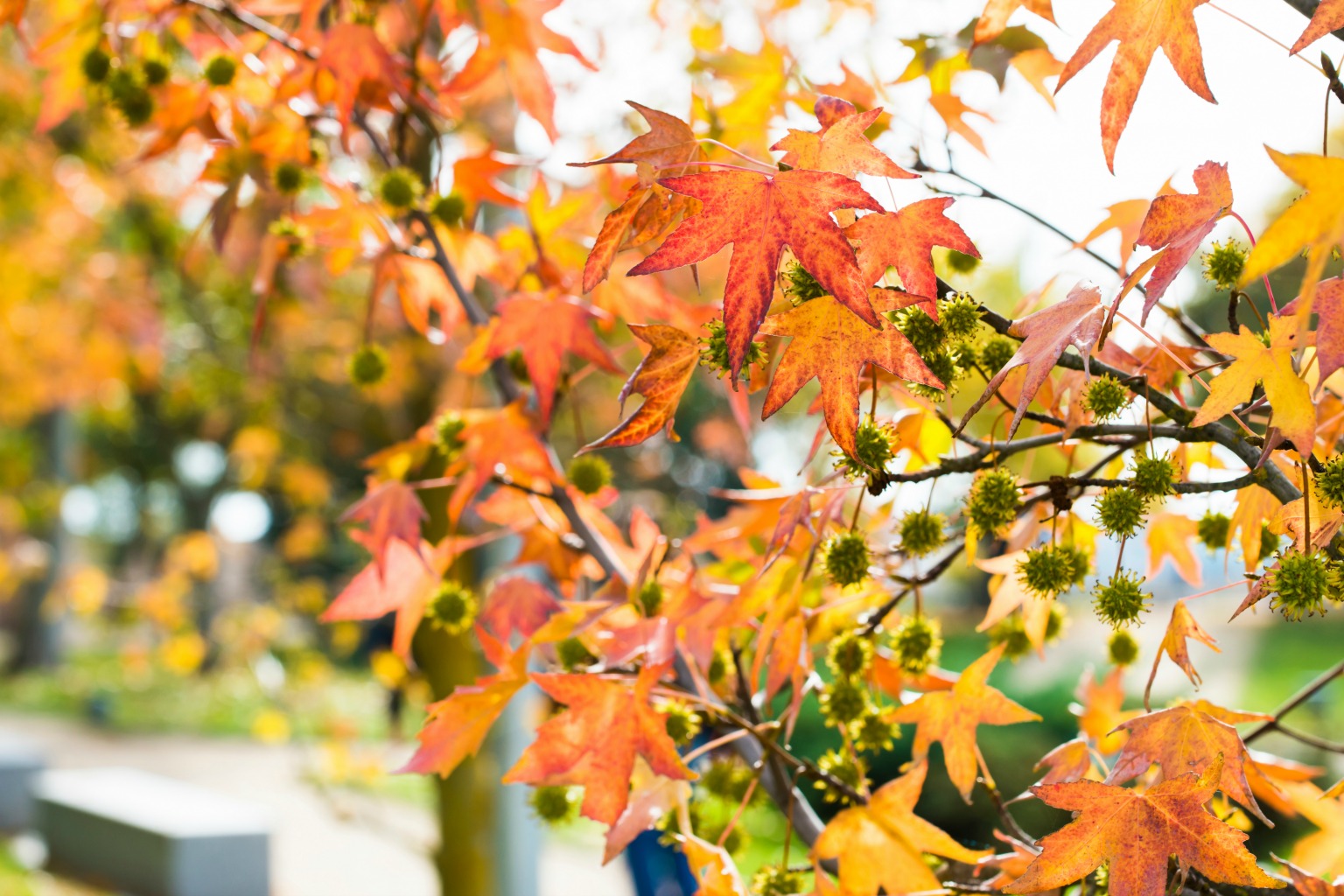 Which plants and trees really make us say "Wow!" at this time of year? 
On the San Francisco Peninsula, let's talk about the exotics first. The most popularly planted tree on the Peninsula is the liquidambar. Liquidambar has a really beautiful flame color. And then there's the Chinese pistache, which is the most vibrant of all the exotic trees. It has spindly-type leaves that change in color from lime to yellow to orange to red, and they are literally fluorescent. Ginkgo is planted in a lot of locations and has a beautiful yellow leaf, and when they are planted in profusion, it makes for a spectacular show. For the natives, bigleaf maple has a very large, classic maple-shaped leaf that turns yellow and golden. California grape is a native shrubbery that's very common in the Bay Area. It's a beautiful purple and auburn and goes to a bright crimson, orangey-red color. Another plant, often overlooked but in great profusion, is poison oak. People say they don't want to be near poison oak, but it has a beautiful bright, deep red-crimson color in fall. Some of the best photographs I've seen are of poison oak.
How do we take full advantage of your website, CaliforniaFallColor.com?
If you want to see the most spectacular fall color, you have to go to the destination when it's peaking. So, that's how you use the site. On the right side of the site, there are all kinds of tools you can use. There's a California Fall Color Google map, updated as I receive reports. The leaves on the map will start to change color to light green, then yellow, then orange, and then red. That tells you what stage of peak they're at. The most valuable tools are reports by month/year and reports by location. If you know when you're going to travel to an area or if you're welcoming visitors to the Peninsula, then go to month/year and see what's going on. You'll know exactly when and where all the beautiful colors will be peaking.