words by Silas Valentino
There are only a couple of hours of sunlight left as the crowd gathers into the shape of a U around Kenny Elvin and his truck loaded with raptors. Situated near a grove of eucalyptus trees at Coyote Point in San Mateo, the audience is diverse, spanning all generations. But their captivation is universal as they feast their eyes on the master falconer.
Kenny ramps up anticipation with a cheeky call-and-response chant: "Give me a B!" he howls and receives an impassioned response. "Now give me an —IRD!"
He flings open the side door of his truck to reveal Boomer, a kookaburra with dark wings and a white abdomen. The sharp-beaked bird leaps onto a small perch near Kenny and remains tethered to him by a slim rope.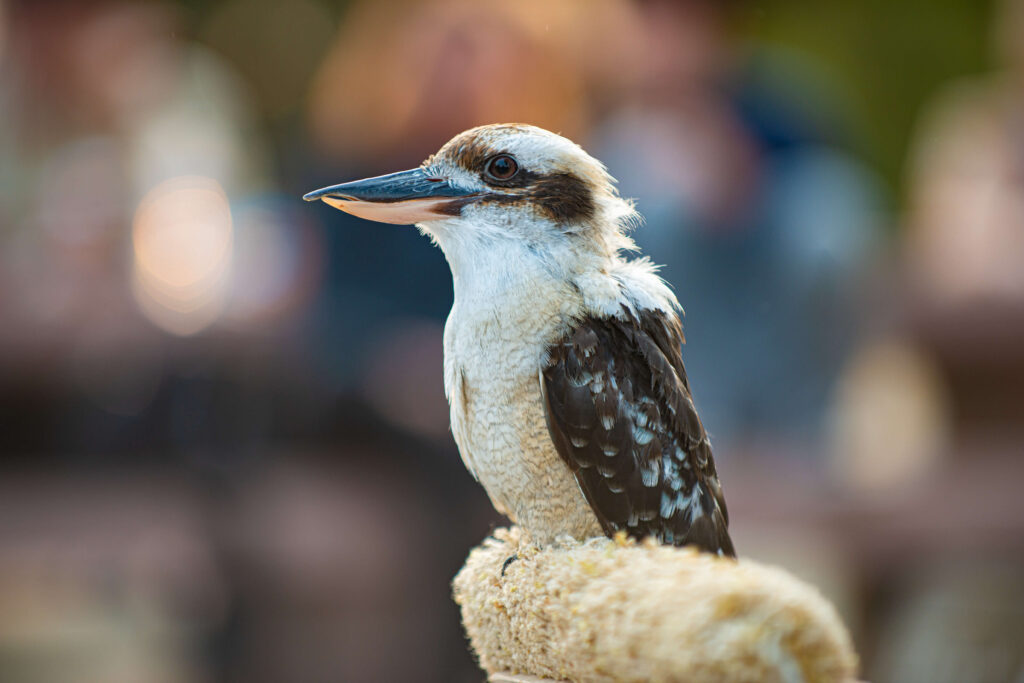 Kenny is a falconer but his flock is not exclusive to that sole bird of prey. He currently possesses seven falcons, five hawks, a pair of owls and the kookaburra, which is the ideal assistant for this educational event. It reacts to an audience. The louder the cheers, the more boisterous the kookaburra will call, leading to its nickname as a "laughing kookaburra" for its rambunctious chuckle.
Kenny parades Boomer around to gazing eyes to measure the state of the crowd and, according to the kookaburra's cheerful cackle, this bird show is in full swing.
Educational events such as this one at Coyote Point held by the San Mateo County Parks Foundation are only a sliver of Kenny's work as a master falconer, but it's a treasured time for human contact and to celebrate these fascinating creatures.
 The majority of his work is in wildlife abatement, using raptors as pest control. Vineyards and farms hire him and his birds as a sustainable scare tactic against unwanted pests.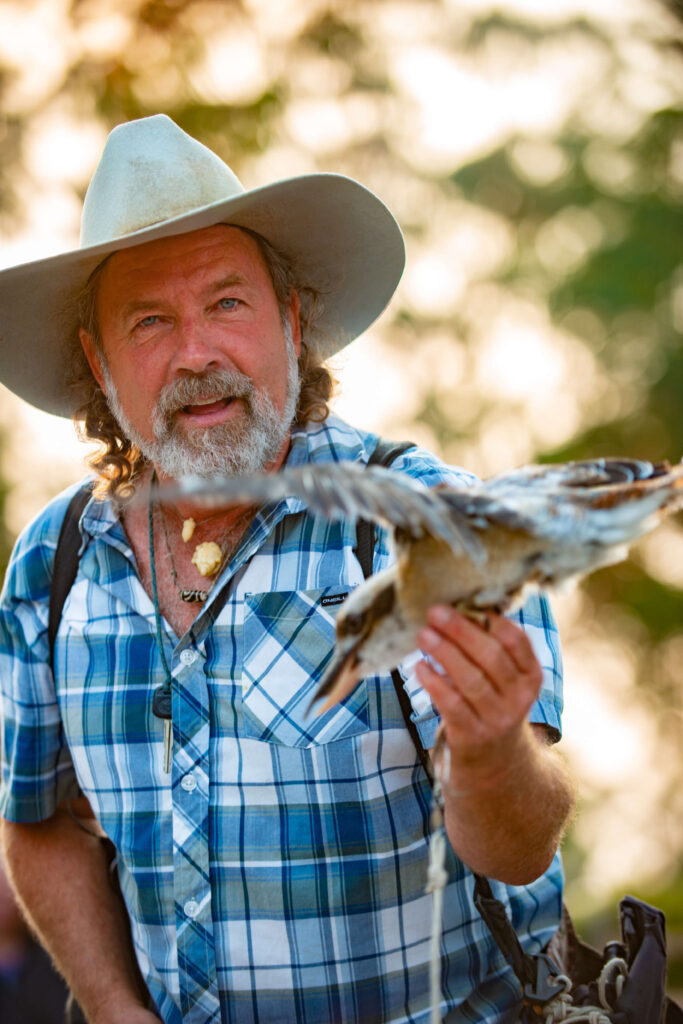 "Abatement work has changed falconry," observes Kenny. "We're getting paid to perform. What we want is the bird to chase but not catch. You're trying to scare stuff off. But there is a tradeoff; in one aspect, you're getting paid to fly. But you're flying every day, so your birds tend to get more exercise and exposure."
Kenny will source a new bird every couple of years. It works best to start with a younger bird to build that trust and cooperation. "Using positive training measures creates patterns and routines," he says. "The magic happens when you find new elements to work with."
Abatement and education help develop and improve some aspects of falconry but hunting keeps the birds keen and strong.   
"I want them to catch their own stuff but I also want them to trust me. When you're training anything—horses, dogs—if you lose that trust factor, you've lost the game," Kenny explains. "I've had some birds that didn't work out and I've had quite a few that have done amazingly well. Each time you get a new bird, you're dealing with a clean slate."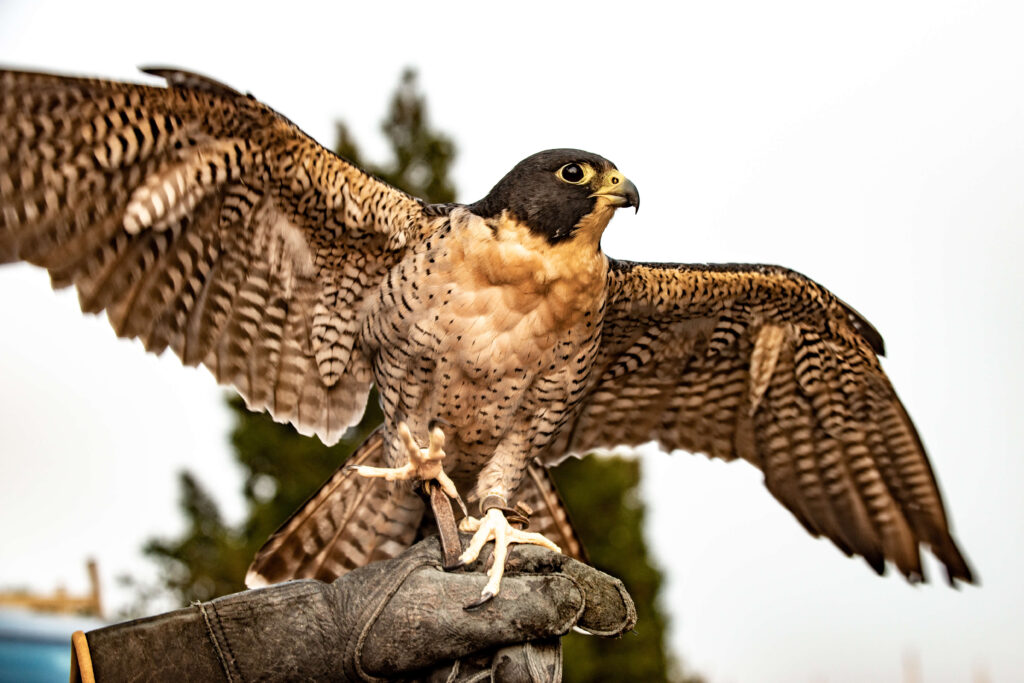 Kenny has worked in falconry for 19 years. Following years of working for other people, he established his own business, Full Circle Falconry, about six years ago. It's been a natural calling for Kenny, who has gravitated towards animals since he was a boy growing up in Los Altos.
"Animals help keep me interested and focused.They have what I call a 'grounding effect.' They keep us honest. Animals don't tend to lie," he says, then reconsiders. "Crows have been known to shift their behaviors … but most animals are not into deception."
Kenny's father was an architect and his mom worked in real estate while taking care of him and his four sisters. He grew up with horses and his first best friend, a standard poodle named Spook. The surrounding property opened Kenny up to frogs, lizards and snakes. In grade school, he remembers friends starting to explore raptors but Kenny stuck with amphibians and reptiles. "I thought falconry was something I'd do in retirement," he now muses.
Before obtaining his falconry license in the early 2000s, Kenny lived untethered and free; he was a musician who carved his own didgeridoos out of bamboo and eucalyptus, served in the National Guard rising up to the level of captain and spent countless mornings surfing between Santa Cruz and San Francisco.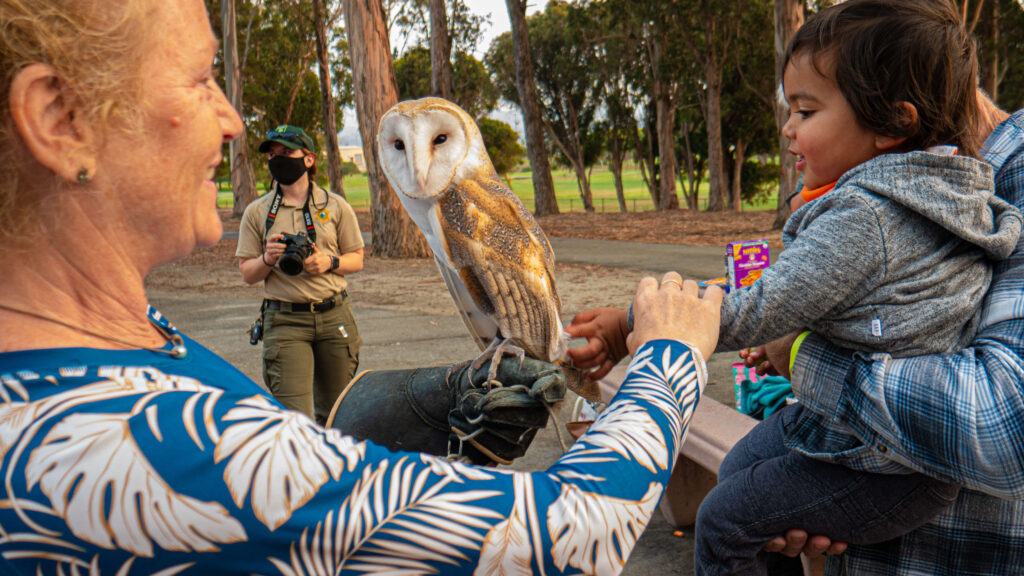 In January 1986, he met his now wife Kitty through a mutual friend (they quickly bonded over animals) and a few years later, the couple welcomed their daughter Anne. The zoological legacy continues with Anne, who currently works at the Palo Alto Junior Museum & Zoo.
Kenny now lives in San Jose, coincidentally on a street named after a member of the Corvidae bird family, and has a busy schedule keeping his flock in shape. He's constantly weighing each bird to track their weights.
"As we fly a bird and train it, it's going to gain muscle mass. You have to bring the flight weight up to keep it in condition. Hawks don't burn as much energy as falcons do. Falcons burn energy with their intellect—their neurology is moving. That burns up sugar. I feed a falcon two-and-half ounces a day to maintain weight, whereas I feed a hawk three-fourths of an ounce."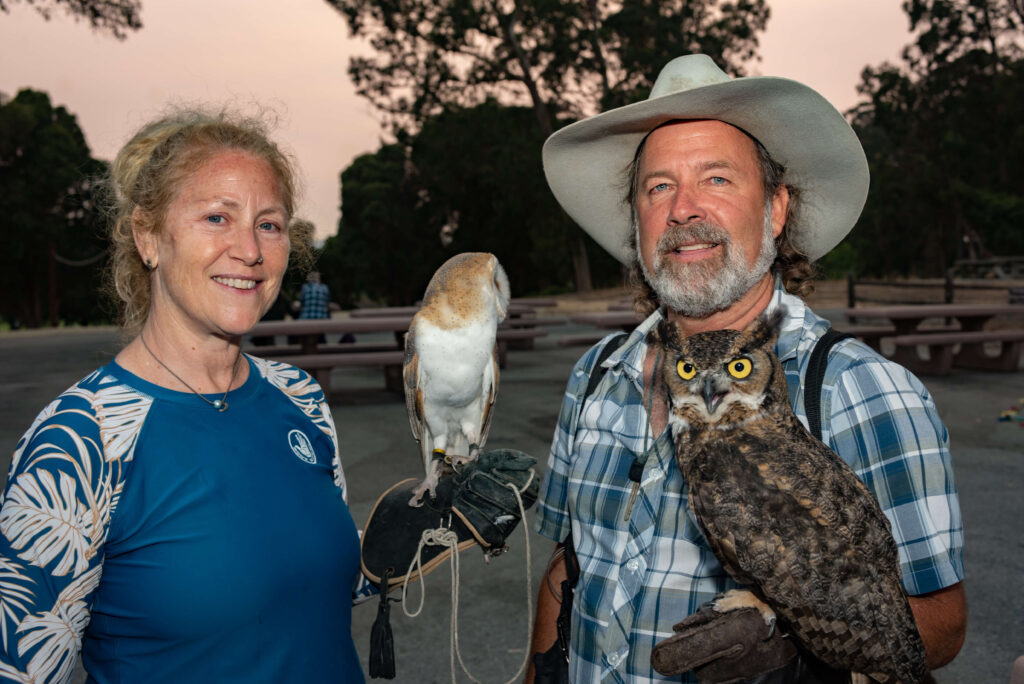 He names some of his birds using monikers such as Wyatt and Gunner, but Kenny had a mentor early on who taught him that the bird is a tool and you don't want to get too hooked considering the nature of, well, nature. (However, the same mentor taught Kenny that a dog is your best friend, a title that currently belongs to a Vizsla Hungarian pointer dog named Jasper.)
"I tend to name my birds after tools: gauge, axe, saber, sprocket. The name is insignificant because it can fly off or get eaten," he says, speaking from first-hand experience. "It's always surprising when something happens: I call it 'the silence.' You're looking for that animal but it's gone. It just happens sometimes. It's a moment of reflection. If you have a dead bird, then you know what happened. But if you don't, then you're always looking."
Ever cognizant of the natural world's harsh reality, Kenny remains committed to growing his flock. "If I followed my whim," he admits, "I'd have more birds than I'd know what to do with—they're just so interesting!"