Words by Sheri Baer
The second floor of a Redwood City warehouse looks like it's been swarmed by a colony of bats. "They hang upside down just like the animal," quips Gary Malec, as the arresting sight comes into view. But unlike their homonymous nocturnal flying counterparts, this kind of bat is associated with fly balls, line drives and grounders—and rather than sleeping, they're hanging upside down to dry.
Welcome to a very different kind of bat cave. Established in 2011, Birdman Bats specializes in handcrafted wood baseball bats that are surging in popularity with both major leaguers and enthusiasts alike. As founder, Gary essentially serves as Birdman's team captain, leading the charge to become an influential player in America's storied national pastime.
Gary's obsession with baseball dates back to his earliest memories growing up on New Jersey's Cape May Peninsula. "Since I was little, I was drunk on baseball," he says. "There are photos where I'm barely able to walk and I'm carrying around a bat and a ball." As he tallied up innings from Little League into high school, his love of the game only intensified: "There's nothing like crushing a baseball. The feeling you get when you barrel it up!"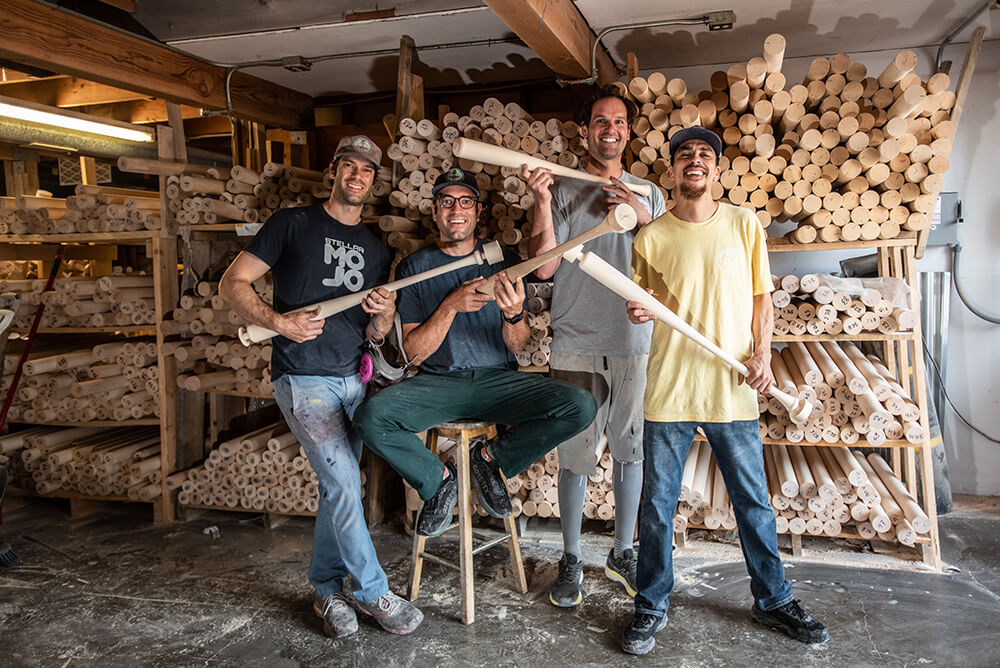 And then there's that other proclivity—he's a maker by nature. "I like to build things. I've always been very mechanical and hands-on," he says. "I used to take my toys apart with my dad's screwdriver, and I've been building cars since I was 15." When he was 18, Gary recalls buying a $20 bat to play in a wood bat-only league. "It was like hitting a ball with a wet newspaper," he grimaces. Trying out a handcrafted bat made by a teammate's father came as a revelation. "I wanna do that," he remembers thinking. "It was so much nicer. That's what really sparked my interest in making a wood bat."
Given these hard-wired passions, it's easy for Gary to reconcile why he dropped out of law school after a year. "I just didn't love it," he reflects, which prompted him to hightail it out West. "I was California dreaming," he adds. "And I thought, 'There's too many lawyers in the world.'"
As he pursued film production work and acting gigs—look for Gary in Porsche, Sony and John Deere commercials—he also took courses at City College of San Francisco so he could play baseball. Galvanized by running the bases again, he bought a lathe on Craigslist and turned his first bat. "The first time I hit a ball, the bat blew up into a bunch of pieces that went flying out over the field," he admits, but Gary kept iterating and carving away.
Meanwhile, his brother Mark (now a Birdman partner) was simultaneously playing baseball at Savannah College of Art and Design. In what turned out to be a life-altering act, he sent Gary a "goofy drawing" he had made for a project. "He said it was an 1800s ball player head on a bird—it was just silly," Gary recounts. Knowing his brother's tendency to get "all up in his head," Gary put the drawing on a sticker, slapped it on to one of his handmade bats and shipped it to Mark. "Baseball's so cerebral and mental and you think too much," he explains. "So this was like, 'Look at your stupid doodle and stop being so stressed.'" Handmade wood bat + silly logo = origin of Birdman Bats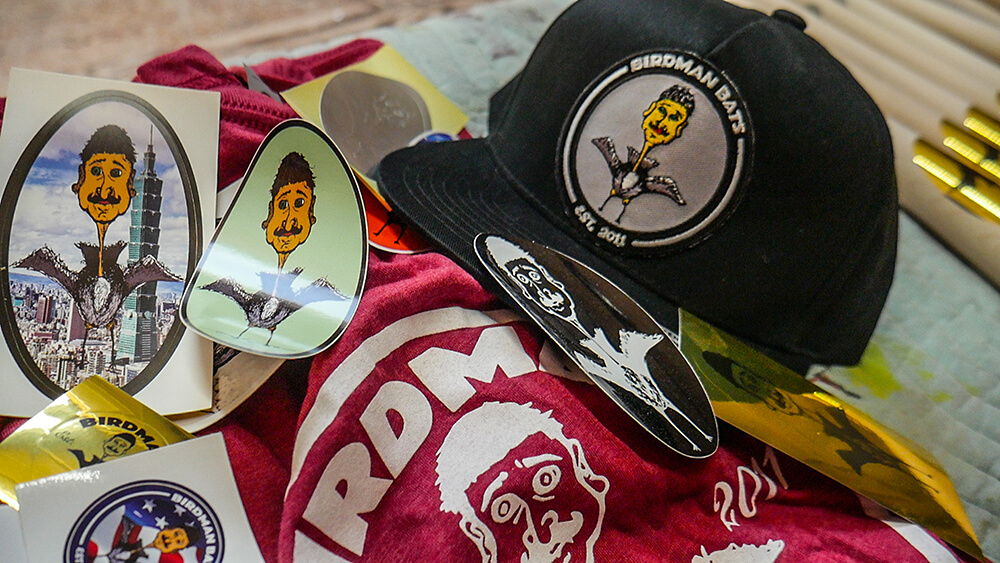 "That was the first bat," Gary affirms, continuing, "And then Mark's teammate was like, 'Hey I want one,' and my other friend said, 'Hey, I want one,' … and spiral, spiral, spiral."
At this point, Gary ticks off a series of pivotal events that got the ball rolling—and the bats swinging. Meeting up with Half Moon Bay native Cody Silveria, who signed on as Birdman's batmaker. Connecting with Red Sox player Lars Anderson, who became both an investor and fervent Birdman evangelist. Social media posts with All-Star Manny Ramirez added more heat, and in 2016, a Kickstarter campaign raised enough money to buy a CNC machine, pallet of wood and laser engraver. Two years later, Birdman earned official MLB approval with a letter of recommendation from now-SF Giants manager Gabe Kapler. And 2019 marked the move to the Redwood City warehouse.
As one baseball season followed another, more and more players caught on to the Birdman Bat craze. "The industry is so tight," Gary points out, "so the brand has really grown organically." Among the early buzz builders: former Dodgers (polarizing) outfielder Yasuil Puig. "He hit five home runs in 24 hours and put one of our bats in Cooperstown in the Hall of Fame," Gary relays. He also credits Giants players Pablo Sandoval, Hunter Pence and Austin Slater with having outsized influence, along with Ozzie Albies of the Atlanta Braves. "Ozzie has 15 home runs with Birdman this year," he cites. "He's such a great ambassador for us." And then there's Redwood City's own James Outman. "He's a big-time rookie sensation center fielder for the Dodgers, and he uses our bat."
So what's the winning formula behind Birdman's success? "It's why people drink craft beers instead of Bud Light," remarks Gary. "It's a small-batch, handcrafted product that goes through so many sets of hands and so much work." He also doesn't underestimate the power of Birdman's logo. "It's an old-fashioned Americana caricature brand," he observes. "It's a totally different take on playing the game and having fun—even at the highest level."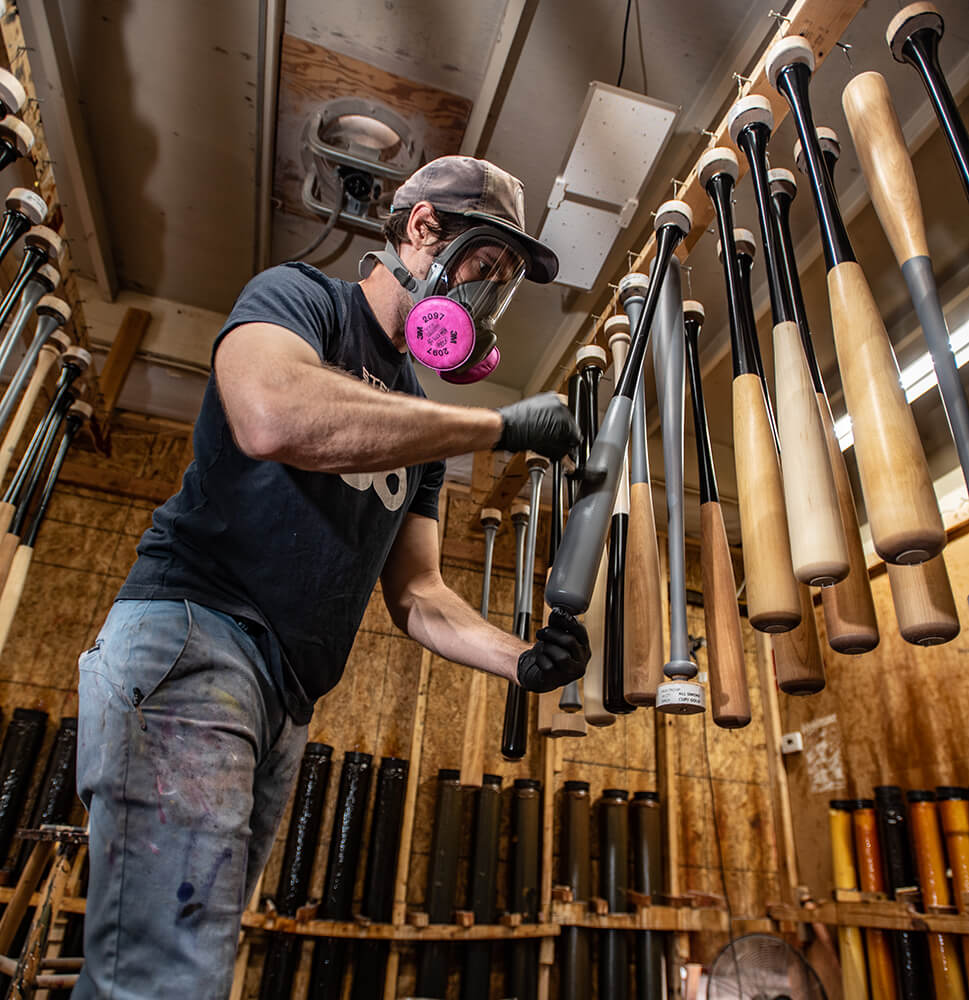 In addition to selling through Birdman's website, the brand is getting traction in baseball hubs across the country. Locally, Goetz Brothers came on board early with Birdman's retail roster ranging from Sacramento's Baseball Loaded and Atlanta's Better Baseball to Dick's Sporting Goods nationally. "We're at the table," Gary smiles. "I always say, 'We've made it to the table!'"
Last year, Birdman hit the 10,000 bats sold milestone—and Gary envisions selling tens of thousands, along with a line of Birdman-branded merch. Customization is another big draw. Although pro players are limited in their color selection, enthusiasts can inject personality through swirly hydro dip paints, highlighter-like dyes and personalized engravings.
Managing Birdman's growth is a relentless undertaking, which is why customer feedback is so vital to morale. "There was a 13-year-old yesterday who reached out to say, 'I got my personal best! It was the hardest hit I ever hit,'" beams Gary.
And for this team of grown-up kids still dedicated to baseball, there's also the vicarious thrill of making it to The Show. "It's nerve-racking," Gary says of watching MLB games. "It's like you're there—you're up to bat and everyone's watching." And when even the big leaguers start to psych themselves out? Cue Birdman. "Just imagine being in the World Series, in a big situation," Gary muses. "Looking at that silly logo, it's like, 'Calm down and make it happen.'"