Weaving through clusters of customers at the Burlingame Farmers Market eventually leads to a booth with a milky white banner depicting dual crisscrossing whisks to mark the spot. The canopy is minimally decorated with earth tone linens draped over the table while some sunflowers poke out of a mason jar. It's all to give focus to the goods at hand.
In the middle is Lizzy Detert, vending her home-baked cookies, bars, banana bread and other sweet treats just as she's done here every Sunday morning since the spring of 2018. And as the morning fades with the seasonal fog, so will her offerings. Lizzy consistently sells out at every farmers market and today's flow of customers suggests that it won't be any different for Busy Lizzy's Baked Goods.
The baker has her ingredients for success (she'll intentionally under-bake just a tad to create soft and chewy bites that last well past the oven withdrawal) and the San Mateo native has been cultivating her kitchen craft since she was the same height as her apron. Her peanut butter balls, M&M cookies and coconut cakes were staples at family events and holiday parties while growing up.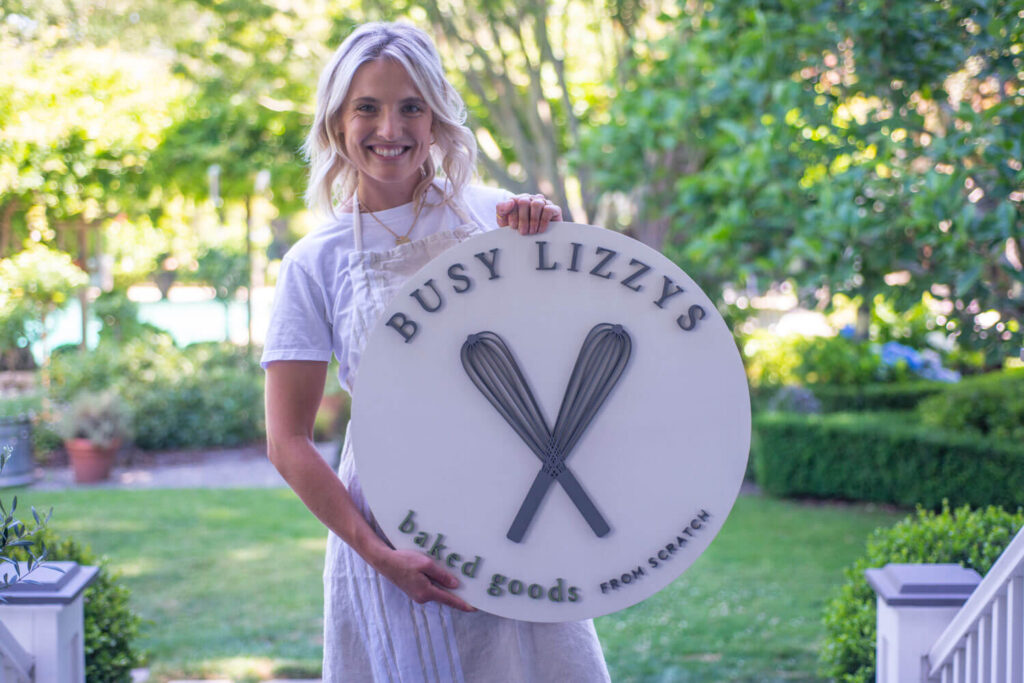 Lizzy's pure passion for baking, coupled with an entrepreneurial drive encouraged by her family, meant that she was born to bake.
"Instead of cartoons, I was watching the Food Network," she recalls with a smile. Her affinity for the channel continues every Saturday when she tunes in to her favorite program, The Kitchen. While explaining the show, she crosses her fingers in aspiration to one day become a guest on the variety cooking show.
This isn't some half-baked ambition; her gooey goods are too delicious to deny and handmade from scratch with organic butter and sugar.
Lizzy's offerings shift with the seasons and she'll bake with warm flavors such as nutmeg in the winter or create a funfetti cake for grad season. For Father's Day, she presented "The Dad Bod Box" containing several sugary delights. But her crowd favorites—chocolate chip, s'mores and cookies 'n' cream cookies­—always remain on the menu.
Her father is her lead taste tester, providing honest and blunt feedback, and Lizzy will also ask loyal customers for their thoughts. She debuted cinnamon rolls on a recent Sunday and a frequent patron named Barbara gives her a glowing review with a suggestion for adding raisins. Lizzy nods with the recommendation as she bags her order. As she didn't attend culinary school, she says this is how she learns best.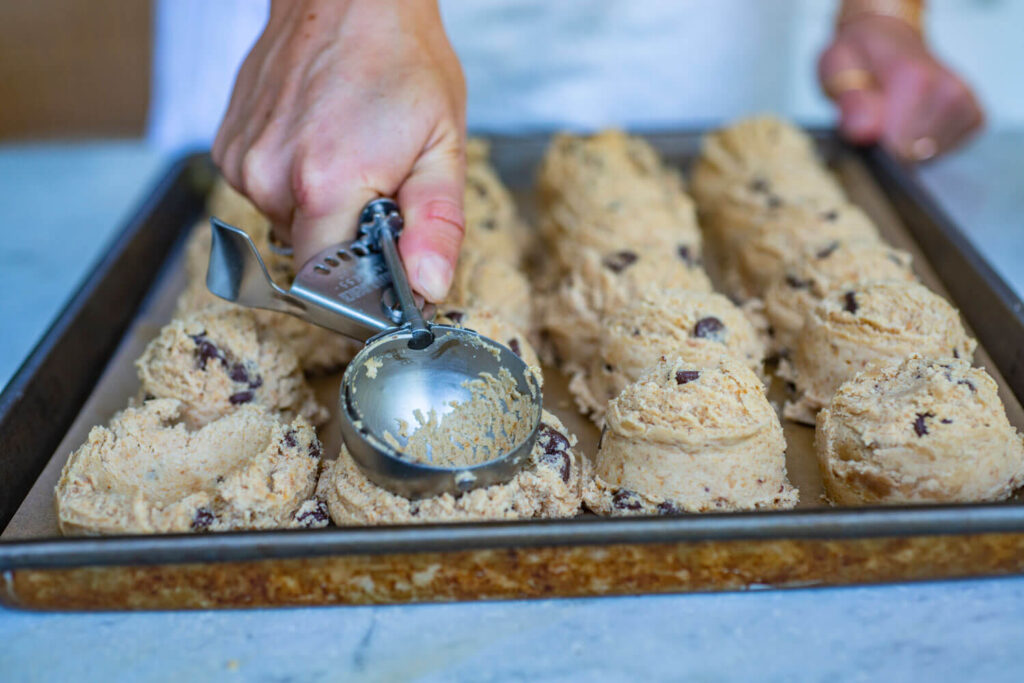 In lieu of the traditional pastry and baking school route, Lizzy graduated from Texas Christian University where she studied psychology, nutrition and business. She fondly recalls her time in Fort Worth, Texas, where she found inspiration in the regional cuisine such as the Coca-Cola cake from Cracker Barrel.
"I tried to recreate it," she grins. "Southern home cooking is so popular now and Texas inspired me to find recipes that feel like home. Whenever I decorate a cake, I'll warn that I don't do any piping when I ice it. I try to make it homier. I say the flavor is the best part and I know that you're going to get it in this cake."
As for other purveyors of sweets, Lizzy praises SusieCakes and says the peanut butter and jelly cookies from Neiman Marcus are her all-time favorites. (She reveals that her least-preferred baked goodies are apple and peach pies.)
Following graduation, Lizzy worked for her father's chemical engineering company before deciding to take her baked goods to the farmers market, first as a hobby before turning it into her full-time career. "It started off on a whim (or a whisk)," she quips. "And I said, 'Let's see where I can take it.'"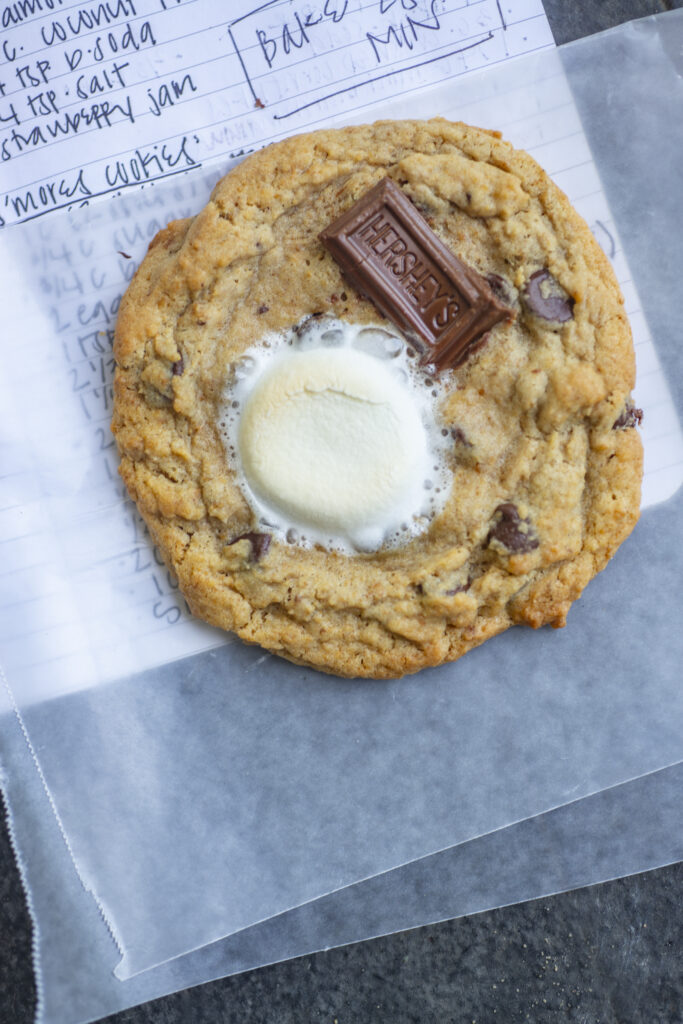 Lizzy's mother ran a business working with boutique hotels in San Francisco and her grandparents worked in local real estate. She explains how this background paved the way for Busy Lizzy's.
"Both my parents and grandparents started their own companies and I grew up with that entrepreneurial spirit," she says. "It holds me to a higher standard because all of them have been so successful. It's in me and I've grown up with it."
Her heritage is baked into every cookie since Lizzy uses an ice cream scooper and two spatulas inherited from her grandparents. She reaches over to grab the scooper for her dough behind the table in her market booth. "This one has stuck with me through thousands of cookies," she declares.
Lizzy uses her parents' kitchen in San Mateo but business is rising. Her products are sold at several Caffé Central locations throughout the Bay Area and her cookies are available at Mario's Bohemian Cigar Store Café in San Francisco. She's now in the process of relocating Busy Lizzy's into a commercial space at Preston's Candy & Ice Cream in Burlingame, where she'll both bake and sell out of a business she's frequented all her life.
"Ever since I could remember, I used to get an ice cream cone at Preston's with my dad and we'd sit at the same bench," she says. "It hasn't changed since I was little and it's a little blessing to bake there."
When she's not baking, Lizzy runs almost every day. ("I exercise to enjoy the treats I make," she laughs.) She was on the golf team in high school and continues to play with her boyfriend, Trevor.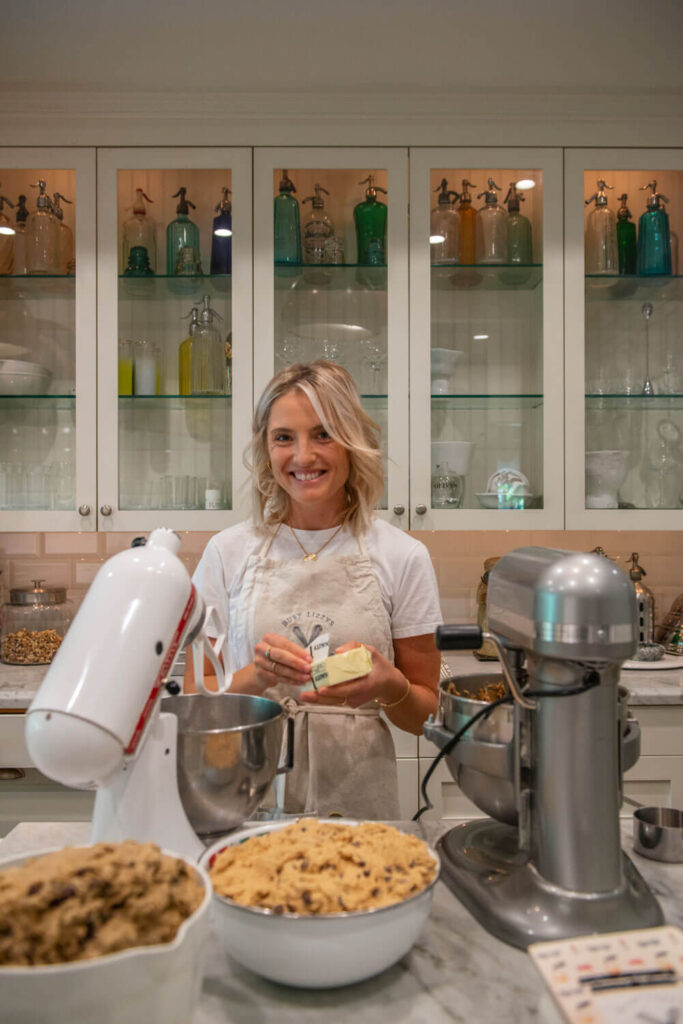 A lifetime of baking gave Lizzy a second nature so that she can tell by sight if the dough lacks a pinch of flour or butter before placing it into the oven. Her intuition (and finished product) makes her an authority on baking for friends during quarantine. Her best advice is always the timelessness of patience.
"When my mom sees me in the kitchen getting really overwhelmed, she'll remind me to take a deep breath," Lizzy says. "If you're not showing the recipe that you care, it's not going to be beautiful."