words by Sheri Baer
On this foggy morning, a light drizzle is coming down and settling over the lush, green foothills off Page Mill Road in Palo Alto. Sporting a vintage Icelandic wool poncho and well-worn paddock boots, Laura "Lala" Benson approaches two horses in adjacent stalls. "Góðan Daginn, krakkar!" ("Good morning, kids!"), she brightly greets. Noting their agitated excitement, "Rólegur!" ("Be patient!") Lala gently admonishes, as she takes their reins to lead them to a nearby pasture. When one tries to push forward and nibble a snack along the way, "Hættu þessu!" ("Stop that!"), she responds firmly, but with a clearly-bemused smile.
With long, shaggy fur and short, muscular bodies, these Icelandic horses look dramatically different from the taller, lankier steeds out for morning rides on the nearby equestrian trails. Lala also has a way of catching the eye, from her confident carriage to her own thick, golden mane of hair. And then there's that melodic lilt of her voice as she shifts interchangeably between English and Icelandic.
Passersby viewing this tableau may feel as though they've been dropped into a Nordic fairy tale. So it's not surprising to learn that Lala is the founder of Valkyrie Icelandic, a riding school and training program named after the singing god maidens who would ride down from heaven to carry fallen warriors back to Valhalla. As the first American to become a licensed Icelandic riding instructor and trainer, Lala pays tribute to Norse mythology by embodying a storied life of her own.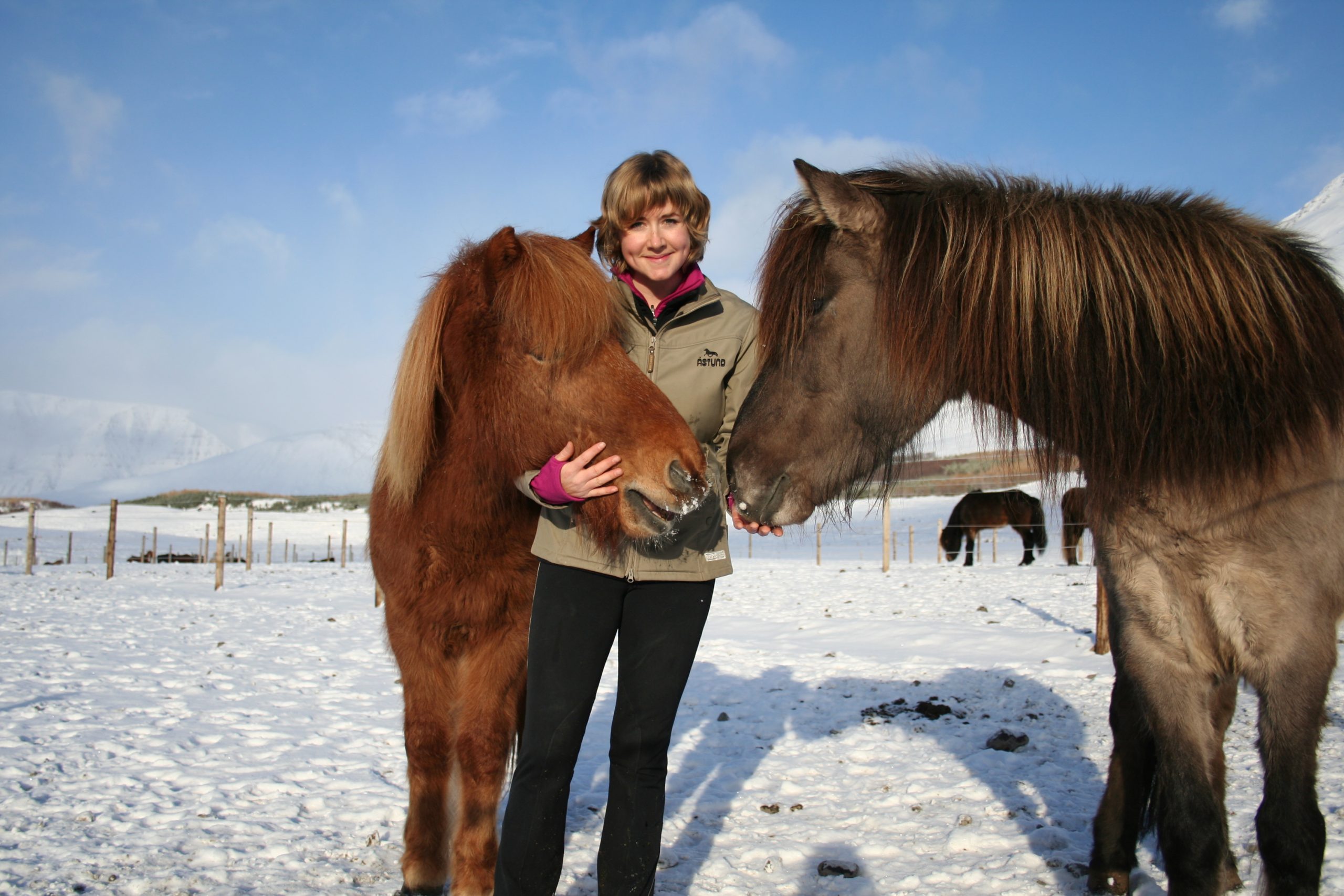 BORN TO RIDE 
"I feel like I'm 100 years old," Lala remarks, as she settles into a chair in her tack room. Rather than her physical well-being (which has included extraordinary challenges), she is referring to the magnitude of her adventures and experiences. In her mid-30s, Lala is clearly not an elder; she does, however, conjure up the essence of an old soul.
Born in South Carolina, the daughter of a preacher, Lala had lived in Ireland and Tennessee by the time she was three. As Lala tells it, she was obsessed with horses from the start. "My first word was 'gony,' which was pony," she says. "I'd see the horses in Ireland and say, 'Gony! Gony!'" After settling in Greeneville, Tennessee, her parents brought home a horse for Lala and her older sister, Heidi. "We grew up riding bareback in the hills of Tennessee," recalls Lala. "I could ride before I could barely walk. I'd just hang onto the back of my sister, and we'd basically go out when the sun was up and come back in when the sun came down."
From an early age, Lala felt drawn to one other passion: music. She started with piano and later picked up guitar. "When I sit down to play, I slip into a different universe and the music just envelops me," she says. "For as long as I can remember, all I ever wanted to do was play music and ride horses. There has never been a doubt in my mind that this is what I was put on this earth to do."
Meeting Destiny
Lala was 13 when she witnessed the sight that changed her life. Living with her family in Georgia, she had the opportunity to attend Equitana USA, a large horse expo in Louisville, Kentucky. Accompanied by strobe lights and a '90s disco house remix, a group of riders came charging out. "The Icelandic horses were small, hairy and super fast with these huge Icelandic men riding them as they flew around the arena," Lala recounts. "The crowd was freaking out. Nobody had ever seen anything like it, and I was just mesmerized."
Lala approached their booth the next day and asked to ride one of the Icelandic horses. She spent the rest of the weekend helping the Petursson family groom and tack up, which was capped by a friendly (if gratuitous) invite to come visit them in Iceland. Lala cleaned stalls all winter and saved up her money. The very next summer, she came knocking. "I don't think they thought a 13-year-old girl would show up on their doorstep," she laughs. "They put me on a horse and they never got rid of me."
The year was 1997 and Iceland's humans numbered 300,000 to the country's 90,000 horses. "Because I never lived anywhere very long as a kid, somehow it just rooted me," Lala recaps. "I knew this was where I was supposed to be."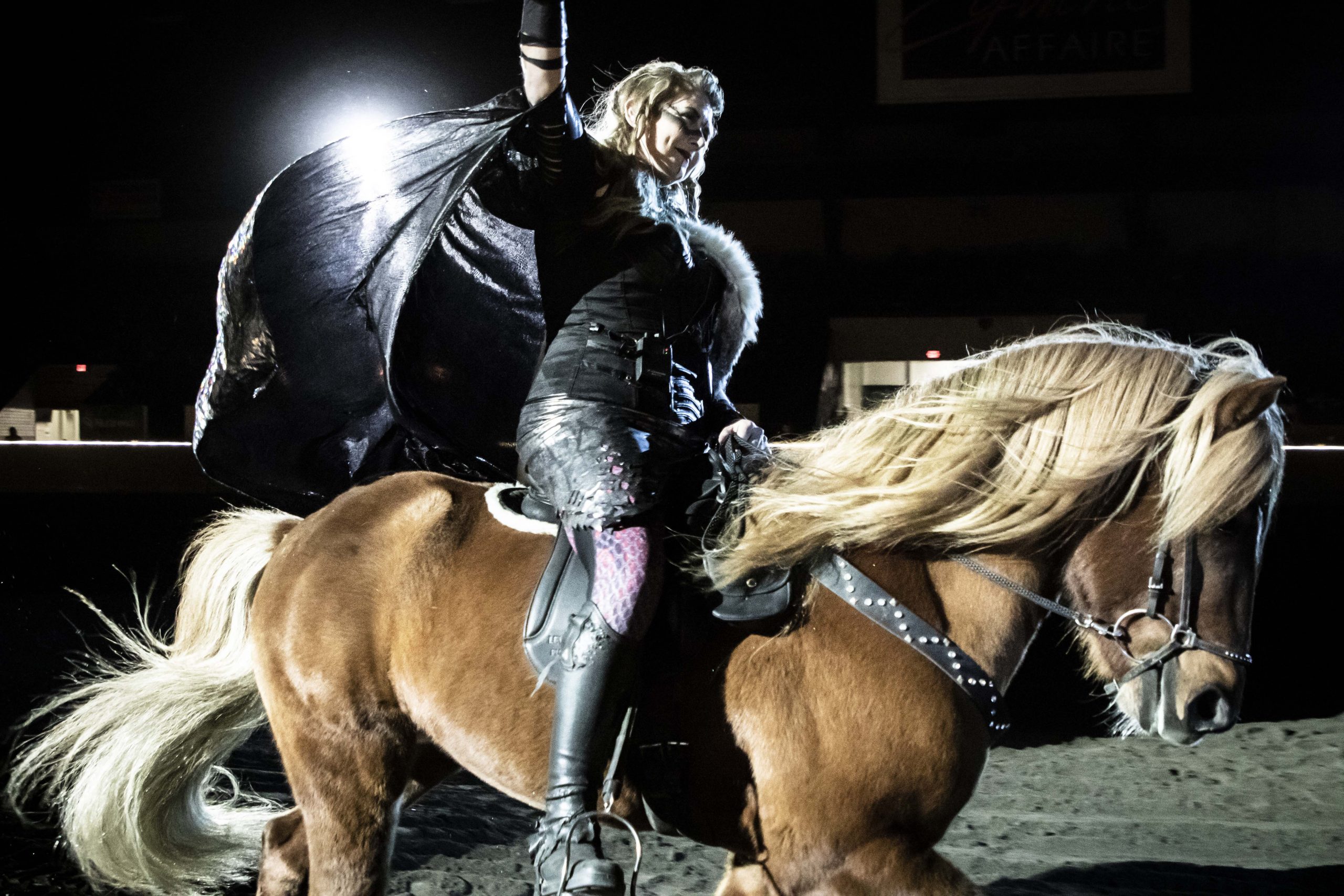 ICELAND'S LEGENDARY HORSES
Over the summer, Lala's passion only deepened as she discovered the wonders of Iceland and its extraordinary horses. By prohibiting the importation of all other equines since 982 AD, Iceland kept its native horses in isolation, resulting in one of the purest horse breeds in the world. They grow up wild, in the harshest of conditions—with no natural predators, they're not easily spooked. Celebrated in Norse folklore, they are stocky, robust and sure-footed. "They've had to endure horrible winters and volcanoes erupting," Lala notes. "They have all this hair to protect them from the wind and snow."
And yes, they are also smaller in stature. "Many people think they are ponies. They are not," Lala says, emphatically. "Icelandic horses have the bone density of a large horse. They're extraordinarily powerful and can carry up to 300 pounds."
The Icelandic is also one of the only breeds that is ridden in five gaits. In addition to walk, trot and canter, the Icelandic has two extra gaits: tölt, a four-beat gait that always keeps a foot on the ground, and flying pace, a two-beat lateral racing gait. "Tölting is so smooth. It's just a feeling that you don't experience on another breed—it feels like you're gliding along, even though you're going fast," describes Lala. "And the flying pace is called the 'Gait of the Gods' in Iceland. We only ride it at speeds of 25 miles or faster. It's the greatest rush you'll ever have."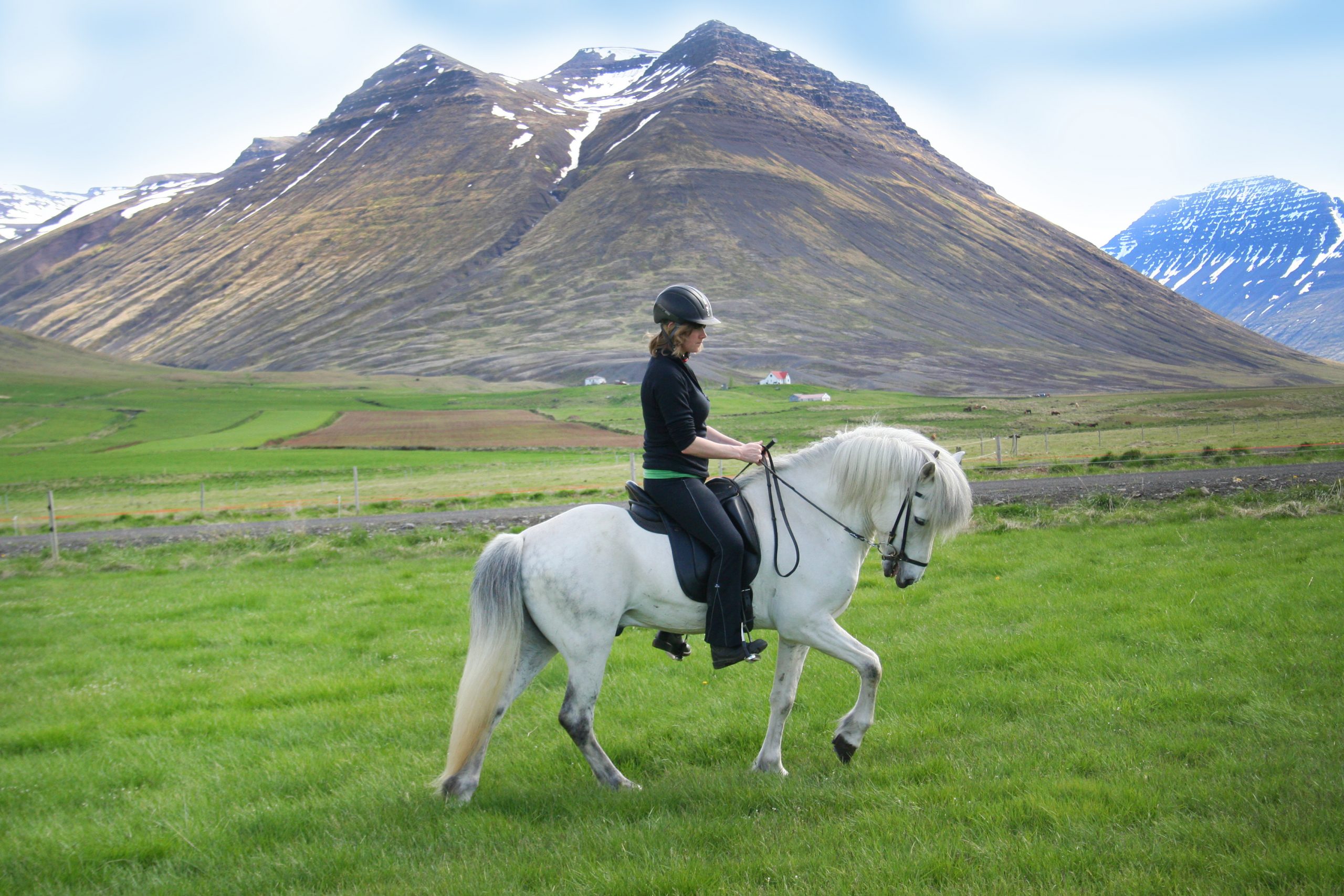 ALL-IN WITH ICELANDICS
Already selling Icelandic horses to U.S. clients, the Petursson family decided that providing additional support was the natural next step. In 1999, the youngest son, Gudmar, was sent to Kentucky to start a farm, and he asked Lala to come work with him. Homeschooled at the time, Lala secured the "go-ahead" from her parents. "I moved to Kentucky, and this 19-year-old boy and I ran this farm and imported all these horses and gave lessons," Lala recalls. "I felt so old at the time. I was 15."
When Lala turned 17, Gudmar suggested it was time to refine and polish her skills—Lala agreed. "I wanted to have an education where I could come back to America and promote the Icelandic horse," she says. "That's all I wanted to do—I wanted to share it with everybody."
However, the only school offering a degree in Icelandic riding instruction was Iceland's Hólar University. "No American had ever gone there before," Lala points out. "You have to be able to speak Icelandic." Gudmar's solution: complete immersion on a remote farm in winter. "I lived alone in the north of Iceland with this family and became fluent within three months," Lala says. She passed her entrance exam that summer and started in the fall.
AN AMERICAN IN ICELAND
The first year at Hólar focused on dressage—the systematic training of the horse. "To improve the horse, you have to do exercises and patterns in all of the gaits inside the dressage arena that help create focus and balance," Lala explains. "This prepares horse and rider for the final tests in Icelandic competition, performed on an oval track." Occasionally taunted and often intimidated, Lala fought to keep her spirits up in the fiercely-competitive program. "I'm kind of an all-or-nothing person," Lala reflects. "When somebody tells me I can't do something, that motivates me to do it more than anything." Lala also turned to her music for solace: "I would spend those long winter nights in Iceland sitting on my porch, staring at the northern lights and strumming out tunes on my guitar."
In the second year of the program, Lala hit her sweet spot—starting young horses and addressing behavioral issues. Familiar with bucking horses from training mustangs, Lala respected the wild nature of the Icelandic breed. "For me, it's all about the connection," she says. "We're dealing with animals that will never speak our language, so it's our job to learn to speak theirs." After earning her two-year degree, Lala took a break from Hólar. With the third year focusing on advanced teaching, riding instruction and training, Lala knew her education would be enhanced by more practical field and teaching experience.
With her sister, Heidi, living in Colorado, Lala moved to Denver in 2004, where she found the opportunity to pick up music again, finding expression in piano and jazz. In Denver, she also met Keith Houston, who has been her life partner ever since. When Lala said, "I gotta go train horses," Keith responded, "I'll go with you," and the two set course for the West Coast. Keith got a job in Palo Alto, and the pair moved to Redwood City. In the meantime, Lala's work with Icelandics took her to Castro Valley and Watsonville and, after Heidi moved to California, the two teamed up to sell Icelandic horses and teach out of Santa Cruz. In 2005, Lala founded Valkyrie Icelandic, expanding her offerings to include summer camps, lessons and clinics, in addition to traveling and teaching all over the country.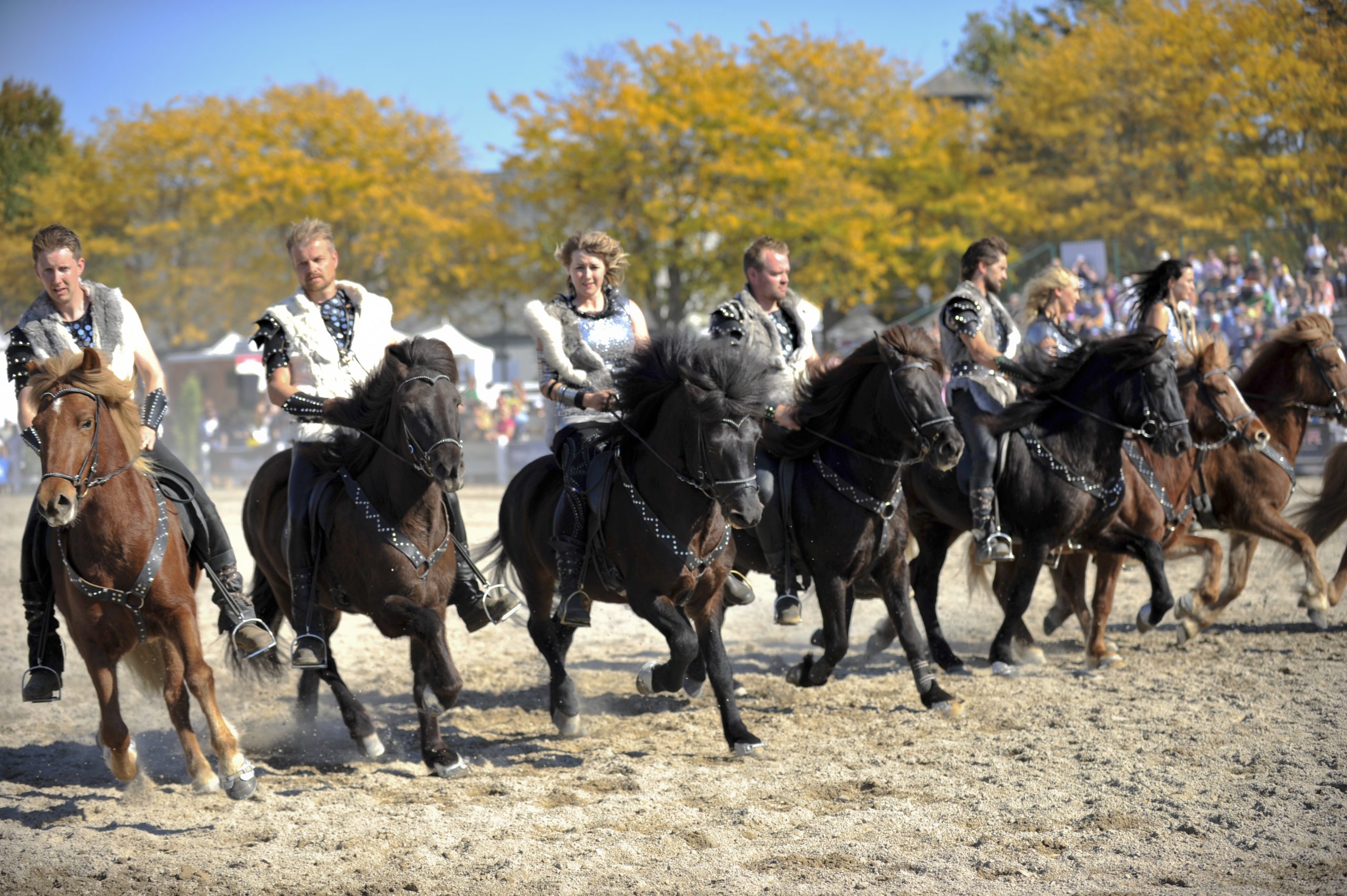 SHOW TEAM AND BACK TO SCHOOL
Lala also continued to collaborate with Gudmar in Kentucky, which led to developing another outlet for her passion. Inspired by the Icelandic spectacle that once captivated her, Lala and Gudmar recruited professional riders to create a show team called the Knights of Iceland. "I was that kid in the crowd who saw them and it changed my life forever," Lala fondly reminisces. "We usually have six to ten riders and we do patterns and mirror each other—it's kind of like synchronized swimming but on horseback." After viewing Knights of Iceland videos on YouTube, a more apt comparison pops into mind: the Blue Angels. The suggestion makes Lala chuckle. "That's a way better explanation!" she concedes. "We do it at speeds of 25 miles an hour or faster, so it scares the s**t out of the audience. It's dangerous, but it's really fun."
In 2010, Lala decided it was time to go back to Hólar, which temporarily meant leaving Keith, her business and her horses behind. Faced with even greater rigor in the program's third year, Lala found herself confronting additional challenges—the eruption of Eyjafjallajökull volcano and a devastating strep virus that sickened the Icelandic horse population. Lala persevered, ultimately completing the program with the high point for horsemanship. Officially the first American to become a licensed Icelandic riding instructor and trainer, Lala eagerly returned to her life on the Peninsula.
CONQUERING SETBACKS
In the years that followed, Lala continued to build her business, still working with her sister out of Santa Cruz, while juggling Knights of Iceland shows, new training in Portuguese dressage and more demand for her workshops and training. Then, late 2014 hit with a wave of adversity. Having already suffered two broken tailbones and her lowest disc going out, a central disc bulged in Lala's back, effectively paralyzing her. "I had all my horses and my business—and I couldn't walk. My savings went like that," she says, snapping her fingers. "Everything was gone, and I had to start again from scratch."
With the unfamiliar sensation of having time on her hands, Lala picked up her guitar again. "Even though it was the worst thing that ever happened to me, it brought me back to my other extreme passion," she reflects. "I'd been so lost without music." Injections eventually brought some relief, and after six months, Lala started walking again and taking light rides. But then in 2016, while still in PT for her back, she got caught in a terrifying accident during her Highway 17 commute. "The airbag broke some of my ribs and it ended up rupturing the bulge in my disc," she summarizes. Surgery followed, along with more rehab, and Lala fought her way back to riding strength once again.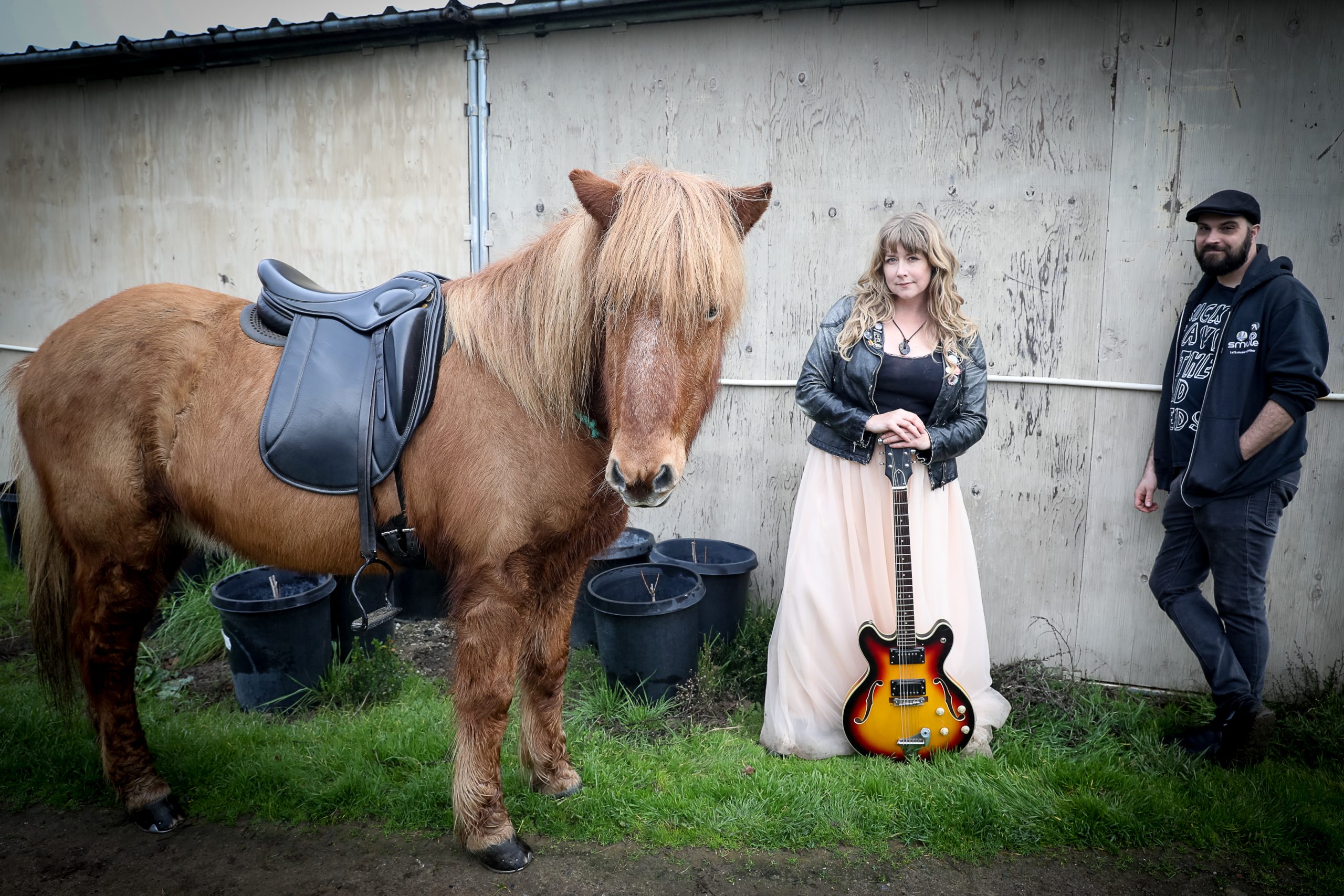 SOARING IN THE SADDLE
Lala credits a close friend, Cathy Luo of San Mateo, with helping her relaunch Valkyrie Icelandic in Palo Alto. The two met in late 2010 over their shared love of music, and in 2017, Cathy sought Lala's help in buying two red Icelandic stallions for her and her daughter to ride. "She pretty much lifted me up at my darkest hour," Lala says of her friend. "I don't know if I'd be here now without her support." The desire to find a closer home for the two horses led Lala to Page Mill Pastures, where her business is once again thriving.
For Lala, 2017 also marked the launch of Gæðinga (Guy-theen-guh) Dressage. Working with partner Carrie Lyons Brandt (Lala's former student and the second American to graduate from Hólar), Lala drew on an epiphany about jazz to develop a new training program. "I told Carrie the way I want to play music and the way I want to train are exactly the same," recounts Lala. "It's knowing the structure and theory which then gives you the creativity to improv freely." Derived from a term describing the perfect horse in Icelandic, Gæðinga blends classical exercises with the spirit and freedom of Icelandic horsemanship.
In another mix of music and riding, Lala worked with her songwriting partner to adapt a song she recorded into a new Knights of Iceland act. "Keith calls me 'The Singing Viking,'" Lala says with a grin. "I sing on horseback and having my two passions come together is the most defining moment of my life."
Even as she records her first EP, Lala remains devoted to the training and promotion of Icelandic horses. Beyond her homebase in Palo Alto, she currently works with clients in Portola Valley, Woodside and Los Gatos. She estimates that there are about 30 Icelandic horses on the Peninsula—and she's confident the number will continue to grow.
"I'll be flying down the road in tölt, on this stallion with his hair blowing everywhere," she says, "and I'll have people stop me and ask, "'What is that?!'" By the time Lala is done, they're clear on one fact: it's definitely not a pony.