During a recent holiday party for the workers of B Street & Vine, a personalized game of Jeopardy! broke out in which owner and founder Steve Spieller quizzed his employees with a list of detailed questions only a restaurant embedded into the soul of a downtown could muster.
One column was dedicated to the regulars, the folks who come into the San Mateo wine café weekly for a bite from their extensive bruschetta menu that's paired with an equally ample wine list. Questions included "Who orders the Italian sausage panini with a bowl of red pepper soup on Wednesdays?" and "Which 91-year-old customer asks for extra croutons with their kale salad?"
Recalling the game during a tranquil weekday afternoon, Steve chuckles at the memory and calls upon an employee passing by to help remember some of the other questions. "It goes back to the Cheers theme song," he says. "People like to be recognized and treated the same way. When you've been here for as long as we have, you know the people and the things they like."
Since 2006, B Street & Vine has nestled itself into the downtown San Mateo dining scene to become a popular fixture for a pre-movie rendezvous (the Century 12 theater is across the street), light lunches and weekly live jazz. The wine bar with a shaded back patio is located in a century-old building, originally the city's first library, where golden walls are adorned with painted artwork of musicians and models. Akin to the cross-streets suggested in its title, B Street & Vine is where Italian themes like paninis intersect with specialty salads to create tapas with an Americanized flair.
"When we first started, it was all about introducing the combination of the food, the music and the wine. That seemed to be the big attraction," Steve says, explaining that the core concept is a social, shared plate experience. "When my wife and I go out, we have multiple plates to try different flavors and enjoy the essence of the whole restaurant—especially appetizers, so often the appetizers are more fun to try than the entrée."
Some B Street & Vine menu items are especially meaningful for Steve. For example, he credits the bread pudding to a recipe crafted by his 95-year-old mother who lives in San Mateo.
"Most restaurants pull from their roots," he says. "It was fun to introduce the coffee ice cream pie because it was my birthday dessert growing up—we still use Oreo cookie crust with chocolate ganache. People will say they love it and I've been having it my whole life!"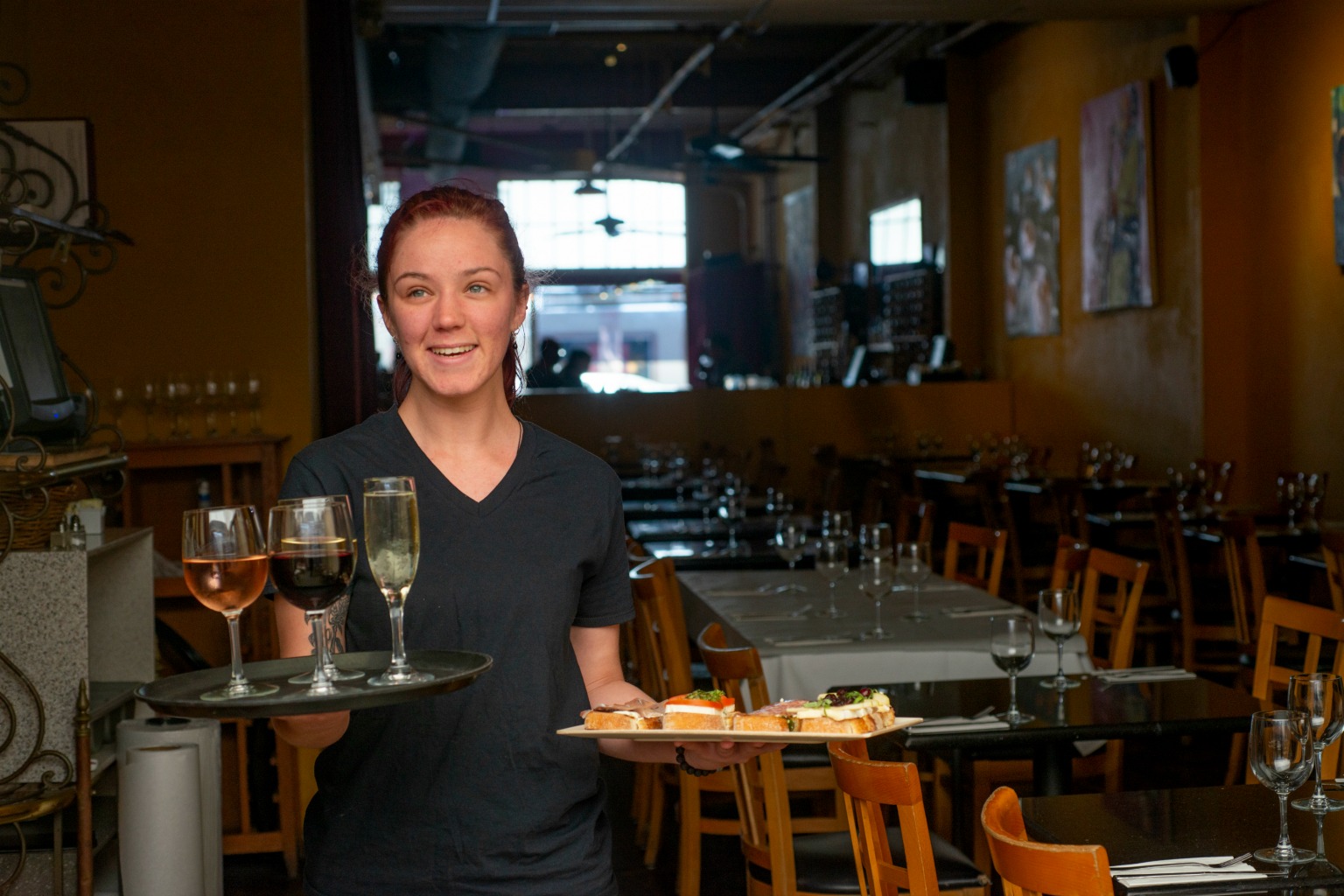 Yet the star of the menu is the bountiful bruschetta, with 16 selections to choose from to make a plate of four, each sliced into fourths for premium sharing. At the top of the column listing each variety is a short phonic reminder: "bruschetta (brew-skeh-teh)." It's not a pet peeve for Steve, rather, a gentle prompt. "You wouldn't say chee-anti," he reasons, referencing the classic Italian wine.
Popular choices include the brie with apples and spiced pecans, the gorgonzola with honey and the brie with pear, basil, honey and dried cranberries. "When people see the presentation with all the different colors, I've heard some customers describe it as the sushi of Italian restaurants," Steve says.
The dessert bruschetta is where customers have the ability to get creative and choose from a spread such as Nutella or fruit jam, pairing it with a fruit or cheese and then topping the concoction with caramel, coconut, cookie crumbs and more.
The bruschetta menu has been a runaway hit, drawing fans from around the world; Steve says that when his cousin was visiting New Zealand, she told her Uber driver that she was from the San Francisco Peninsula. His response: "Have you ever had the bruschetta from B Street & Vine?"
"We're famous in New Zealand!" Steve laughs. "Someone asked me recently if I ever thought this would be successful—who would have thought I'd make a living cooking a bunch of toast and putting toppings on it?"
Helping to add to the café's casual ambiance is a packed music program where various forms of jazz music is scheduled from Wednesday to Sunday, beginning at 7:30PM. (KCSM broadcasting from the nearby College of San Mateo fills in the aural gaps during the day.)
B Street & Vine has become a tucked-away venue for finding local rhythm and bass duos and Calypso jazz. Moreover, on Sundays in the fall, Steve opens the stage for high school acts. Students from the likes of Aragon High School, St. Ignatius College Preparatory and El Camino High School have performed in the past. The school's music departments retain all the tip money and Steve adds a personal donation following each show.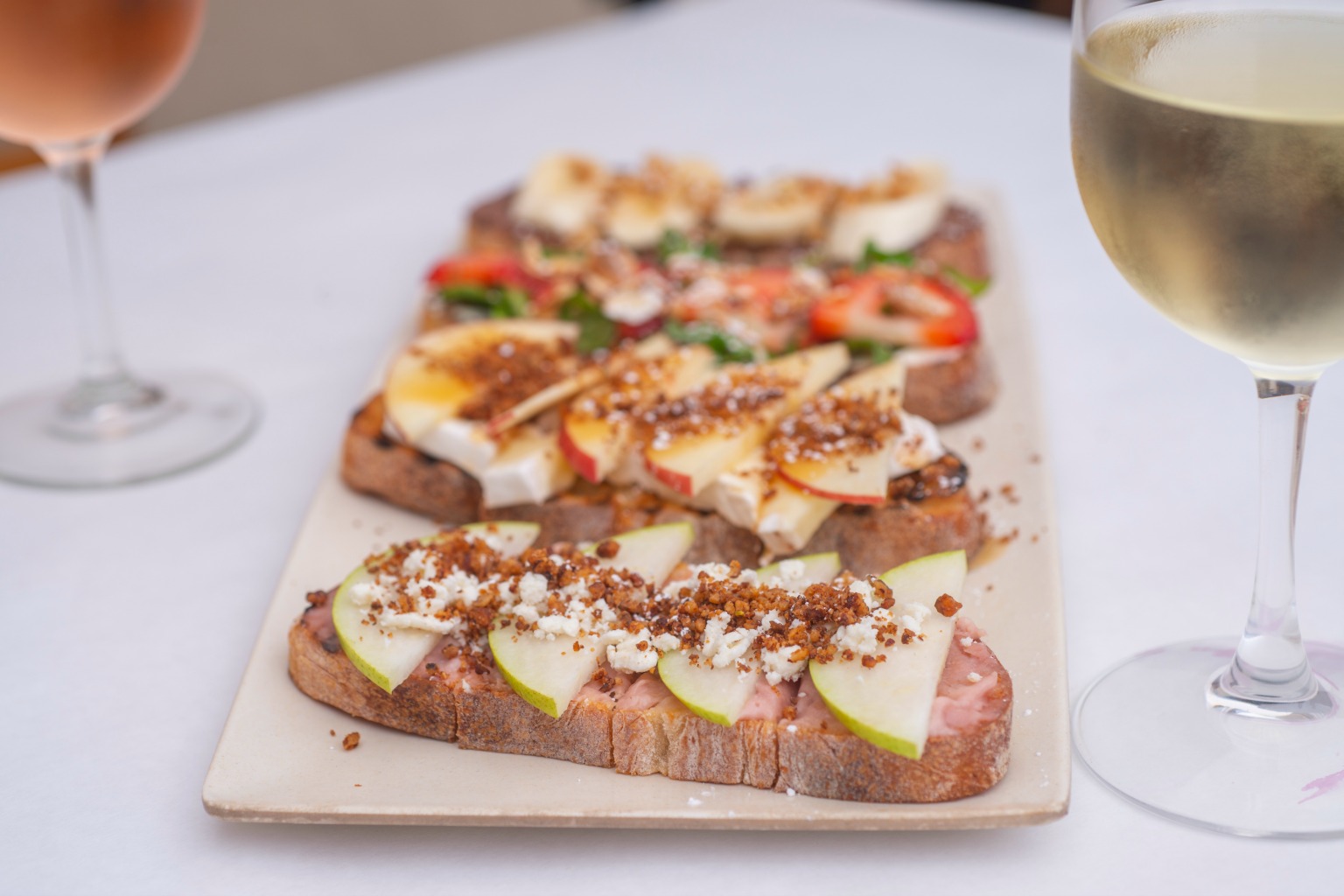 Although B Street & Vine has cemented itself as a favorite for San Mateo locals, it doesn't mean the restaurant hasn't drawn a few bad apples over the years—as was the time the bar momentarily shielded a criminal.
"There was one instance when a gentleman had pulled a knife at North Beach Pizza around the corner from us and it just so happened, not long after, someone came in to sit at the bar and ordered a beer," Steve says. "The police were chasing him and spotted the guy sitting at the bar. The music kept playing, and I don't think a lot of people noticed. And I think he still paid the tab."
SHARE A PLATE
320 South B Street, San Mateo • bstreetandvine.com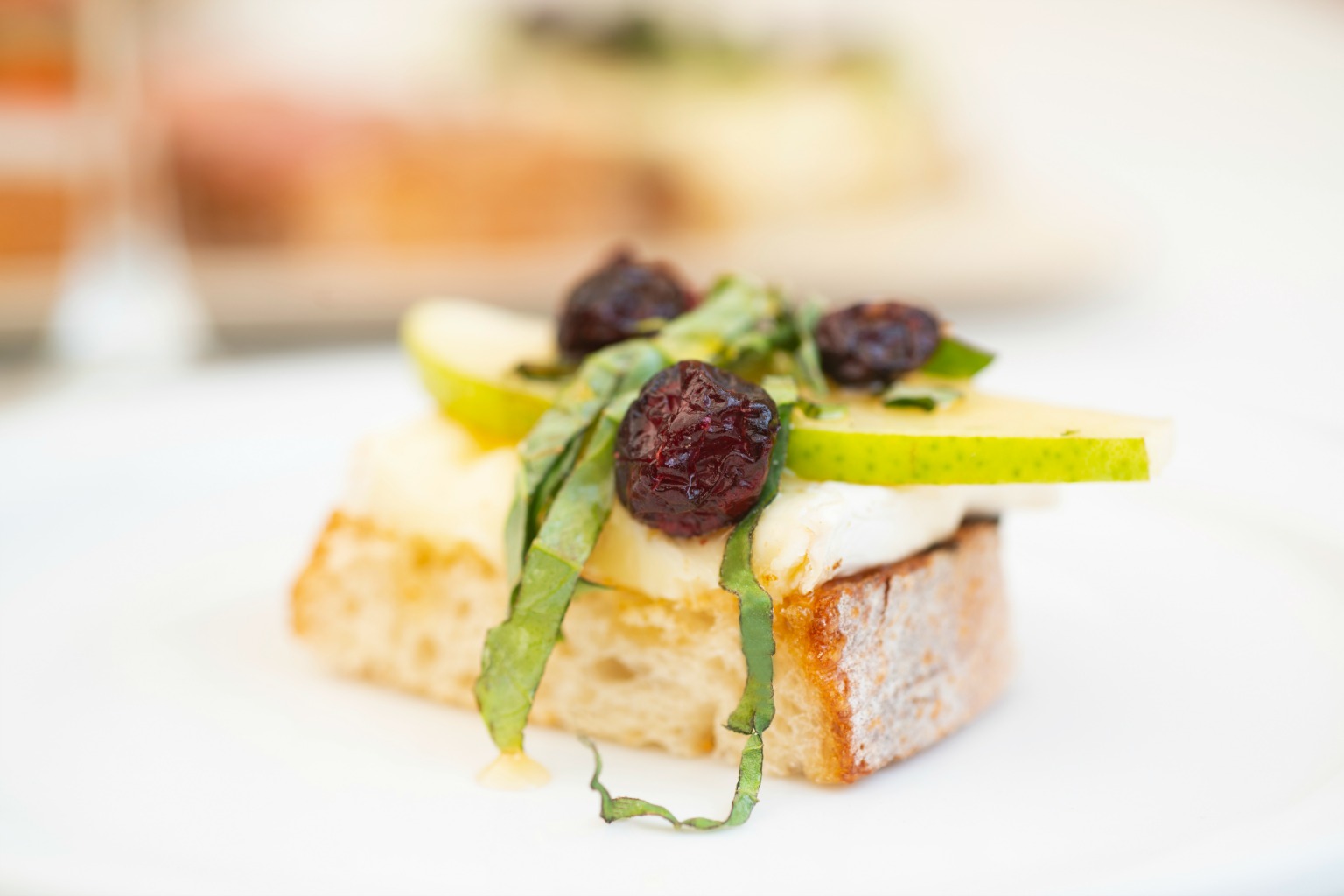 behind a staff favorite
INGREDIENTS
Brie
Pear
Basil
Honey
Dried cranberries
A simple bruschetta recipe that's adaptable for any season. Exchange basil with mint and pomegranate for cranberries to make this a wintertime treat. Steve counsels that a crusty sourdough works best on the bottom.
As for the mixture of ingredients? "One of my waiters was with his mom at the doctor's office and he was looking through a magazine," Steve recounts. "It was holiday-themed and he saw a photo of people eating a bruschetta with brie, pear, pomegranate and mint. He brought that in and we tried it with basil instead of mint. And since pomegranate was not in season, I tried it with dried cranberries. If you're ever looking for a new recipe, someone has probably already figured it out."