Words by Johanna Harlow / Cover photo: Courtesy of Erin Ashford

Actor, screenwriter and director Tony Gapastione doesn't lob softball films out into the world. Whereas major film studios might play it safe with gratuitous action flicks and lightweight rom-coms, this Redwood City creative will always reach for meatier subject matter.
Take his feature-length film, Last Chance Charlene, the tale of a struggling screenwriter/actress who has recently lost her brother. The movie touches on hard-hitting subjects like the grieving process and the aftermath of suicide—but tough topics don't scare Tony. "I'm passionate about that," he says.
"Let's get better at having hard conversations." The mindset has paid off.
Tony managed to recruit Alley Mills, the well-known Wonder Years actress (and recent widow) as Charlene's mother. Moreover, the film drew attention from Cinequest, earning it a debut in this year's lineup.
The movie has also given Bay Area talent numerous opportunities to shine. "The big studios aren't going to make these smaller films," observes Tony. And because they prefer to play it safe with their investments… "They're going to pass over and miss out on newer talent, newer voices." But Tony is comfortable with risk. After all, pursuing a filmmaking career this far north of Hollywood isn't for the faint of heart.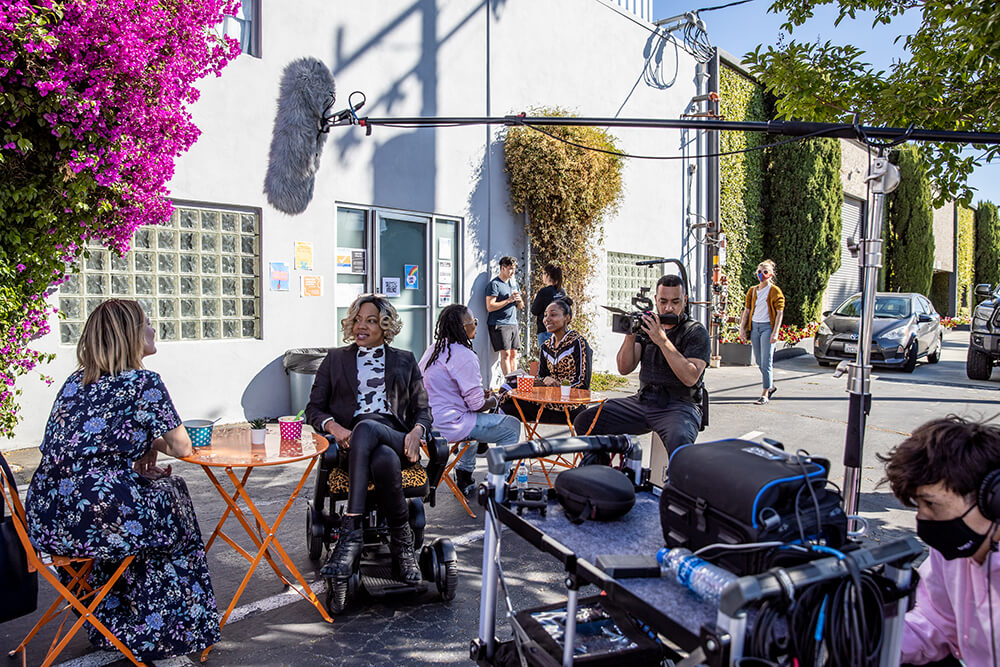 Photogrophay: Courtesy of Bravemaker
Perhaps another reason for the independent film's success resides in how near to heart the storyline hits for its creator. Before screenwriting or directing, Tony concentrated purely on acting—but that changed after his grandmother took her life in 2012. "I was in a tailspin," he says of the traumatic time. The following year, he dedicated some of the money she'd left him toward attending his first Sundance Film Festival. The experience was life-altering. "I was floored, inspired, weak in the knees," he recalls. "I came back from Sundance 2013 going, 'I can make a movie.'" That same year, he shot his first short film.
By 2018, Tony had formed BraveMaker, a nonprofit dedicated to elevating bold stories and underrepresented voices. "We curate and create original films in order to have community dialogues about life's most meaningful topics," he explains. With the aim "to ask questions that start good conversations," he produced a number of memorable short films. Last Chance Charlene is the organization's first feature-length project, with several more in the works. In July, the movie will also screen at BraveMaker's annual Film Fest in Redwood City. Initially launched in 2019, this year's event will feature Alley Mills, Jeffrey Lieber (co-creator of Lost) and Angela Harvey (a staff writer on Teen Wolf).
Beyond its entertainment value, Last Chance Charlene is meant to be a resource. Previously the pastor and creative director at Peninsula Covenant Church (a position he held for 20 years), Tony views filmmaking as another way to nurture souls. "Obviously, this is a different part of my story, but I believe this is my ministry," Tony shares.
To that end, BraveMaker recruited grief consultants to shed light on the subject of loss and create companion guides for viewers of the film. "One of the things the grief counselor said is, 'Charlene's got way more levels of grief than just her brother,'" Tony points out. She's also grieving relationship strains, the guilt of not being a present parent and rejections of her script. What's more, the film shows the complex nature of grief with a sister, a wife and a mother all grappling with loss in their own individual ways. "There's no right way to grieve," Tony notes. "Charlene even says, 'I don't know how to do it.'"
Nowhere is this complexity more present than a scene in which Charlene overreacts to being duped by another character. "This is grief. It's up, it's down, she's crying, she's hitting her head," Tony says. "It's painful and it's ridiculous all at the same time." In this raw moment, Charlene's friend Dino comes alongside her. He sees Charlene sprawled out on her back—and lays his head next to hers in a poignant act of solidarity. "I wrote him as a kind of symbolic brother," Tony relays.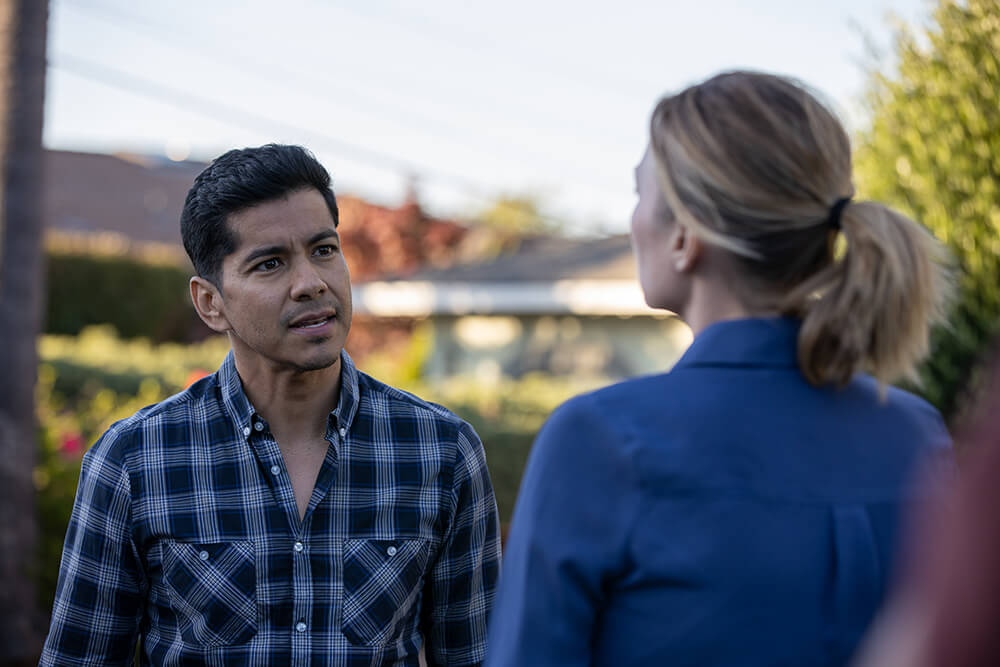 Photogrophay: Courtesy of Michael Dhanuwidjaja
That support system happened not only on-screen, but behind the camera as well. During filming, Tony recalls wrapping up a multiple-hour shoot—only to discover a glaring continuity error. Overwhelmed by the setback, he left the set to clear his head. "My assistant director Felipe Barandiaran was walking alongside me. And he's like, 'Okay, just breathe,'" Tony shares. "He said, 'Okay. Let me tell you a story. In 1974, when Steven Spielberg was making Jaws, the mechanic shark wasn't working, and this is what they had to do…'" It brought Tony's stress levels right down. "We're going to make it work," he realized.
In turn, Tony supported his leading lady Allison Ewing as she tackled the emotionally-demanding role of Charlene. "Allison, as an actor, needed to find a way into Charlene," Tony explains. As she grew in her understanding of the character, she brought depth to her portrayal. "I love watching what an actor does with my words. I like seeing how they take it beyond what I thought," he shares. "In filmmaking, we often talk about how there's so many different versions of the movie: the one you write, the one you shoot, the one you edit. There's also the one that the actors bring to life and seeing how they bring nuance to the character and how they reinterpret lines."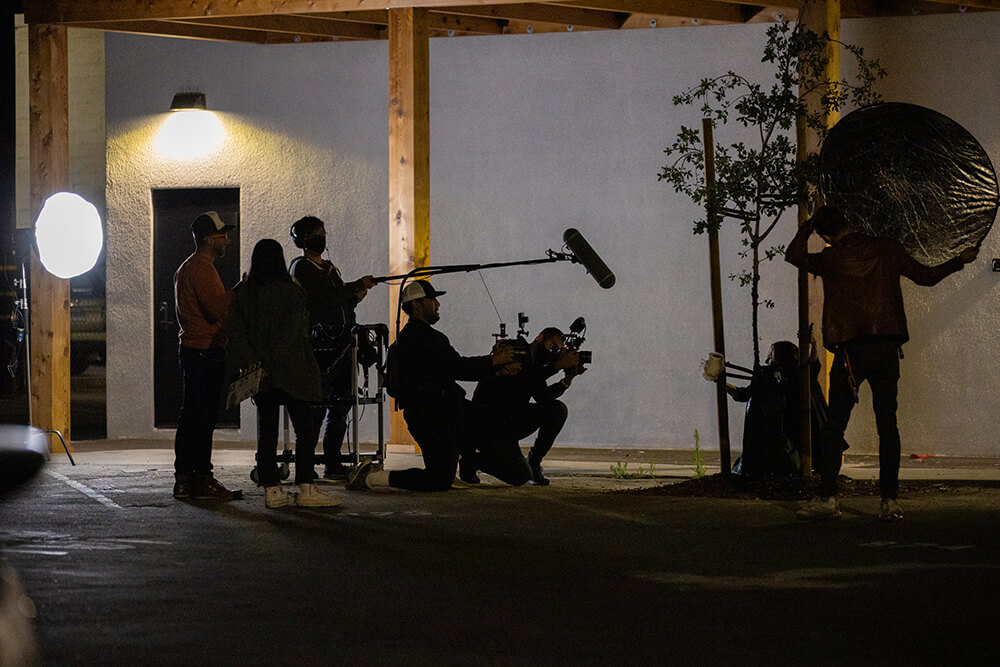 Photogrophay: Courtesy of Michael Dhanuwidjaja
So what makes it all worth it? Why keep plowing forward despite the challenges of indie filmmaking? Tony considers this, glancing around his studio/office, a love letter to the cinematic artform with decorative reels and film festival photos adorning the walls and a "make cool sh!t" mug flanking the Keurig machine. His bookshelves include The Subversive's Guide to Independent Filmmaking, Creative Confidence, and The Reel Truth. "Stories change the world," he replies. "And I think one of the ways they do it is through healing. Stories heal us."