You'd be forgiven for driving past the building that houses the Midwife and the Baker. The low, green-trimmed warehouse in residential Mountain View doesn't exactly scream "artisan bakery." Although this is the first time it's had a retail storefront, the Midwife and the Baker started in 2015. At first, Mac McConnell (the baker) was making a few loaves of bread that he'd sell once a week at his wife Jenna's (the midwife) office in San Francisco's Noe Valley.
Though the bakery has built quite a following since then, selling at farmers markets and through wholesale clients like cafes and grocery stores, McConnell seems a bit surprised that people are showing up to buy bread basically out of the side door of a warehouse. "It's almost like a speakeasy," he says. "You have to know about us; there's no signage at all."
McConnell was working as an engineer when he became an avid home baker, the kind of person who wakes up at odd hours of the night to check on his doughs. Taking a leave of absence from his job to attend a program at the San Francisco Baking Institute (SFBI) was enough to convince him that he wanted to transition from a hobbyist to a professional, and he hasn't looked back. After working in bakeries in the North Bay and on the East Coast, McConnell returned to the SFBI as an instructor.
The bakery's staff is small—almost all the bakers are ones McConnell taught at SFBI—but they go through almost two tons of flour a week. About half of that flour arrives in Mountain View as whole grains from local farmers. Then, the team uses a mill with two vertical stones (made of granite that McConnell carved himself) to grind the grain into flour. The result is staggeringly different from something you might buy in a grocery store. McConnell likens the freshly milled flour to the first dusting of snow that falls during really cold weather; it's so fluffy and light that you can barely feel it between your fingers, and it holds together when you pick up a handful and squeeze.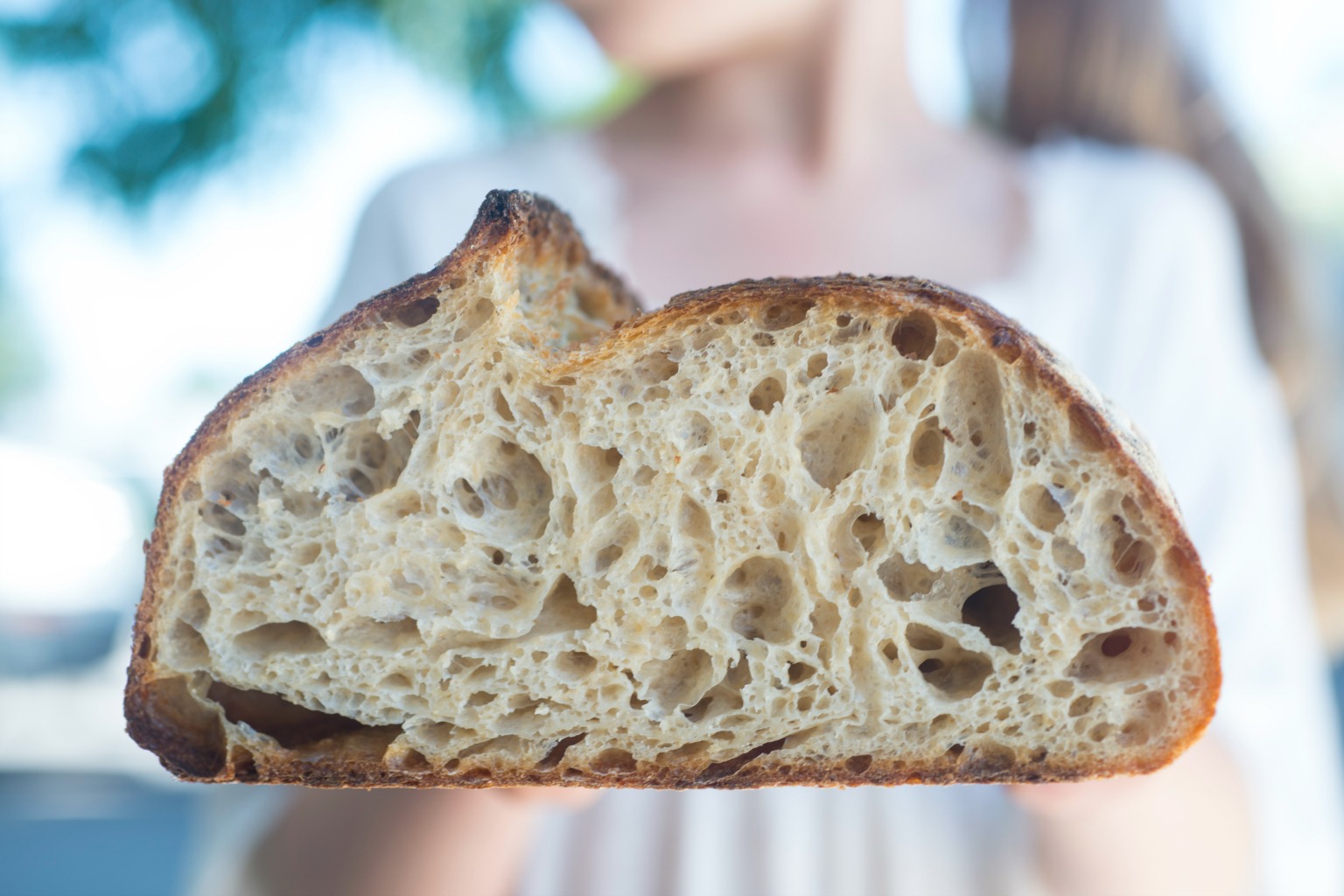 They use a wild yeast, or sourdough, starter to make their bread, but the term "sourdough" almost makes McConnell wince. "It's such an unfortunate name," he says. After going through the trouble of milling his own flour, it's the toasty, burnt-honey flavor of the grains that he wants his customers to taste first, not a vinegary tang that dominates other flavors. Some people might think of whole-wheat breads as hard and dense, but by using fresh flour and a high-hydration dough (meaning that there's a fair bit of water for every ounce of flour in the recipe), the Midwife and the Baker's whole-grain loaves are light and chewy. That natural yeast also means that the bread stays fresh and soft for a surprisingly long time. "We're so proud when a customer comes in, having bought a loaf a week ago, and they say that they had their last piece of toast that morning," says McConnell.
Even great bread gets stale eventually. When that happens, you can use your loaf of ciabatta or country white from the Midwife and the Baker to make panzanella, an Italian dish that also uses the delicious local tomatoes that are in season right now.
make it
Ingredients
2½ pounds mixed tomatoes, cut into
bite-sized pieces
2 teaspoons kosher salt, plus
more for seasoning

¾

pound ciabatta or sourdough
bread, cut into 2-inch cubes (about 6 cups bread cubes)
10 tablespoons extra virgin
olive oil, divided
1 small shallot, minced
(about 2 tablespoons)

½

teaspoon dijon mustard
2 tablespoons sherry or
wine vinegar
Freshly ground black pepper

½

cup packed basil leaves,
roughly chopped
Preparation
1. Place tomatoes in a colander set over a bowl and season with 2 teaspoons kosher salt. Toss to coat. Set aside at room temperature to drain, tossing occasionally, while you toast the bread.
2. Meanwhile, preheat oven to 350°F and adjust rack to center position. In a large bowl, toss bread cubes with 2 tablespoons olive oil. Transfer to a rimmed baking sheet. Bake until crisp and firm but not browned, about 15 minutes. Remove from oven and let cool.
3. Remove colander with tomatoes from bowl with tomato juice. Place colander with tomatoes in the sink. Add shallot, garlic, mustard, and vinegar to the bowl with tomato juice. Whisking constantly, drizzle in the remaining half-cup olive oil. Season dressing to taste with salt and pepper.
4. Combine toasted bread, tomatoes and dressing in a large bowl. Add basil leaves. Toss everything to coat and season with salt and pepper. Let rest for 30 minutes before serving, tossing occasionally until dressing is completely absorbed by bread.
Recipe adapted from Serious Eats.