"It's really important to bridge the gap between indoor and outdoor—it doesn't just stop at a wall or a door or a window. We try to take that barrier down and have a seamless flow," says designer Eric Greenblott, whose wife Mae is his partner in life, and also his partner in design.
"Our approach is to start by creating a master plan," explains Eric. "Figuring out what makes sense and what is just the right location for positioning seating and dining areas, whether inside or out."
Eric and Mae run Palo Alto-based Greenblott Design, a comprehensive landscape and interior design firm that gets a lot of buzz for bringing the indoors, outdoors. "We don't like things too busy or complicated," says Mae. "We take that approach to all of our projects, regardless of the client's exact style."
Eric and Mae met in New York's East Village. Eric earned a landscape architecture degree at Cornell and Mae has a civil engineering degree and studied at the New York School of Interior Design in Manhattan. Married in 2010, they spent four months wandering through Europe, enthusing over architecture and gardens before hanging out their own shingle. Attending a wedding and visiting relatives introduced them to the West Coast. They fell in love with the Peninsula's entrepreneurial mindset and made the decision to uproot. Now raising their son in Palo Alto, they are enthusiastic about designing for the Peninsula community, whether it's an estate or a bungalow.
The pair designs with an eye toward what's elegant and sophisticated, but also functional and practical. "We love to create warm and inviting settings that continuously flow together while being aware of how those spaces relate to each other," explains Eric. "They can be connected by a sense of shared materials, where the indoor flooring and the outdoor tile are the same, or maybe it's through adding new outdoor structures."
The team looks at where the sun comes up, the site plan, the orientation of the home. They get a sense of who their clients are and how they live. "It's a really intimate process," notes Eric. "We get to know our clients. We look at the whole connection between the interior architecture and how it flows into the most appropriate exterior space in the landscape."
They're mindful of placing "really nice furniture for outside that feels like you're in an interior space," says Mae. "There are so many choices for furniture nowadays. You can get really great, comfortable luxurious materials, finishes and fabrics that are resilient enough for outdoors."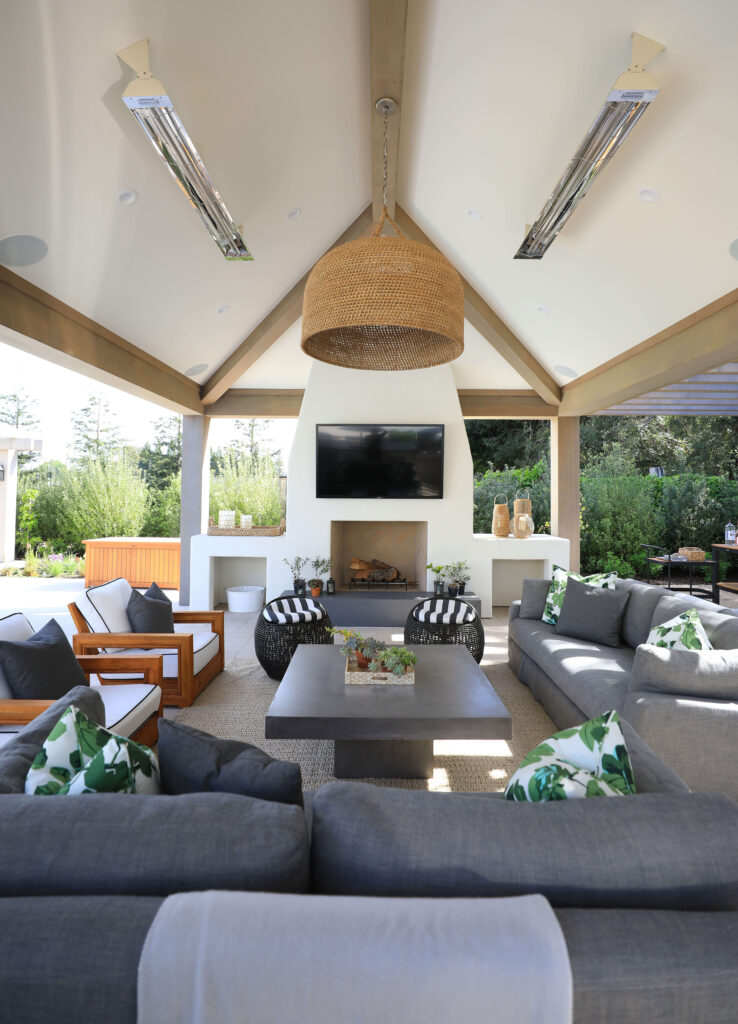 With clients spending more time at home, Eric and Mae are seeing a spike in demand for spaces that can be used year-round, which requires gracefully integrating elements like infrared heaters and fire pits. "You're sitting outside and it's so comfortable because the details are embedded so well into the design," observes Eric. "Heating and lighting that's really well-thought-out and strategically located so that you can use the space, any time of day or night, winter or summer."
When it comes to the flora, Mae says, "We ask our clients what flowers or plants they really love, and then consider how things will look year-round." As an example, Mae cites the "Little Ollie" evergreen olive shrub: "They require a lot less water, but are very sophisticated and rich-looking."
The Greenblotts specialize in high-end projects, and many of their clients have children, which makes them especially mindful of surfaces, especially around pools. "It should look beautiful, says Mae, "but not so you slip and hurt yourself." A key design factor is identifying the best perspective or vantage point on the property—and then figuring out appropriate spaces. Here's how Mae summarizes the goal: "Create a sense of privacy and separation between the adults and kids but still have an eye on them and make sure that they're safe and comfortable and everyone has what they need."
Eric says it comes down to space planning and knowing how someone is actually going to use that space, versus "just randomly dropping furniture because it looks pretty—actually doing it with intent."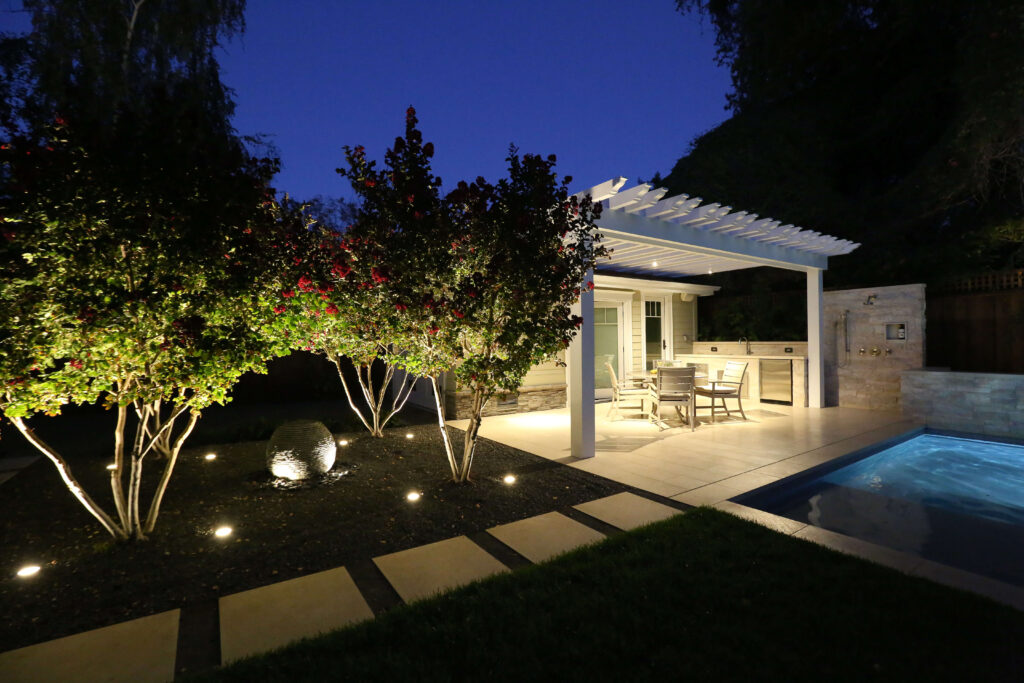 For that reason, Mae and Eric like to use products like Resysta for outdoor decking. It's a high-end synthetic wood made from rice husks and plastic that can be sanded, sealed or stained to look like real wood interior flooring but without the splinters and wear expected outside. Notes Mae, "It looks beautiful. You would be hard-pressed to think it wasn't real wood." They also use just a few select kinds of artificial grass. "The key is knowing the difference between what's high-quality and what isn't," Mae says, "balancing what looks really nice with what's practical."
At the top of everyone's wish list? A custom-built Accessory Dwelling Unit or ADU that can morph from home office retreat to pool house to guest house. That can include details like arbors, pergolas and cantilevered or extended roofs to create outdoor nooks that feel cozy, luxurious and expansive.
"Our approach is that this is a great opportunity to start from ground zero and build a structure that really engages with the landscape," says Eric, "adding elements like big, open sliding pocket doors and living rooms that extend out, so that the indoor and outdoor spaces feel like one."
Mae says that their clients want to increase both their usable square footage as well as focus on added function: "Maybe we add an indoor-
outdoor kitchen that can be used at different times of the year or a sleeping-bedroom element where there's a Murphy bed or some fold-out sofa for families visiting."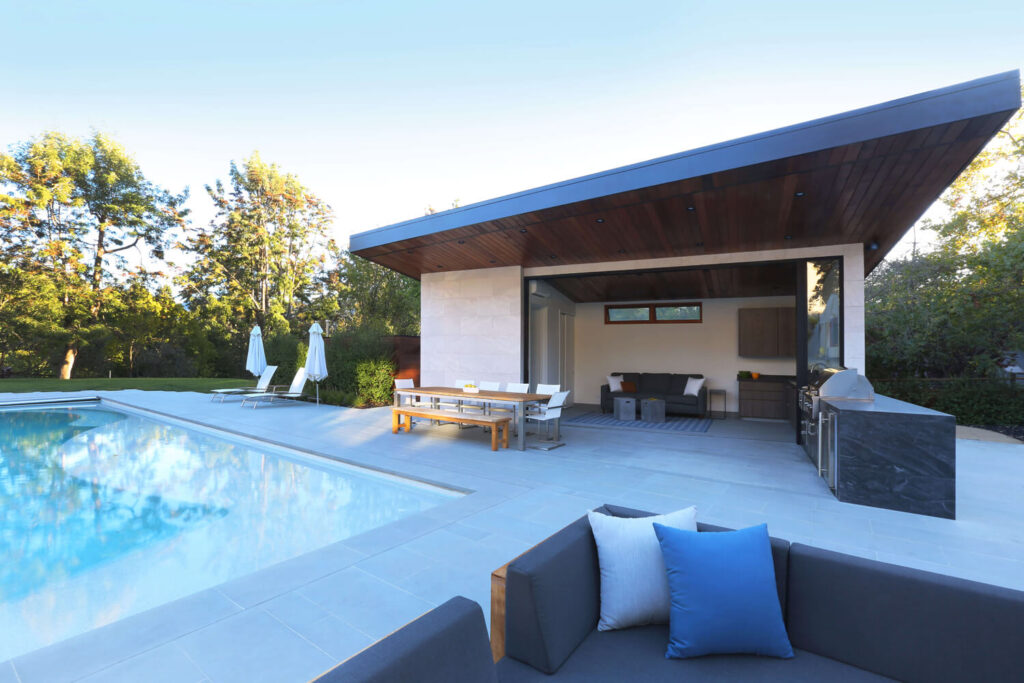 Whether it's new construction, a remodel or a conversion, Mae says they ask themselves, 'How is the new room best utilized?'
"You don't want to go through the main house to get to a bathroom," she points out. "So how can we incorporate a way that a bathroom can be easily accessible from the outdoors? That might be a side door to the ADU so when everything's closed down at night you still have access to the bathroom or add an outdoor shower." Mae also recommends using outdoor furniture inside ADUs to create multifunctionality. "You don't have to worry whether kids are going to ruin it from the pool or from the outside," she says.
From major features to minute details, everything maps to the goal of seamlessly blurring the line between inside and outside—and making outdoor living possible all year round. "One of our favorite comments," says Mae, "is when we hear from clients, 'We're still using the pool and it's December.'"