It's evening, and the entire family is gathered. And while the weather is lovely, you don't quite want to be outside. As water glasses are filled on the table, floor-to-ceiling pocketing doors are drawn back into the wall. Fresh air, scented with seasonal flowers, flows into the room, and the sounds of chirping birds and buzzing bees intermix with the dinner conversation and dishes being passed. As you settle into this moment, with an almost imperceptible sigh, all the stresses of the day slip away. This is indoor-outdoor living.
"When people go on vacation, they live a certain way. They always talk about how freeing it was," notes architect Danielle Wyss. "And then they come back and they live a very different way. Indoor-outdoor allows you to literally take down walls but to also take down figurative walls."
For that reason, Danielle is always looking for ways to incorporate indoor-outdoor elements into her projects. As an architect designing custom homes for Peninsula clients, she draws from years of experience—along with her own personal appreciation for this area's almost-unparalleled climate.
Originally from Reno, Danielle soaked up Pacific Northwest precipitation while earning her architecture degree from the University of Washington. From there, she headed to Aspen, where she joined a small, high-end custom home architecture practice. Although inspired by Colorado's stunning vistas, Danielle's designs needed to account for snow, dying grass and even "a whole mud season." Her entrepreneurial spirit eventually drew her to Silicon Valley, which turned out to be a liberating move. "It's incredibly freeing as an architect to work out here. The Peninsula has this rare mix of Northern California and Southern California climates; you can just swing all the windows and doors open on a regular basis," Danielle says. "In Colorado, there's two months of the year when that's going to happen. Here, it's like there's two months out of the year when it's not going to happen."
After a seven-year stretch as lead project architect for Fergus Garber Young Architects in Palo Alto, Danielle co-founded her own firm, Shift Collaborative, in 2014, while pursuing a masters in business management at Stanford's Graduate School of Business. The Stanford connections she made as a Sloan Fellow led to many of the projects she designed in her firm's first year, followed by a steady roster of custom home clients ever since. Whether she's designing contemporary or modern farmhouse, Danielle always prioritizes one objective: timelessness—which explains the desire to dissolve indoor-outdoor barriers. "There's something about the indoor-outdoor relationship, this mental understanding of this connection with nature, that is timeless," she says.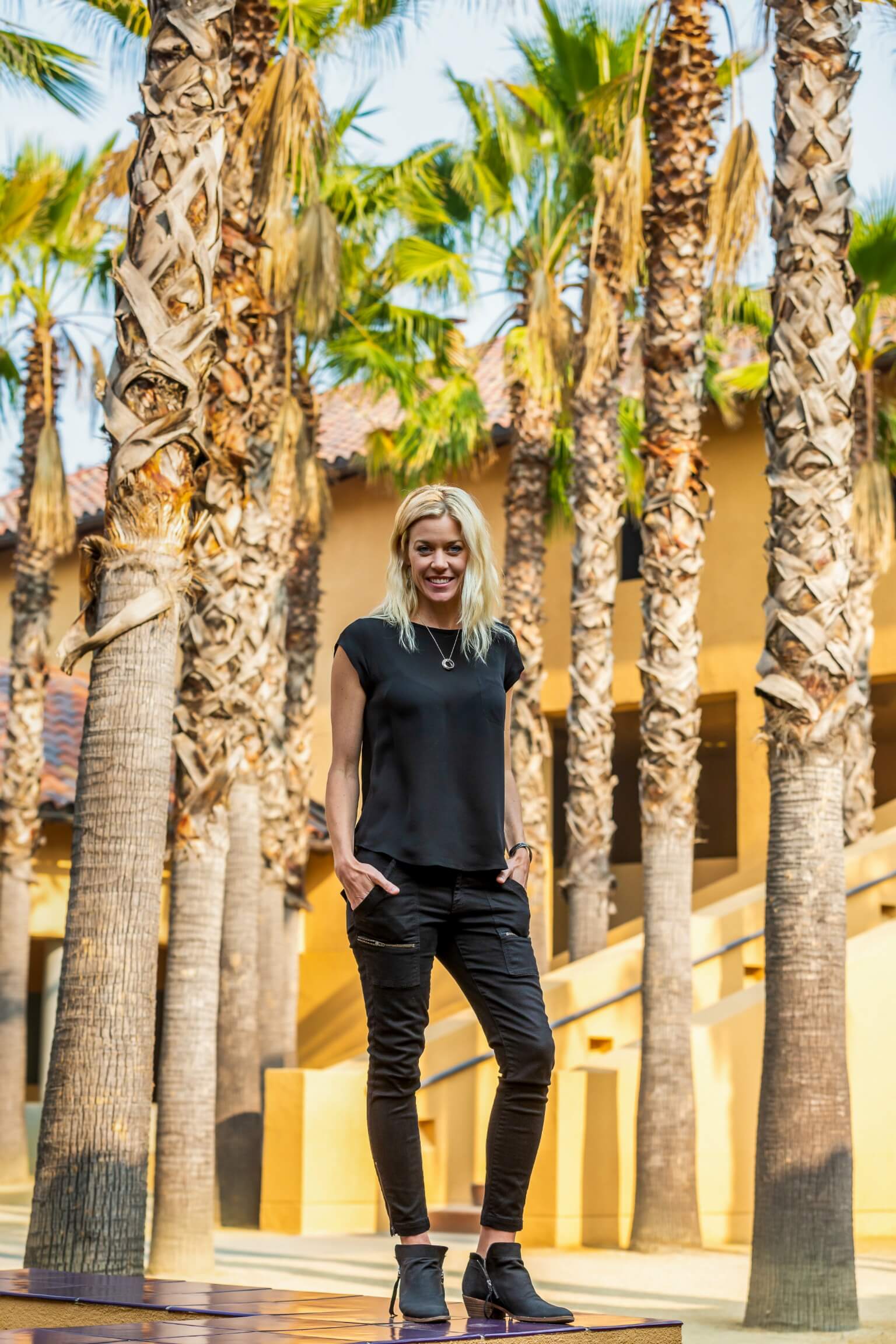 For Danielle, all design starts with the land, the piece of property. Is it sloped? Is it flat? What are the views? Can you see your neighbors? Those are just a few of the considerations she looks at first, and then the next step is determining where the client plans to live in the home—where will they spend most of their time. "I don't care how big your house is; you're probably going to live in 500 square feet, so let's just nail it," she says. "If you know the major portion is going to be spent in your great room, that has to have the best features of your piece of property—the best natural light, the best view of the trees or the view of the hills."
And while Danielle perceives the indoor-outdoor relationship as vital for clients, she also emphasizes that it requires significant forethought and planning. "You end up wanting to have a large expanse of an opening that somehow magically disappears," she says. "Whatever budget you have for the house, you need to save some budget for it because invariably it's expensive to achieve that."
To successfully blend indoor and outdoor, Danielle also underscores the need to design outdoor rooms thoughtfully. "Thinking through the outdoor rooms is as important as thinking through the indoor rooms," she advises. "You need to have something drawing you out there."
Danielle also points out that smaller spaces don't have to be limiting—on a tight, narrow lot, even five feet of space can be turned into a side patio. Picture a glassy, sliding door leading to a French café table and two chairs. "It's that mental connection you're creating," says Danielle. "Just having the relationship from the inside to the outside and making it accessible."
Here's a final point to keep in mind: While infusing your home with fresh air is relaxing and even regenerative, don't forget, you may also be inviting in buzzing flies, dive-bombing mosquitos and a few icky spiders. "That's a conversation I have with every single client: 'What is your tolerance for this sort of stuff?' I think that it is a very common concern," Danielle confirms, before citing mitigating options like pocketing doors that include screens.
Bottom line: when you dissolve the barrier to let your life spill between inside and outside, be prepared to appreciate (and accept) all the wonders of nature that come with it. shift-collaborative.com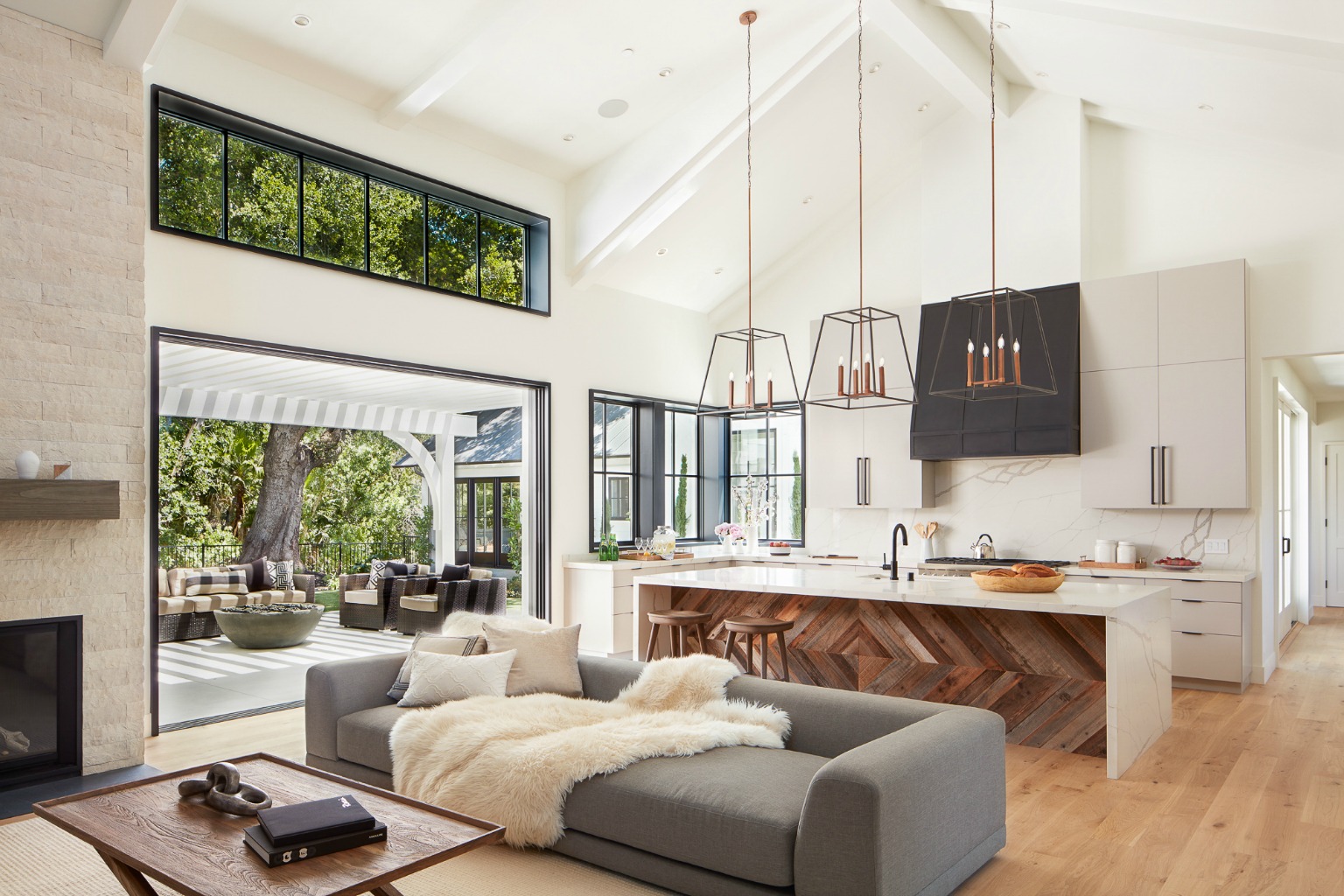 Los Altos Great Room
GOAL: Create a seamless flow from inside to outside for both entertaining and daily lounging.
APPROACH: Having the space to pocket the doors into the wall entirely requires forethought in the schematic design phase. Here, we hide them behind the fireplace. The wall is 12" thick to accommodate all the door leafs and screen leafs fully pocketing away.
PRO TIP: Paint the inside of the door pocket framing black.
Menlo Park Dining Room
GOAL: Make the relatively small space for a dining room feel spacious and engaged with the garden.
APPROACH: The existing ranch-style house had low ceilings and these doors require large headers, so getting the tallest and widest possible bi-folding door was important.
PRO TIP: Make sure you have room for the bi-folding doors to open without hitting furniture. If necessary, add more sections so each panel is smaller to reduce opening footprint.
Palo Alto Basement/Family Room
GOAL: Flood the basement with natural light by creating an
outdoor courtyard that is surrounded on three sides.
APPROACH: Needing multiple kinds of rooms to all share the courtyard but wanting the light to come in from all sides to the main space, I designed giant, ceiling-high pocket doors to separate the guest bedrooms down here from the family room. When not in use, they are left open to allow all that luscious light to spill into the family room.
PRO TIP: Even if enhancing natural light is the main objective, don't miss the opportunity to create an inviting outdoor space.