How do you bring an authentic taste of Naples to the Peninsula? According to the partners of Centro Pizza in Burlingame, it starts with the man crafting the pies, ends with the perfect oven, and oh—don't forget the dough!
"The dough is the star of this pizza and I think that's what separates the Neapolitan pizza from 'pizza,'" says co-owner John Scarcella. "What most folks are used to here is that the dough is the delivery system for toppings. The Neapolitan pizza is the complete opposite—the dough is where the flavor is and the toppings are the accent."
That's why Centro (pronounced 'Chentro' in Italian) does not do delivery or crispy crust—they just can't guarantee the quality of their delectable chewy, charred dough in transit. Centro's pizza must be eaten fresh from the 5,500-pound oven they had custom-made in Naples and then hauled through their front window on Broadway Avenue by forklift. Why? Because that's how they do it in Italy.
Fortunately, a visit to Centro—whether you eat in or take out—is a lot easier than a flight to Naples and still delivers an authentic experience. Their Margherita, Salsiccia (sausage) and Prosciutto pizzas are most popular with the Nutella pie coming in as a favorite dessert. And ssh—don't tell anyone—but you can ask for pepperoni. It's just not on the menu because it's not a traditional Italian topping.
If you're curious about the imported tomatoes and flour, which are traditional Italian ingredients, ask certified master pizzaiolo Francesco Amoroso, who handcrafts about 150 to 200 pies per day at Centro. Francesco grew up in Italy, started making pizzas at age six and trained in Naples to follow in the footsteps of his late father and principal instructor, Michele Amoroso. As for the most authentic ingredient here? It's Francesco himself: his wide smile and friendly Italian banter as he pivots around the open kitchen are part of the draw.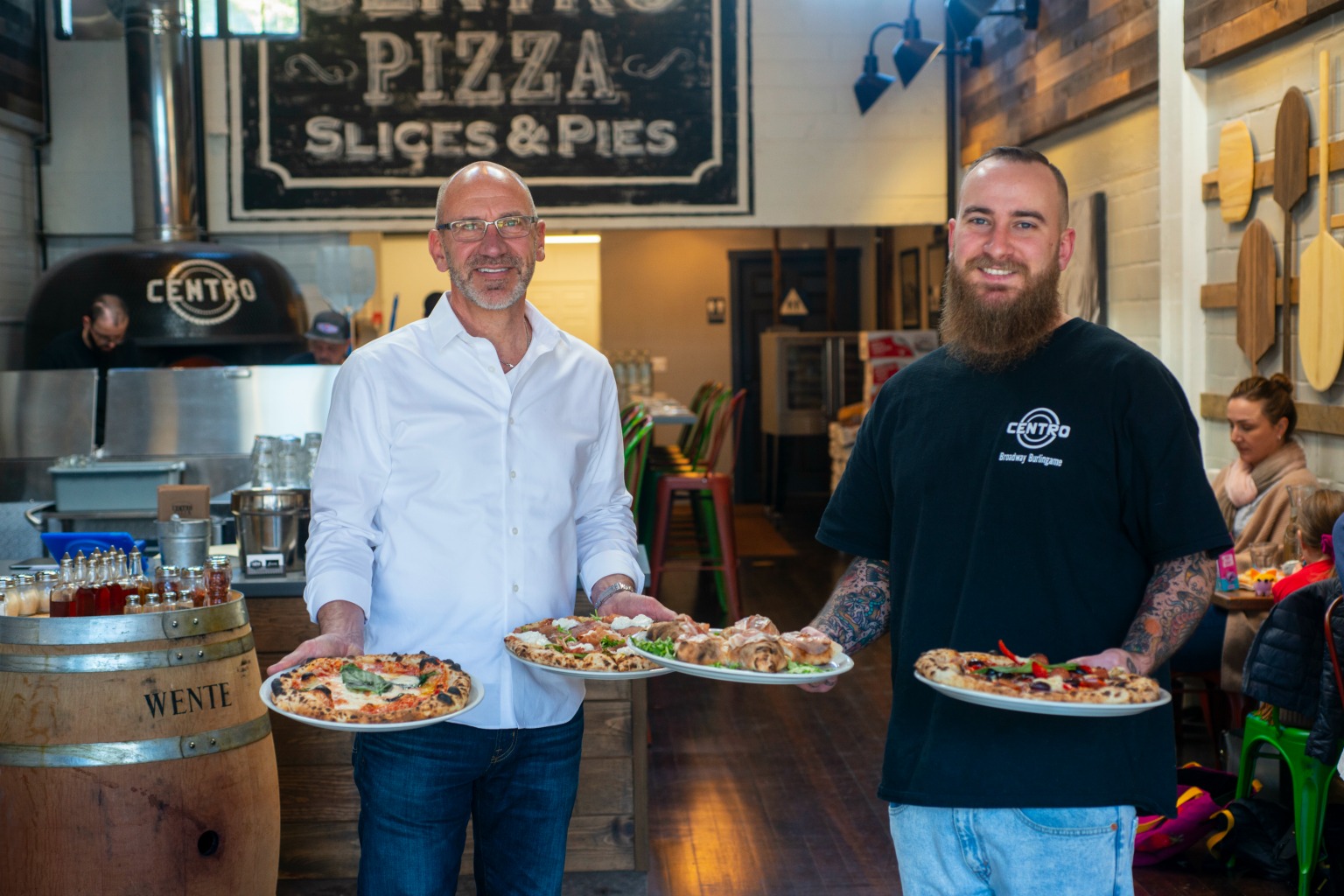 Cameron Scarcella, John's son and co-owner along with third partner Elio D'urza, says 80% of their business comes from locals, many of whom live walking distance from the restaurant and are now counted as friends; they come for the pizza, the personalities, the Centro Chopped Salad and Prosciutto con Buratta and to linger over the rotating micro tap beer and wine list. Centro offers quartinos of wine, ¼-liter, for just $10 and pints of beer for $6. Another community favorite: Centro serves food and drinks on Fridays and Saturdays until midnight, with a plan to sell single slices coming soon.
Located in the old Broadway Hardware space, Centro's modern interior, local clientele and late-night hours make it feel more like a hip spot in San Francisco than a joint in the 'burbs, which is all by design. "A lot of people thank us for not just throwing up a spot, that we spent time making it look and feel like they're in the City," John says. Their designer managed to combine industrial chic, giant black and white photographs of hand-kneaded dough and even some hardware kitsch: the original Broadway Hardware sign is on display inside the restaurant.
On a typical day at Centro, diners are greeted by Cameron, who grew up in Burlingame and attended Our Lady of Angels. After graduating from the University of Arizona with a finance degree, he returned home to a business proposition from his father: How about helping us open an authentic Neapolitan pizza place on Broadway? John and Elio were already partners in Sapore Italiano restaurant on Burlingame Avenue, and they'd been on the lookout for a good spot in Burlingame for a pizza venture.
Sapore, like Centro, is a local hangout. Open since 2002, they say generations of families have come to eat, drink and gather 'piazza style' at Sapore. The three partners all have roots in Calabria, the 'toe' of Italy, and also on the Peninsula—in addition to working in Burlingame, they live there as well. That's what inspires their "local first" attitude. "You have to take care of your local clientele, they come first. And that's why we have so many regulars in both places," John says. "Some eat with us five nights a week. Really. And if they're not eating, they'll stop by for a drink on the way home or on their way home from dinner someplace else."
"Our thought was to do traditional Neapolitan pizza on Broadway because God knows Burlingame Avenue has enough pizza, and we wanted to be a part of revitalizing Broadway. Some people say yeah, but you're not far away, what's the difference," John recounts. "What is the difference? Ask the people around here, there is a difference. I think people like to support local businesses and if they have a choice, they would support a local business over a national chain. So I just think that's natural in this area, but I also think it's a trend everywhere."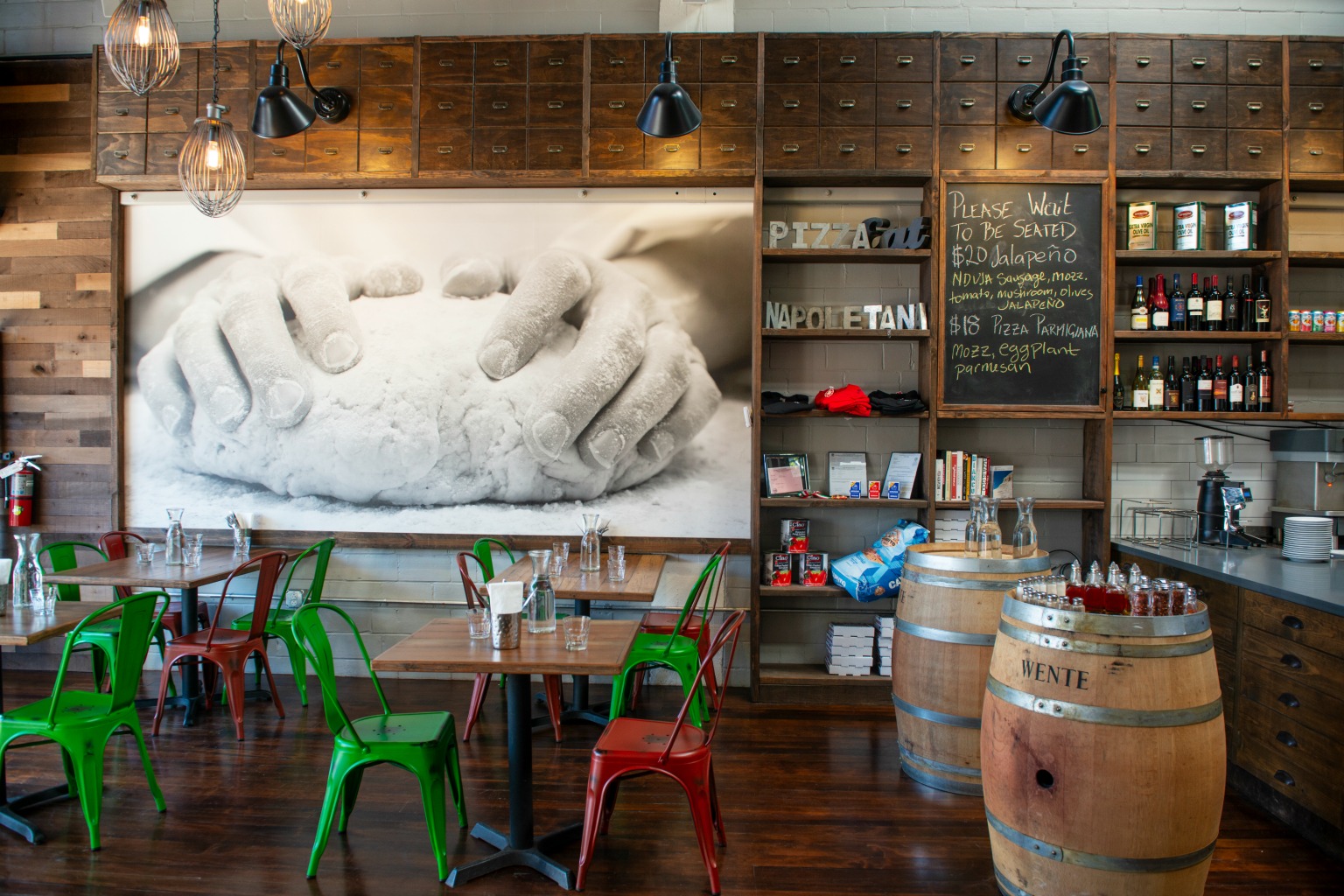 John sees an increasing opportunity for local businesses to lure back customers who would normally equate a night out with San Francisco. "Before, everybody used to go to the City but the traffic is horrendous, parking is terrible and it's expensive," he says. "Now I think people want to support their community, and that's why you see the growth of these little downtowns up and down the Peninsula that 10 years ago didn't exist."
What's Centro's plan for competing with the chains on Burlingame Avenue and even the allure of San Francisco? Centro's three partners are banking on two winning ingredients that came all the way from Naples: the oven and the pizza maker.
straight from the oven
1326 Broadway • Burlingame