words by Silas Valentino
There's a round yellow button inside the front cab of the train that triggers a familiar sound. The horn is heard daily, throughout the daylight hours and into the night, and harnesses the power to stop traffic or instill a sense of wonder and amazement into rail fans of any age.
Nestled within this cacophonic blast is a cloaked and rhythmic message: Here comes the train.
Tony Elich, a longtime Caltrain engineer, is required to hit this button every time his locomotive approaches a public crossing and by law, the horns must follow the standardized pattern of two long, one short and one long.
Or, as he translates into spoken word when passing through town: Here… Comes… The! Train…
Remembering to hit the horn is just one of several tasks Tony juggles when chugging along at 79 miles per hour each day. It's a multi-tasking job; the brakes require a particular finesse for releasing compressed air to gradually slow down, the tracks are lined with important signage indicating what lies ahead and there's always the unpredictable possibility of a person wandering onto the track.
There's a lot to manage inside that front cab where an engineer typically sits solo, unless they're training an understudy—which explains Caltrain's zero-distraction policy—no cell phones or even smartwatches are allowed on the job. But it's the undertaking of a lifetime for Tony, who has been with Caltrain for the last 23 years.
"It's a process of elimination—how can I make the whole process of putting the train on the platform a lot easier?" he says. "To me, it's a feeling. If I have to ask myself what we engineers do all day long, and I've thought about it, it's that we judge and we feel all day long. There is a plan that goes into it but it's a judgment of feeling. We take it for granted because it is a job. But when I tell people what I do, they think it's the coolest thing in the world. And a lot of the time, it is."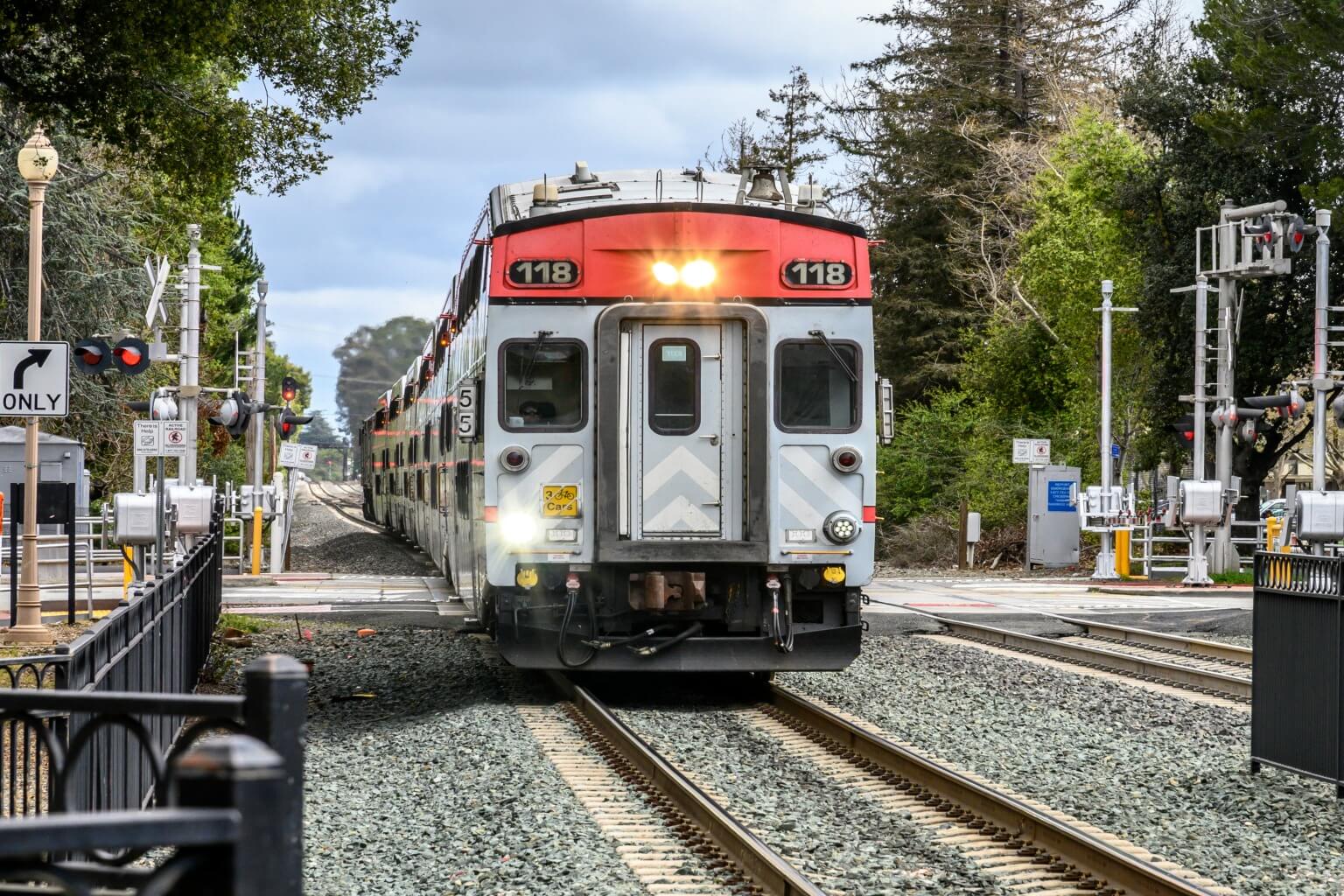 Tony is one of 68 engineers who operate Caltrain's fleet of 92 trains. He's a "connoisseur of wrist watches" whose pet peeve is arriving late. Before he was at Caltrain, Tony worked for Union Pacific and ran freight trains for BNSF Railway for 16 years.
He lives outside Tracy and considers Caltrain to be the best-kept secret for train engineers, thanks to the consistency of his work schedule; he's a father and used to have to go weeks without seeing his family when working on freight trains. The other major job perk? The interaction he has with passengers.
"That's the best part of the job," he says. "Trains bring out the five-year-old in all of us. I rolled up to Menlo Park in the Christmas train and this lady and her son were looking at me. When I got off, she said, 'It just dawned on me—you guys are like rock stars to these kids.' I said I had never thought of it that way but when you see kids light up, that's what makes it worth it to me."
The Federal Railroad Administration requires 240 hours of training before an engineer is able to become certified, which means Tony sometimes has company up front. He stresses to his trainees safety, communication and how to remain composed when facing an unavoidable accident.
"You see how many fatalities we have out here," he says, referring to on-track suicides. "During the interview process we see if they're capable of handling that situation. If that situation arises, and it does, passengers will look to you. If they see the engineer is calm, they're going to feel safe. It's trying to stay calm as much as you can."
Every train undergoes a daily tune-up at Caltrain's Central Equipment & Maintenance Facility in San Jose. The 20-acre train yard accommodates inspections, maintenance, repairs, train washing and storage. Next door is the communication center where a few workers direct all communication between engineers. Since Tony can't have his phone with him when working the train, his point of contact is a radio signal back to this centralized hub.
The room is quiet and efficient. It's a mixture of an air traffic control center and a 9-1-1 dispatcher hub. An electronic panel displaying the routes is half the size of a billboard and covers the front wall. The tracks are dotted with colorful lights to symbolize the status of the trains or the condition of the tracks. If there's a service interruption, the information is radio-delivered here for the dispatchers to individually dole back out to each engineer.
Since the first tracks were laid down in 1863, the train has been a major transportation artery for the Peninsula that's only ramped up its usage over time. The average weekday ridership has soared since 2010, when just over 34,000 rode the train to now, with over 65,000 riders. Caltrain supports a "dual commute" wherein the number of strap hangers commuting north and south on Caltrain is about 60/40, and there are about 13,000 more northbound riders than southbound. This distinguishes Caltrain's commutes from other metropolises, where passengers generally go into the city in the mornings and return after work.
Caltrain anticipates their current ridership to quadruple by 2040, and to prepare, the rail line is currently in the process of modernizing its fleet through electrification. When the project is completed in 2021, electricity will run through 51 miles of tracks between San Francisco and San Jose, using a new management system called Positive Train Control that's become the latest industry standard.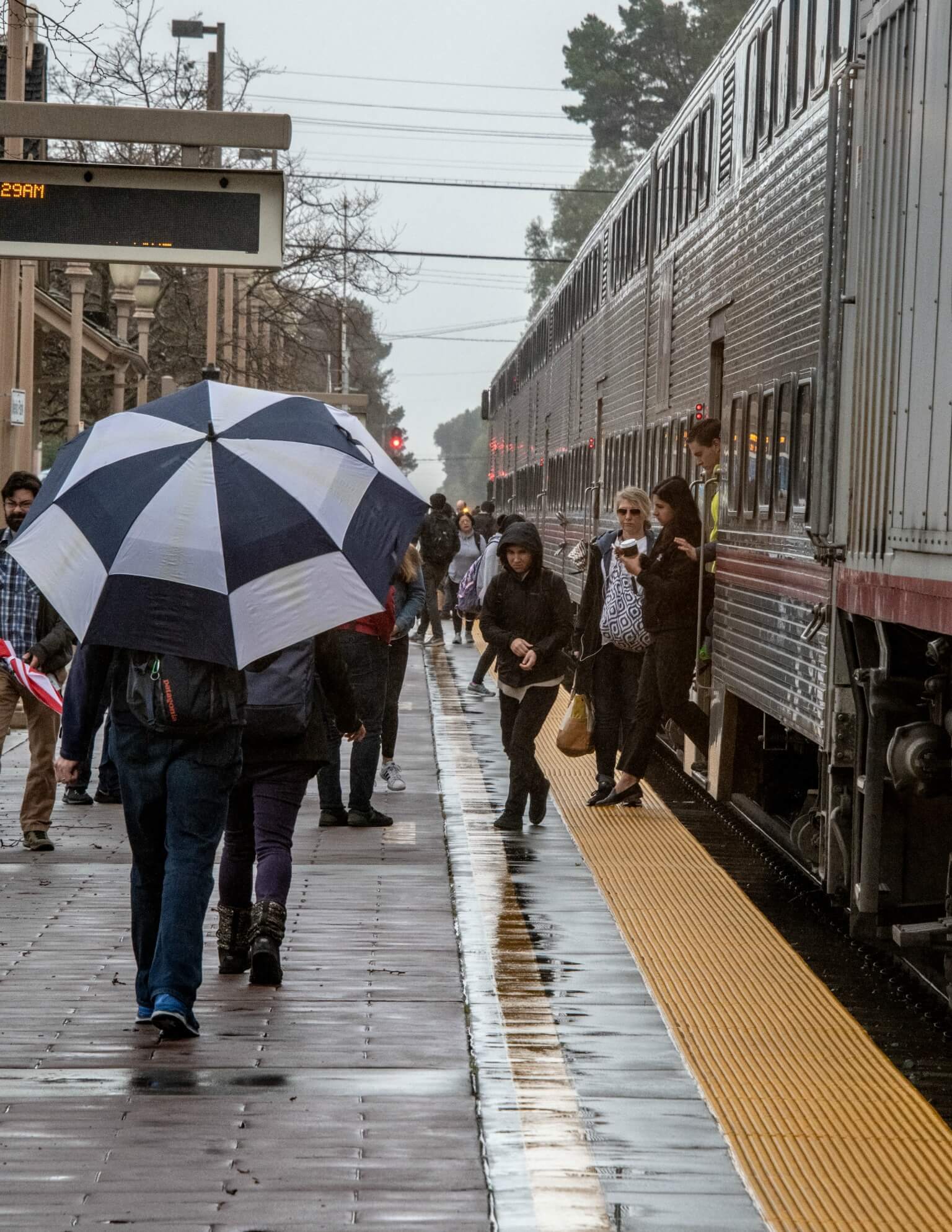 The trains are currently under construction at a plant in Salt Lake City and although details are slim—besides the addition of Wi-Fi and seven-car train sets as opposed to six—it hasn't dampened Tony's excitement.
"I'm looking forward to the challenge and I can hardly wait," he says, noting how the electric fleet will accelerate and decelerate faster in and out of stations. And even though there's a speed cap, the anticipation of the new trains has Tony feeling like a five-year-old.
"The things we run now are dinosaurs," he says. "When we're going 110 miles per hour, I'm going to be jumping out of my shorts!"