Words by Kate Daly
Every month, James Caldwell takes his "current fun car" for a short spin to Cars & Coffee, an event he attends at Coffeebar in Menlo Park so he can schmooze with fellow car lovers. He describes his silver replica of a Porsche 550 Spyder as "simple" and "accurately depicted," except that it's fashioned from fiberglass instead of having a hand-formed aluminum body.
The convertible is a two-seater with just enough room for James' gear, a Sigma fpL mirrorless digital camera. Yes, he's there to talk shop with other collectors, but he's also there to capture images and find clients for his automotive portraits business. One clue: the paint job on his Porsche features his website, JamesArtist.com, and his logo that's inspired by an enamel hood ornament.
The car motif carries into the contemporary house he designed for his family in West Menlo Park. Large paintings of classics hang on the walls including comedian Jerry Seinfeld's black Porsche 993 GT2. James spotted the car at a Porsche event, took a bunch of photos and went on to make a portrait.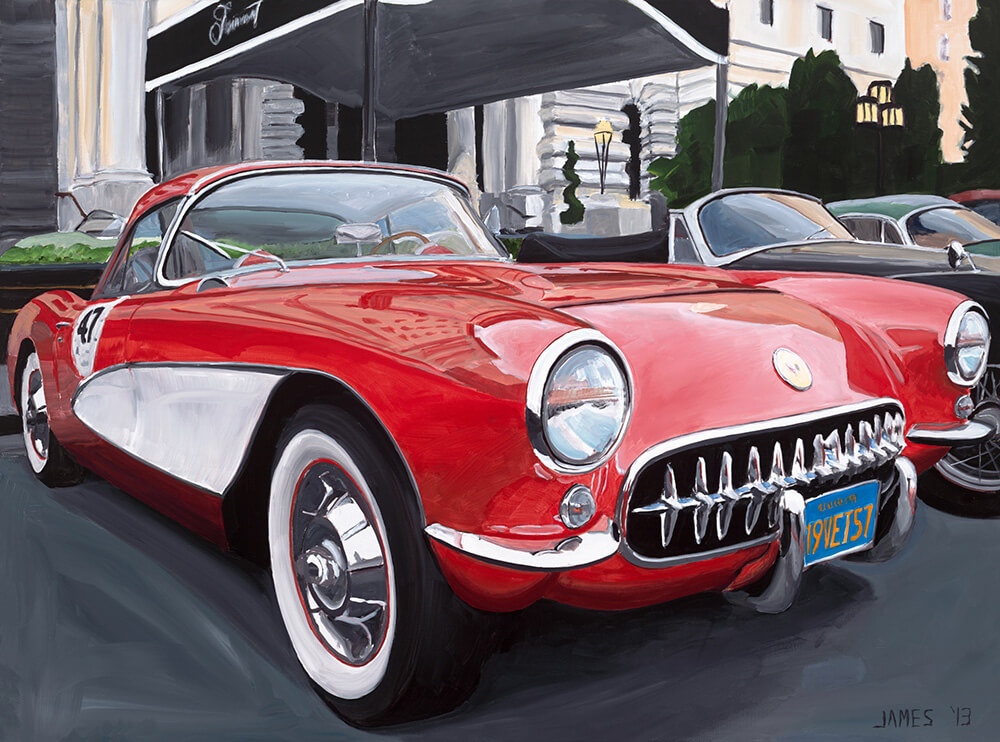 James caught another famous TV personality's eye with what he calls his "self-promoting" tote bag. Walking around the Pebble Beach Concours d'Elegance, Jay Leno recognized the yellow Duesenberg on the bag and invited James to appear on Jay Leno's Garage. James bundled up a handful of his 30"x40" canvases to display during the segment, and the host enthused over what great gifts they would make. That was nine years ago, and James is still grateful for receiving such positive publicity from a credible source and "big fan."
James has exhibited his work in New York and Miami, but given that shipping large art can be a logistical challenge, he prefers driving to locations such as Las Vegas and the Monterey Peninsula to showcase his talent. He has had a booth at the Pebble Beach Concours for about 10 years, and since 2014 has created the poster that VIPs receive at the Concorso Italiano during Monterey Car Week. Last year's poster was particularly popular: a stylized close-up of the Ferrari horse emblem.
How did the 2000 industrial design graduate from the Rhode Island School of Design end up painting cars? James credits his father, architect and painter Jim Caldwell of Woodside. (Note: They are both named after James' grandfather, James Emott Caldwell, who owned Caldwell's General Store, the predecessor to Roberts Market in Woodside.)
"I've always been interested in drawing and painting," explains James, "and my dad was interested in cars; he had stories about his first cars driving across the country and Europe."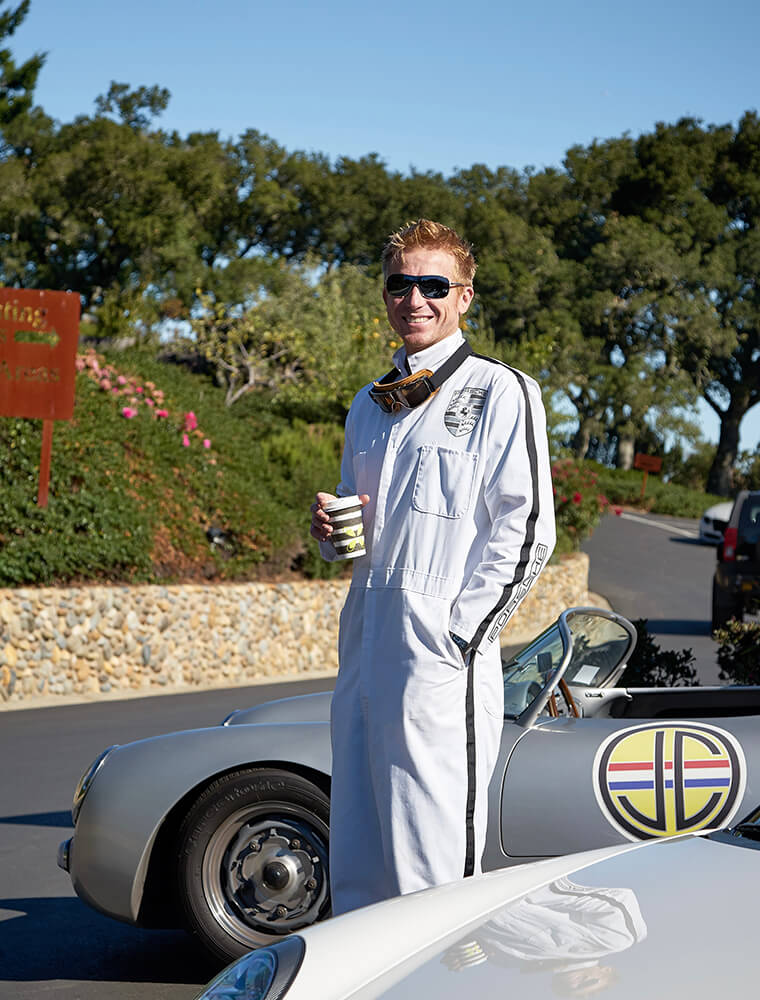 After college, James was doing welding and fabrication at a vintage race car shop in Redwood City when his father asked him to take an evening art class at Stanford to critique the father's teaching technique. "Because we worked together so well," James says his father also brought him into the architectural side of the business to make drafts on computer as opposed to by hand. When his father encouraged him to do a joint painting exhibition, James remembers, "I chose cars."
That was in 2007, and cars have been James' artistic focus ever since, except for designing his house with his father's input. Modern furnishings complement his automotive portraits and his father's landscape paintings decorating the walls. The neatness of James' residence dramatically contrasts with his studio, a messy space in Redwood City where he spreads out his acrylics to work on multiple canvases at the same time. He uploads his photographs onto a computer monitor set up next to his easel so he can zoom in on the details.
"I'm very picky about the general proportions," he says, "but the smaller details I choose." James ticks off examples: He never paints every spoke in a wheel, a headlight in the foreground has more detail than one towards the back and his backgrounds tend to look looser and more impressionistic.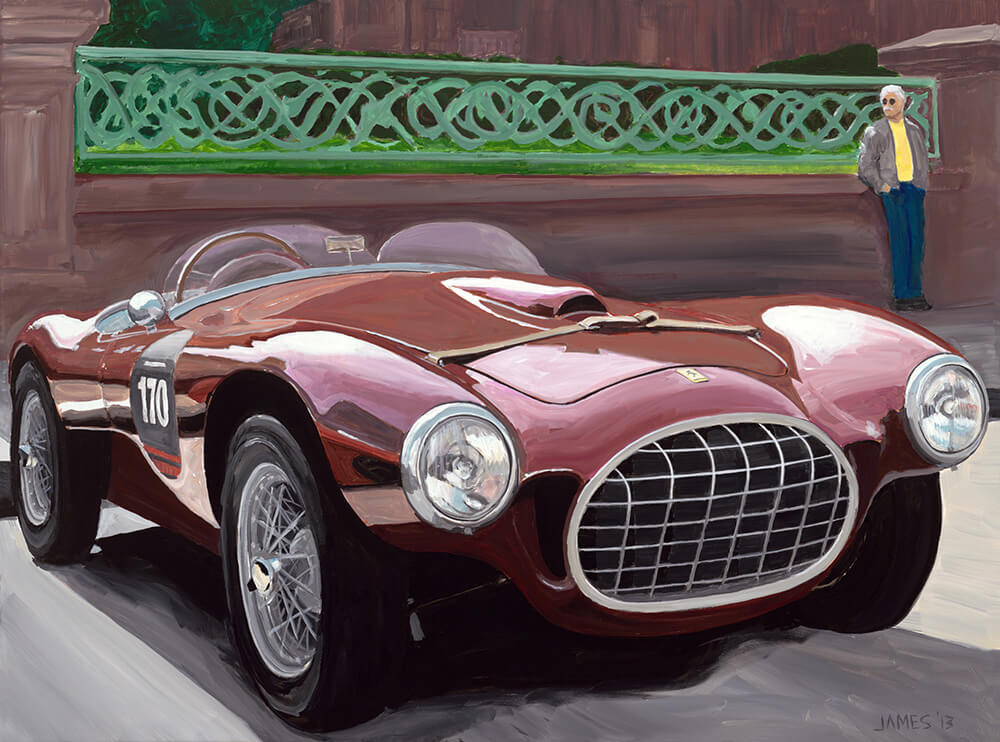 When he paints figures, they are intentionally vague. The one time James painted a portrait of the owner was for a memorial piece honoring Martin Swig, a Bay Area legend known for collecting vintage cars and founding the California Mille, the 1,000-mile classic car tour. James especially enjoys the commission experience. After the owner picks out a setting with a personal connection, "In the best-case scenario I get to ride in the passenger seat," he grins, "and then choose the time of day that brings out the best reflection."
Lately, James has applied a deeper focus to photography. "I feel like the photograph itself can be the art, whereas before it was the reference for my art," he shares. He's exploring printing out large photographs on metal, which would drop the purchase price point down from the thousands into the hundreds. For a man whose first car was a Honda Del Sol, James' taste and craft continue to evolve because he's clearly, pun intended, driven. "I really love the car world," he affirms. "It's not just artistic—it's exciting to just be a part of it."